Our Airbnb in Croatia's capital Zagreb had a pair of bikes so we got right to business and went for an easy ride around the city's lake.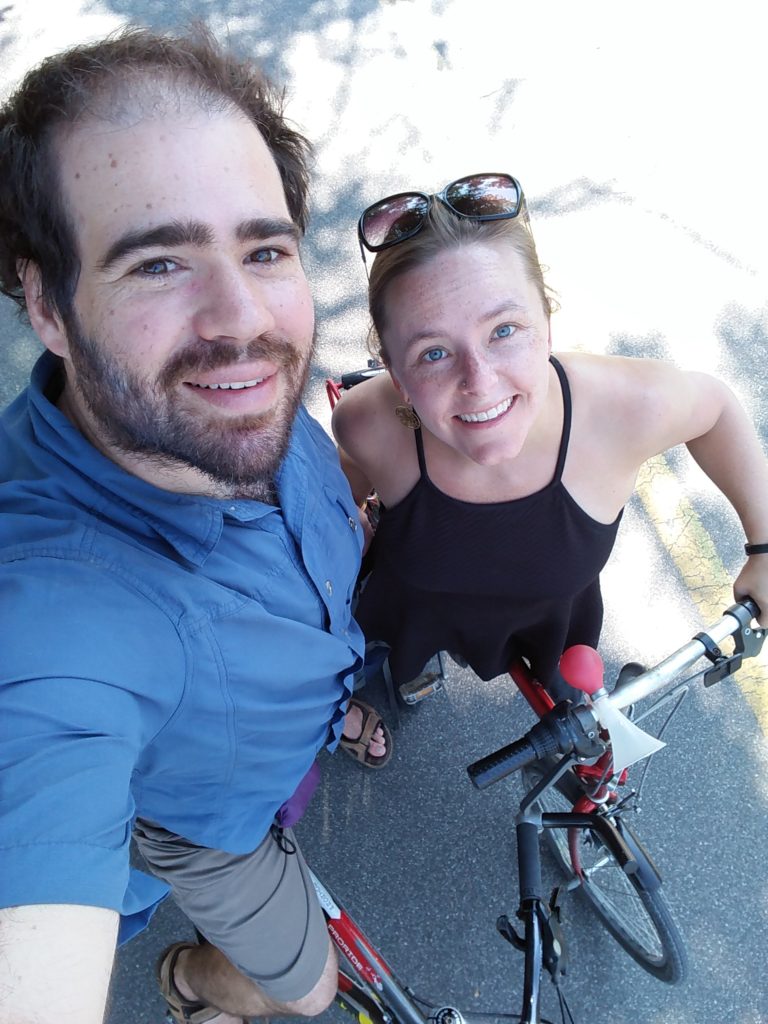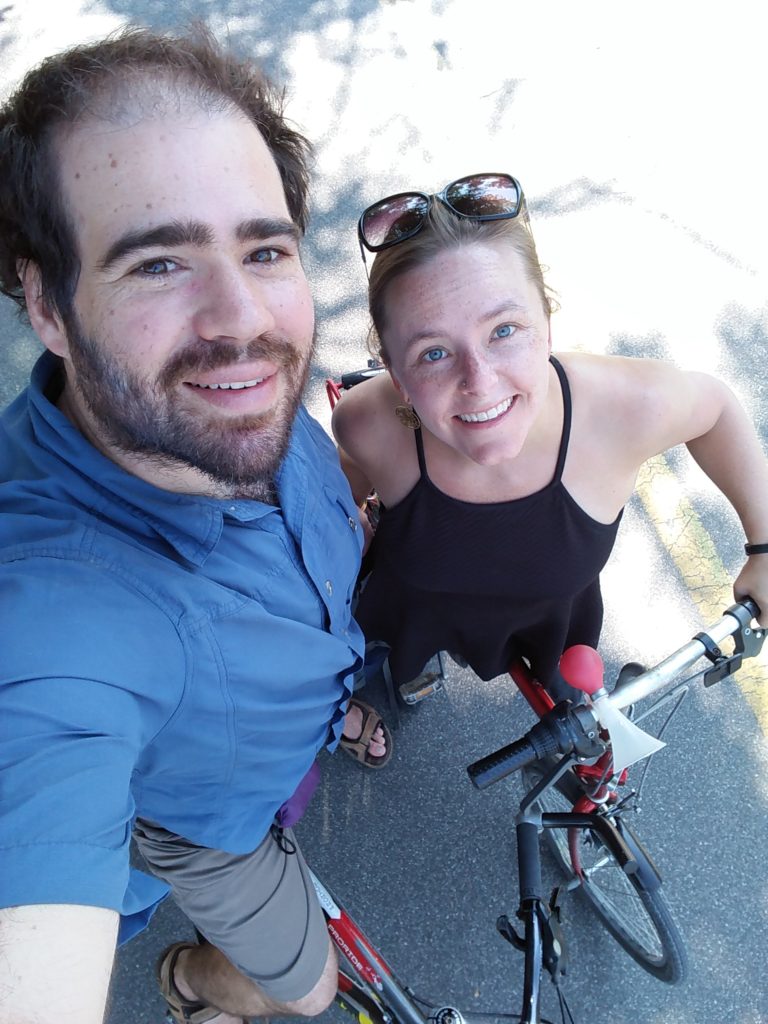 We had fun watching wakeboarders being towed by an elaborate overhead pulley system, and were shocked by the widespread popularity of rollerblading in the city.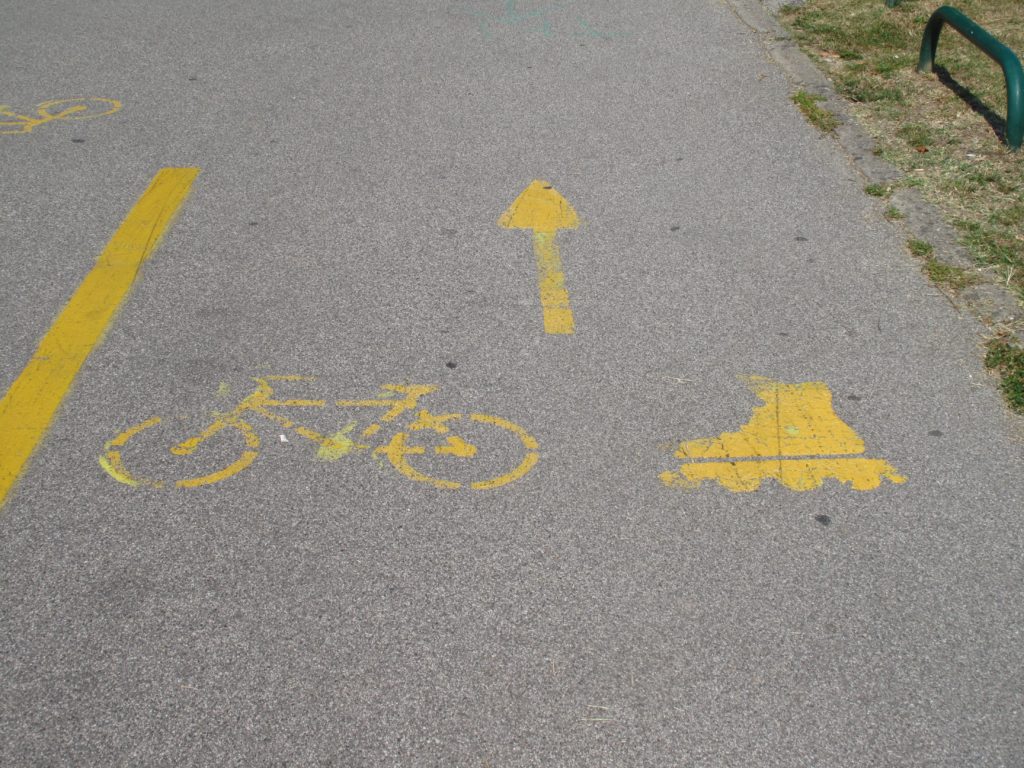 Back in town, we decided to skip what our host described as the world's shortest tram, and hoof it up the 50-or-so steps to Gorni Grad (the old city) instead.

We were headed to the Museum of Broken Relationships, which collects memorabilia and accompanying stories from broken relationships of all types from around the world. The pieces ranged from heart-wrenching to hilarious; in the latter vein, here was one of the objects:

together with its accompanying story.

We're glad to report that our relationship is safe from the museum's exhibits, but spending 24 hours a day together for the last 350-odd days was more challenging than we expected. For anyone going on a similar trip, we advise regularly-scheduled alone time. 🙂
After the museum, we stopped for a photo of the tiled roof of St. Mark's Church:

before heading down to enjoy some of the many craft beers on pub street and reading about the sad tale of Zlatarevo Zlato (The Goldsmith's Gold) (depicted here) on the way.

The next morning, we grabbed our rental car and headed out on our final road trip, an 8-day journey through the northeastern part of the Balkan Peninsula.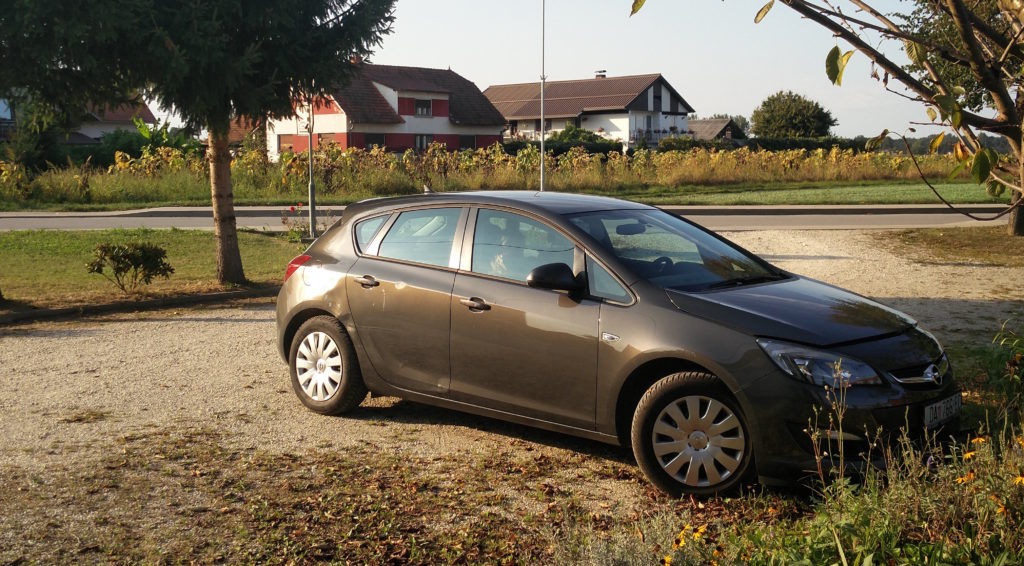 Zagreb was only two hours from the small town in Slovenia where Sarah's great grandmother grew up, so we fired up Season 2 of the Serial podcast and followed our GPS to Velika Polana, cutting a 15-minute corner through Hungary. On the way, we were deeply amused by the Google Maps navigation lady's attempts at pronouncing consonant-rich place-names, like Nalješkovićeva and Ljubešćica.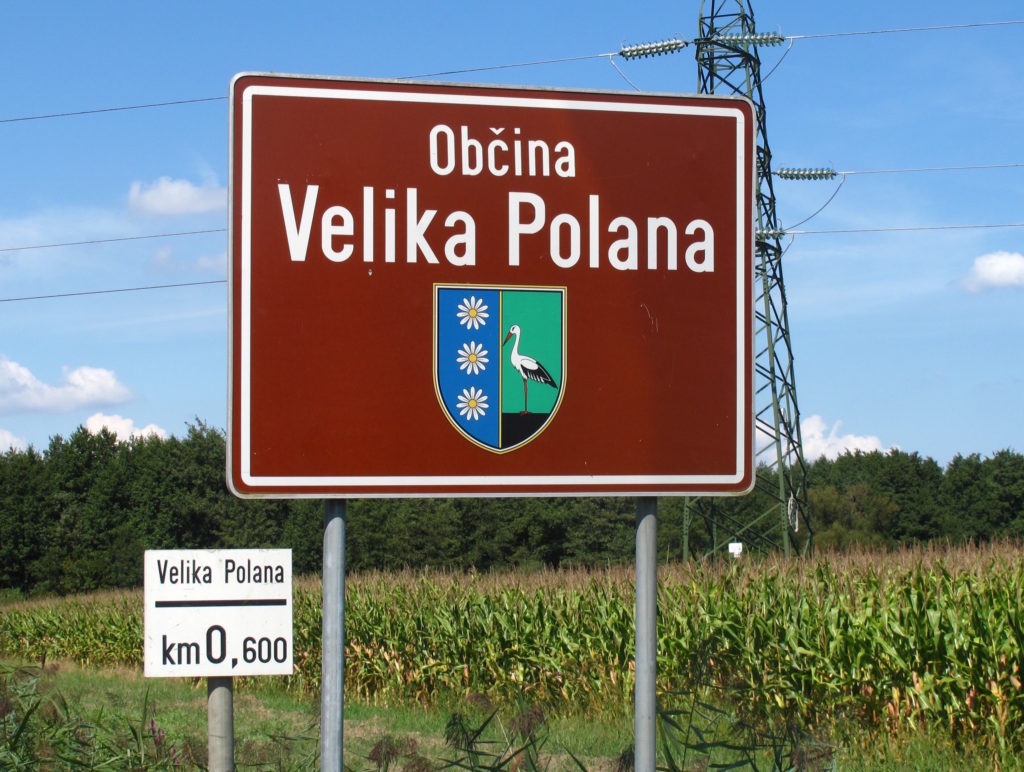 Sarah's maternal great grandmother was Katalin Hojzan. She immigrated alone to the US in 1910, when she was 18 years old, with $20 to her name. She then moved to Cleveland to meet a brother and a few years later, she married another Slovenian, Josef Tkalec. Here they are – looking extremely enthusiastic about their wedding day.

All we knew about Katalin's life in Slovenia was the year she was born and that she had a brother who stayed behind and gave her money to come to America. With this minimal information and only a 2-sentence translated message (we didn't have cell service to use Google translate in real time), we had an awkward but fun adventure trying to track down some long-lost relatives.
After reading the message, this guy excitedly replied that he was a Hozjan — but it was hard to carry the conversation beyond that since he spoke no English and we spoke two words of Slovenian. So he showed us his pumpkin seed harvest and we tried elsewhere.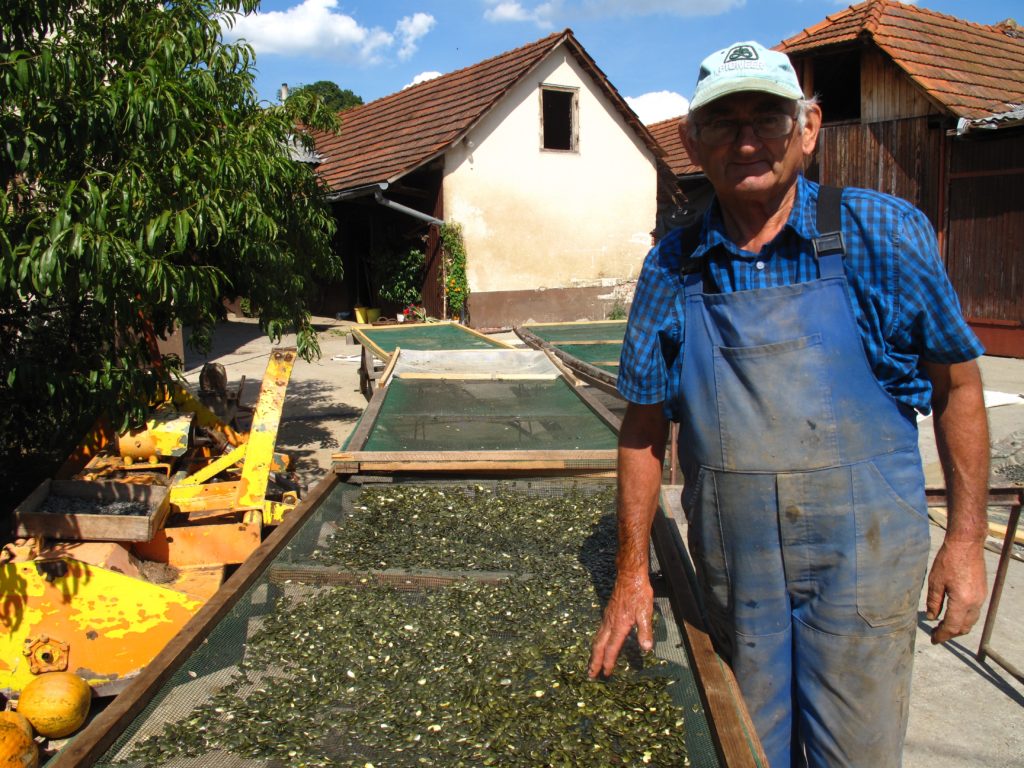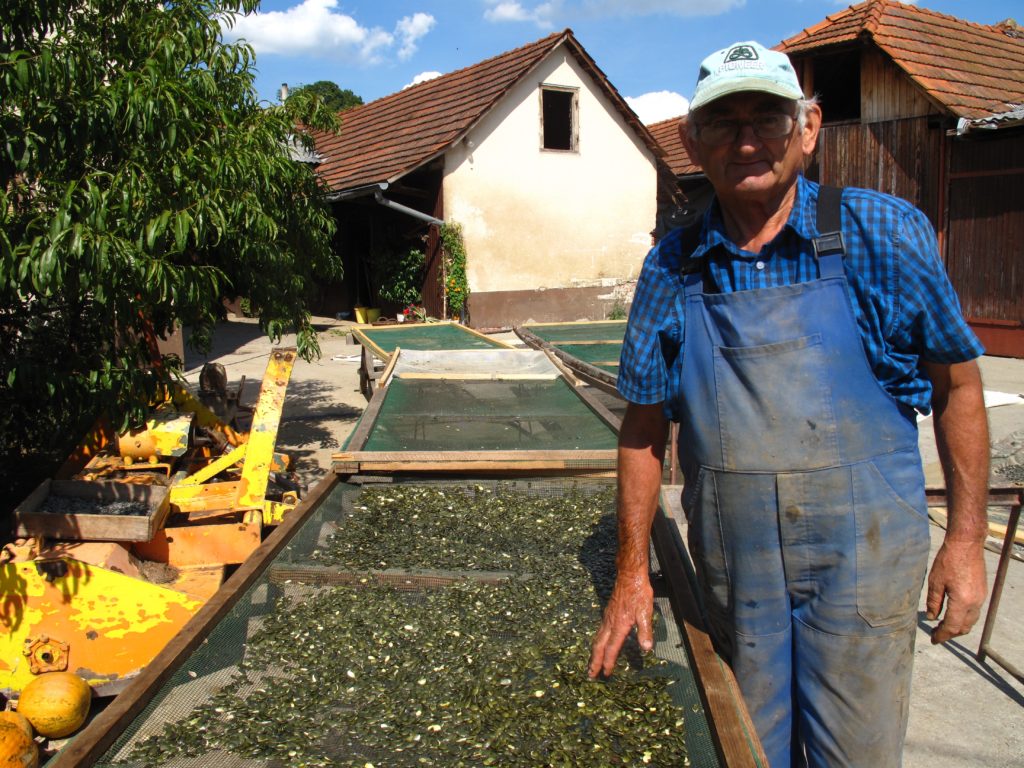 Sarah had Facebook-stalked a guy named Ludvik Hozjan who lived in the town, but she wasn't able to get a hold of him, so we just real-life stalked his house instead. (He did get back to her later, but by then it was unfortunately too late for us to meet up.)

We spent a little time exploring the town, admiring the bountiful grape plants and Catholic artifacts.

On the way out, we visited the town's cemetery, hoping we'd find the graves of Katalin's parents or siblings. We quickly realized the comedy of our efforts: there were hundreds of Hozjans — nearly half the headstones — in the cemetery. We met one woman there who did speak English and when we told her our mission, she laughed and said, 'Good luck — everyone in this town is a Hozjan'. So perhaps it wasn't so surprising that we had randomly run into one on our second try. Oh well, it was still fun to see where Katalin had come from.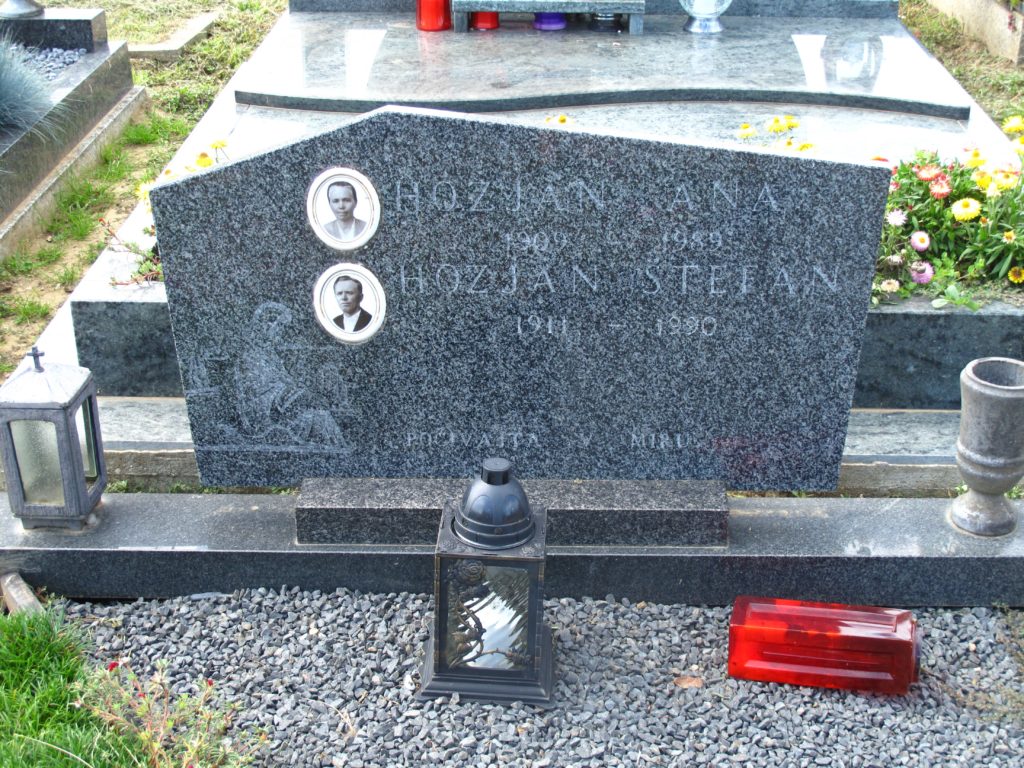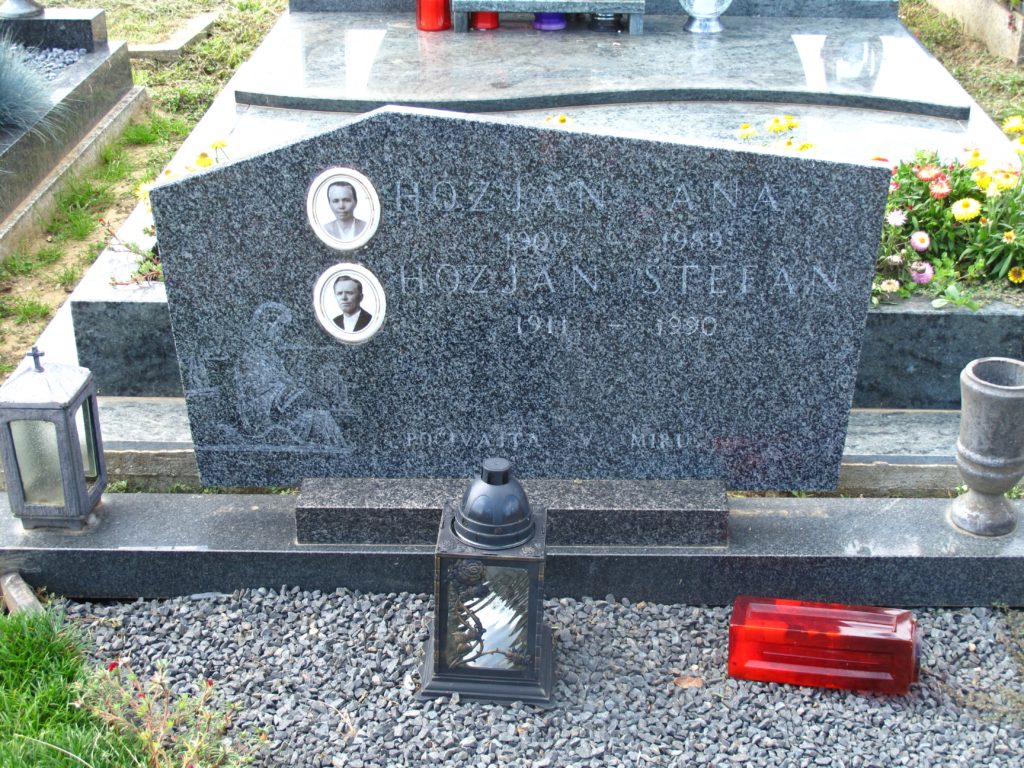 On our way westward, we also briefly stopped at Trnje, another un-pronounceable town and the home of Sarah's great-grandfather Josef.

We spent a quiet night at a 'farm stay', including an off-road bike ride through the lush farms and fields.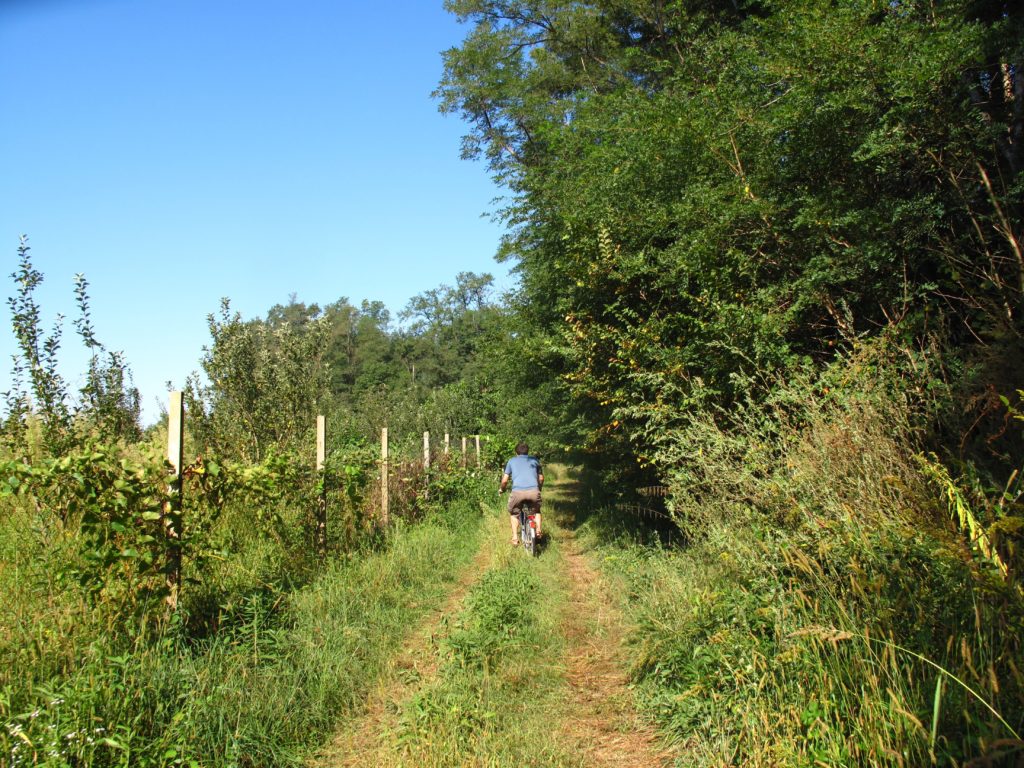 Continuing westward, we had a leisurely lunch at the beautiful Gostilna Grič vineyard.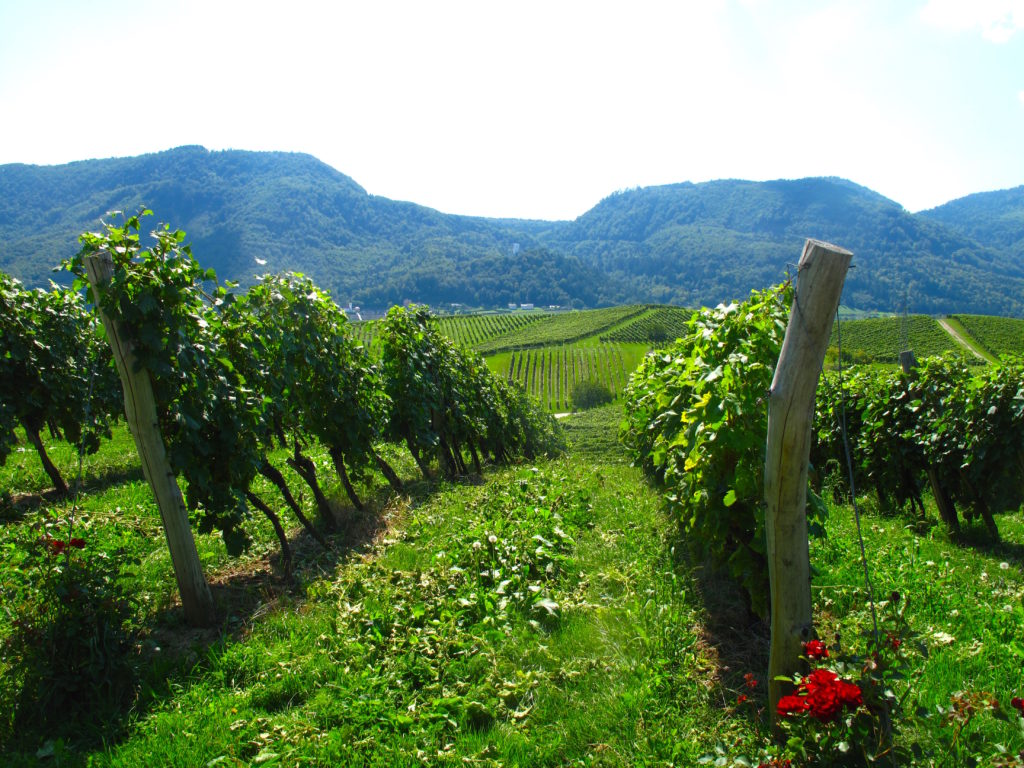 before a fun afternoon wandering around Ljubljana, the delightfully charming capital of Slovenia.

We visited a brewery, practiced our newly acquired acro-yoga skills in a giant park, and tried some potica, a Slovenian dessert that's popular back in Sarah's hometown of Virginia, MN.

We both felt like we could have stayed longer, but we still had a long way to go to reach our final destination of Dubrovnik on the southern tip of Croatia. On the way, we stopped by Lake Bled (one of the top sights of Slovenia):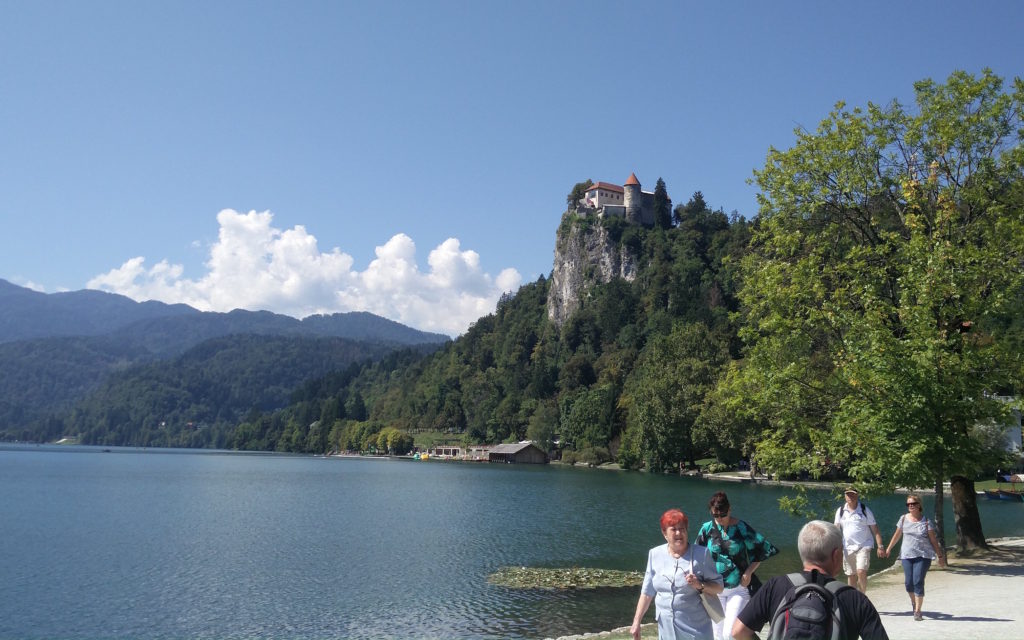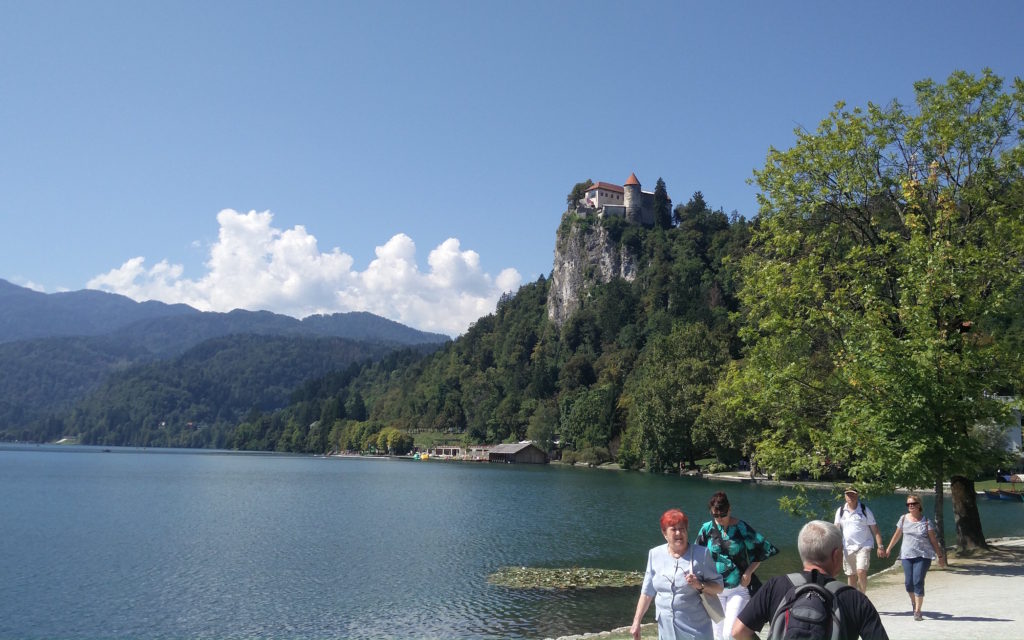 as well as Castle Predjama, which is built into a cliff face in front of a giant system of caves.

Many of the stories on the audio tour involved Erazem Lueger, a robber baron who survived a long siege of the castle in the 15th century by gathering food through a secret entrance via the cave system.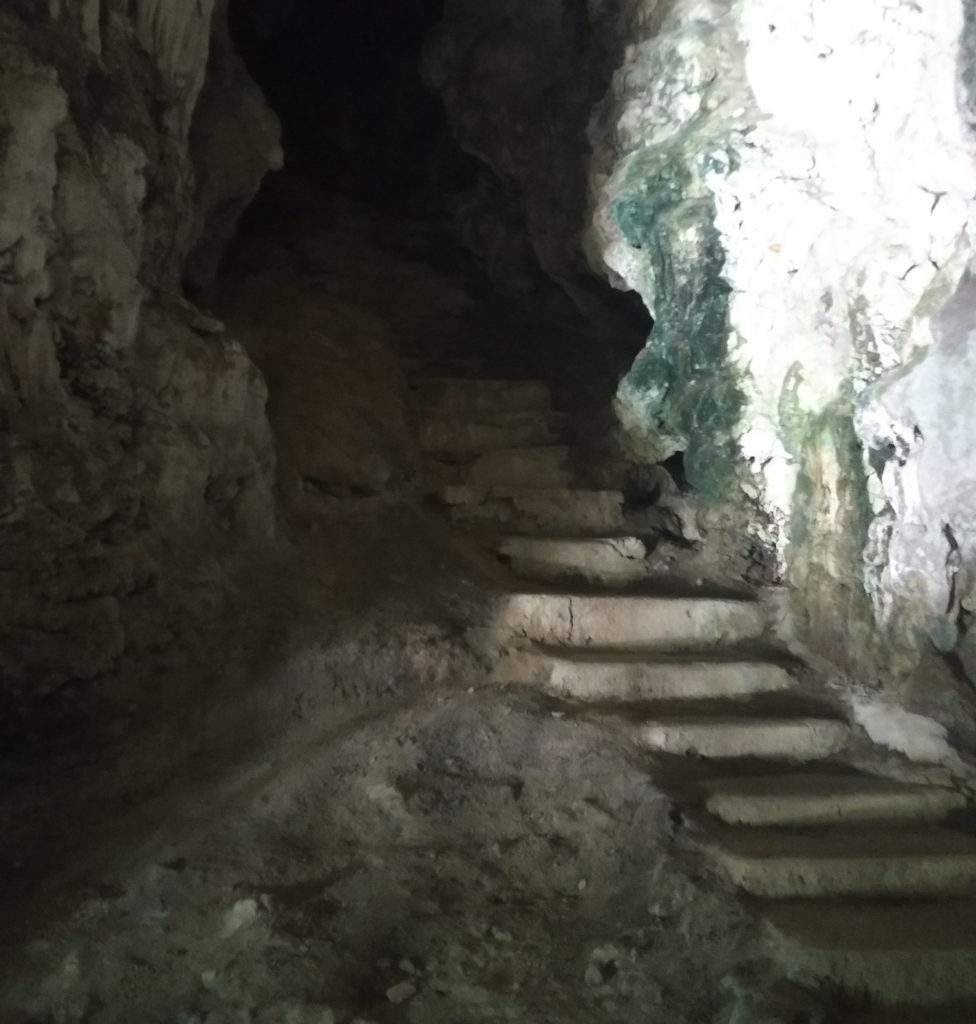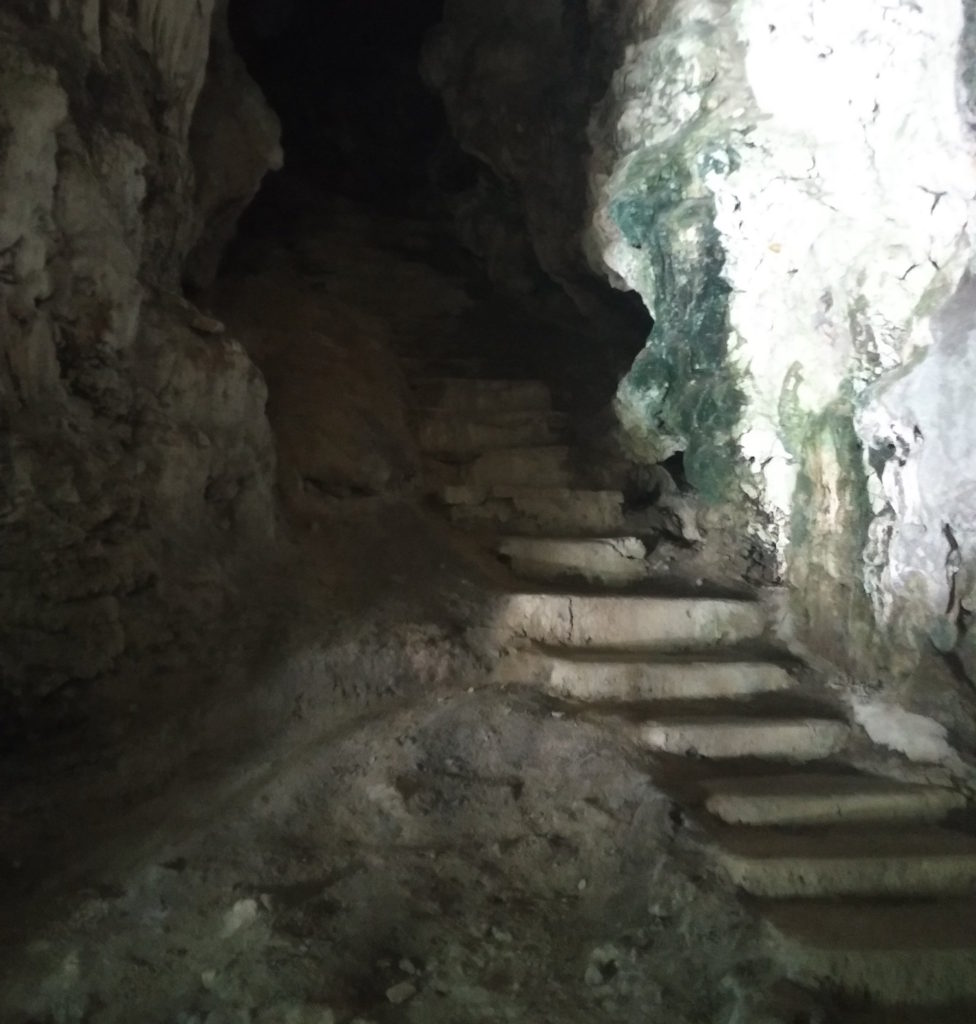 From the castle it was less than an hour to Trieste, Italy, so we swung through there for some delectable gelato before passing back through Slovenia to Rijeka, Croatia. This beautiful coastal town has a fascinating history, having been ruled by eight different countries in the 20th century.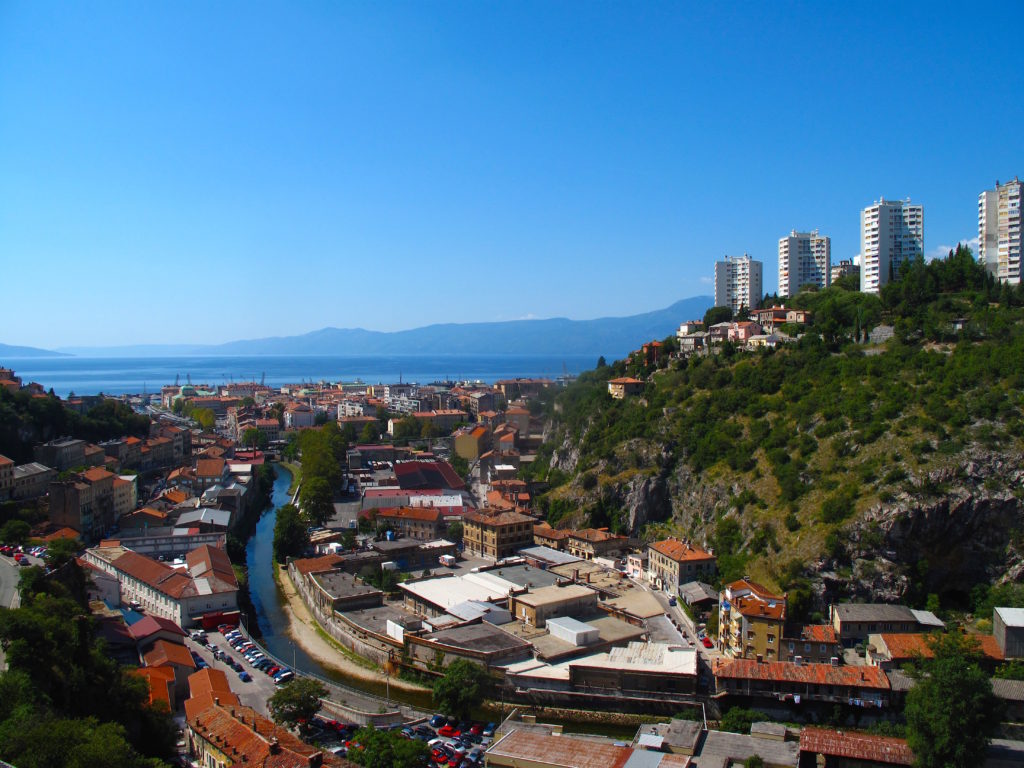 Our Airbnb host Emir was a super interesting guy who gave us a brief history lesson and some great recommendations. We had a lot to talk about, since he had spent more than a decade in the software industry in San Francisco after fleeing Bosnia as a refugee during the war.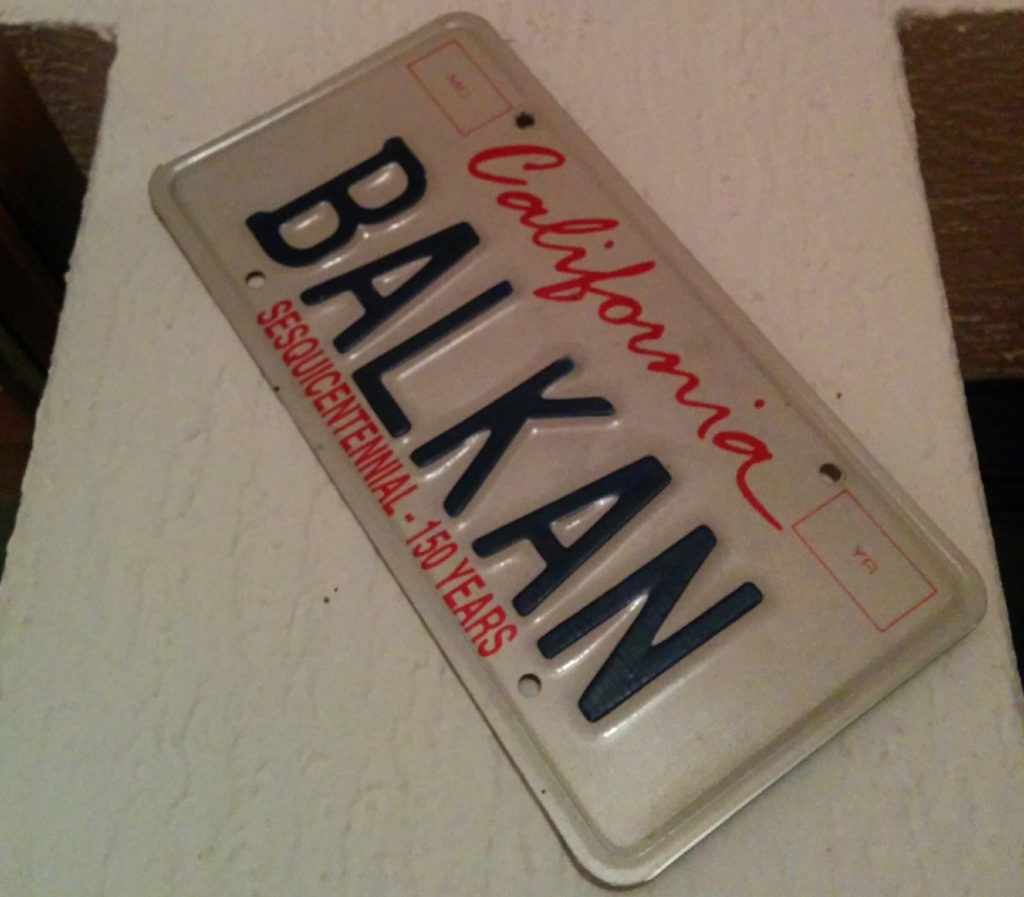 We adored Rijeka's distinctive character,

and delicious farmer's market.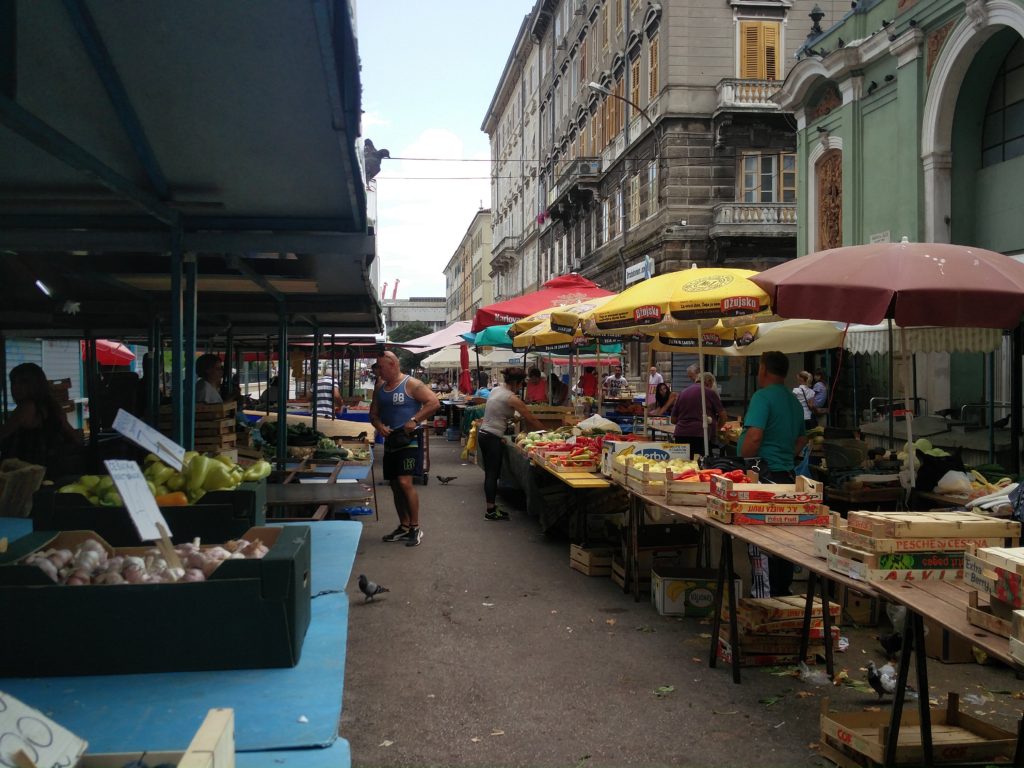 Before heading down the coast to Zadar, we stopped for lunch at an Italian place. Jason tried to order the chicken parmesan, until the waiter shamed him into ordering something more interesting: "Chicken parmesan?? That's a meal for the kids."
In Zadar, we enjoyed checking out the Roman ruins and 9th-century Church of St. Donatus,

and strolling the promenade of Zadar taking in the views of the surrounding islands while listening to the wave organ,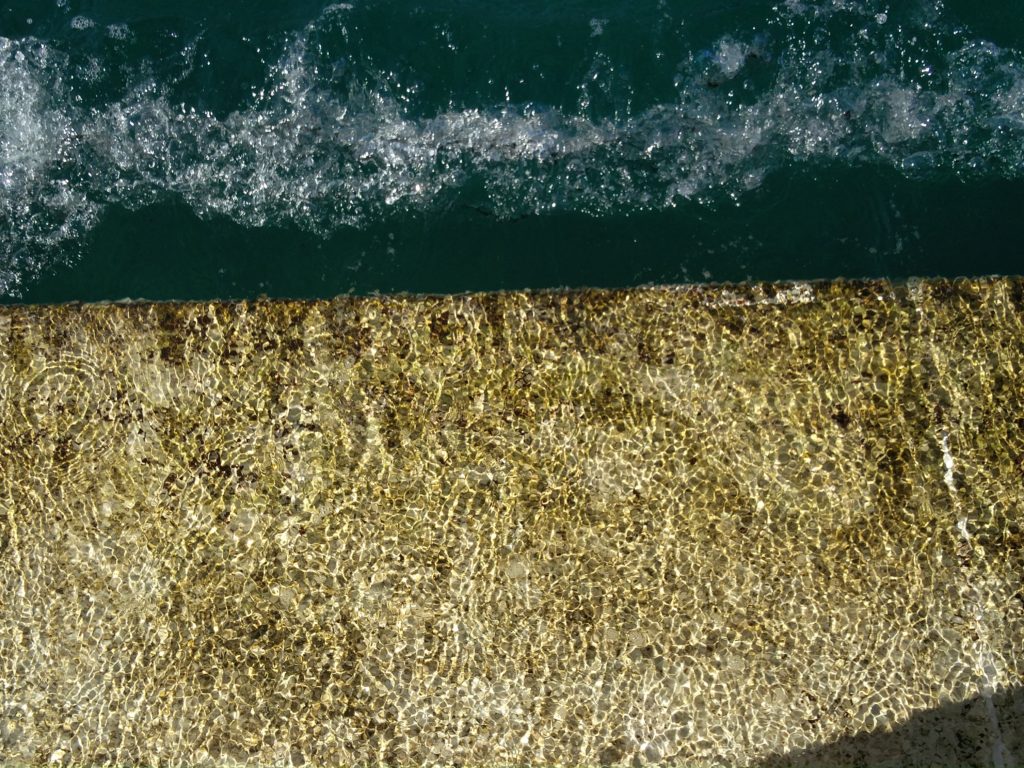 and befriending the Hrvati dogs.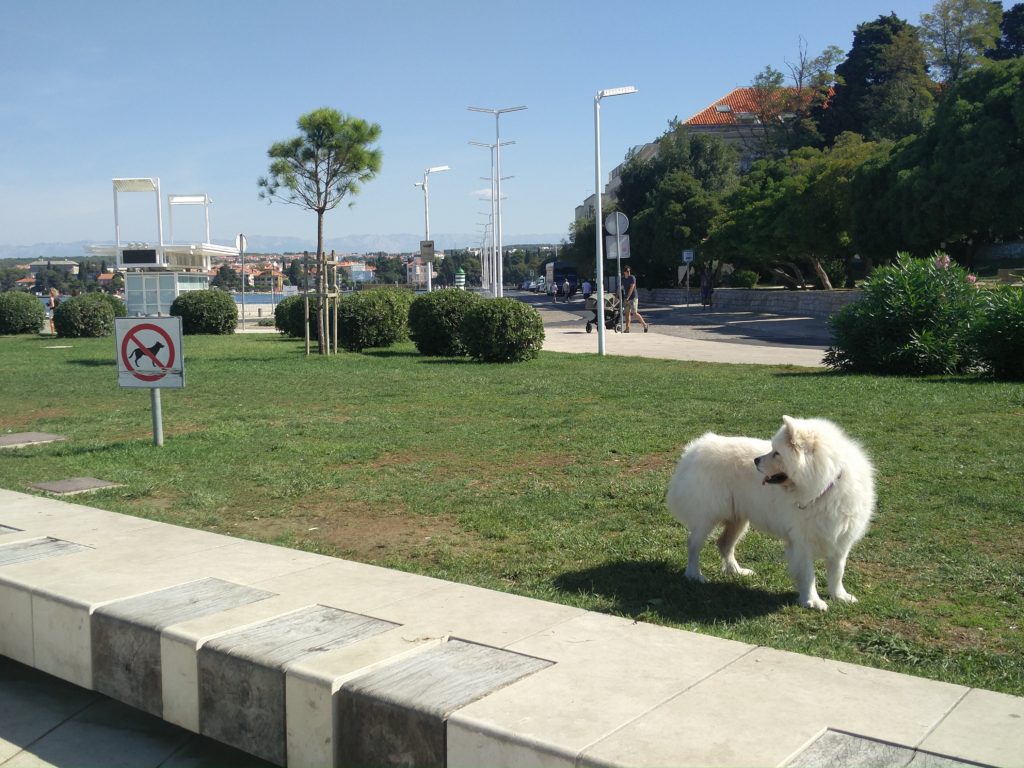 A few hours further down the coast in Split, we swam in the sea, hiked up a ridge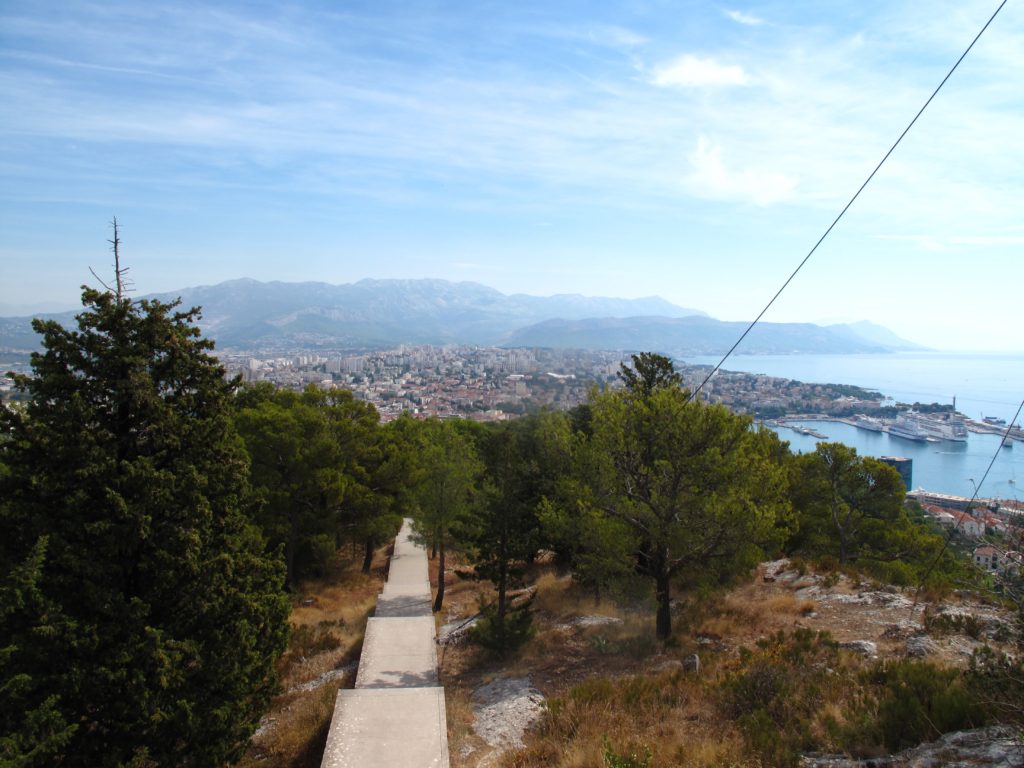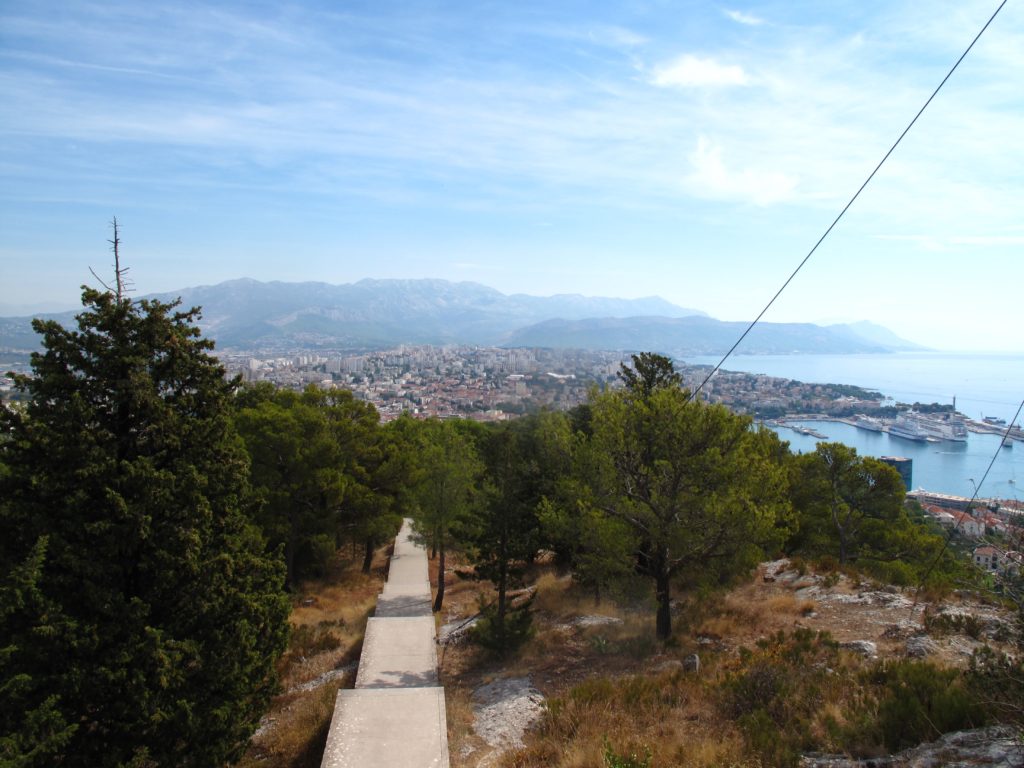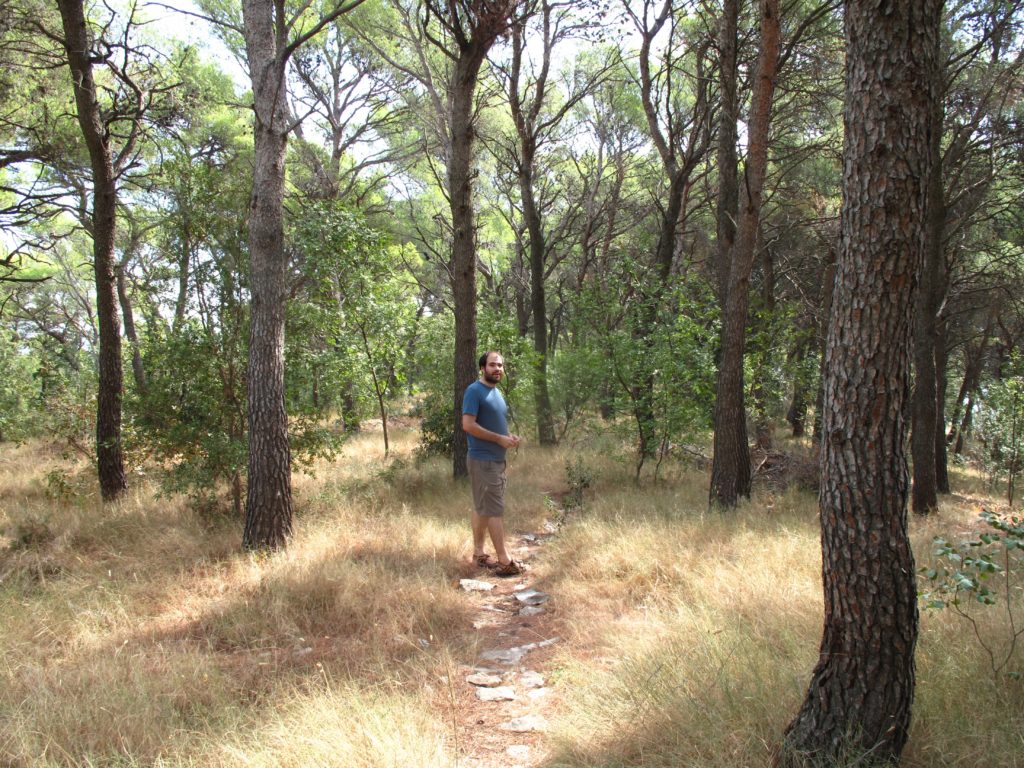 which included some more cliff fortifications,

and walked around the 'old town', which is built around the early 4th century palace of the Roman Emperor Diocletian.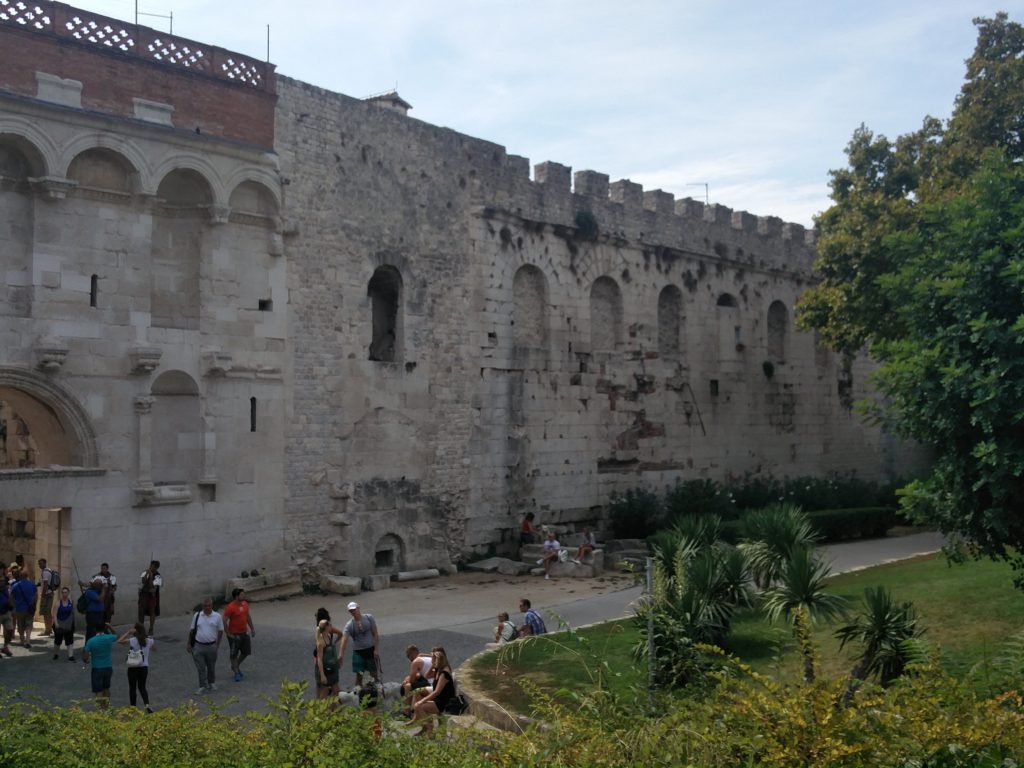 The architecture was interesting, but inside had been mostly replaced by more-or-less fancy tourist traps (Froggyland??).

Finally we arrived to Dubrovnik, a very popular Mediterranean tourist destination which many friends said is a must-visit. The Old Town is a giant walled city:

and we paid to walk the 3.5 miles circumference on top of the walls, which was a great way to orient ourselves and see many of the sights: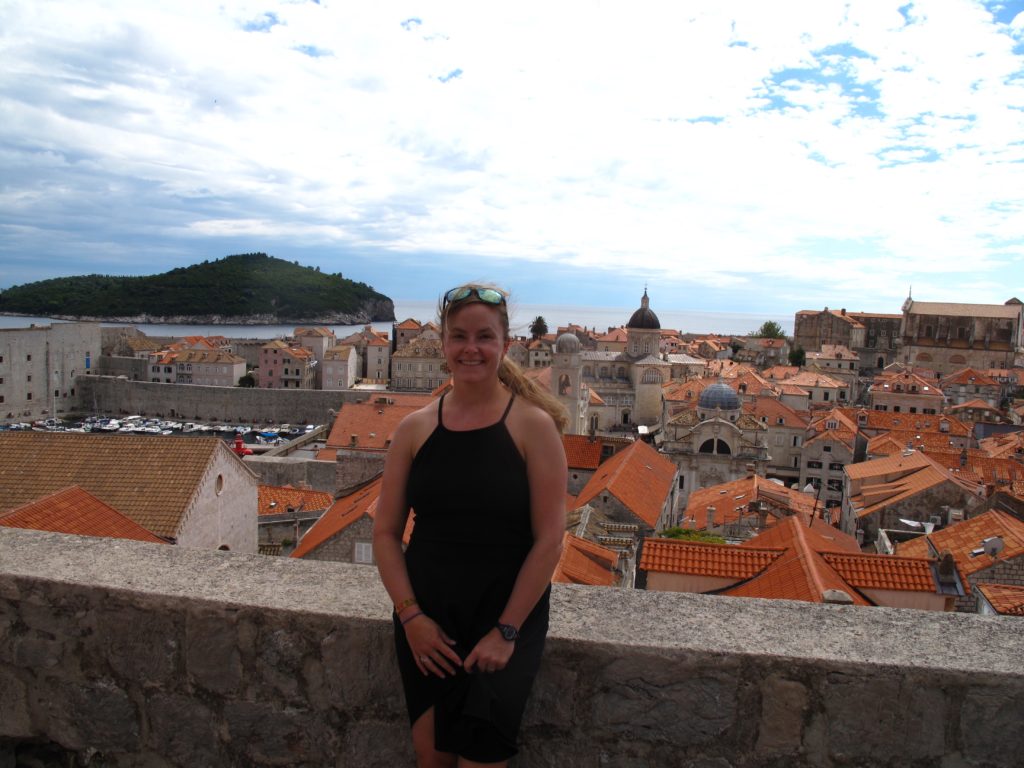 including sheer cliffs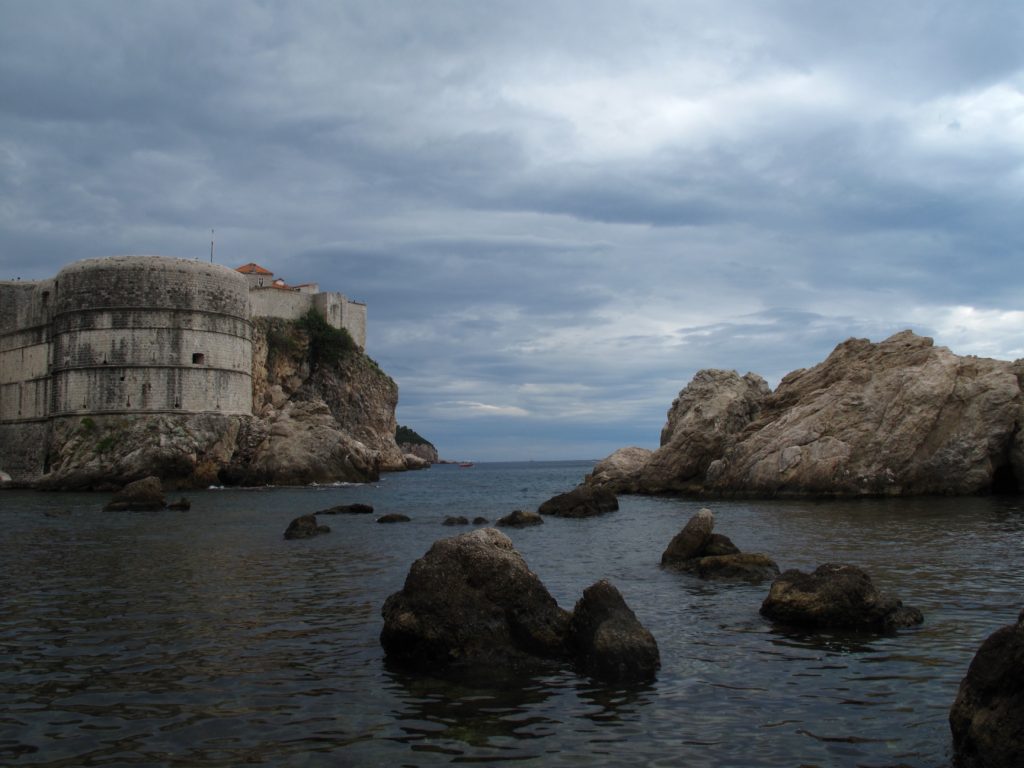 quaint statues,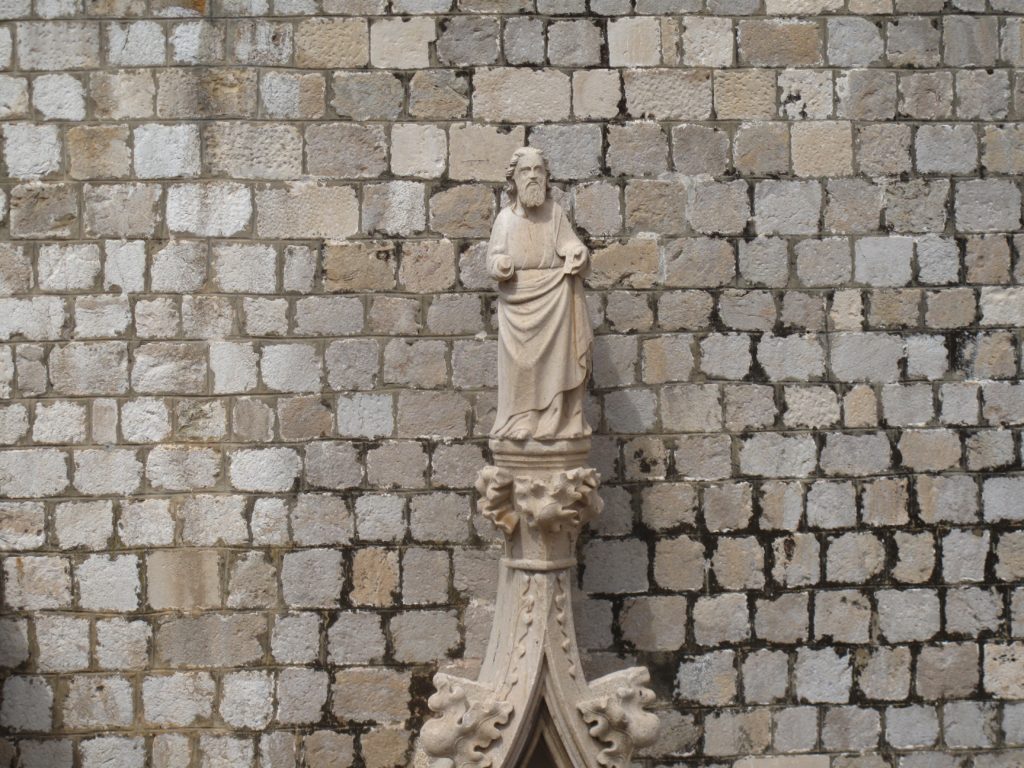 and the sets for an number of Game of Thrones scenes including King's Landing harbour: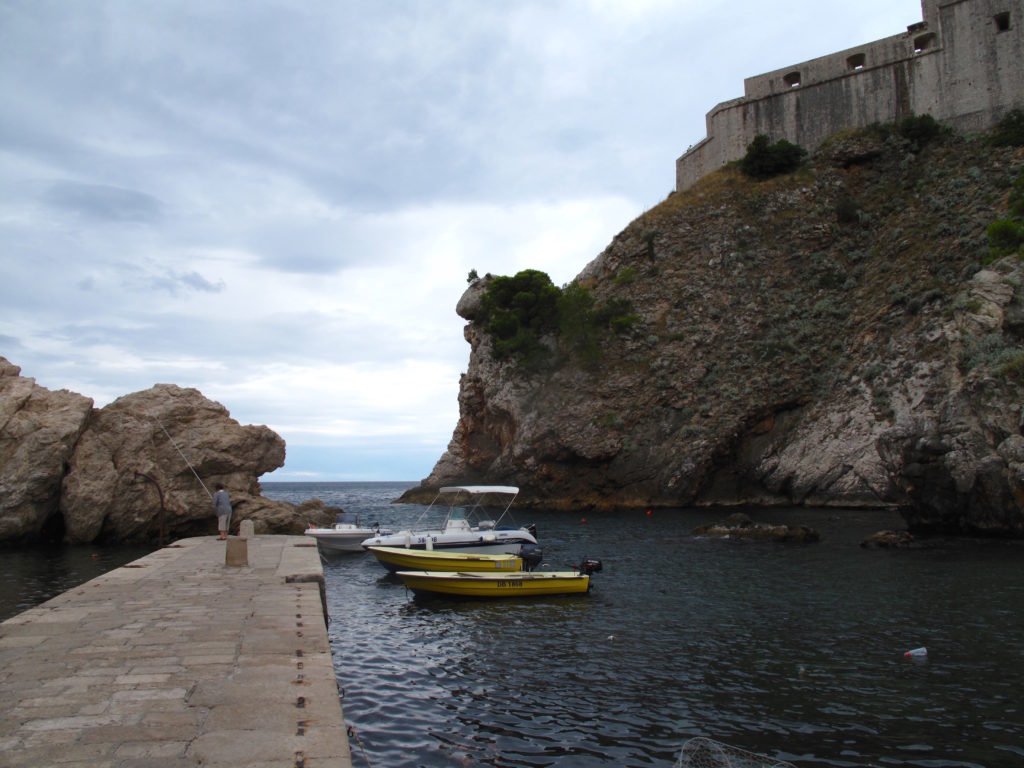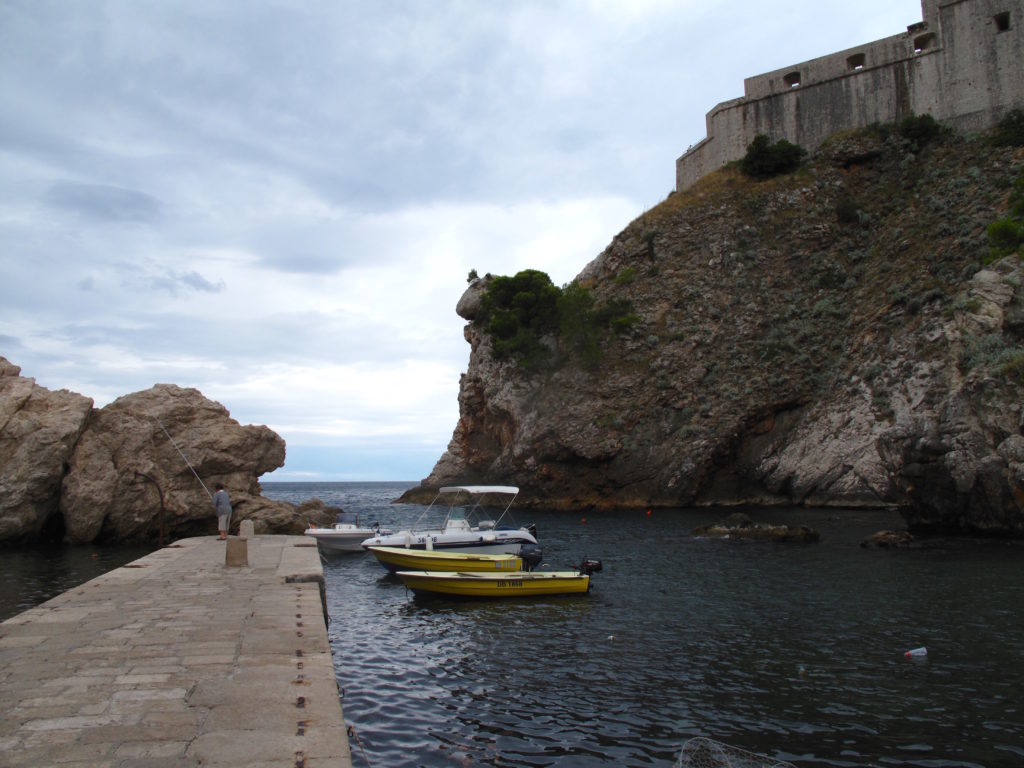 St. Dominika street, where an anti-Lannister speech was filmed during season 2:

and the location of the infamous Oberyn-Mountain duel (on the roof of the abandoned Hotel Belvedere in the distance).

We relaxed for a few more days in the photogenic city,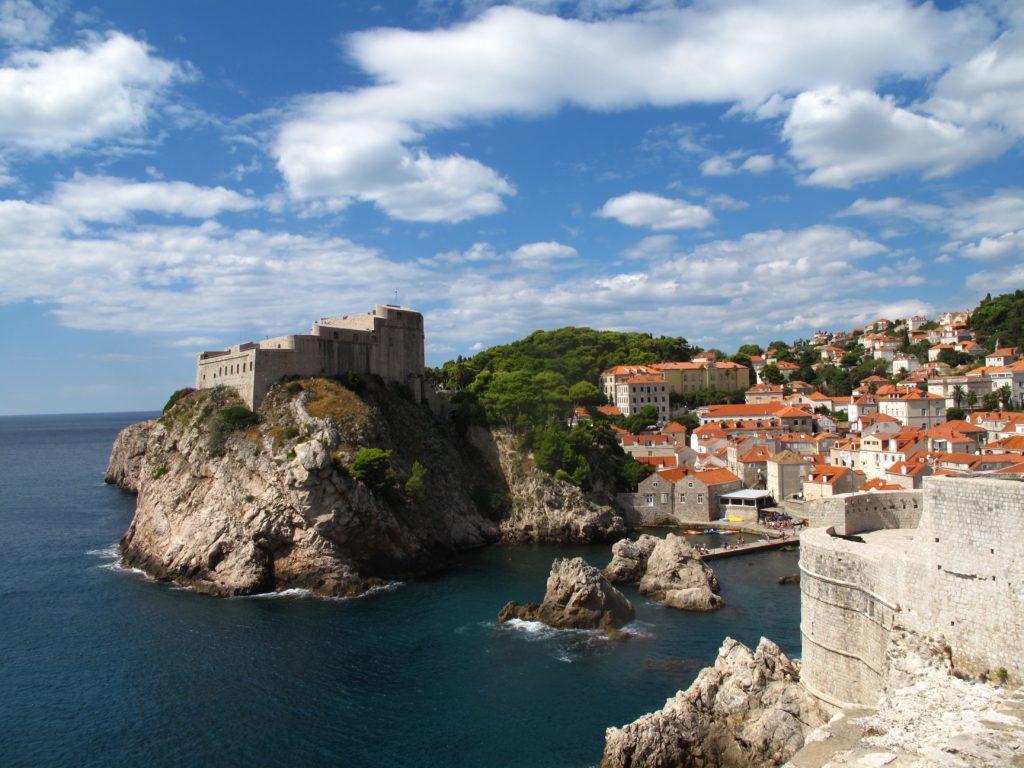 while planning our final destination of the trip: Greece.