The most marvelous of all Abyssinian landscapes opened before us, as we looked across a gorge that was clouded amethyst to the peaks of Simien. A Thousand, Thousand years ago, when the old god reigned in Ethiopia, they must have played chess with those stupendous crags, for we saw bishops' miters cut in lapis lazuli, castles with the ruby of approaching sunset on their turrets, an emerald knight where the forest crept up on to the rock and, far away, a king, crowned with sapphire and guarded by a row of pawns. Rosita Forbes, From Red Sea to Blue Nile – A Thousand Miles of Ethiopia.
Dubbed the 'Roof of Africa,' Ethiopia has the highest total portion of landmass on the continent, and with mountains reaching 4620 meters, the Simiens are the pinnacle of Ethiopia's peaks. We headed there early one morning with a driver named Berhanu and a surprise tagalong French-Canadian-American guy named Kim. He had signed up for a last-minute tour with the same company we booked and would be coming along for the ride, but doing a separate shorter trek. We were grateful for a lively chat with Kim on the drive there, covering everything from startup culture (he works for a French startup) to music to malaria.
Before we knew it, we had arrived at the park headquarters in a town called Debark, where we were to fill out our paperwork and meet our guide Amare and scout Andar Gancho. The park assigns and manages staff serving visitors to the park. Anyone entering the park has to have a scout, a local person who serves as part security, part guide. But we later realized the Simiens are really quite a safe environment and the scout requirement is largely a way to provide employment for the local communities.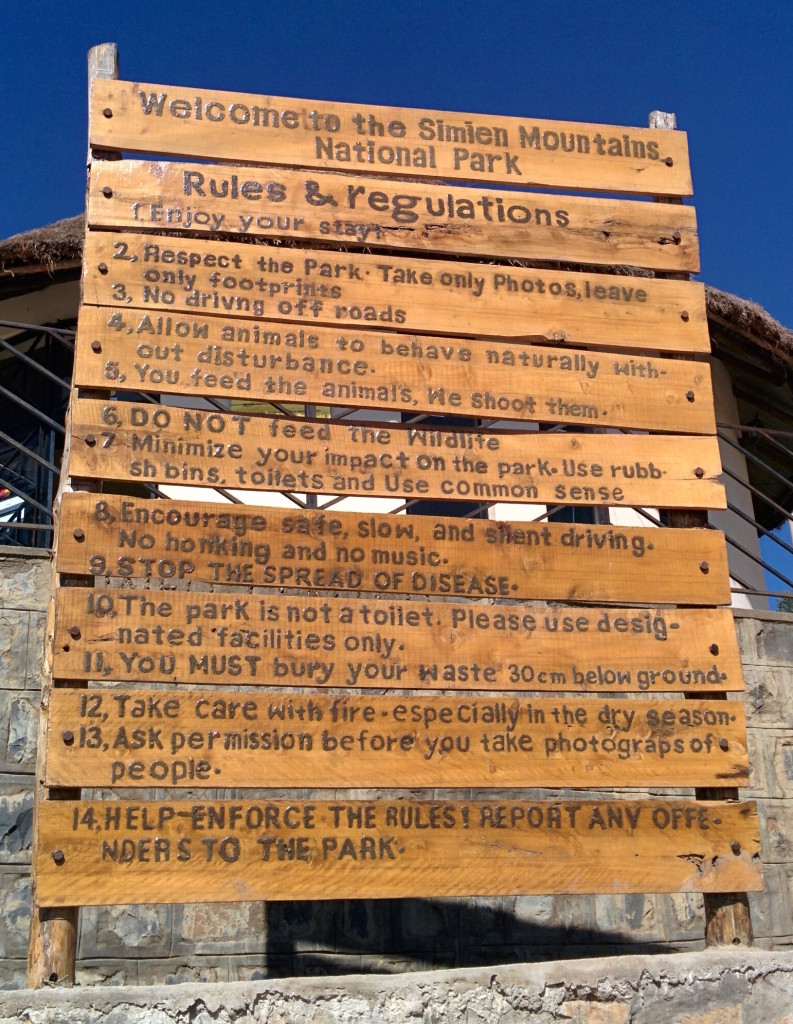 Sadly, we witnessed gross violations of all the park rules on our 3-day trip.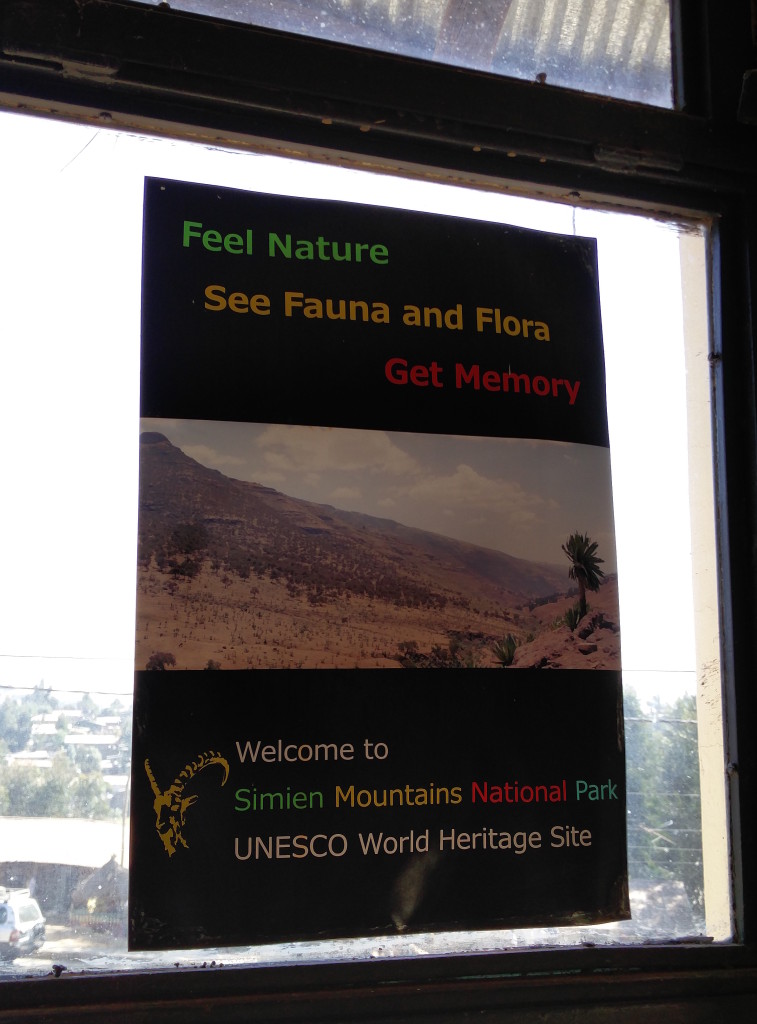 But we did definitely 'get memory'.
While we were getting back in the car to drive to the park, there was suddenly a chaotic extended argument among our guide and five other men who we assumed were also joining in on the trip. There were heated discussions in Amharic, multiple rearrangements of the different men in and out of the car, inexplicable reversals and re-parking of the car and then finally everyone but our guide got out and we drove forward…. for about 300 meters. Then we stopped for coffee. When we left the coffee shop, all the men were there, packed tightly in the trunk of the jeep. We're still not sure exactly what transpired but this was when we began to understand two things:
1. There is a strange class system among tourists and various staff. Only the guide and the driver would sit in the main part of the car with the tourists, even if there was plenty of room in the regular seats. All other staff had to squeeze in the back: five guys (including two scouts with rifles), plus all the gear. It felt really weird, but we didn't realize what was happening until after we took off. Besides this hierarchical seating arrangement, there was a ranking system among the staff. Guides are at the top and the rest of the order (from top to bottom) goes head cook, assistant cook, dishwasher, donkey guide (who transports all the gear), and finally scout. This order dictated how much money each person made, where they sat, what order they got to eat, how much and what they got to eat, and whether they were even privileged enough to receive food and water (the scouts often ate our leftovers and they were not allowed to drink any of the water supply). We eventually started giving our scout some of our water after we realized he hadn't drunk any in over a day. This class system made the trip a little weird.
2. While Kim was an extremely pleasant road trip companion, his last-minute arrangements (a deliberate move on his part to secure a cheaper fare) were in part the cause of the chaotic argument and would lead to some inconveniences for us. Because of the late booking, the travel office hadn't arranged all the staff for Kim's trip. So our guide Amare had to take care of it, which meant that we would get dropped off with the scout (who didn't speak a single word of English) and hike into the camp on our own while Amare drove ahead with Kim to drop him off at a different trailhead and arrange his staff. Amare would then meet us later at our campsite.
So we set off with Andar Gancho the scout and as soon as we stepped to the edge of the trail, we were greeted by the stunning chasms and summits of the Simien Mountains. While Andar Gancho was very friendly and definitely took his job seriously, it turned out that we did a lot of the navigating (he would often lose the trail) and we spotted a group of monkeys way before he did. Even when we pointed them out, he couldn't see them for some reason. Good thing we paid for a guide!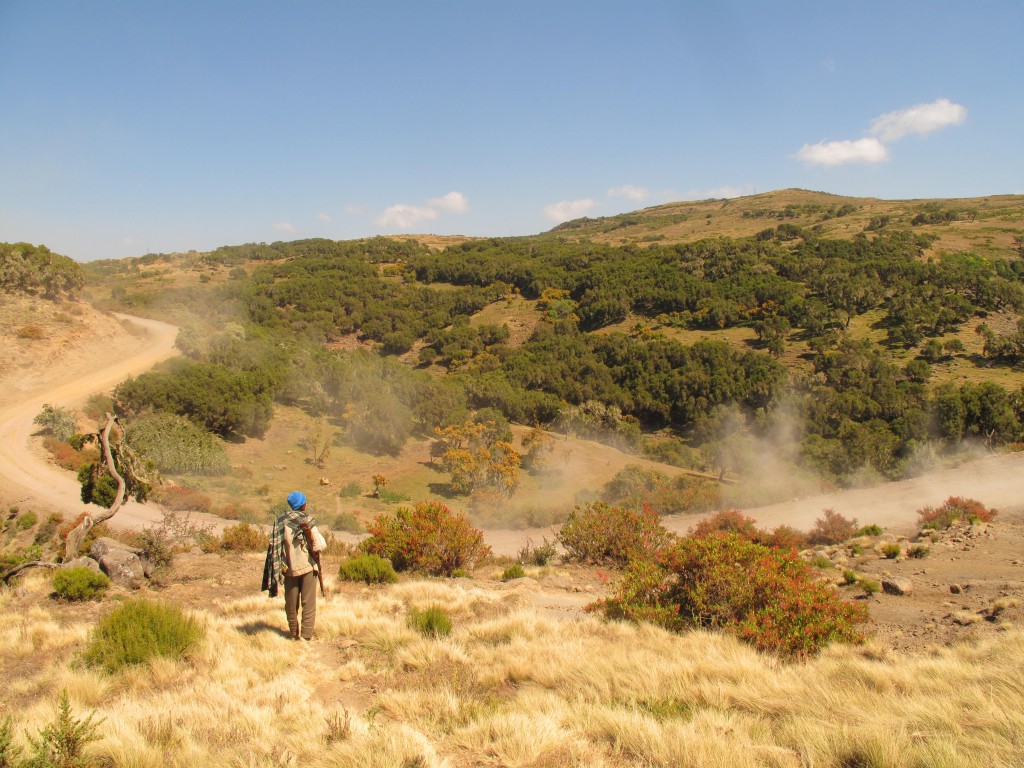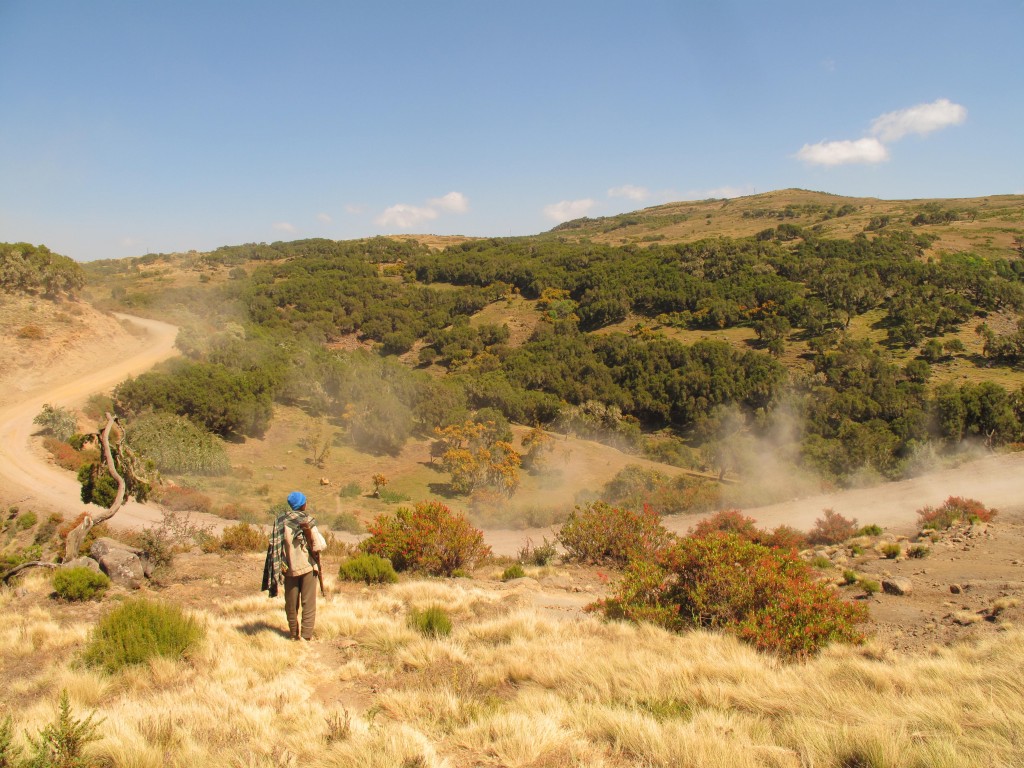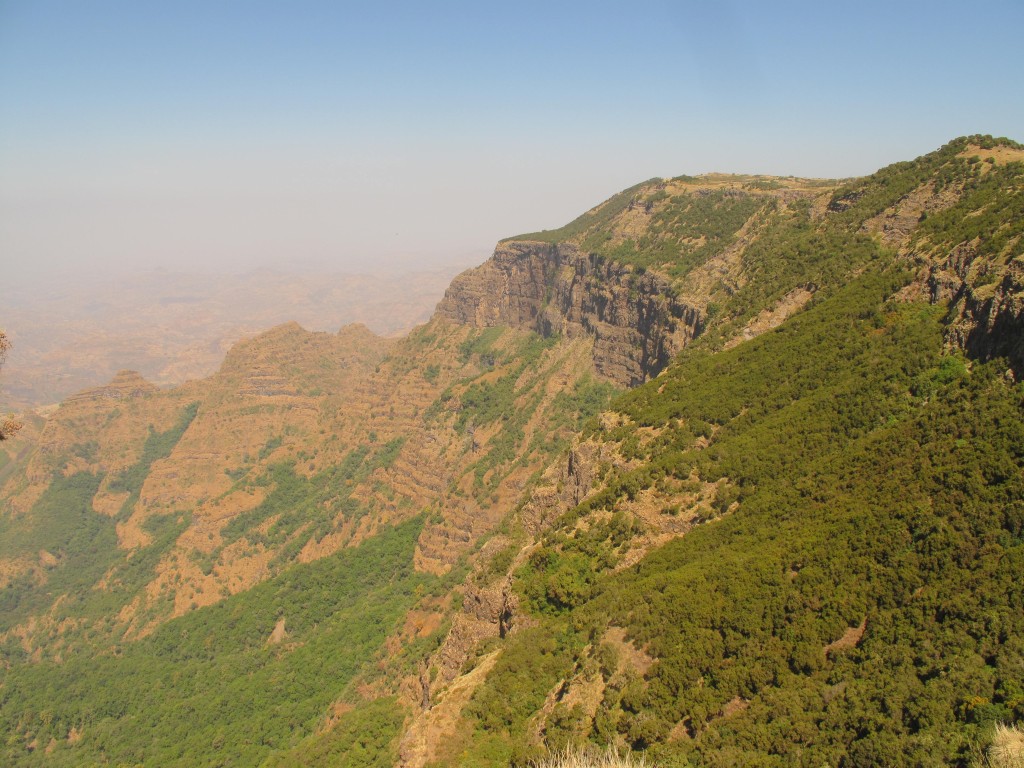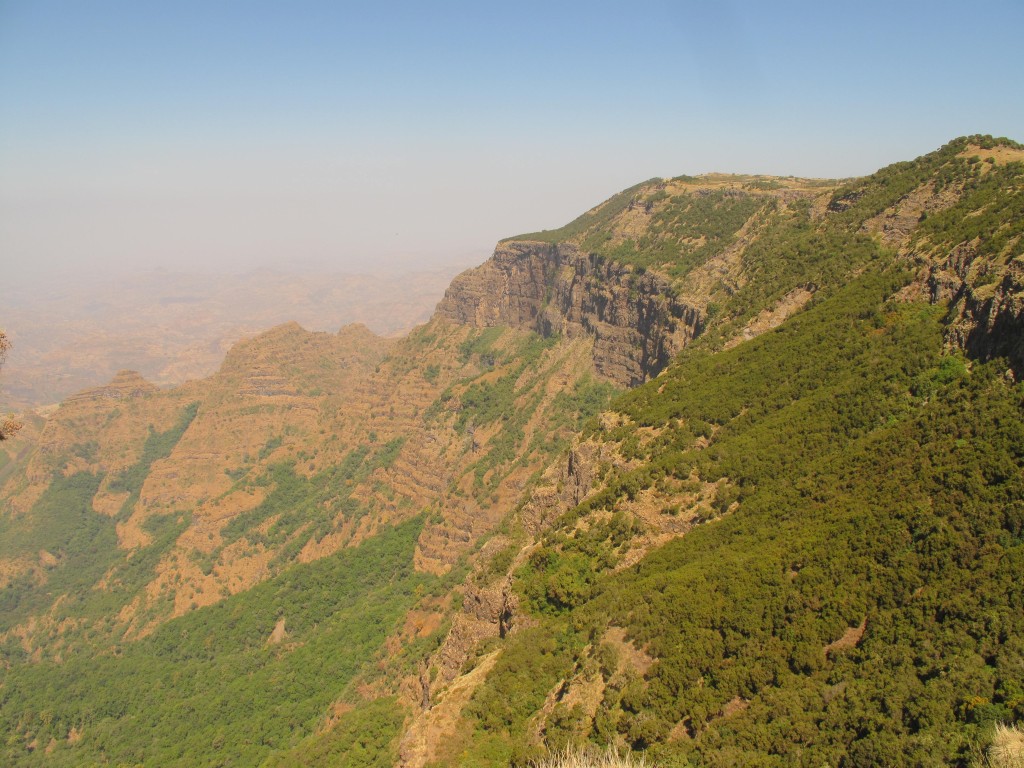 In a few hours, we arrived at Sankabar, our camp for the first night, where we met people from some of the other groups that were hiking the same route.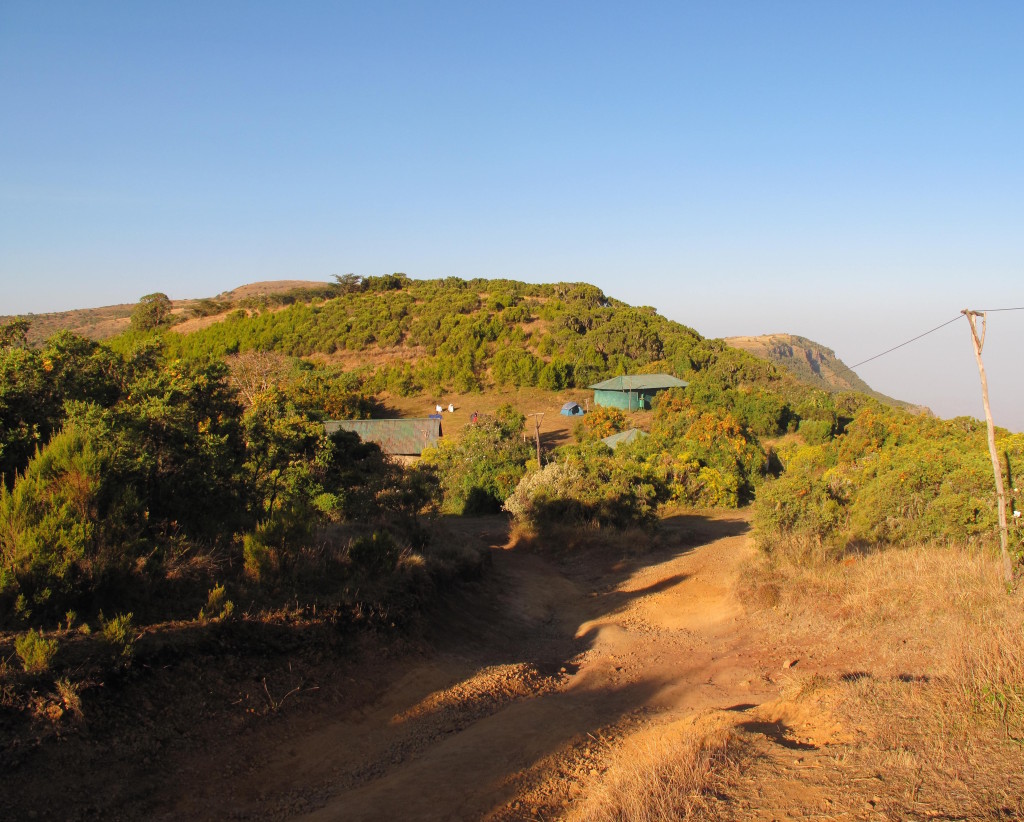 We had learned about the Simiens from our friend John who had volunteered for a research project studying gelada monkeys, Ethiopia's coolest primate. Sankabar is the center of this gelada research. We had hoped to spend a day tagging along on some gelada adventures, but this unfortunately didn't work because of our schedule and some other issues.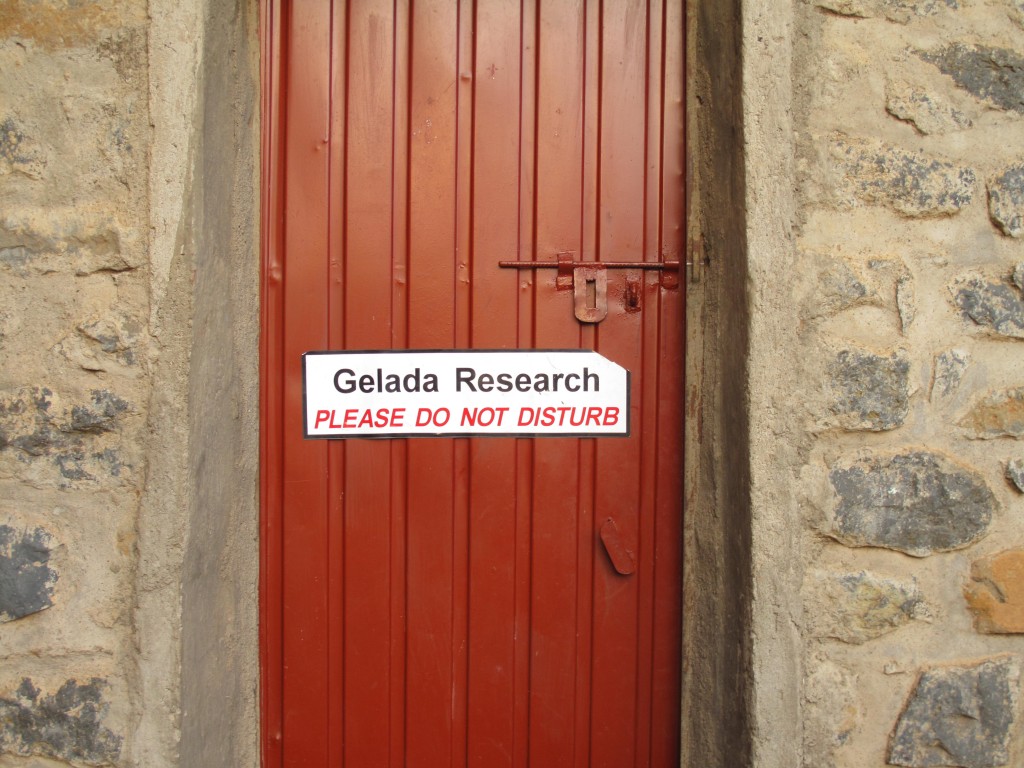 We were lucky enough, however, to meet with Caitlin, one of the researchers. She showed us around their gelada research station and Sarah, who is a wannabe primatologist, was in heaven. We got to hear about all the latest research and craziest gelada stories. Jason had to practically drag Sarah away from the gelada station and we both fell asleep dreaming of monkeys.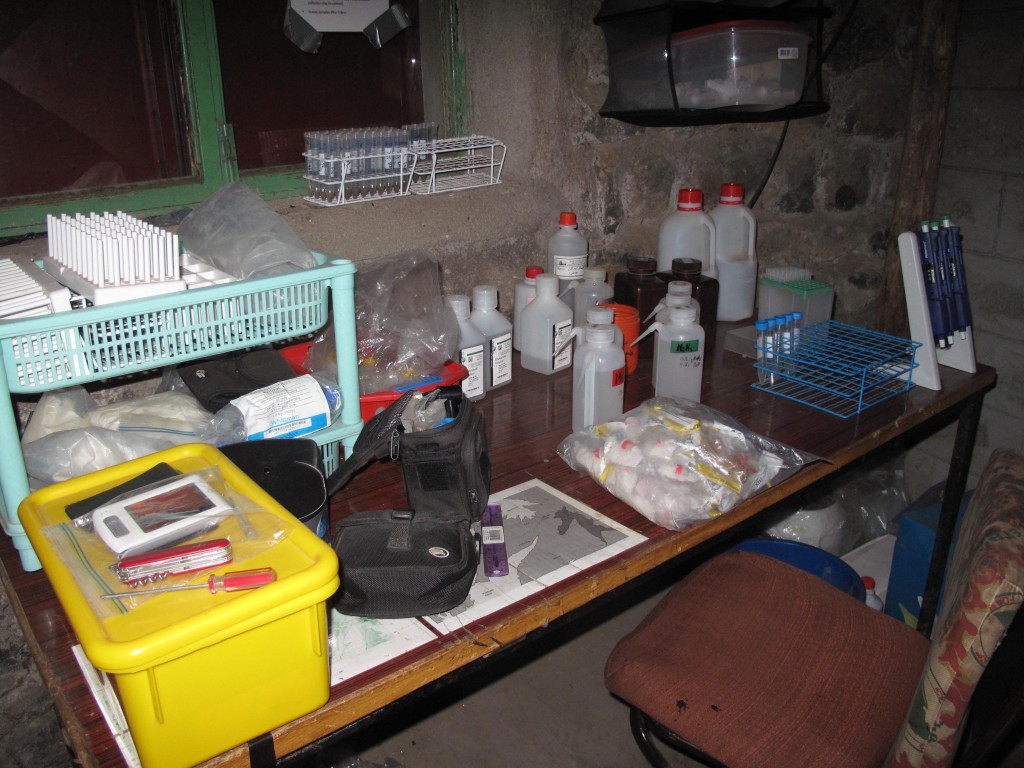 All the glamour of the gelada lab.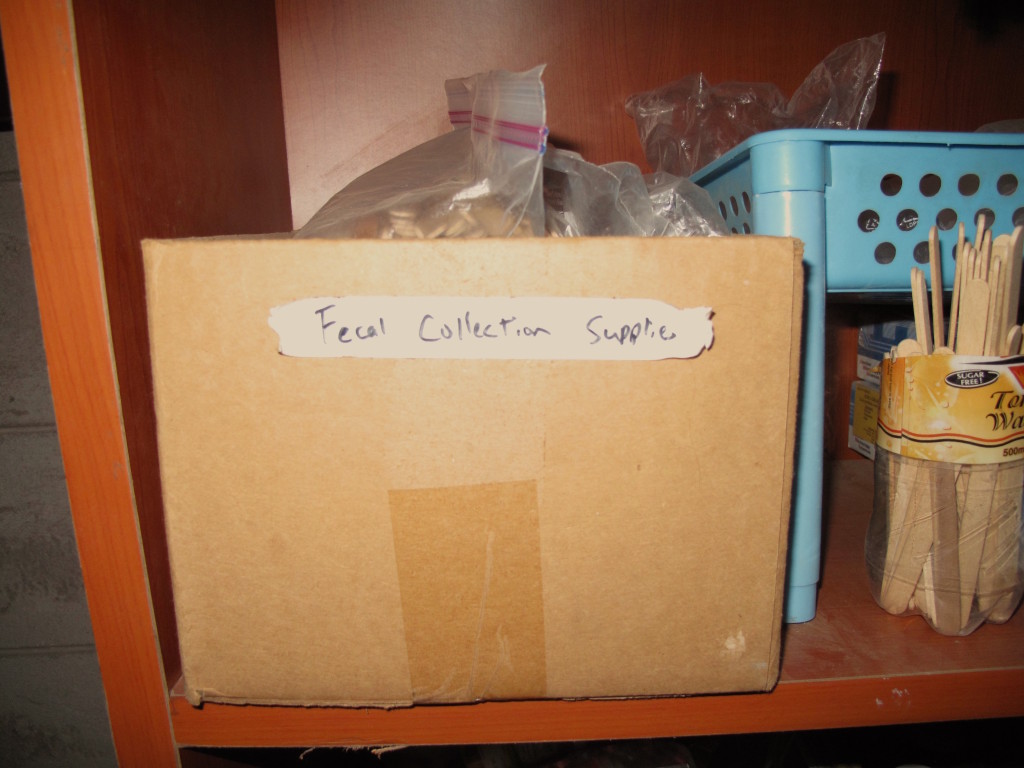 The next day, headed to the second camp, we spotted a troop of geladas just a few minutes into our hike. Geladas are found only in Ethiopia and are the only primates that are gramnivores (animals that primarily eat grass). During the day, they feed and socialize on the tops of the Simien plateaus, and when night falls they climb down the steep slopes to sleep on cliff edges where predators can't reach them. Recently, scientists discovered a fascinating relationship between geladas and the endangered Ethiopian wolf. They noticed that geladas weren't usually bothered when a wolf (who could easily kill a young gelada) was near them. They realized that the wolves were much more successful at hunting rodents when in the presence of the monkeys. And geladas likely benefit from the presence of wolves because the rodents compete with the monkeys for grass, their main food source. Yay for symbiosis!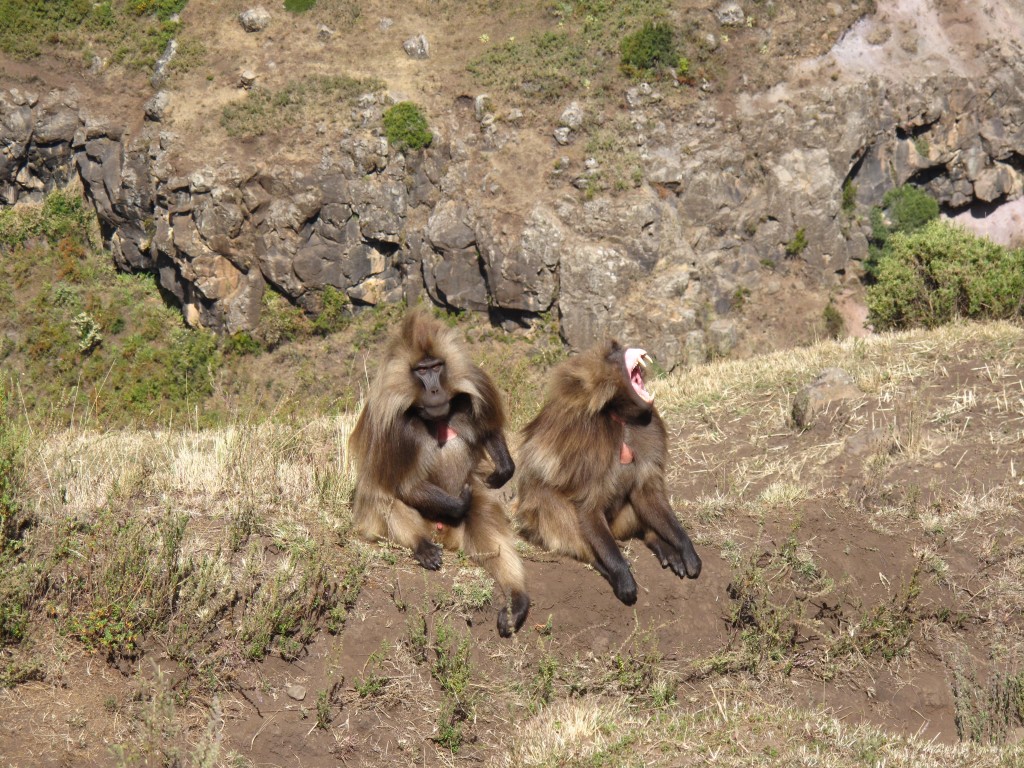 Can you spot the geladas in this pic?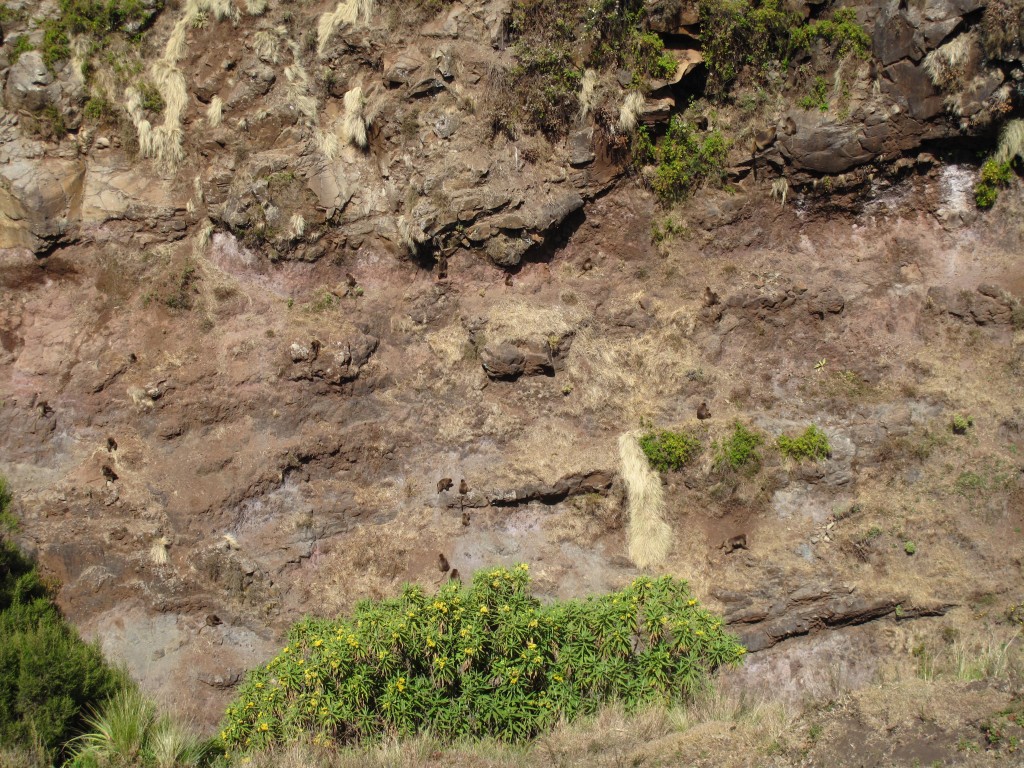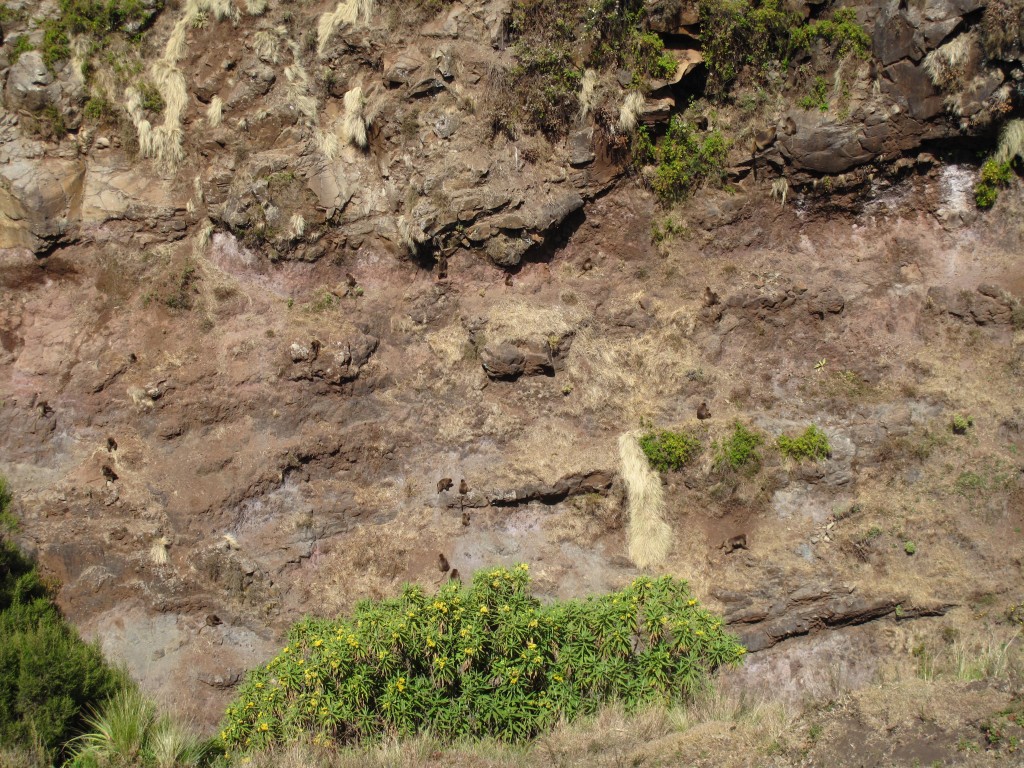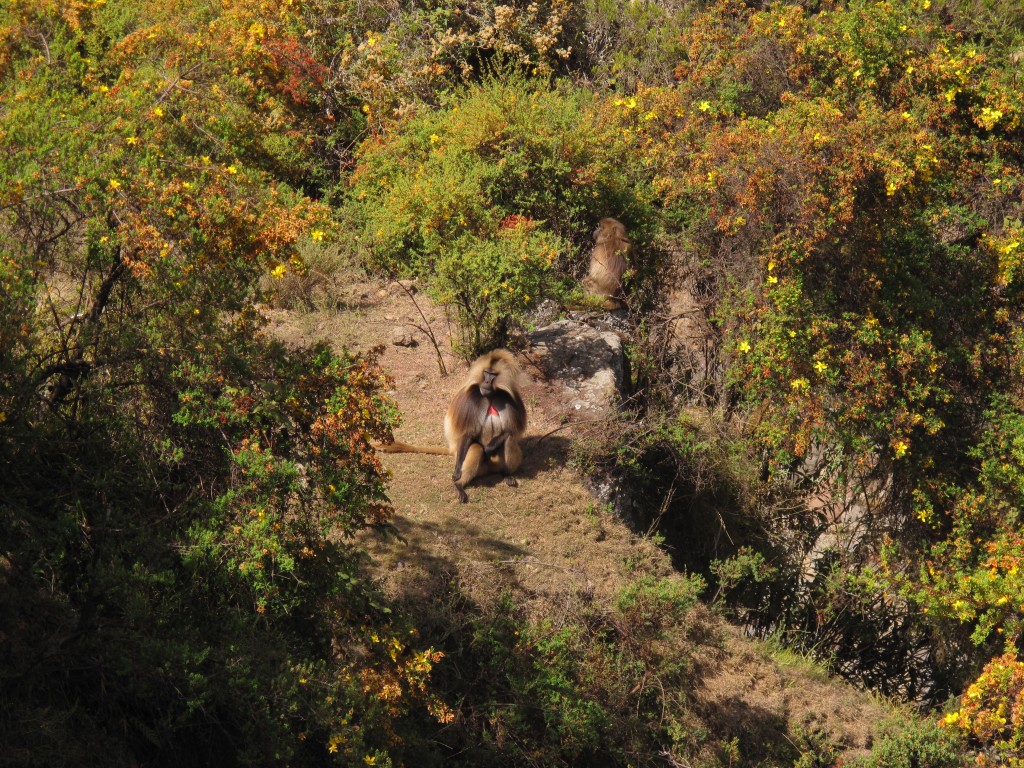 We also got to see a lot of other animals on the hike, many of which are unique to the Simiens. We saw the walia ibex (shown at the park headquarters in the picture below), 2 deer species (klipspringer and bush buck), crazy big vultures (like the lammergeir and rippled vulture), the Ethiopian wolf, and the odd-looking thick-billed ravens.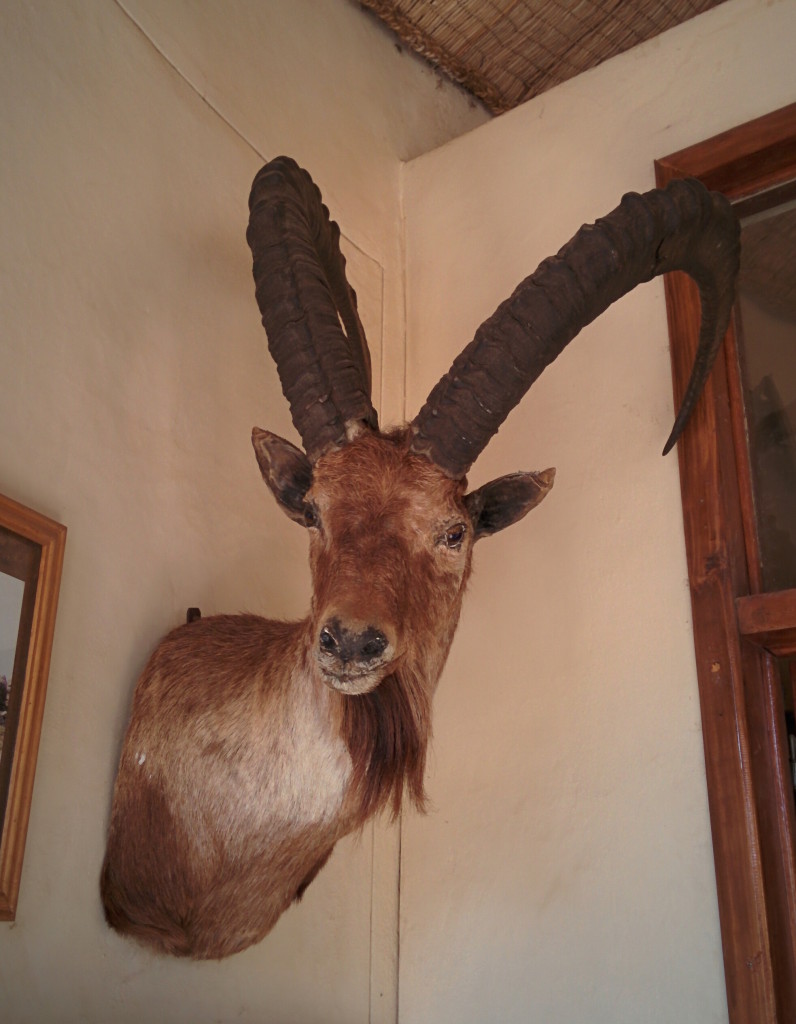 An azmari (Amharic for singer) treated us to some masenqo music.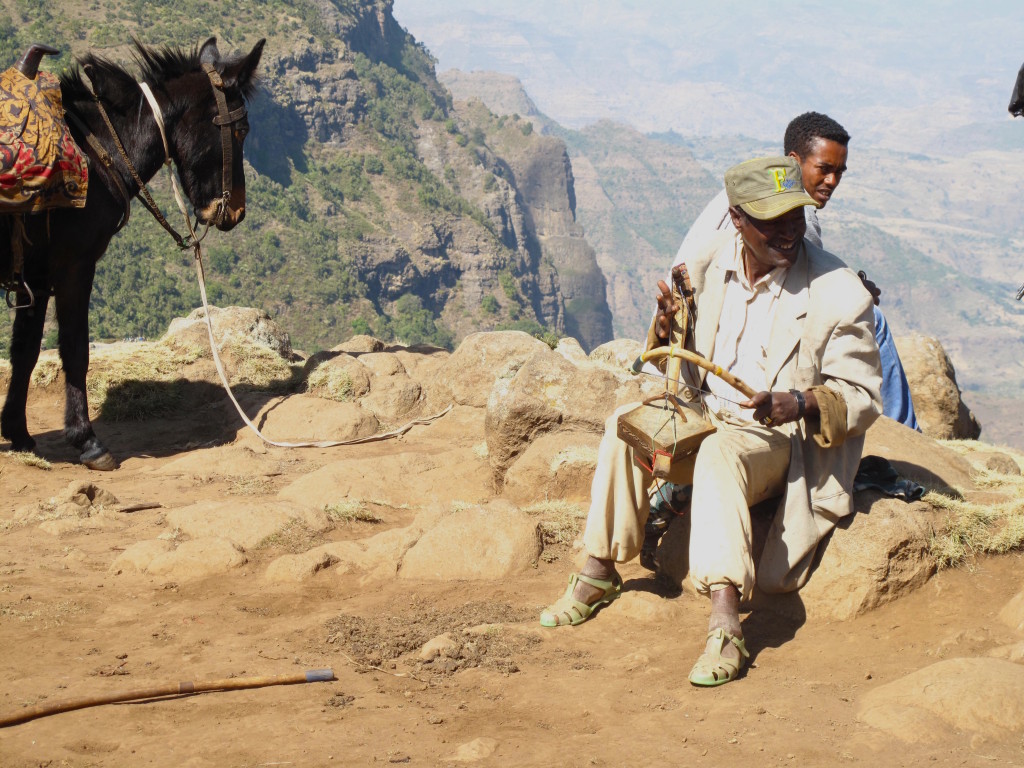 We also discovered Andar Gancho loves to star in pictures with his gun.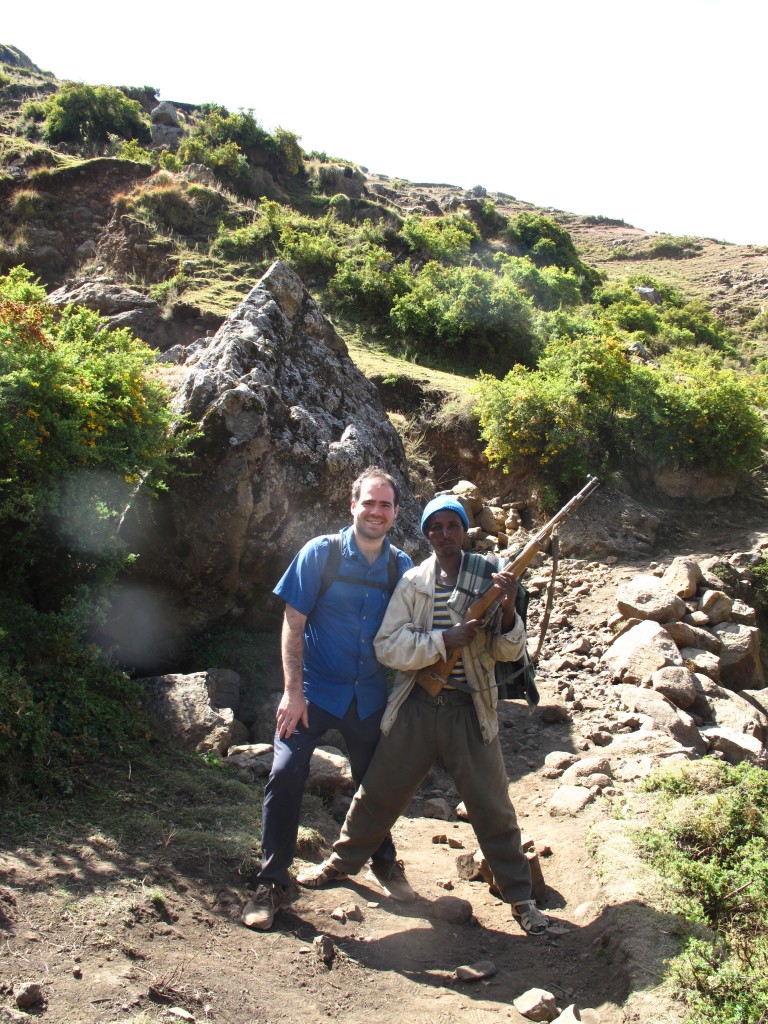 At more than 13000 feet, we weren't adjusted to the altitude and the hike turned out to be pretty tough. But we'd stop fairly often and eventually Andar Gancho would call out 'Niheed' (let's go) and we'd be back on our way.



Seventy percent of Ethiopians are farmers and lots of agriculture takes place in the park. We walked through one of the farming villages, called Geech. Amare told us that (similar to the displacement of Native Americans during the establishment of US national parks) plans were in place to re-locate many of the long-term Simien Mountains residents to Debark, in the name of conservation. The people getting re-located would get a cash settlement but Amare seemed concerned that the move would be difficult for them: they'd experience a total lifestyle change without being equipped or trained to find new jobs and the money received wouldn't last long and wouldn't be enough to buy new land to farm. Here's Andar Gancho at the entrance to Geech.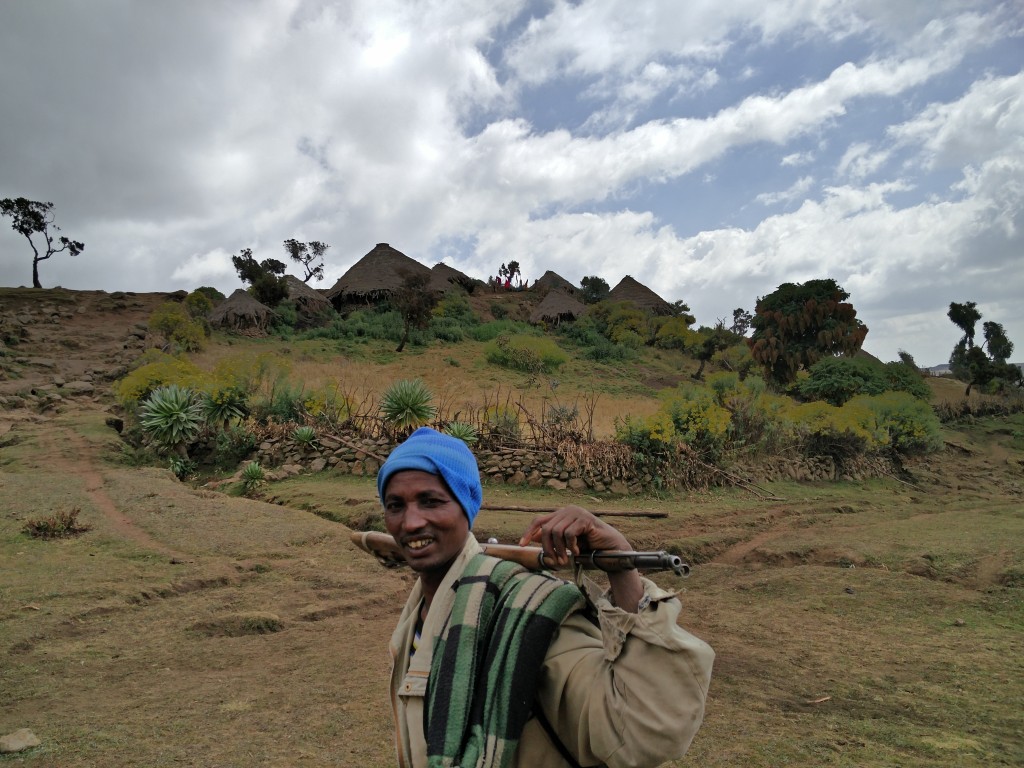 After more hiking and gelada watching and a quick swim in the river, we made it to the second camp.

We relaxed with some tea and popcorn (a typical Ethiopian snack) while Jason did some tech support for Amare at 4000m.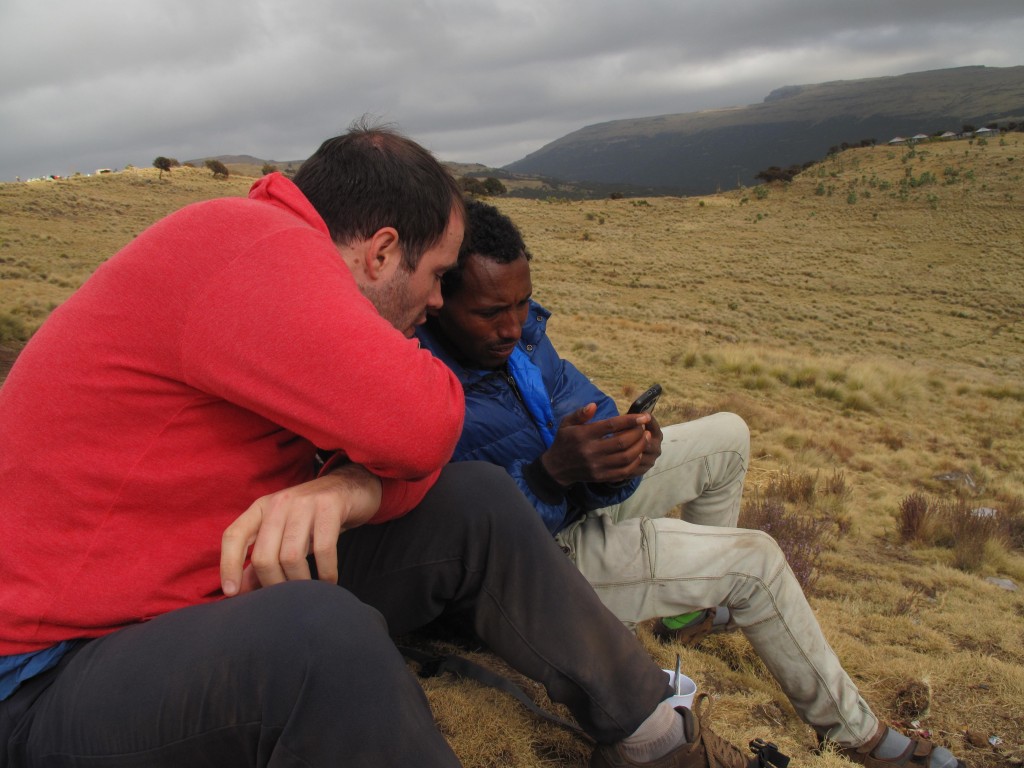 Afterwards, we hiked even higher to watch the sunset from a nearby peak. While it was too cloudy for a colorful sunset, the views still weren't too shabby.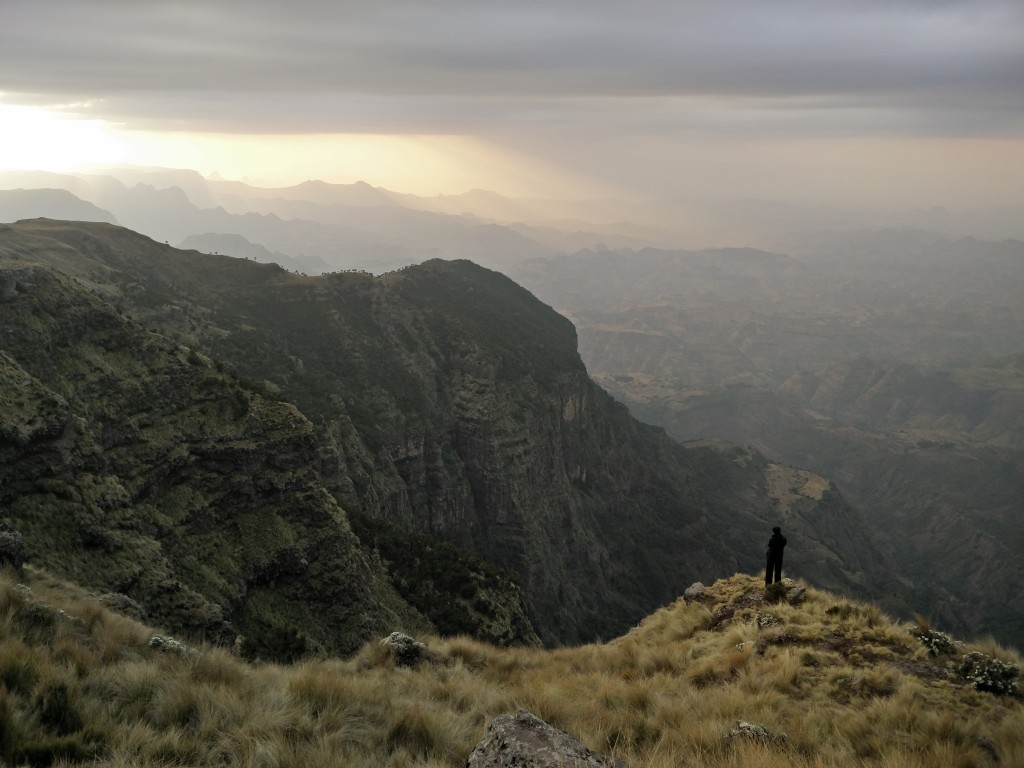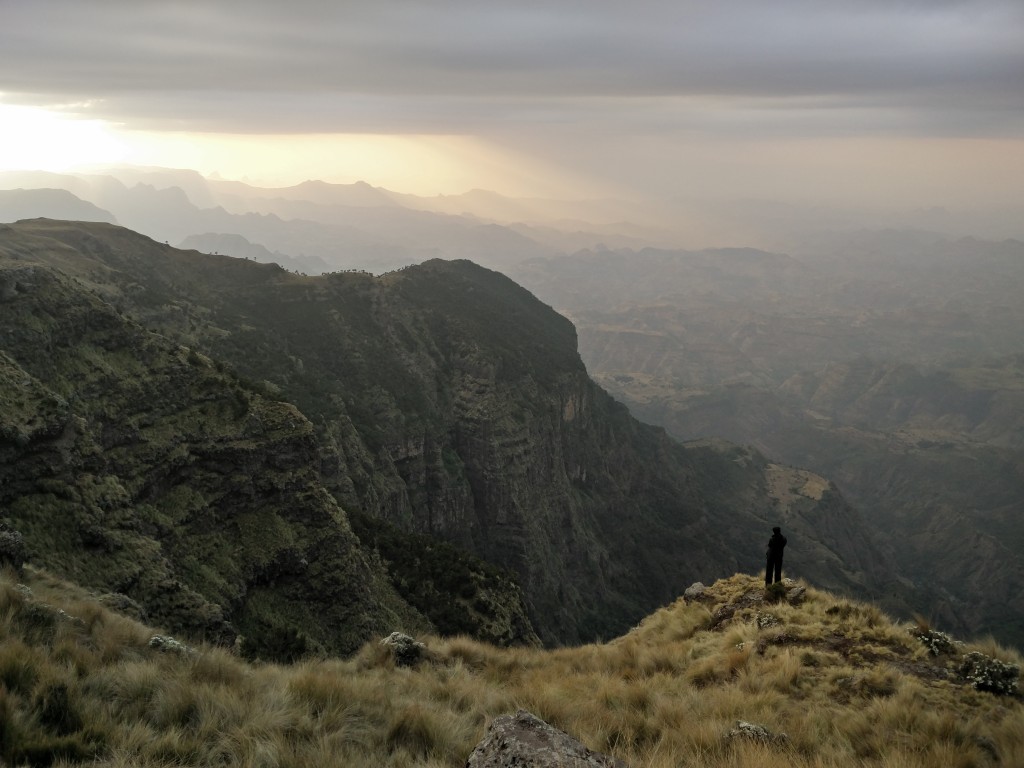 One of the guides pulled out what looked like a ten-year-old bottle of Ethiopian gin.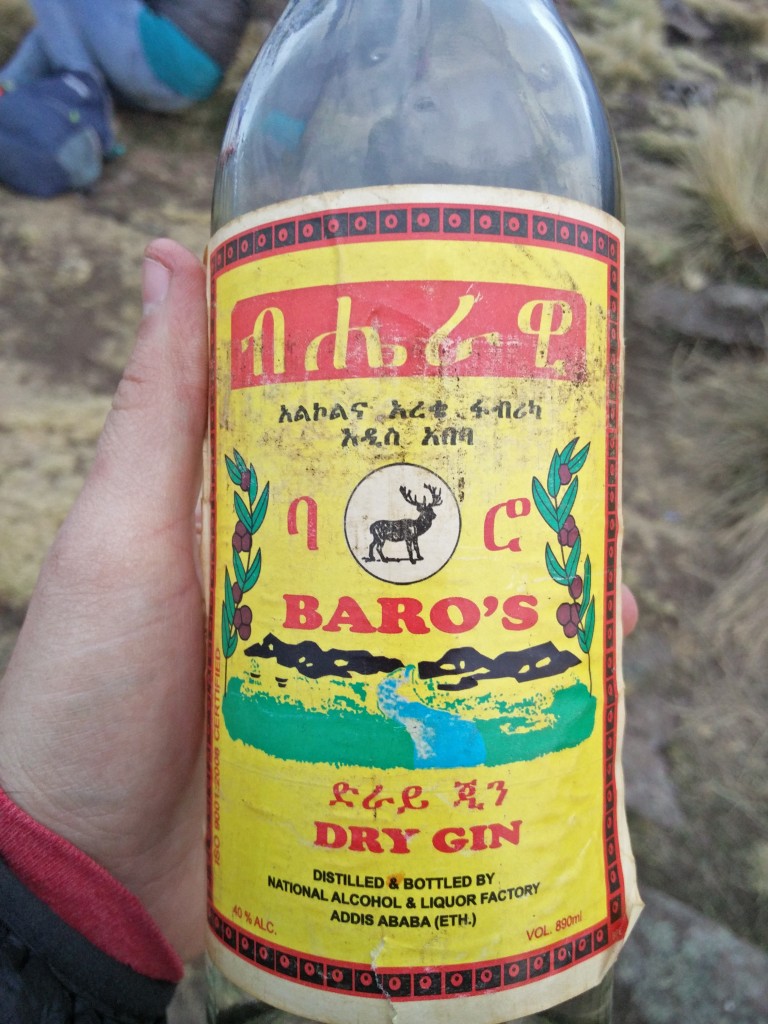 Given the tough hike, we were willing to give it a try despite its uncertain origin.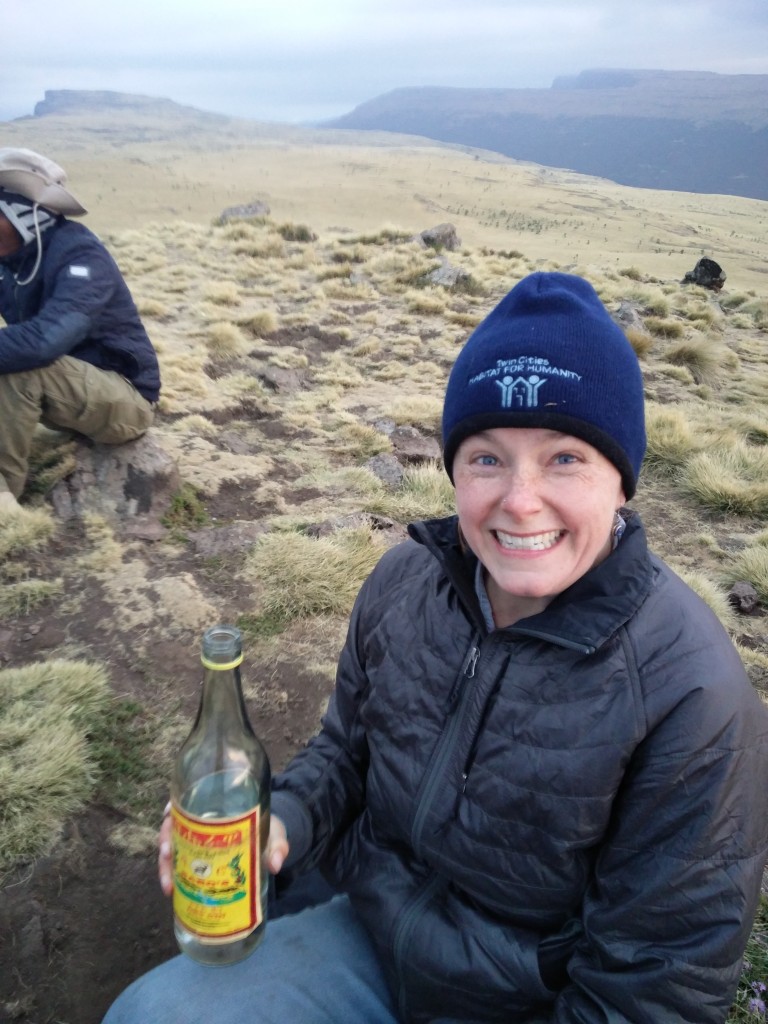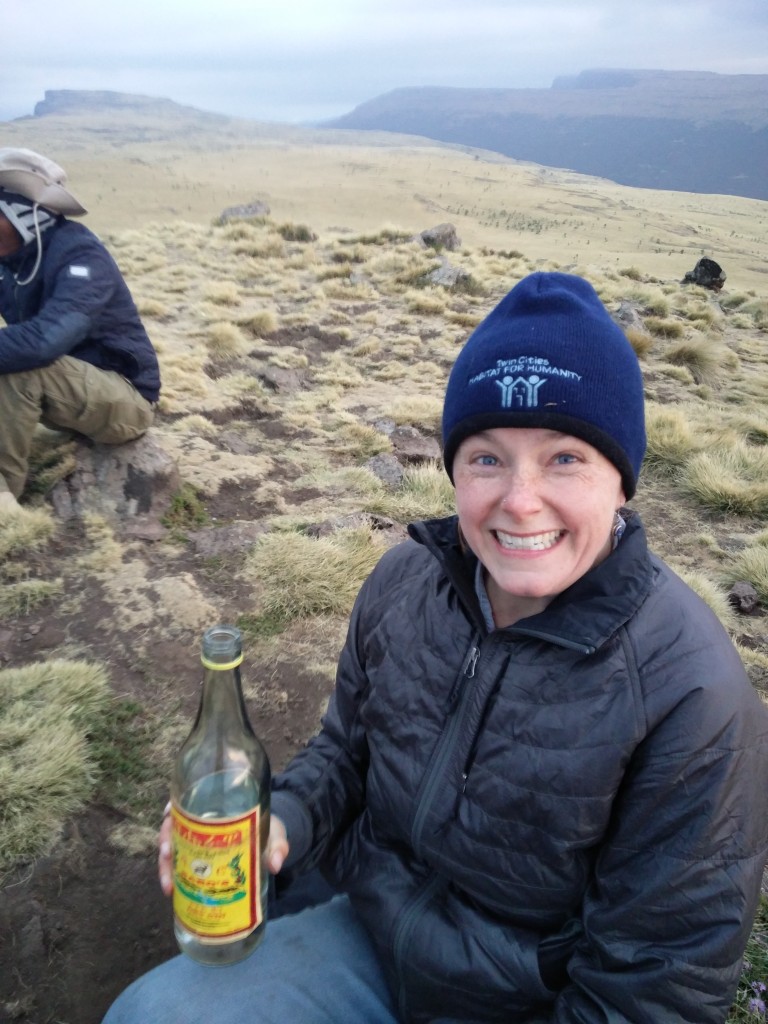 So here we were, in probably one of the most remote places we'll be on the trip. We started chatting with a couple (Sean and Christine) from another tour group. We were amused to discover that not only had they both gone to school at UC Berkeley, but they also lived at one of the student co-ops (where Jason and Sarah met in grad school). Small world, indeed!
We shared co-op stories (they had lived at Lothlorien where we had attended several parties) and talked about our travels. Christine and Sean were in Ethiopia for several months volunteering for the Tropical Health Alliance Foundation (THAF), making videos to promote the work THAF does to cure blindness caused by cataracts. More than 5% of Ethiopians are affected by blindness or low vision, one of the highest percentages per capita in the world. And nearly 90% of the vision issues are treatable. The videos they created and the work THAF is doing is pretty fantastic.

The next day we rose early, ate some oatmeal and set off for our final day of hiking. As mentioned, Andar Gancho loves his gun pictures. (FYI, we're pretty sure none of the scout's guns were loaded or even functional for that matter.)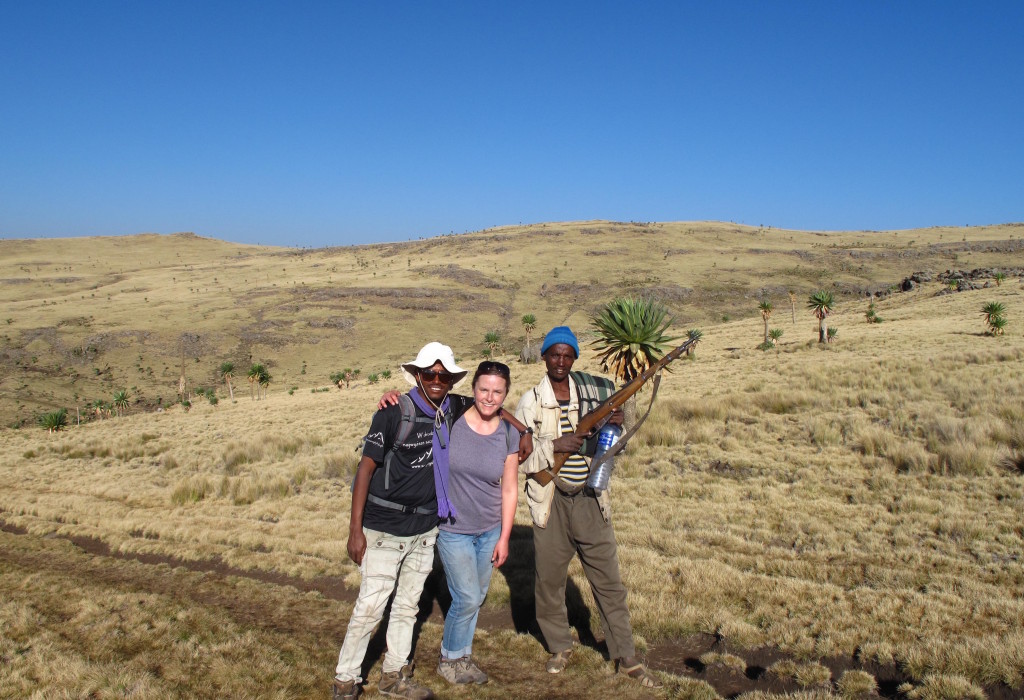 The second half of the hike, we got to see lots of vegetation endemic to the Simiens, including lobelia trees (Lobelia rhyncopetalum)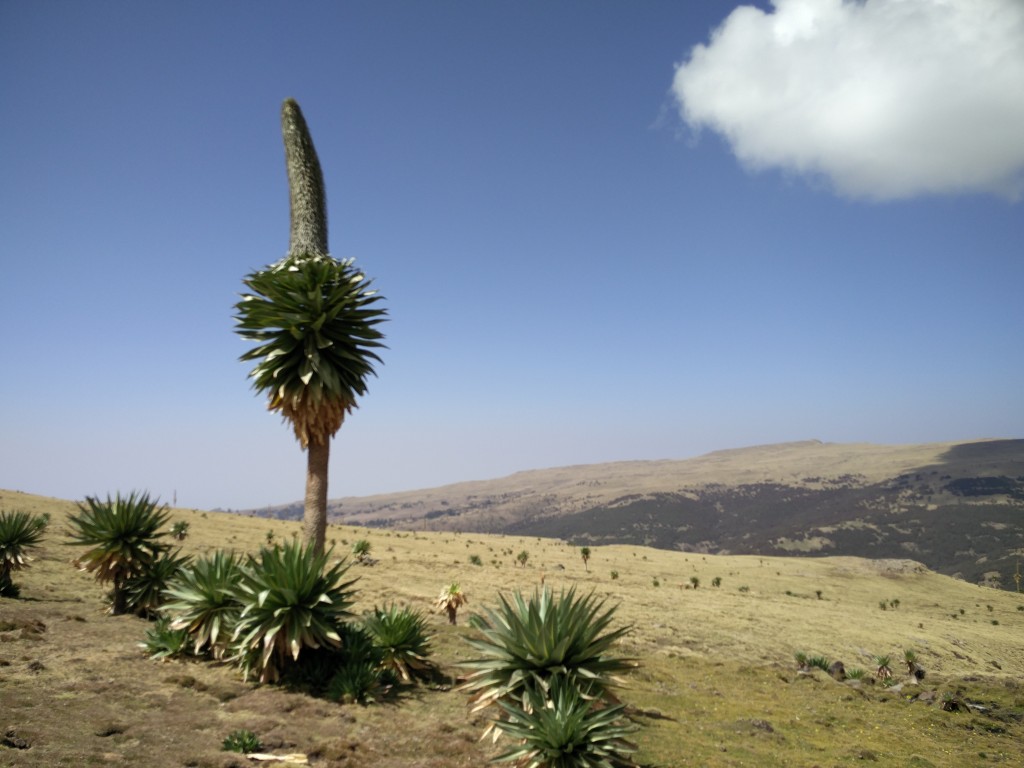 Fields full of everlasting flower (Helichrysum splendidum)

And lots of lichen!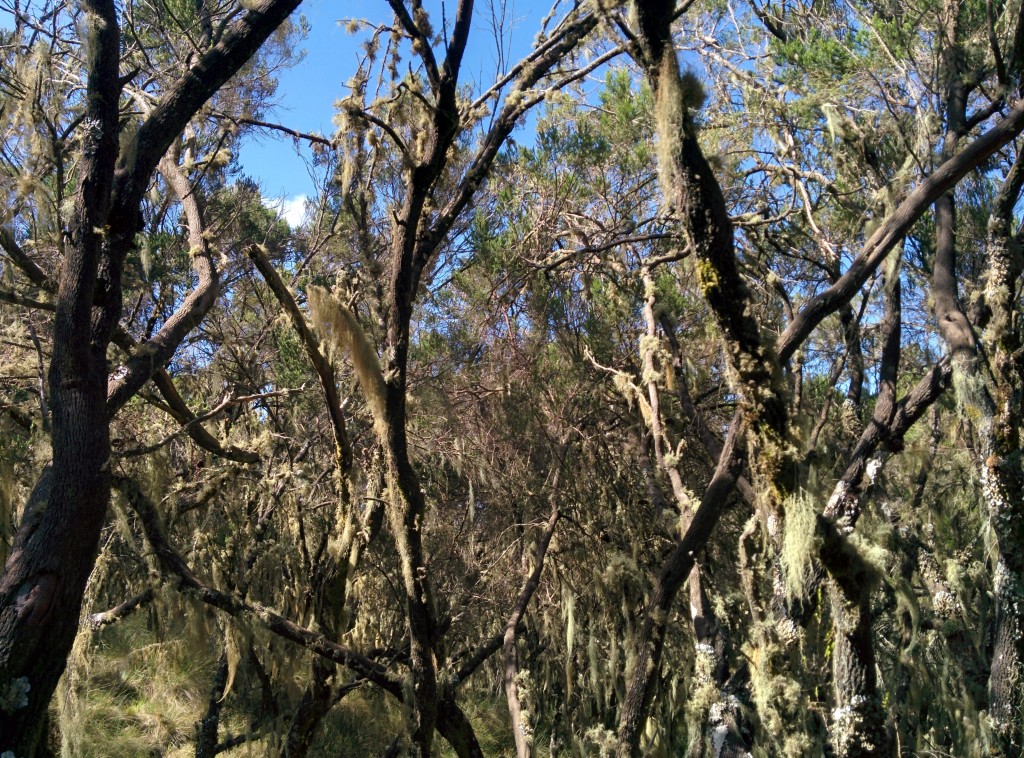 By early afternoon, we made it to the pickup point and while we waited for our ride, we stretched out our tired but happy limbs and watched the local traffic go by.

Stay tuned for the alien landscapes of the Danakil depression….