The music was blaring and our neighbors on the plane (a group of 20 or so college-age Indian men) were in high spirits, dancing and singing, as we sat on the runway in Lucknow, India. Our first visit to Nepal had been very brief — after circling Kathmandu for more than an hour trying to wait out the thunderstorms, our plane from Delhi had diverted right back to India. Nearly 3 hours after landing, with almost no warning, our plane took back to the skies, aiming for an anticipated small break in the bad weather.
This time we touched down in Kathmandu without incident, haggled for a taxi, and after a very uncomfortable ride (the tout crammed another couple into the aging truck at the last minute, and then himself as well, practically sitting on Sarah's lap while trying to hawk us more taxi services the whole way), we arrived to our Airbnb in the pouring rain. The business occupying the floor below our apartment really summed up the hippie/backpacker vibe of the "Thamel" neighborhood where were staying. Don't get us wrong – we both probably relate to Buddhism more than any other religion, but this intricate PVC soul therapy system made us giggle.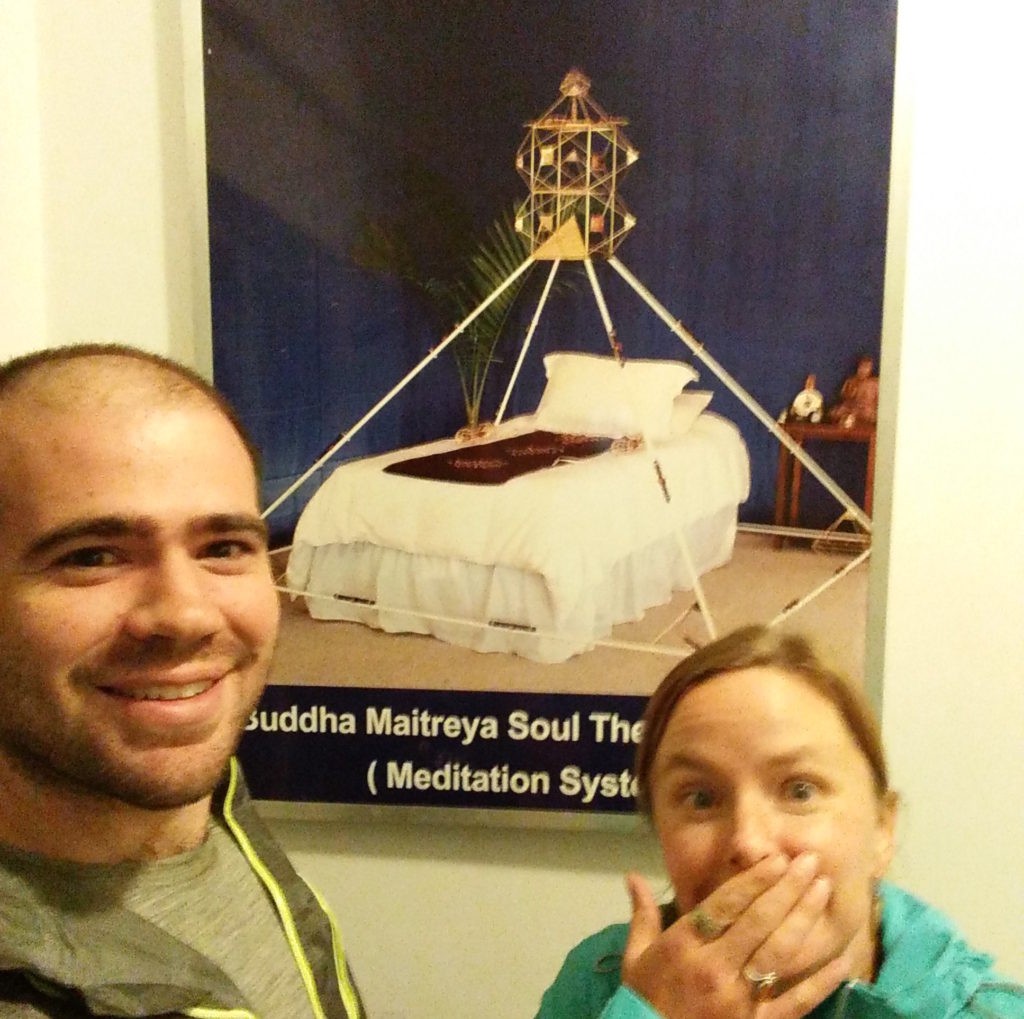 We couldn't relax quite yet, since our Airbnb host really took our apartment walkthrough seriously, spending more than 30 minutes explaining a range of things from how to shower (turn on the water, adjust to the right temperature, only *then* step under the faucet, …) to some more interesting and relevant facts about Nepal and Kathmandu:
– Nepal has its own Hindu calendar in which it's currently year 2073, and is one of the few countries in the world which doesn't use the Gregorian calendar in government institutions.
– The work week goes from Sunday to Friday, and Saturday is the primary day off.
– The time zone is UTC+5:45, a somewhat inexplicably precise 15 minutes ahead of India.
– The municipal power company uses load shedding quite aggressively; there's such a power shortage that each area typically only has municipal power for about 8 hours a day in 2-hour chunks. Fortunately, our Airbnb had a solar backup system that kept the power on for everything but heavy appliances.
Finally, the spiel was over and we got a chance to kick back in the spacious 2-bedroom apartment. After all the greasy (but delicious) Indian food, it was really nice to have a kitchen where we could cook up a heaping portion of veggies!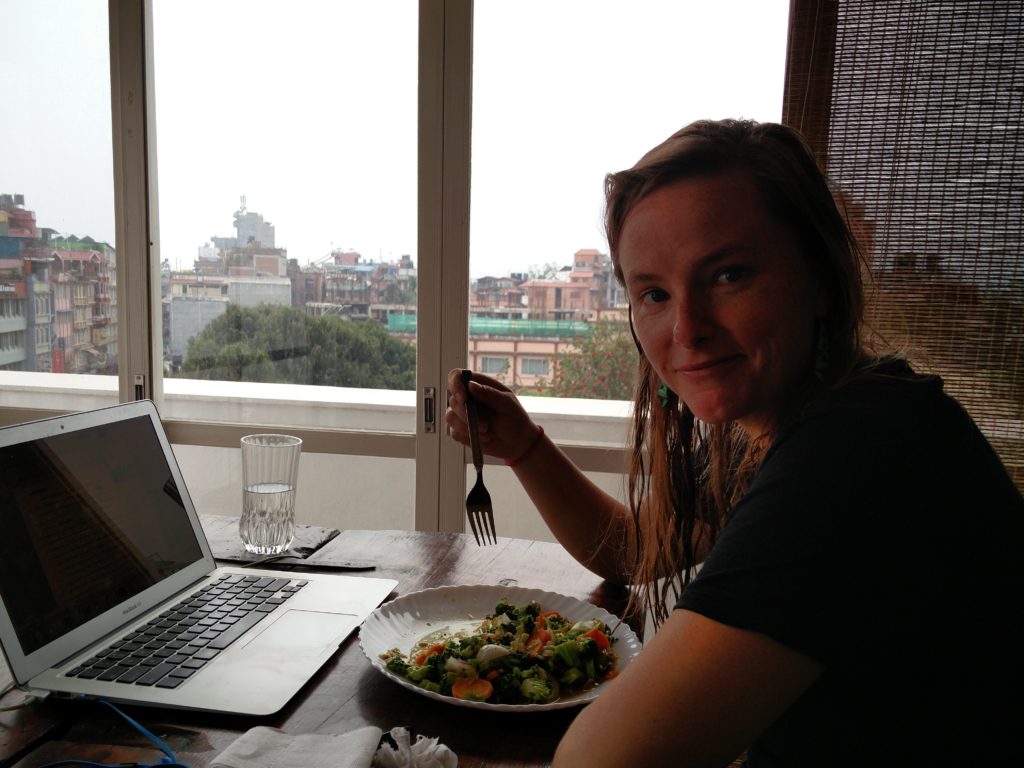 We had arranged to meet our good friend Medeha (who we know from Berkeley, but currently lives and teaches in Vietnam) in Nepal for her spring break, and the next day she arrived right on schedule.

Shortly afterwards, the three of us hooked up with two of Sarah's good friends from college in Minnesota, who had since returned to their home country and settled in Kathmandu. So happy to see them after all these (15!) years!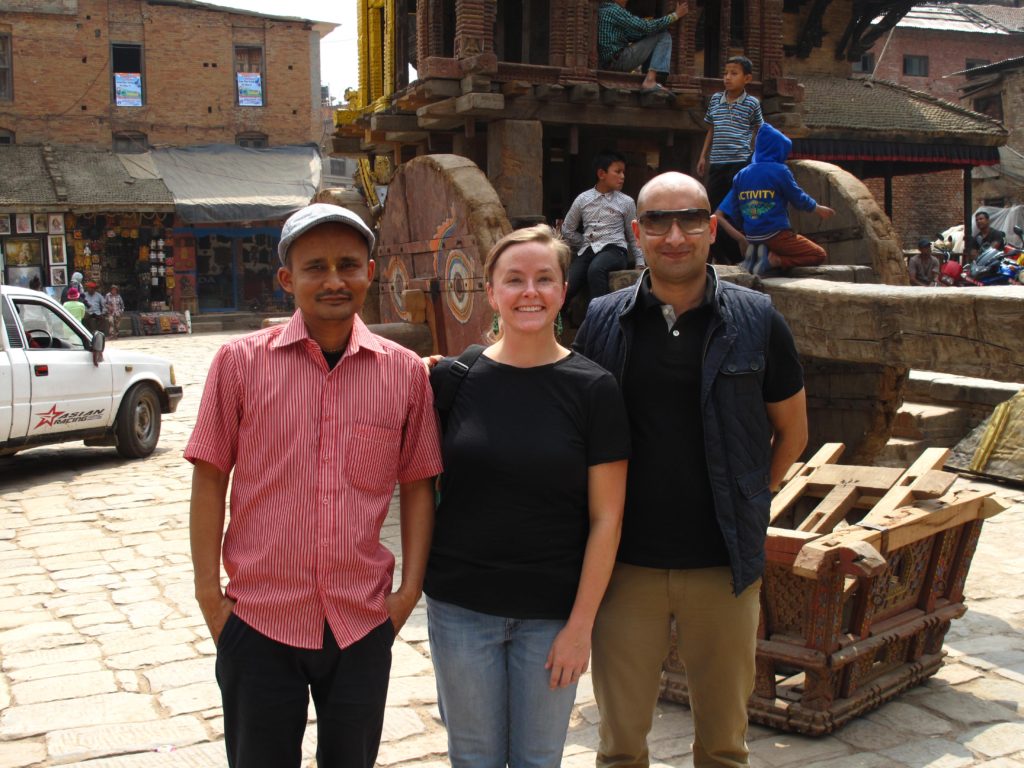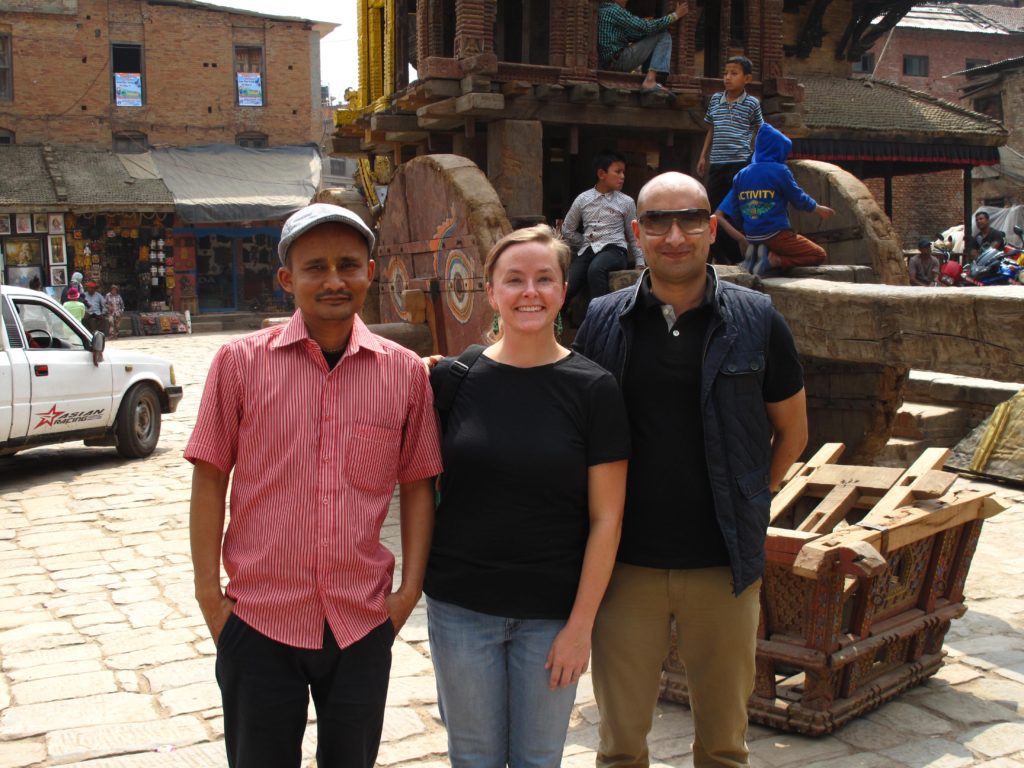 We only had one day in Kathmandu, and Sourabh and Biraj helped us make the most of it, extending us some truly amazing Nepali hospitality. They took us on a whirlwind tour of the top sights, while catching up with Sarah and sharing stories of the earthquake whose one-year anniversary was just around the corner. While we were so glad to know that all of Sarah's friends and their families survived the earthquake, it was harrowing to hear the stories of the event and the aftermath. Everyone had their own unique story to tell, and they all told it with sort of haunted and still-shocked expressions.
Our first stop was Bhaktapur, an ancient town full of temples.  (Photo courtesy Medeha.)

Many of the temples were still propped up with 2x4s to prevent further post-earthquake damage — quite a contrast from Thamel, where no easily-visible effects of the earthquake remained (save for many empty lots). Sourabh explained that so far most of the government efforts and foreign aid had gone into fixing up key tourist areas, and many Nepali families (especially in the hardest-hit rural areas) were still without a home.  According to Nepalese journalist Prashant Jha:  "It is politics, not rebuilding, that has dominated over the past year."  The political blockades include the struggle to write a new constitution which has been ongoing since Nepal's monarchy was abolished in 2008.
Despite the widespread damage, one of the largest of temples, the 300+ year-old Nyatapola, seemed to have escaped unscathed: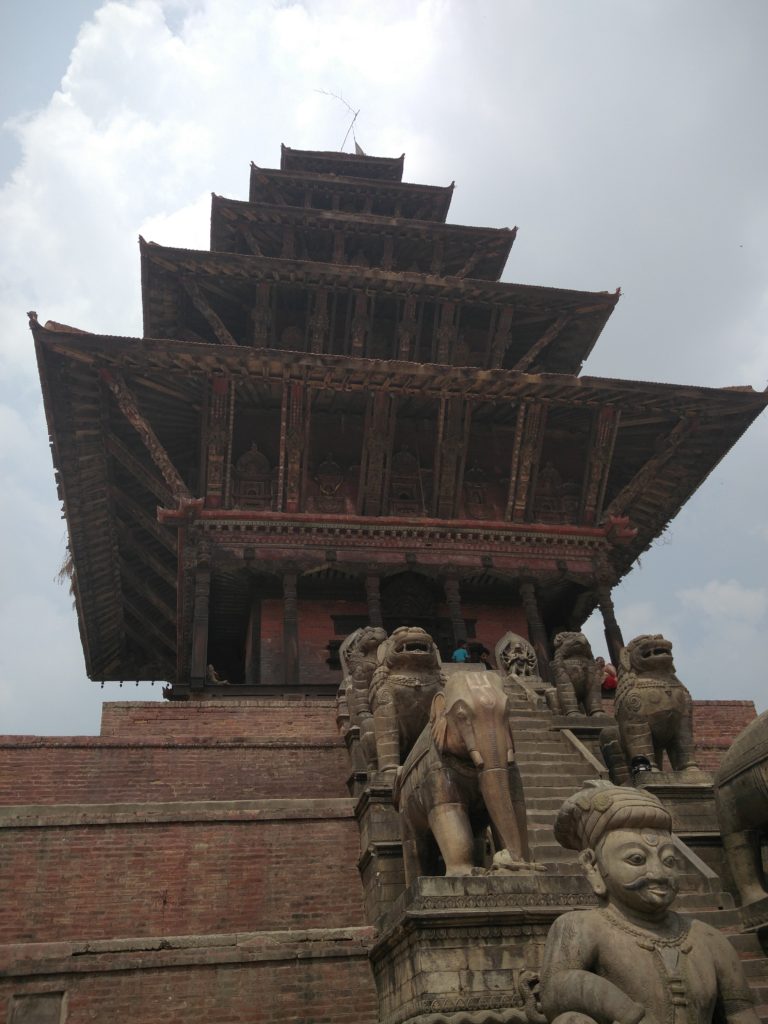 We climbed to the top to find this friendly goat being harassed by some local boys.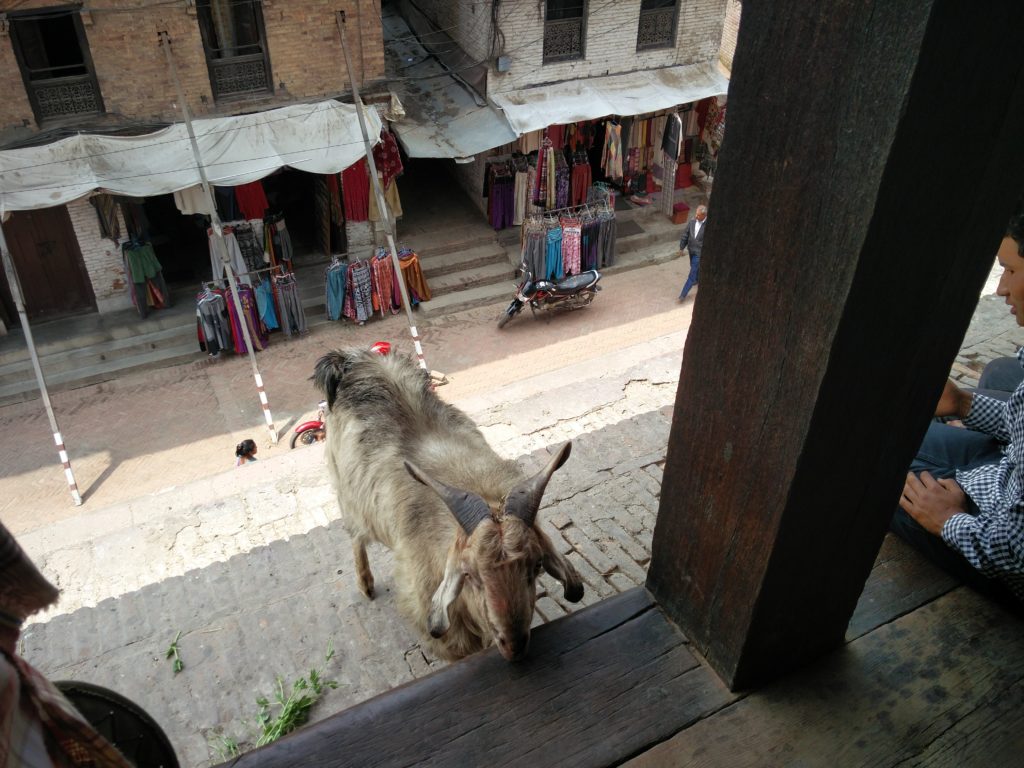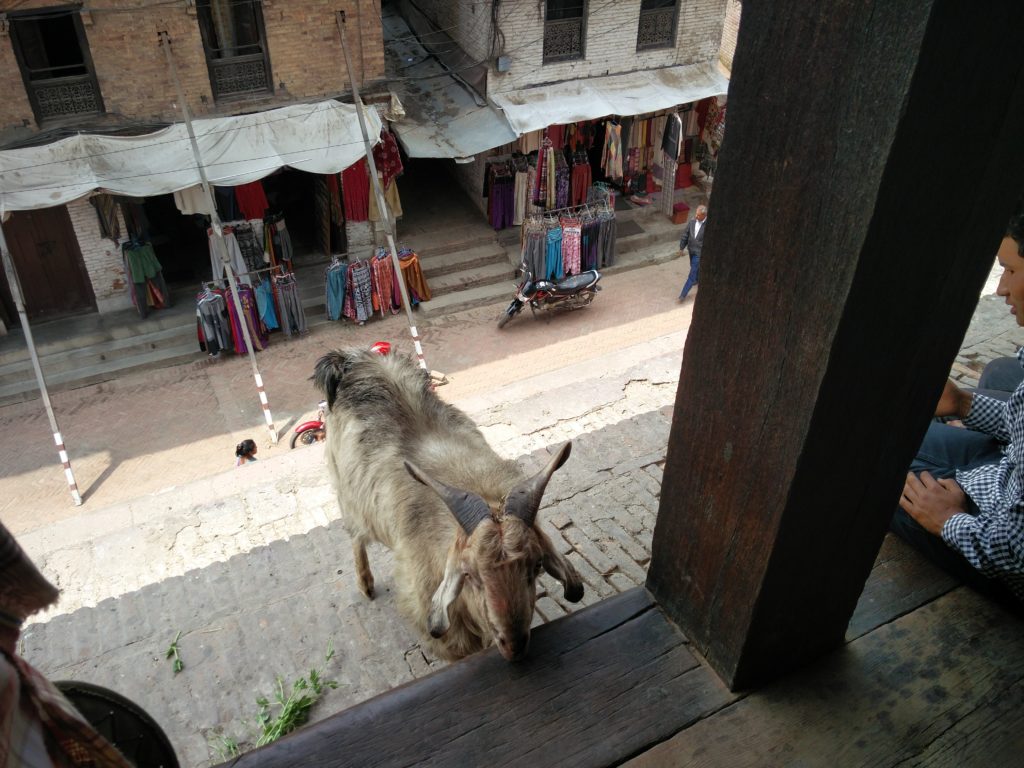 And admired the chariots from a nearby cafe.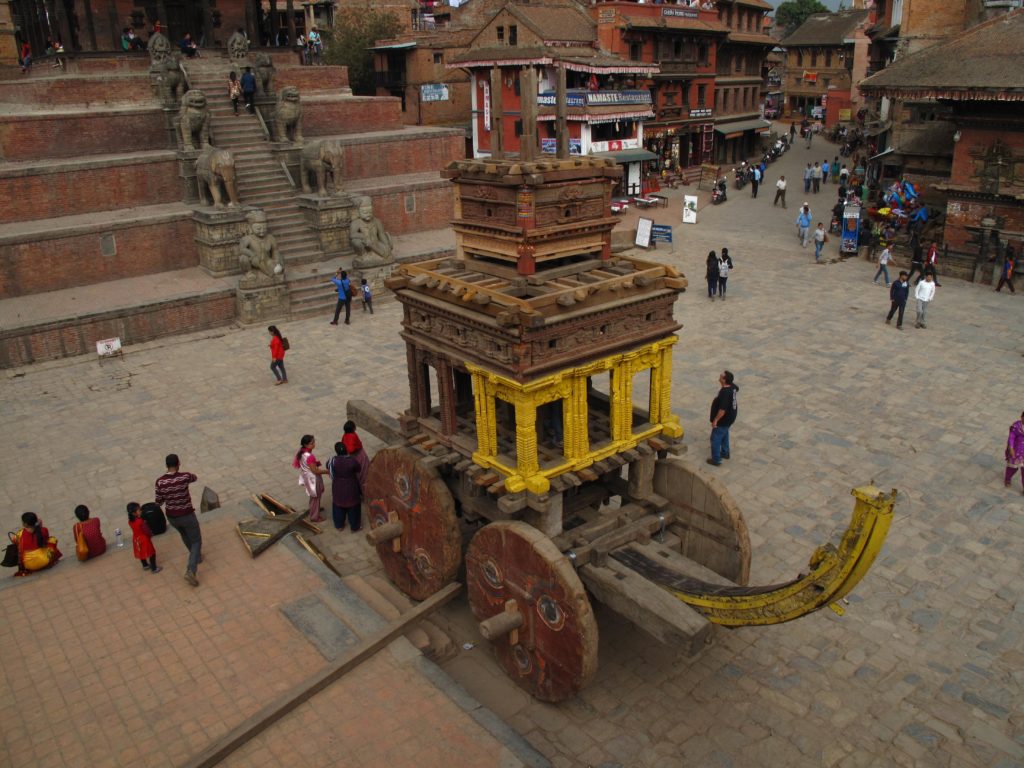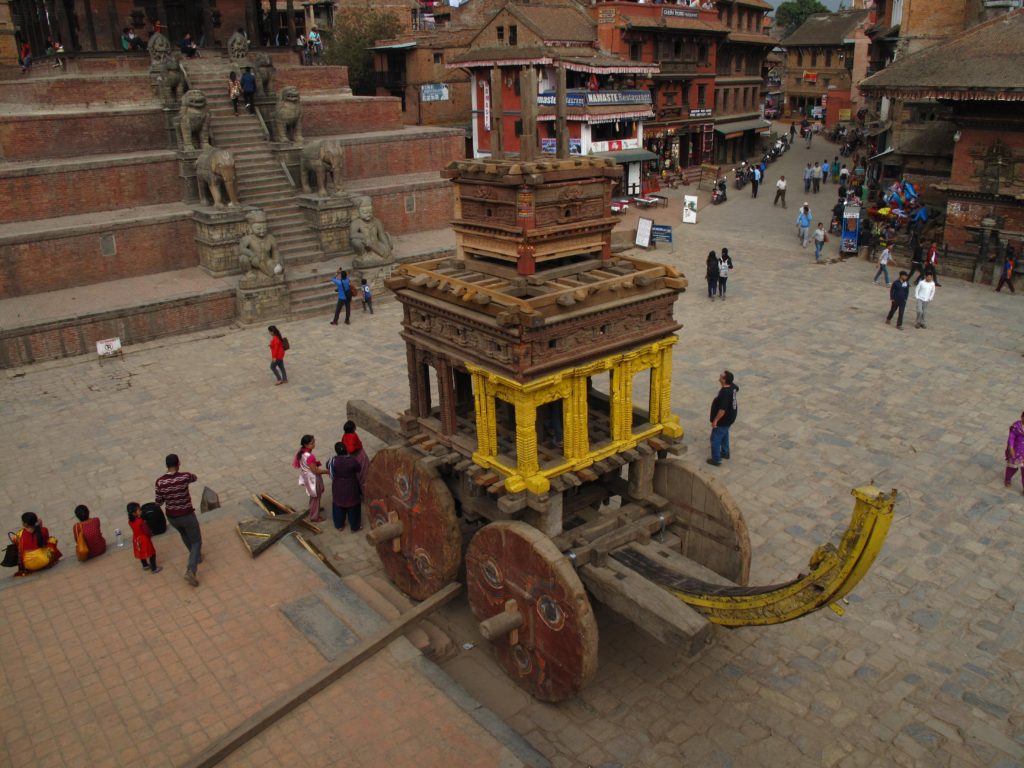 After Bhaktapur, our next stop was Pashupatinath Temple, where, legend says that Shiva once took the form of an antelope because he found the Kathmandu Valley forests so beautiful he wanted to run in them. Like the ghats in Varanasi, this temple on the Bagmati River is a holy place where people were cremated out in the open. (Photo courtesy Medeha.)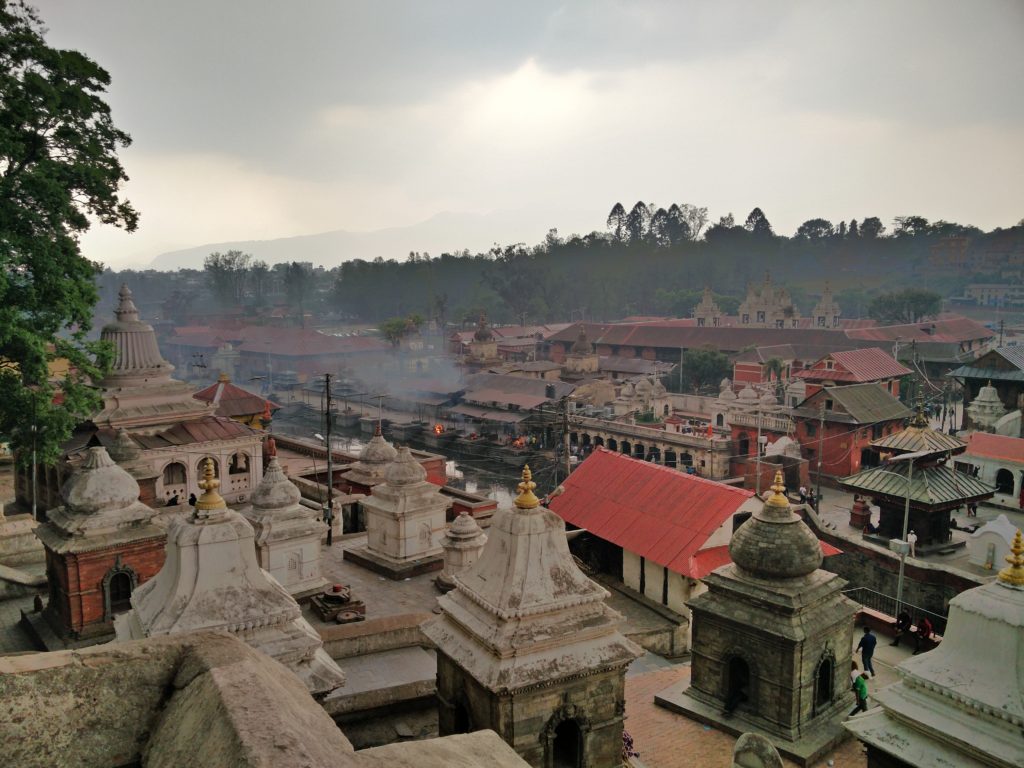 Nearby, we saw a cluster of men in robes and with tilakas of ash and pigment. Sourabh and Biraj explained that they were religious ascetics, or sadhus, who live a simple life eschewing all worldly possessions and devoting themselves to their spiritual practice. They suggested that we could take a picture with them for the equivalent of a few cents, so we bashfully walked up to ask them for the photo.
After we snapped a picture, the men demanded a much larger tip — on the order of a few dollars. We paid up, and as we walked away Medeha snapped this paradoxical picture of the so-called-ascetic counting his wad of bills. While there are many devout sadhus in Nepal, it turns out this crew didn't qualify. (Photo courtesy Medeha.)

Later, we all met up with another of Sarah's college friends, Karma, and reminisced and shared stories over a meal of delicious chicken momos (a Nepali dumpling, kind of like a potsticker). From Karma, we learned about the Nepali 'gold rush', the fascinating Cordiceps fungus and the effect it was having on Karma's village. The fungus infects caterpillars, causing them to climb the highest piece of vegetation they can find — at which point the fungus bursts from the caterpillar and uses the altitude to better spread its spores. The carcass of the now-dead caterpillar has obtained a reputation as an effective alternative to viagra, and is so valuable (up to $50,000 US per pound) that it is a dominant, and often disruptive, factor in many rural Nepalese economies.
Just after dark, Sourabh and Biraj brought us to one last destination — one of Kathmandu's iconic landmarks Swayambhunath, a Buddhist complex consisting of a stupa (a building which represent Buddha's mind) and several shrines and temples.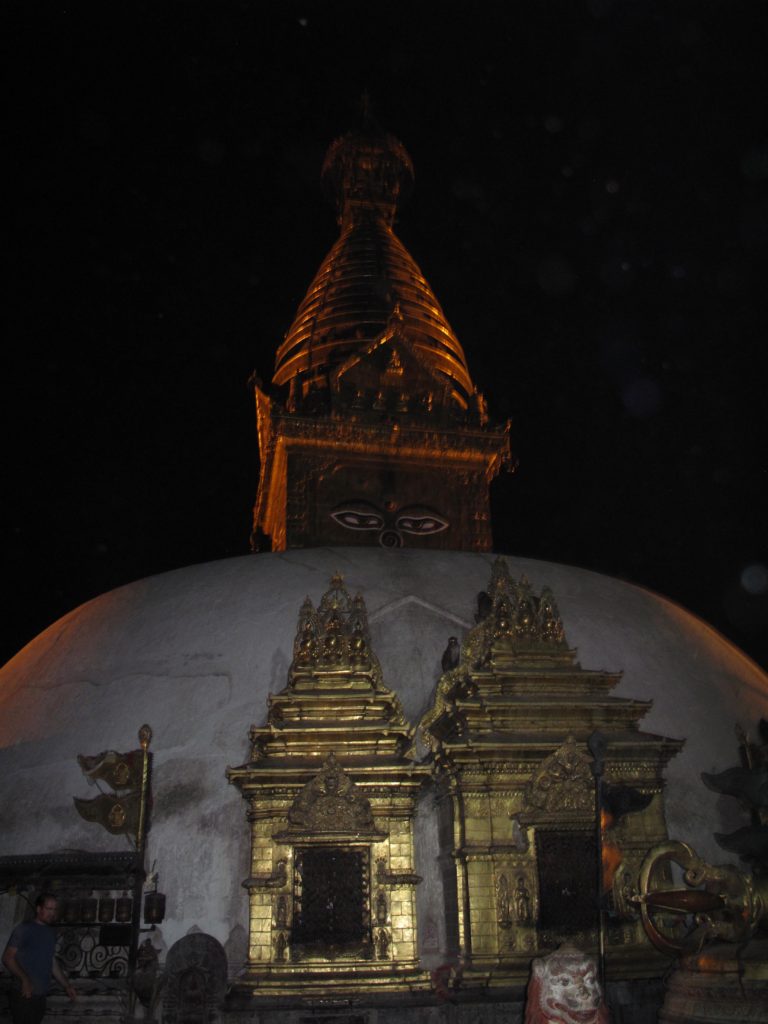 Swayambhunath is supposed to be closed at night, but our hosts knew how to bypass the rules and soon we had trekked to the top of the hill and were circumambulating the temple in the proper clockwise direction, spinning the prayer wheels along the way.

Swayambhunath is famous for the many monkeys that live on the temple. Supposedly they can be pretty mean during the day, but at this time they were mostly cuddling in small groups and settling down for sleep.

Afterwards, we said goodnight to Sourabh and Biraj, but before bed Karma brought us to an place called Purple Haze just up the street from our apartment. We had passed the place 10 times without giving it a thought, since from the outside it seemed quiet and empty; but when we got inside, we found it packed to the brim with locals and tourists alike nodding their heads with the talented musicians onstage.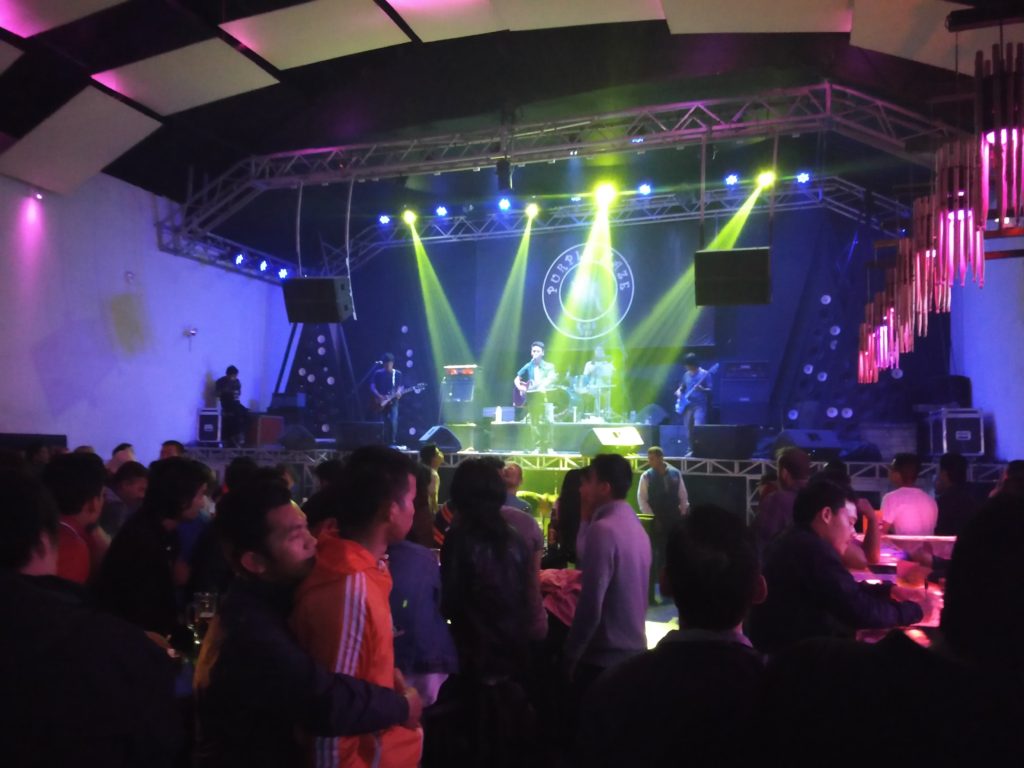 We enjoyed the music over shots of the local Khukuri rum, which comes in a bottle shaped like the Khukuri knives yielded by Nepali Gurkha soldiers, thought by many to be the fiercest and bravest fighters on the planet.
It was wonderful to meet up with friends old and new, so we were both sad and excited to be leaving town the next morning for another city. Our next destination, Pokhara, lies at the foot of the Annapurna range (home to 3 of the highest ten mountains in the world, and not too far from Everest). We were a little bit sketched out when we got our hand-written boarding passes: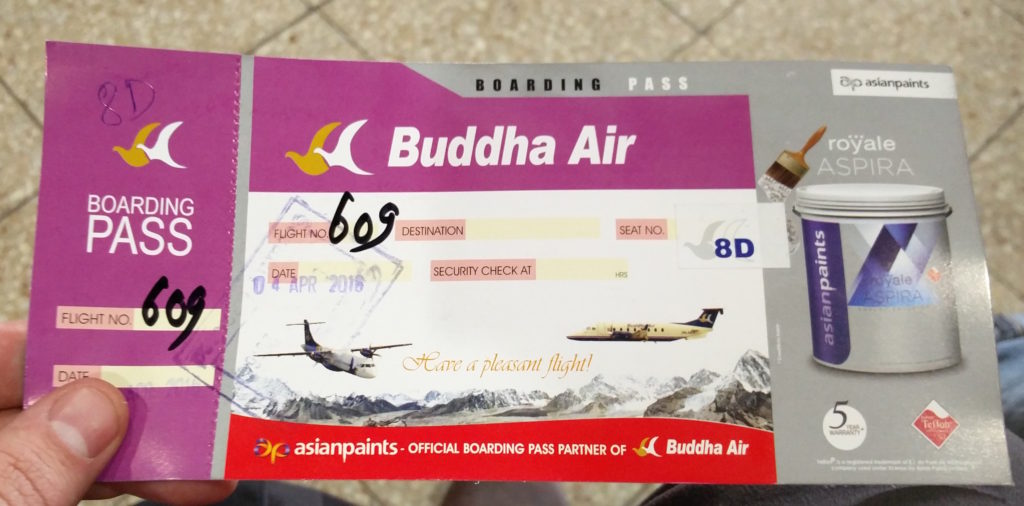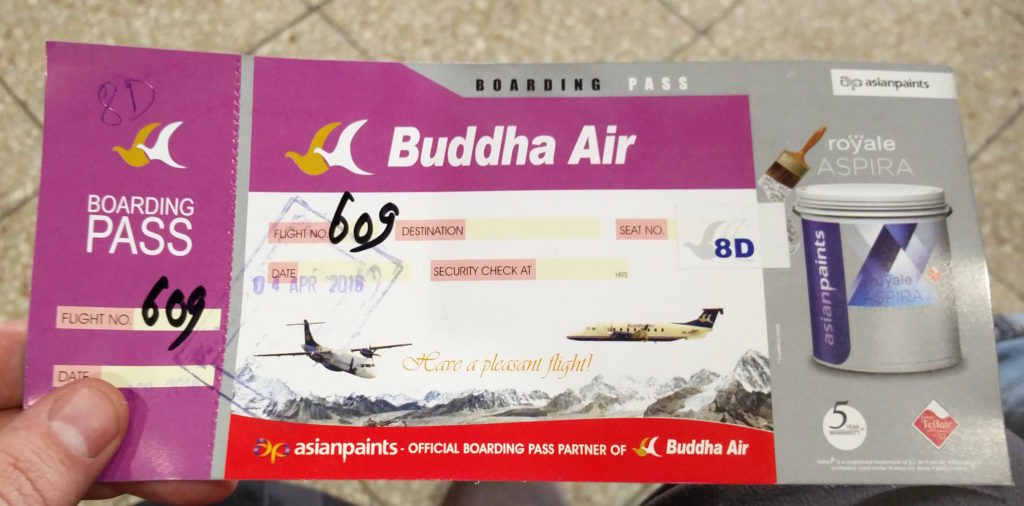 especially since Sarah had just read about a Nepali airline sacrificing goats in an attempt to resolve persistent aircraft maintenance issues. Fortunately for us, it seems that the goats must have worked, and we arrived in one piece.
The next morning we were up at 5am to catch a cab up to Sarangkot, which was supposed to have the most stunning sunrise views of the Annapurna range. (Photo courtesy Continents Insolites.)


Well, at least that's what we hoped to see. In actuality, it was quite hazy the entire time we were in Pokhara, and we never even caught a glimpse of the nearby snow-covered peaks.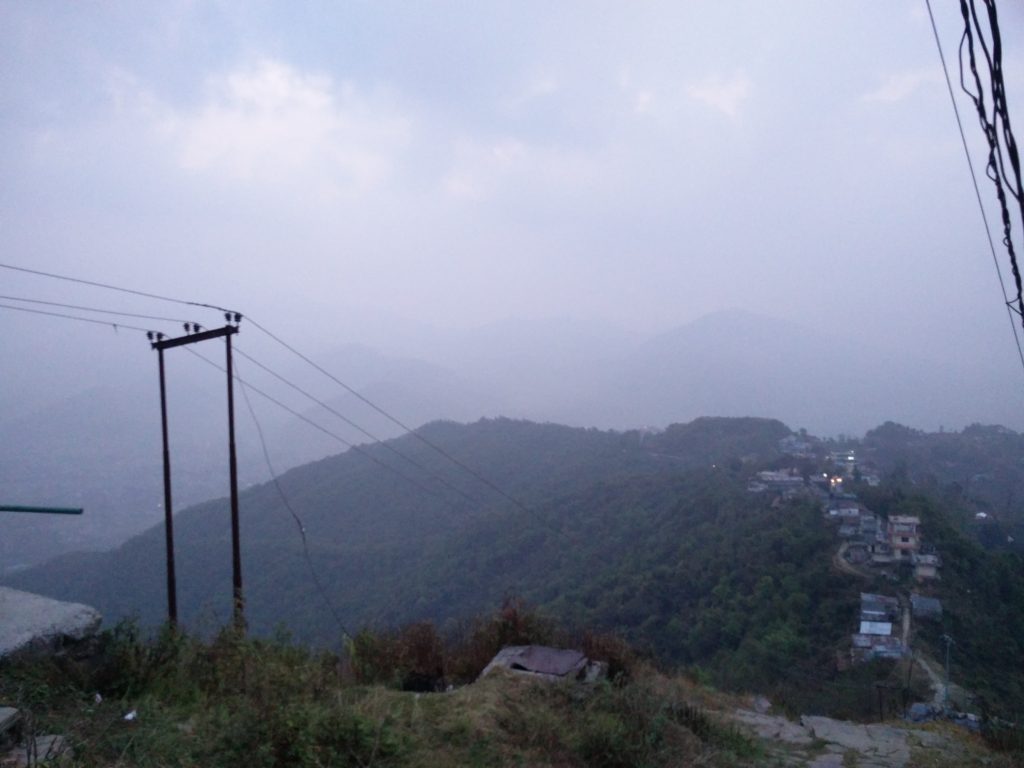 As we later learned, fall is the best time to visit Pokhara for clear views. Oh well! There was lots more to do, and we had a blast regardless.
Jason had been itching to do some more motorbike-riding after Goa, and Medeha had also caught the itch commuting to work on a scooter in Hanoi, so we decided to rent some bikes. Jason went all-out on this Royal Enfield, an old-school British bike rented by from a very friendly local shop called "Hearts and Tears",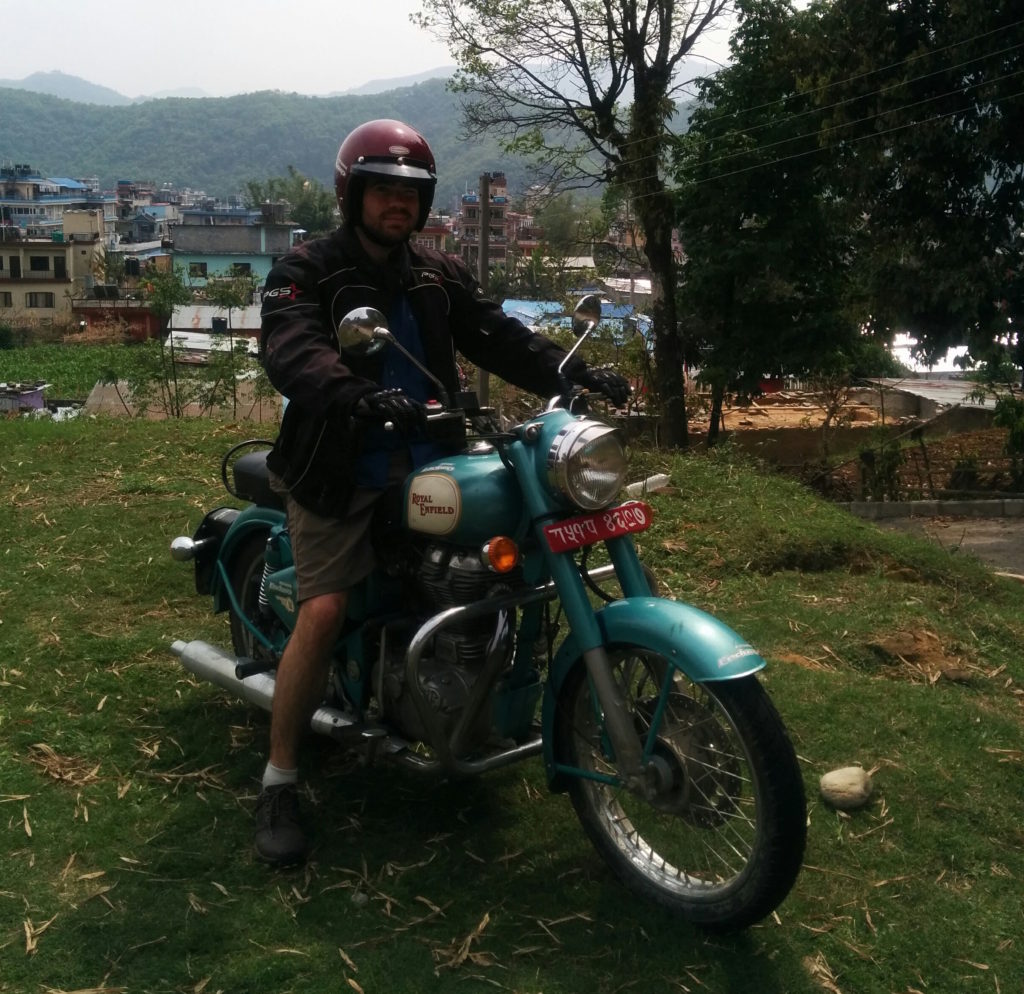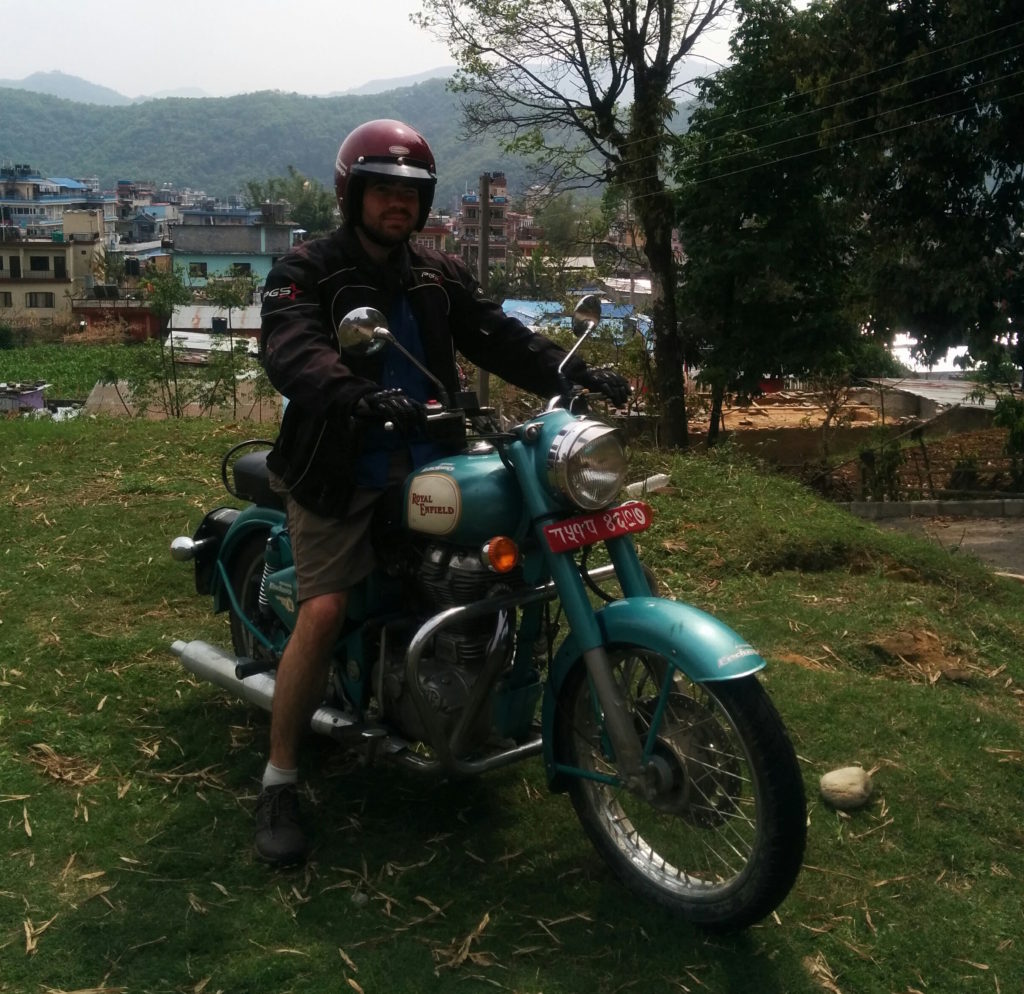 while Medeha went with this scooter — which was just right for Sarah to practice on as well.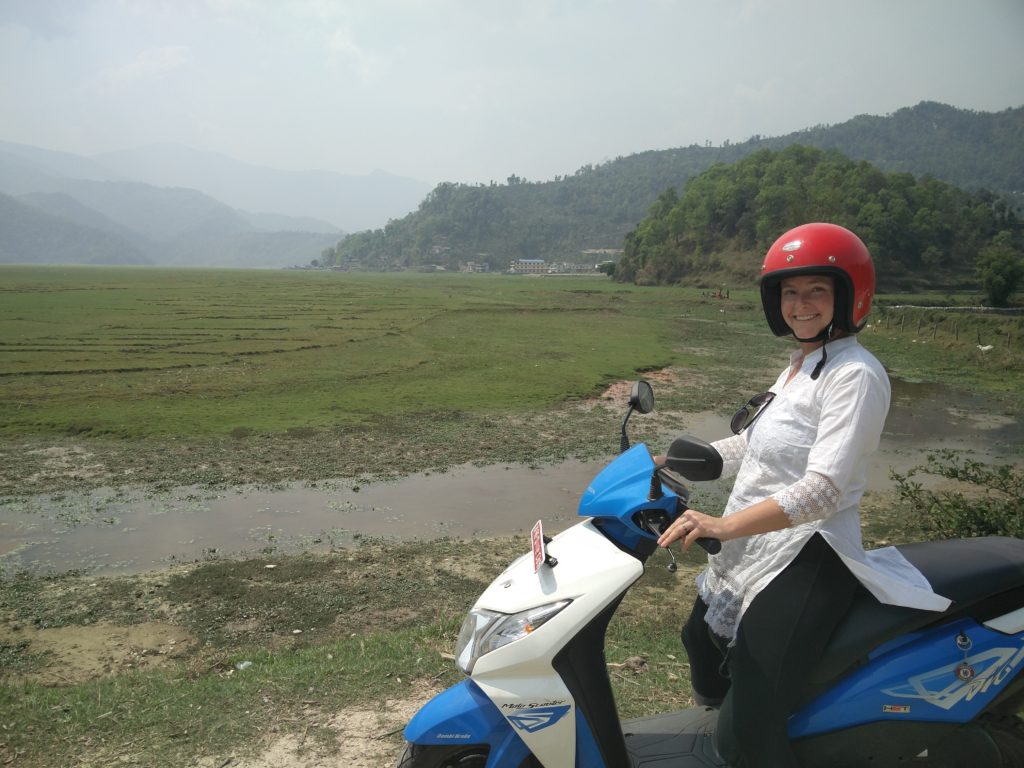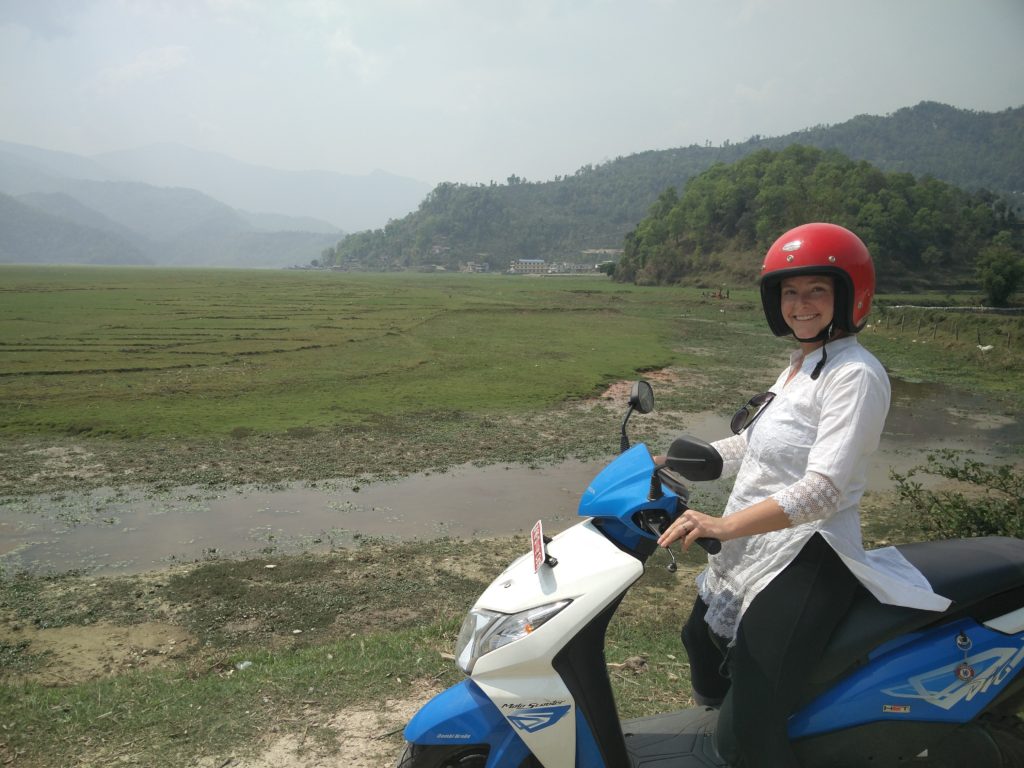 After a run-in with and fast getaway from the police, who were apparently cracking down on foreigners with rented vehicles, we made it out of town to the north. In just a few minutes' ride along the lake, the road turned to dirt and the hotels gave way to terraced agriculture and villages.

A bit further out, we got to see the paragliders who launched from Sarangkot landing in droves.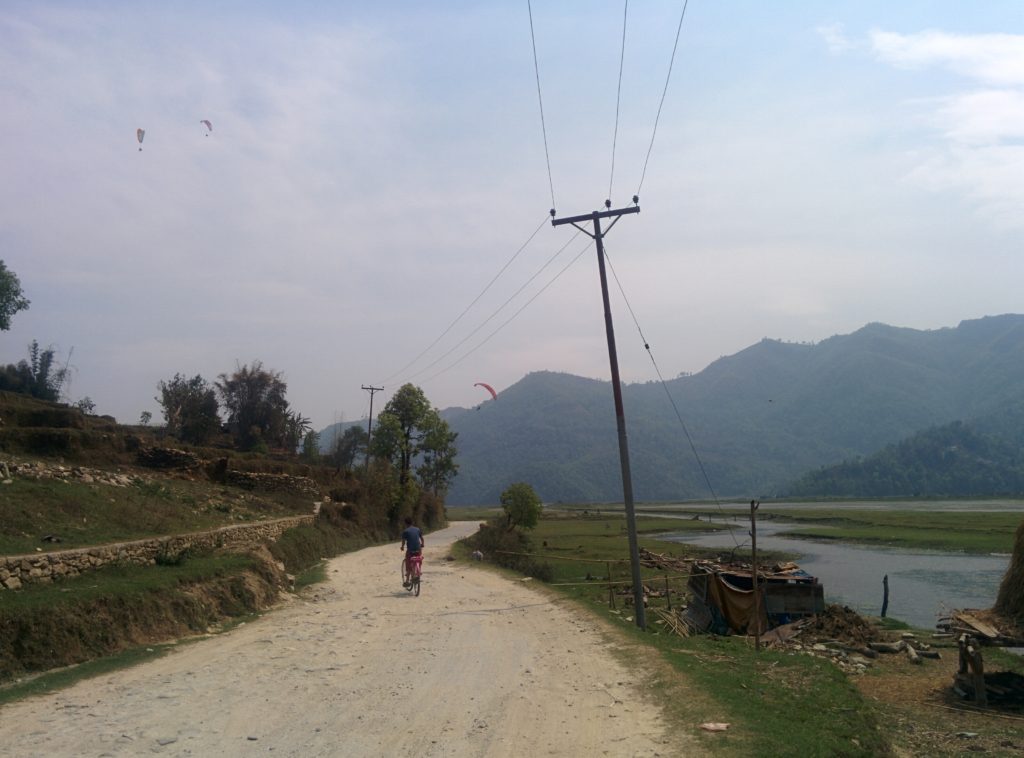 We felt a few drops from above, but the sky was blue, the forecast had called for sun, and we were having fun, so we pressed onwards. As the drops slowly picked up into a downpour, we finally decided to turn around. By the time we made it back to the apartment we were completely soaked — and also armed with beer and a block of yak cheese!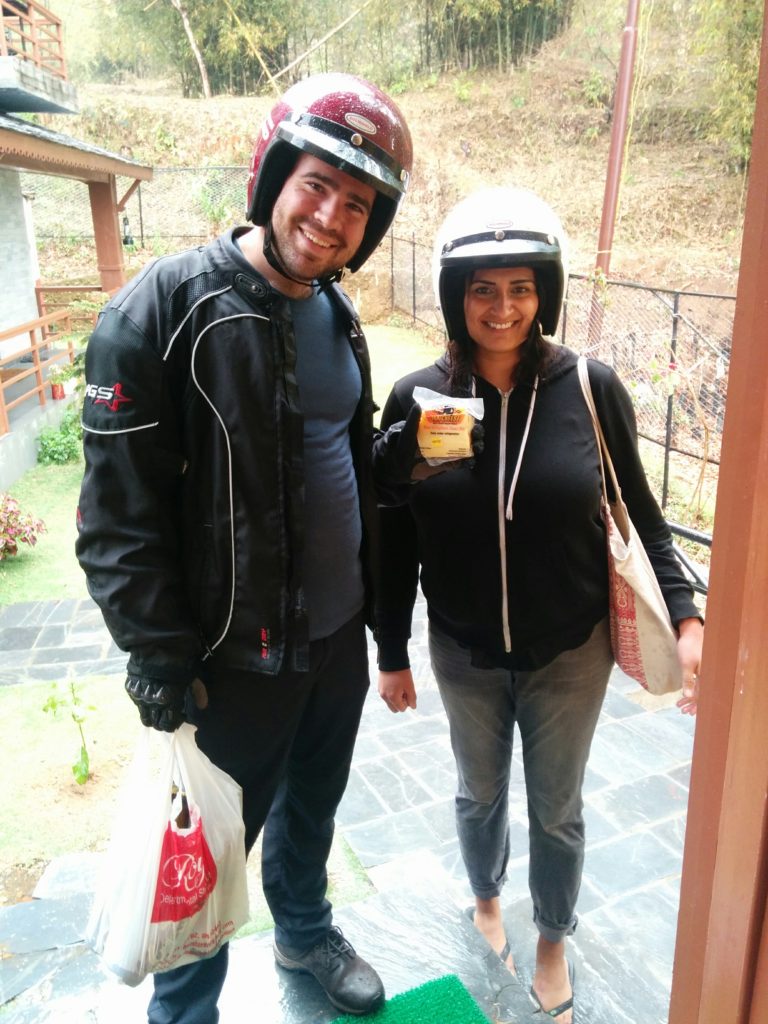 The next day, we decided to go on a longer ride to another nearby lake that had been recommended by the very friendly proprietor of the bike shop. With Sarah on the back of Jason's bike, an hour or so out of town we followed a side-road that turned into a narrow dirt path, until we had completely circled the lake. We thought we must have missed the turn-off, but took a chance following signs for the beach down an even narrower rut.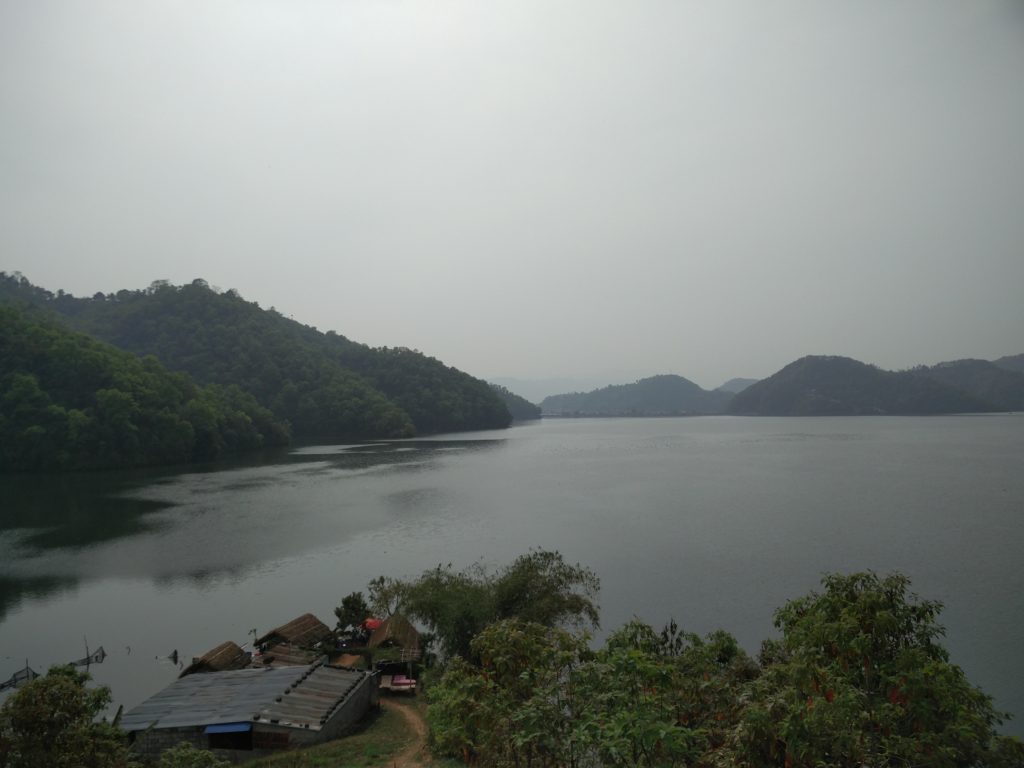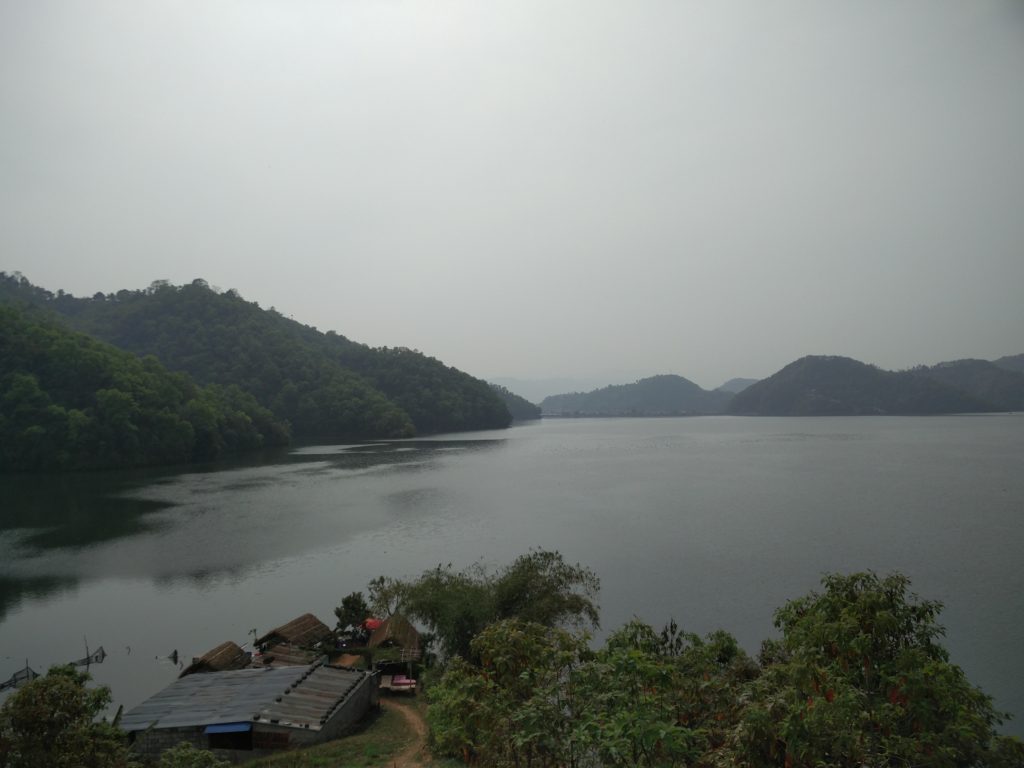 We were greeted with a beautiful view of the lake, shared by only a few other small groups of people frequenting the tiny restaurants on the small hill that lead down to the beach.  (Photo courtesy Medeha.)

We ordered some appetizers and a grilled fish, and then didn't see the proprietor for almost an hour and a half. When we had almost given up hope, he emerged from behind the house with this wonderfully delicious specimen (which probably ended up being our best meal in all of Nepal). He didn't say whether he had caught it before or after we put in our order.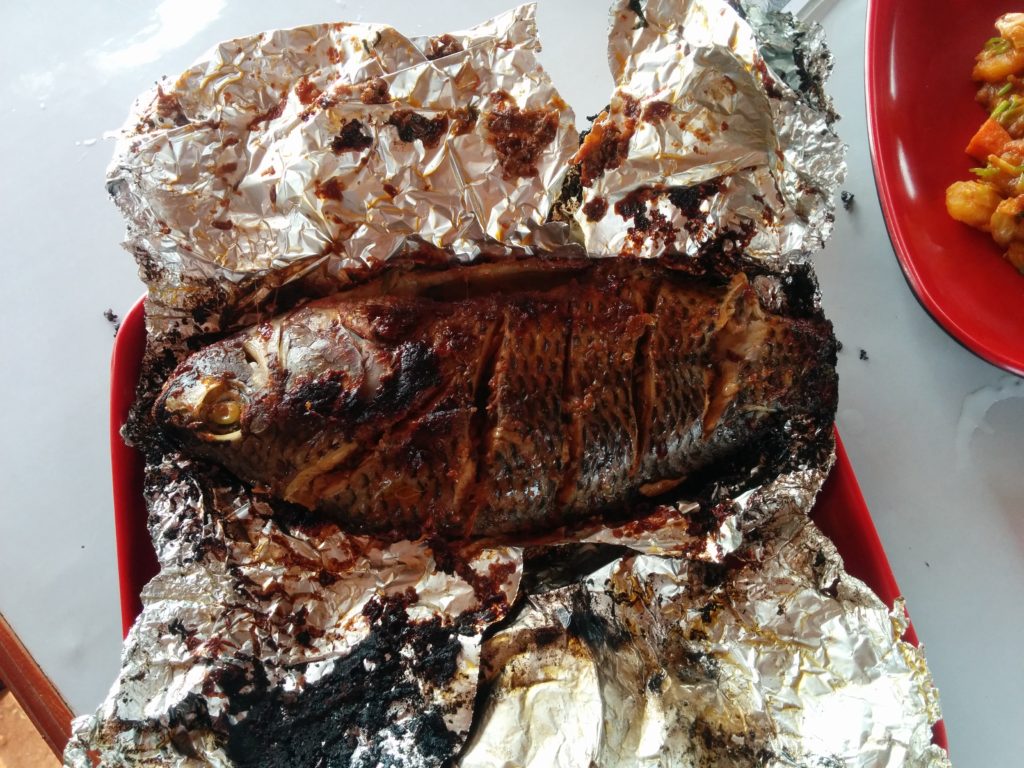 Just as we were leaving to head back and return the bikes, we saw familiar faces coming up from the lake: the owner of the bike shop and his girlfriend. So we had managed to find the right place after all! We soaked up the scenery on the way back, and managed to stay dry this time. (Photo courtesy Medeha.)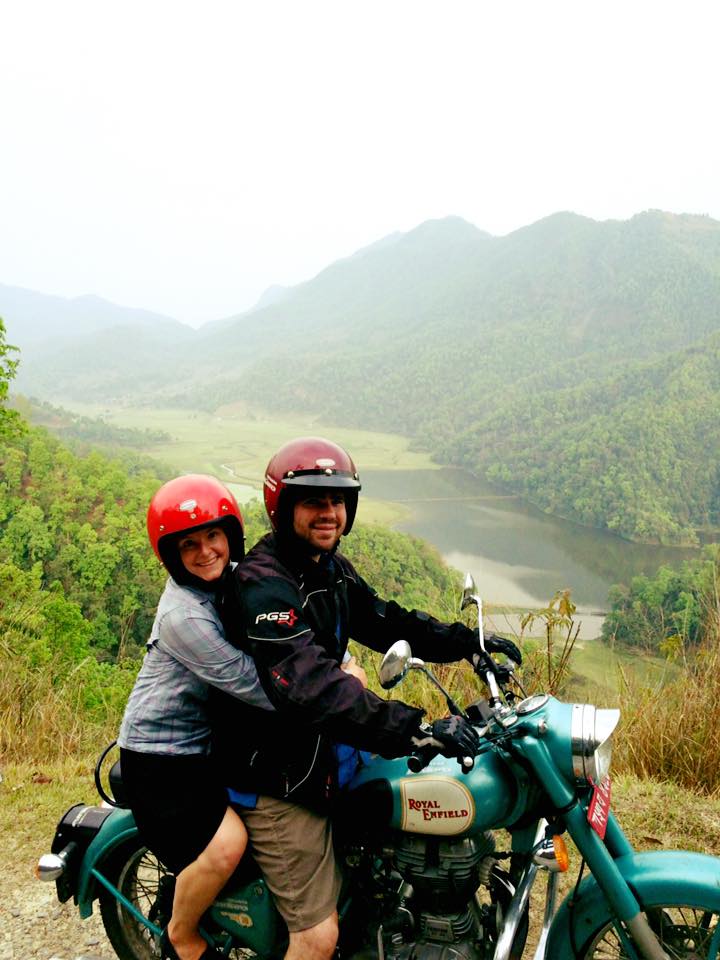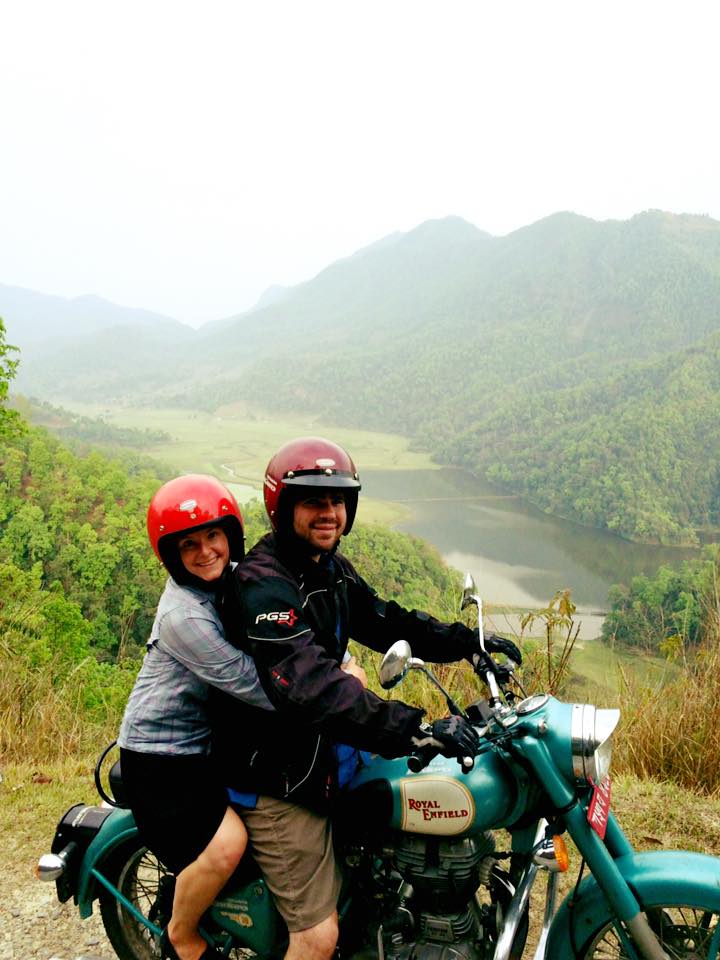 At dinner, while Sarah was ordering, our waitress stopped abruptly mid-sentence. She gripped the table, her face turned ghost white, and she looked around with a terrified expression at some nearby service staff. We had no idea what was happening. At first, we thought she might be sick or that there was announcement in Nepali that we couldn't understand. After about 20 seconds of confusion, Medeha put two and two together, and asked Jason to stop shaking his leg — a habit he gets from his dad, which had been vibrating the floor in a way that must have felt like an oncoming earthquake to our poor traumatized waitress. Jason apologized profusely, and tried to avoid shaking his leg for the remainder of our time in Nepal.
Our last day in Pokhara, we took a boat across Phewa Lake and hiked up the ridge on the other side to reach another stupa, a Buddhist site also known as the "World Peace Pavilion".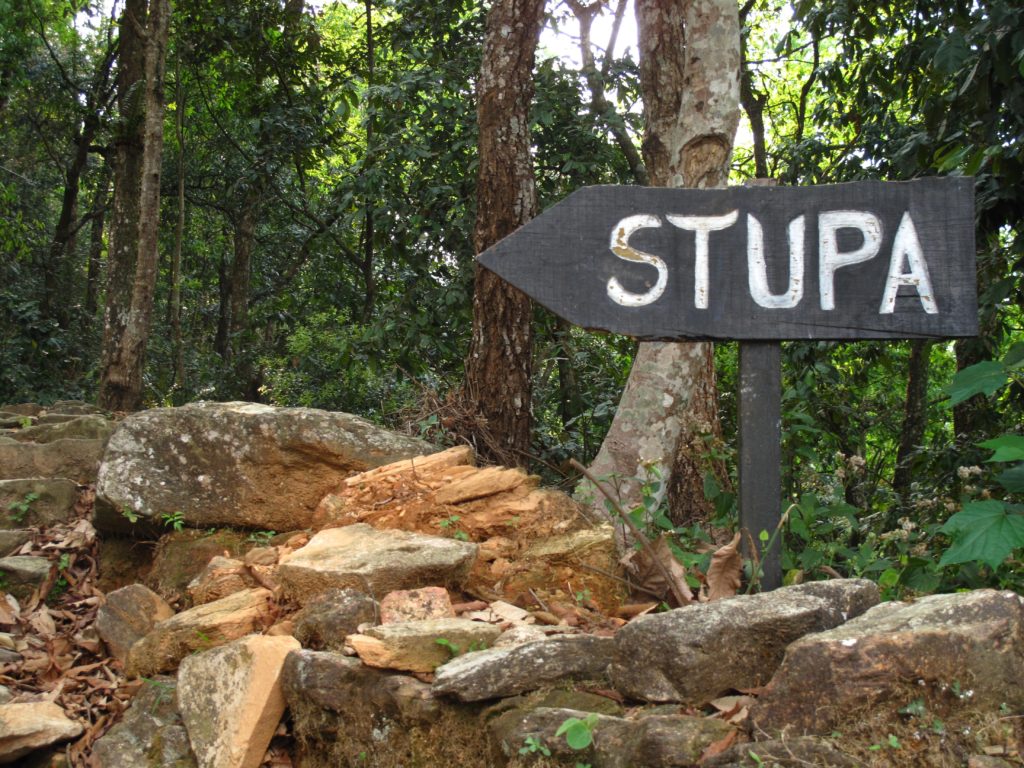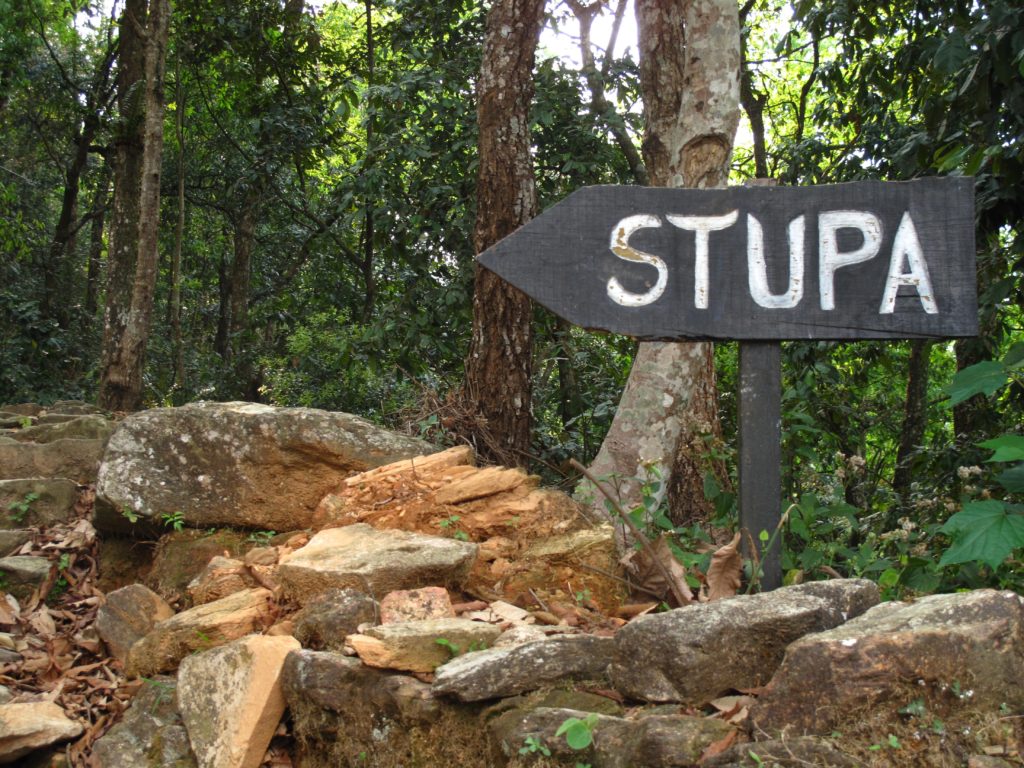 It had been built here by the Japanese, on a site not far from Buddha's birthplace in Southern Nepal, before being destroyed by local government officials in the 70s and subsequently rebuilt in the 90s.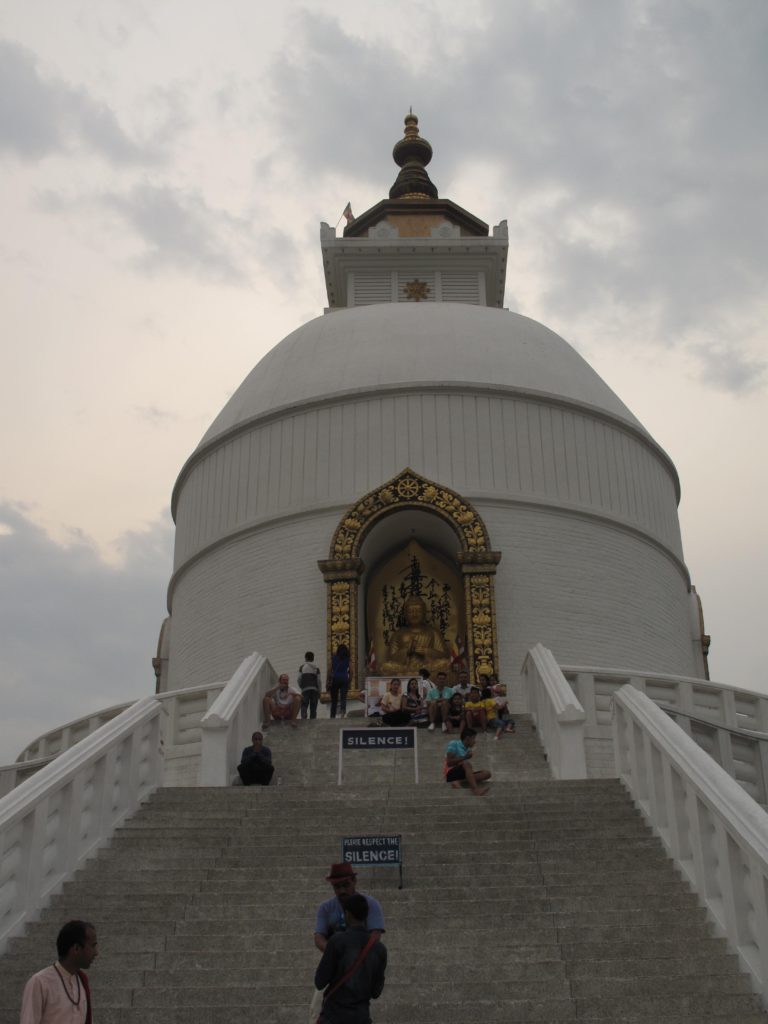 We were rewarded with nice views of the area (despite the haze), and an insane taxi ride back into town.
The next morning, it was already time to leave. We were very sad to go, having really enjoyed our time in Nepal. Everyone was extremely friendly, and seemed genuinely happy to have us as visitors in their country. Many went so far as to ask that we recommend Nepal as a destination to our friends. And, we have done so many times already, talking up the combination of beautiful scenery and "India-like" cultural experience with (we found) much friendlier people and easier navigation as a tourist. Visit Nepal on your next trip!
We were also sad to part ways with Medeha, but not for long: we were looking forward to staying with her in less than a week at our next destination, Vietnam!