Just after we checked in for our longest series of flights of the trip (Borneo-China-Paris-Lisbon over 20 hours), Sarah turned to Jason and said 'I don't think our luggage is going to make it.' Jason reluctantly agreed because: we were checked in by a third party travel company for three flights that were operated by three different airlines and the checkin clerk seemed distracted. Turns out, we were right.
When we arrived to Lisbon early in the Portugal morning, sure enough, our bags were nowhere to be found. We filed the paperwork, and spent the next few days calling the different airlines and airports to track down our luggage. It finally it showed up to our Lisbon apartment, right on time for us to leave the city again for our most Bohemian experience of the trip.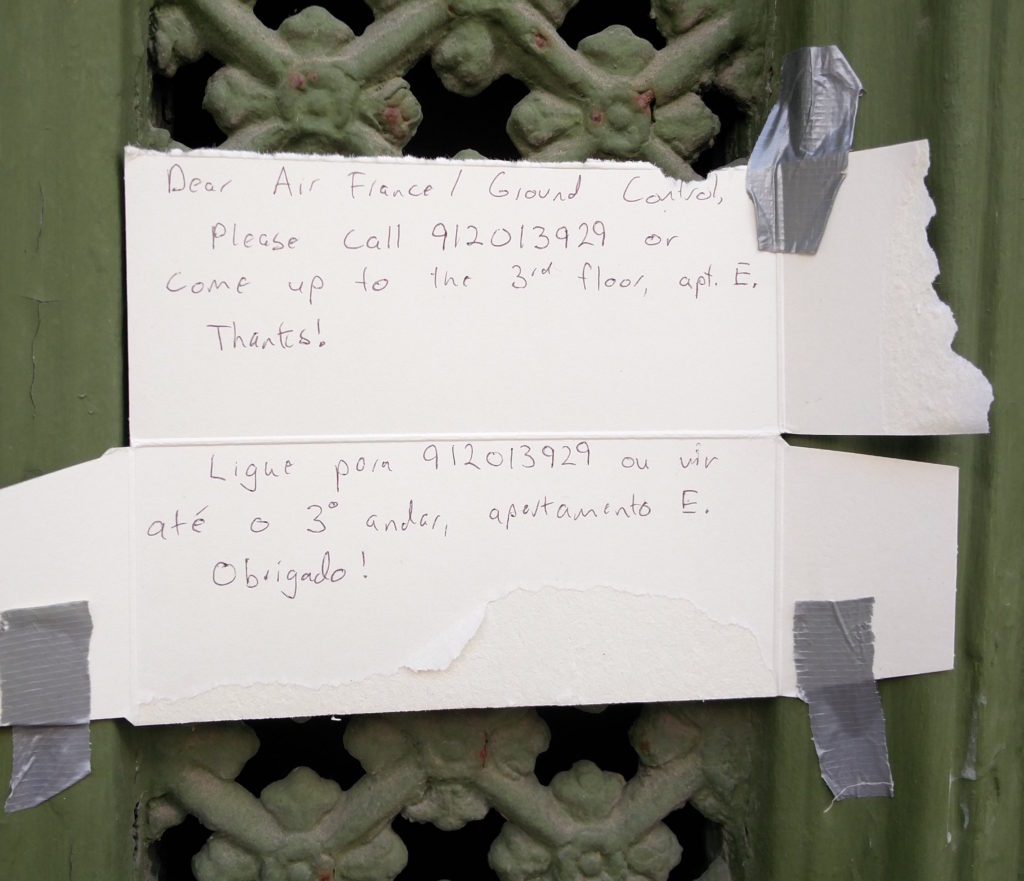 We had returned to Portugal with plans to attend a transformational festival called Boom. Our friend Gautam had attended a few years before and highly recommended it as a fun and thought-provoking time. Despite Gautam's stories, we really had no idea what to expect, especially since the program listed events such as 'Respectful Beekeeping' and 'The Way of the Galactic Shaman'. This sounded quite a bit more hippie than Burning Man, our go-to experimental community.
So we hitched a ride with Gautam's friends Aaron and Kelly and discussed ecology, biochemistry, and grad school horror stories on the way. When we arrived, we kind of felt like we were at Burning Man when we saw a huge field of dusty vehicles.

We hitched a ride on the tractor trailer from the parking lot to the center of the festival. Gautam was arriving a few hours behind us and besides Aaron and Kelly, we knew no one at the festival. We were planning to join Gautam's camp which was a group of fifteen or so neuroscientists. They'd sent us directions to and lat/long coordinates of the camp so we were excited to get our tent set up and go for a jump in the Marechal Carmona reservoir, which is the central feature of the festival grounds.

The directions were: 'Turn left at the grocery store. When you hit the showers, turn left and walk 50m up the hill toward a group of large oak trees. You'll find the camp there. There's tons of space.' Seemed easy enough. Until we got closer and realized that nearly every square inch of the area uphill from the showers was covered in hundreds and hundreds of tents. And there were oak trees everywhere. (The first people in the group had arrived early and probably before there were many tents, so their instructions were probably very easy to follow 18 hours earlier.) And because of the midday heat, very few people were hanging around the camping area – they were off having fun at the dance temples or swimming in the lake. It was like finding a needle in a haystack.

So, we spent the next few hours asking random strangers if they knew where a group of neuroscientists were camping, trying to call Gautam's friends that were already at the festival (no one answered), and trying to use the geo-coordinates to get as close as possible and then snoop around the area to see if we could find any telltale signs of a herd of brain researchers. Finally, one of Gautam's friends called back and thanks to one smart person who had erected a 25 foot tall pole with a purple umbrella nearby, were able to get within ten feet of the camp. We found what few empty spots there were, pitched our tents and hopped in the lake. Here's Jason taking a dip in the setting sun.

Every morning of the next week, we got up early to swim in the lake (rather than wait in the 30+ minute long shower lines). During one of our morning swims, Gautam told us he had just learned that wrinkles formed on wet fingers were actually caused by a signal from our nervous system (possibly as an adaption for better gripping in wet conditions) and not a physical response to increased moisture. So after we spent some time playing in the lake, we organized ourselves by wrinkle density. Jason had the least of all.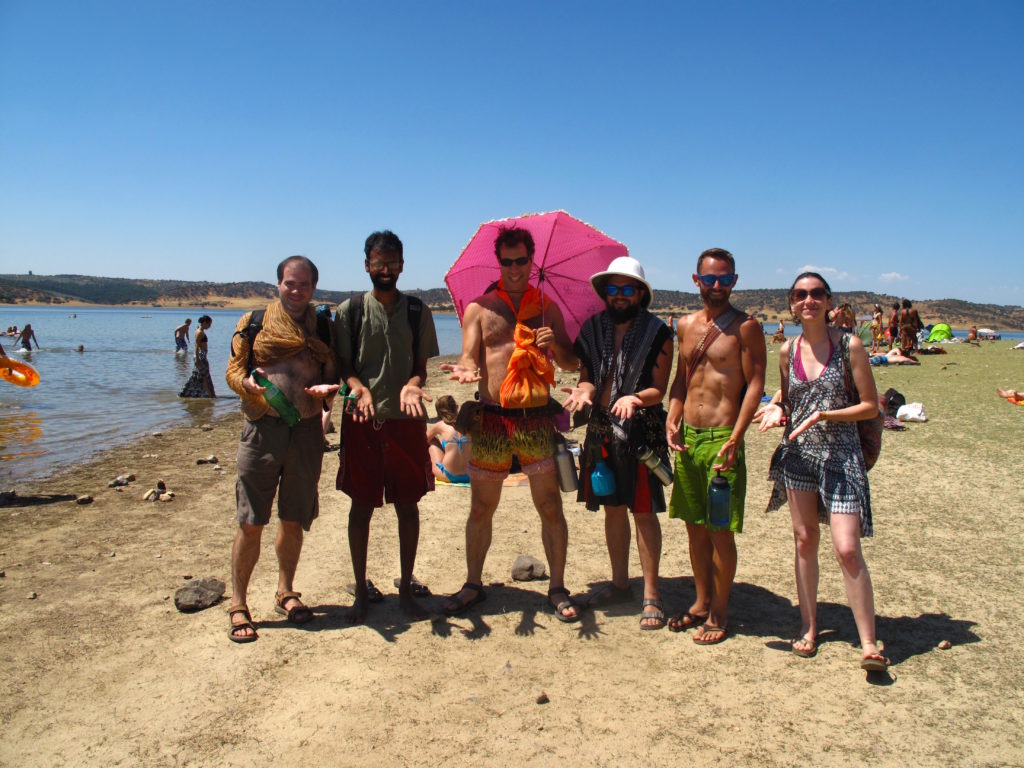 We also relished all the cool art and music around the festival grounds, from this giant head

To this giant wooden shaman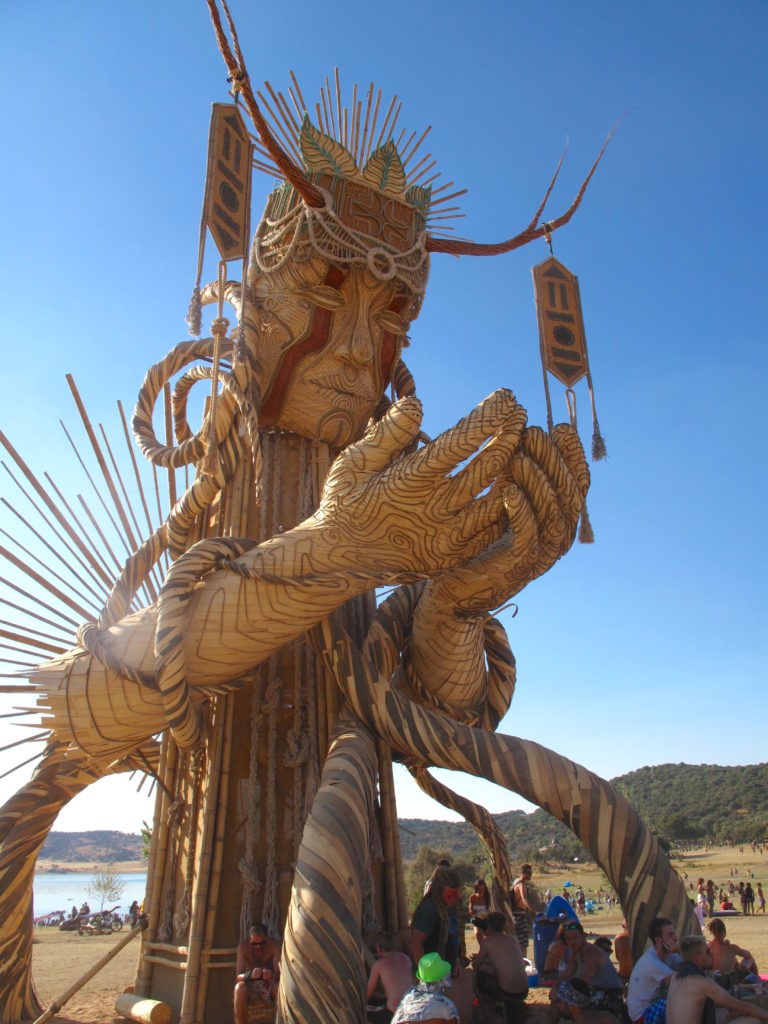 And neon art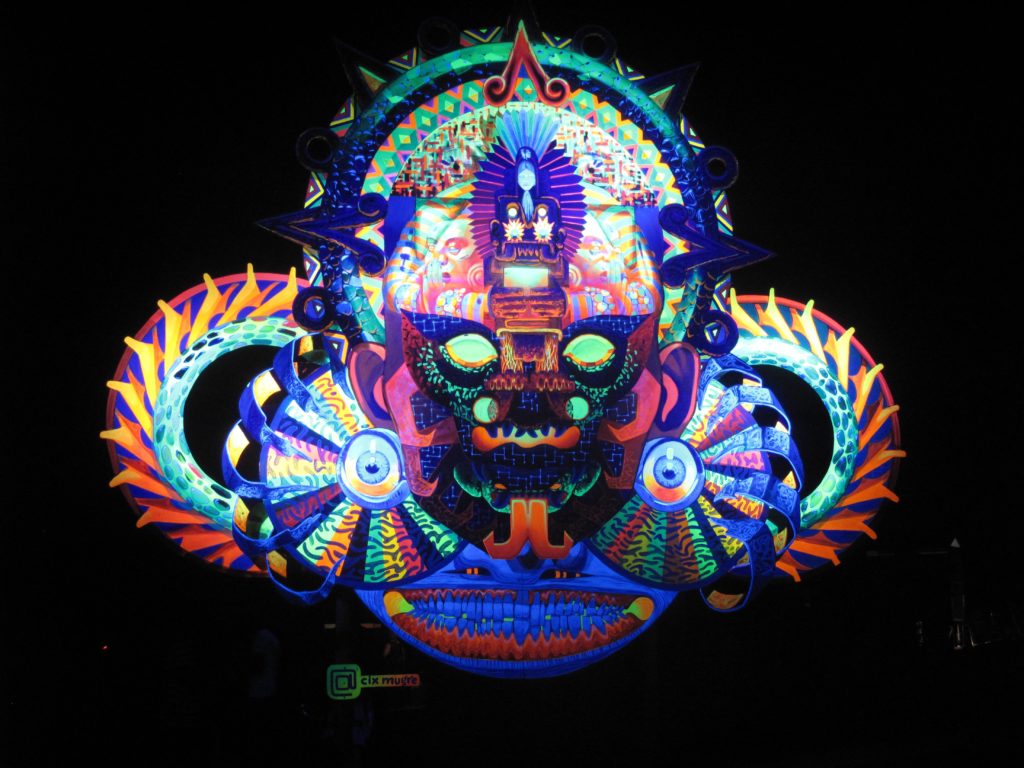 And this robot band which performed a few times every day.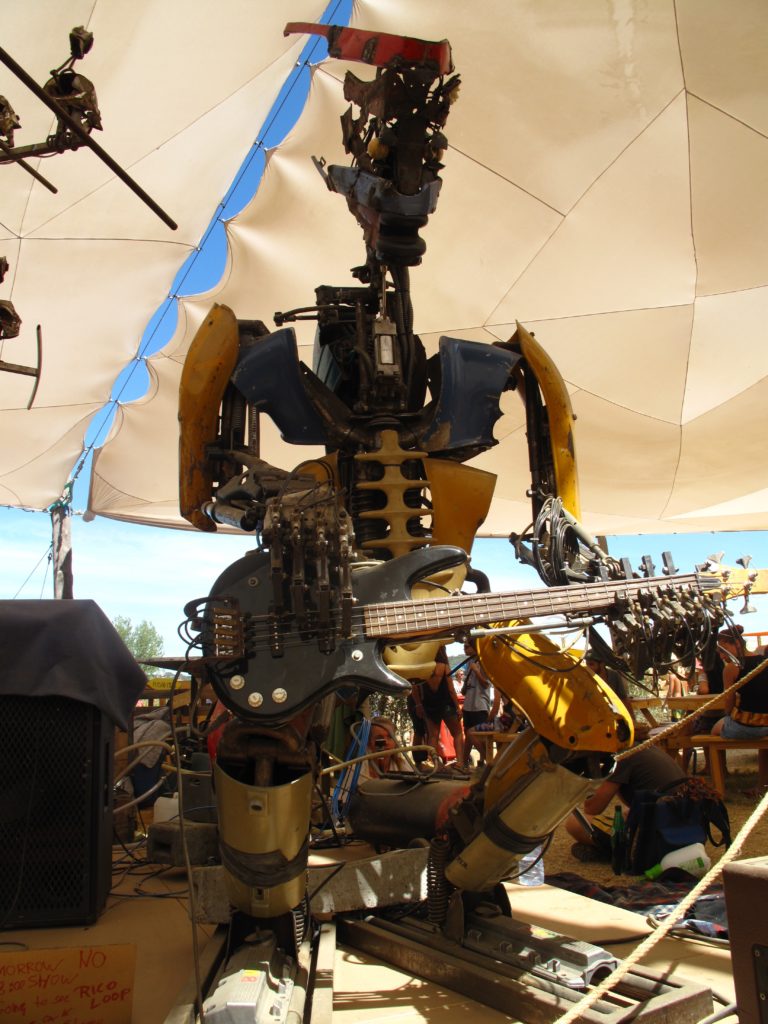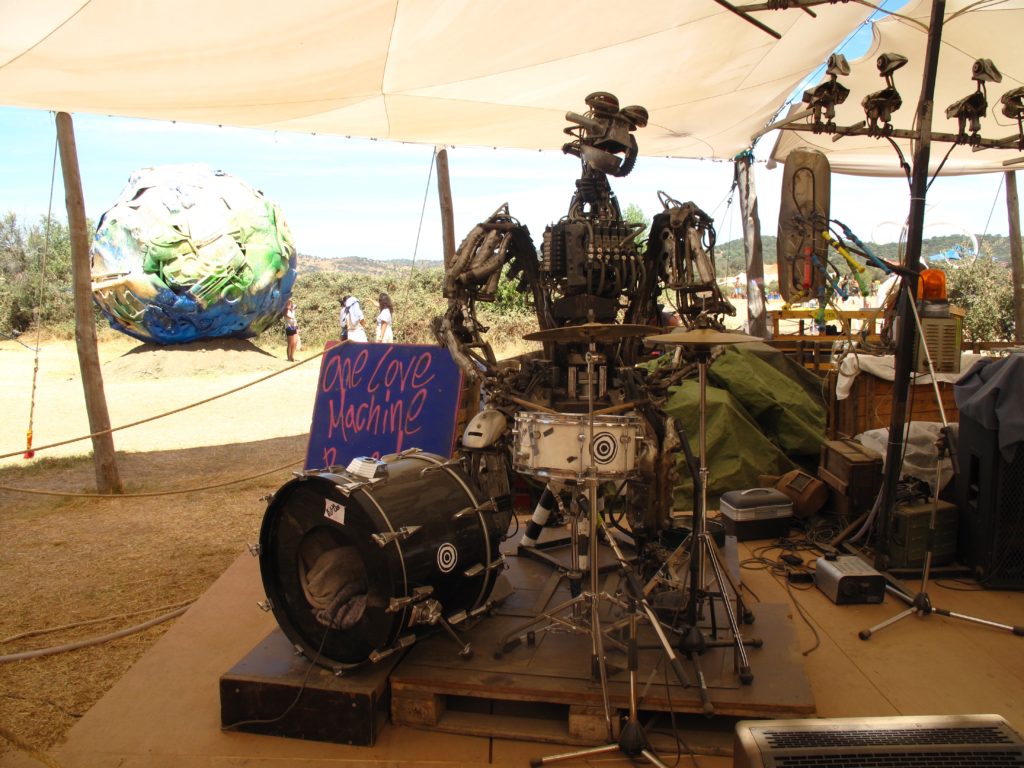 There were five music stages and there were always thousands of people getting down.

For much of our time at Boom, we couldn't help but compare the festival to Burning Man which we had attended for several years since 2008.
The most obvious difference was water: the huge lake at the edge of the festival meant you could beat the heat and relax in the water anytime. (Photo courtesy Fest300.)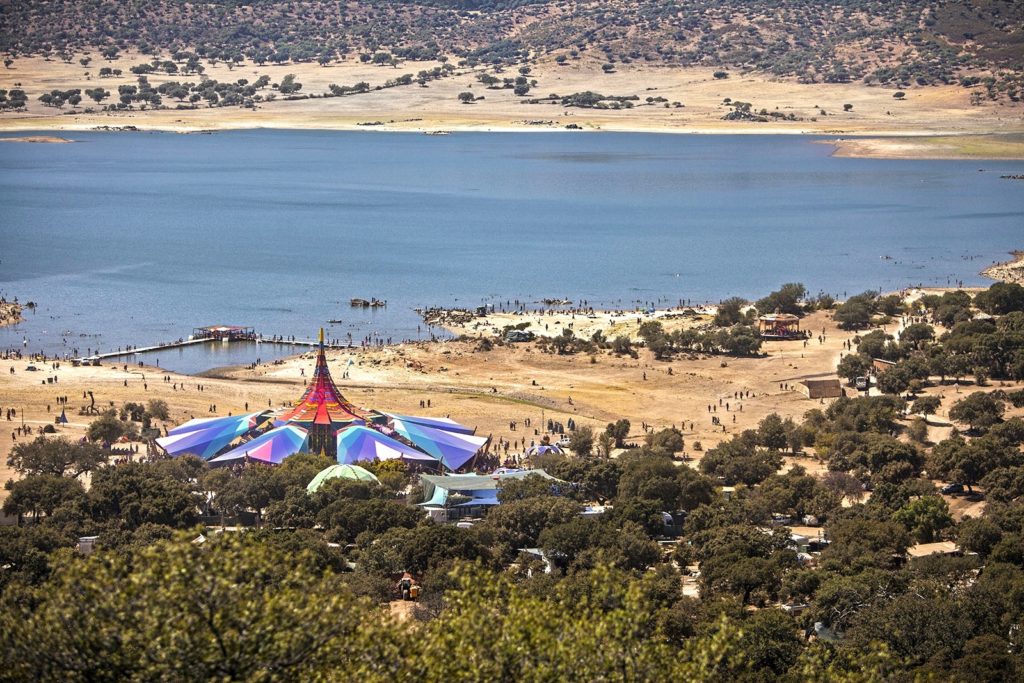 There were also drinking fountains all over the festival grounds, and ample food vendors where you could buy all kinds of delicious snacks at any time of day (or night). In contrast, in the arid environment of Burning Man, the core principle of radical self-reliance includes cooking your own food and bringing all your own water (unless you are brave enough to shower while running behind a truck spraying the roads to keep the dust down with water of dubious origin).

We were also surprised to observe the very open discussions of psychedelic drugs from both lecturers and participants, which was probably due (at least in part) to Portugal decriminalizing all drugs in 2001 (which means that possession of small amounts usually results in confiscation and a fine). This ranged from discussion of the growing research demonstrating the benefits of LSD, MDMA, and psilocybin for PTSD, alcoholism, depression, and end-of-life care, to perhaps less-structured experimentation.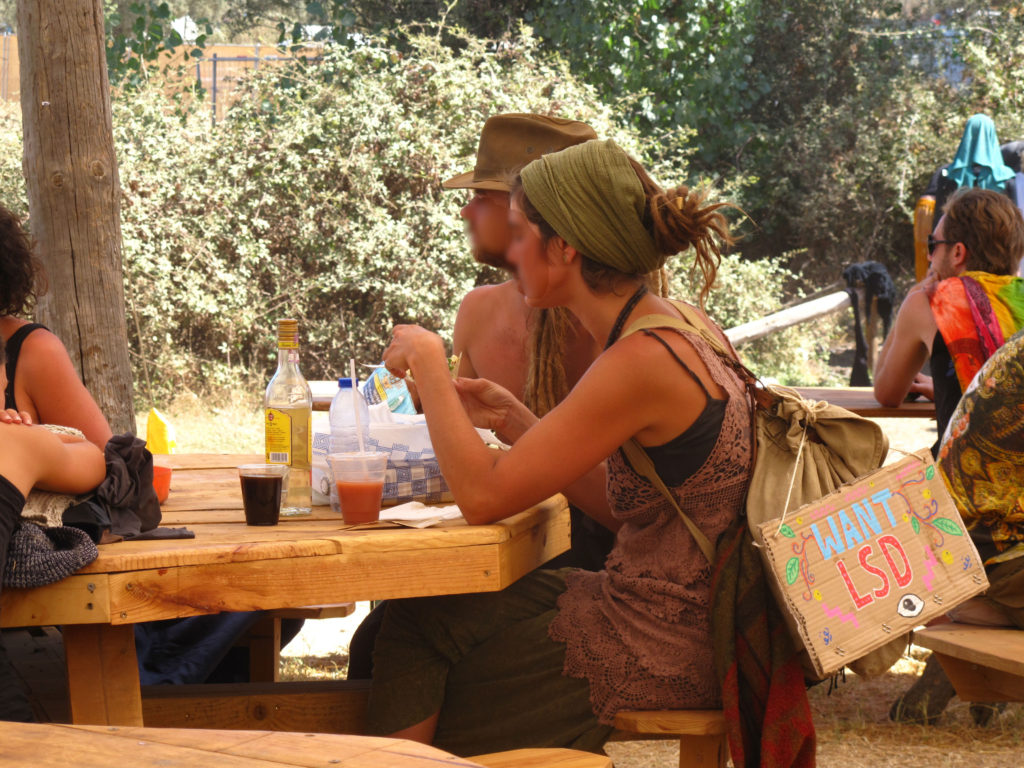 One of the most surprising differences was that Boom actually felt more inclusive and welcoming than Burning Man. While we love the creativity and freedom of Burning Man, sometimes it feels hard to fit in without an elaborate costume and fancy art car. And so we found ourselves connecting with a lot of extremely interesting people and letting our social barriers down a bit.

So we tried all sorts of new strange things, from acro-yoga to sound meditation. And even though we've been together for nearly every hour of every day for almost a year, it was really nice to spend some quality time together, with our computers and phones turned off!

We even took a mud bath! We were both a bit apprehensive at first (we don't want to get dirty, what's the point, etc.), but once we jumped in, it was a blast. And then we sat in the sun while it set – mud drying on your skin is such a weird feeling, like you're in a body that's too small.

After we cleaned up from the mud bath, we spent our last night by the Sacred Fire, listening to an 82-year-old Italian lady tell stories and watching the Perseid meteor shower.

After the festival, we planned to spend another week or so in Lisbon, catching up on work and spending some more time with Gautam, Josh (another friend from the Bay Area), Daria, and her dance collaborator Randee. Since Sarah has fallen in love with fado, Gautam and Daria brought us to an old family restaurant with some amazing fado performances.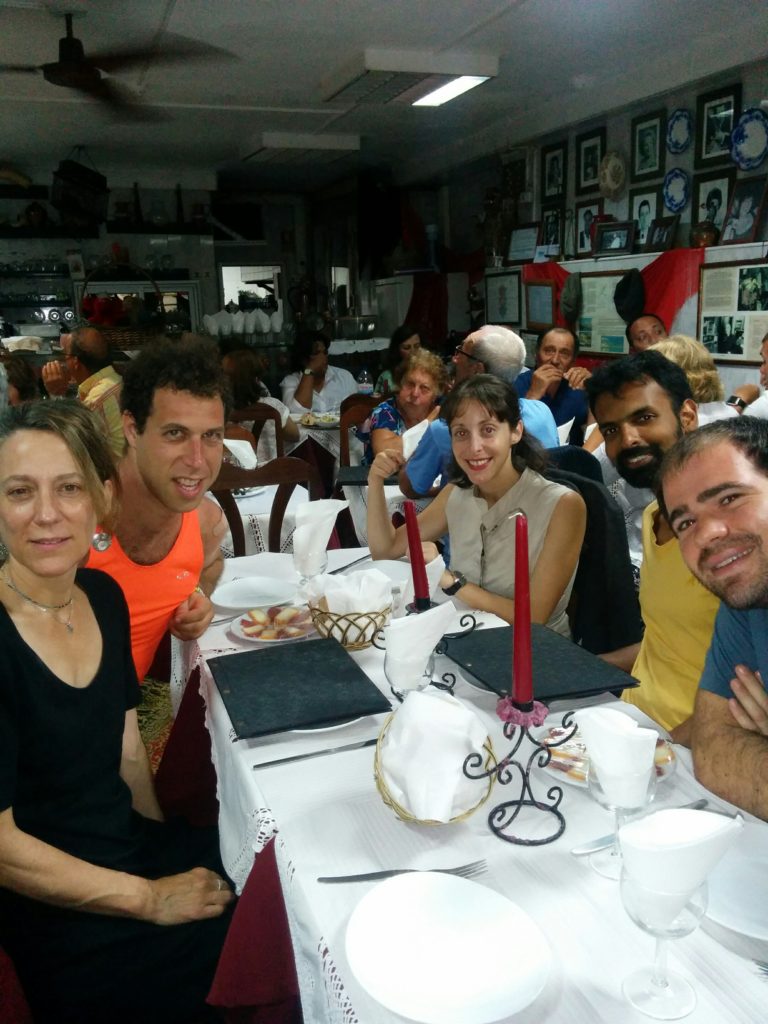 Goodbye Lisbon, we are Bosnia-bound!