A peaceful train ride from Gare du Nord in Paris left us in Amsterdam, where we found our way to our "hotel". Most of the lodging options were either expensive or inconveniently located, so we went out on a limb and booked our stay at CityHub, a new hotel that was neither of those.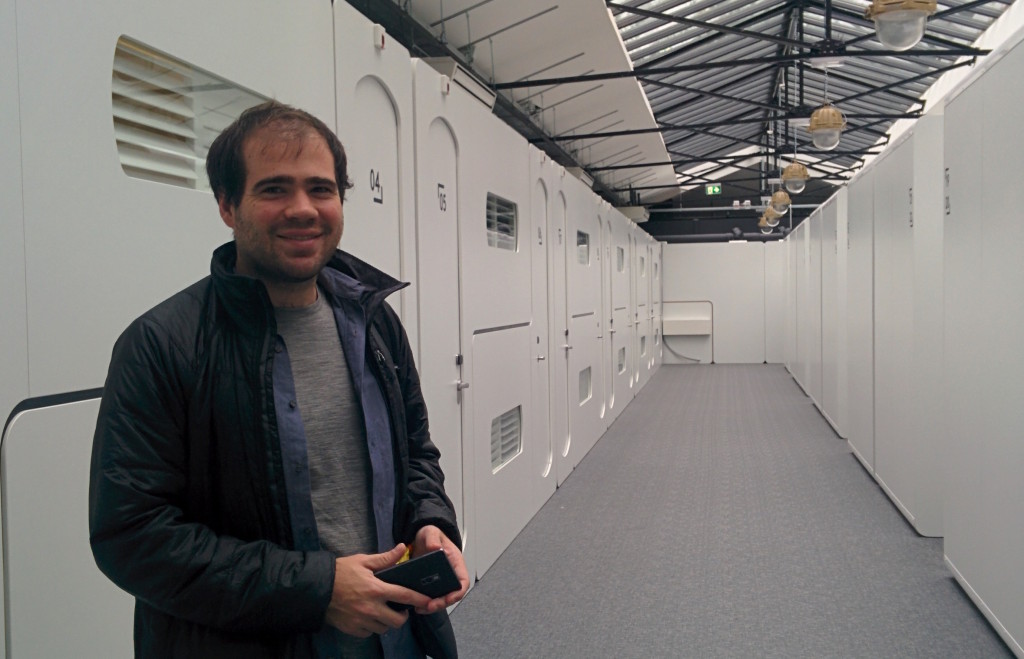 After checking in and putting on our RFID wristbands, we located our spaceship-like room, waved our wristband at the door, and stepped/crawled inside.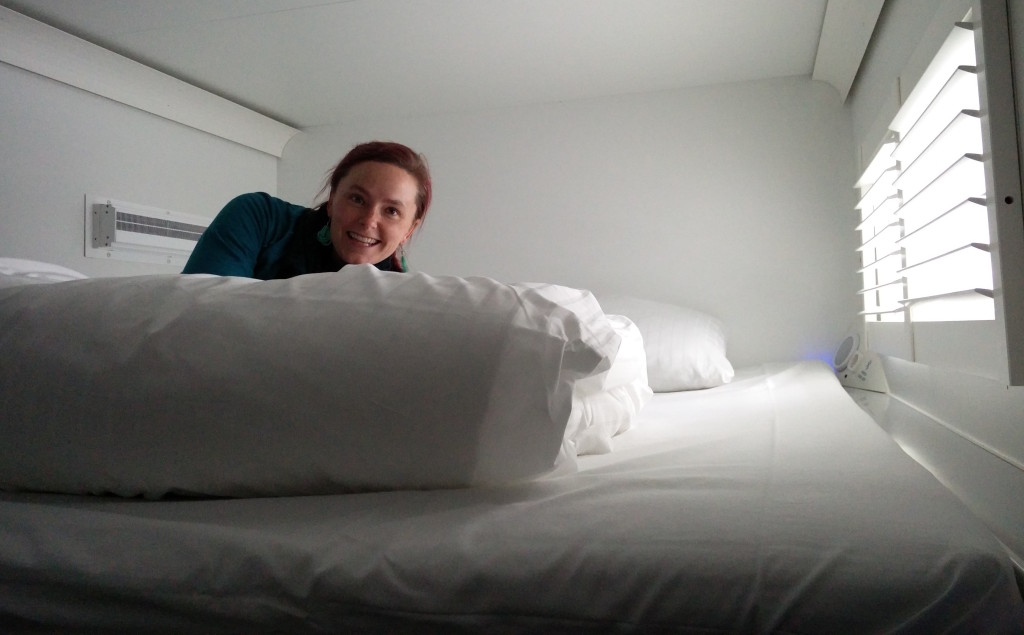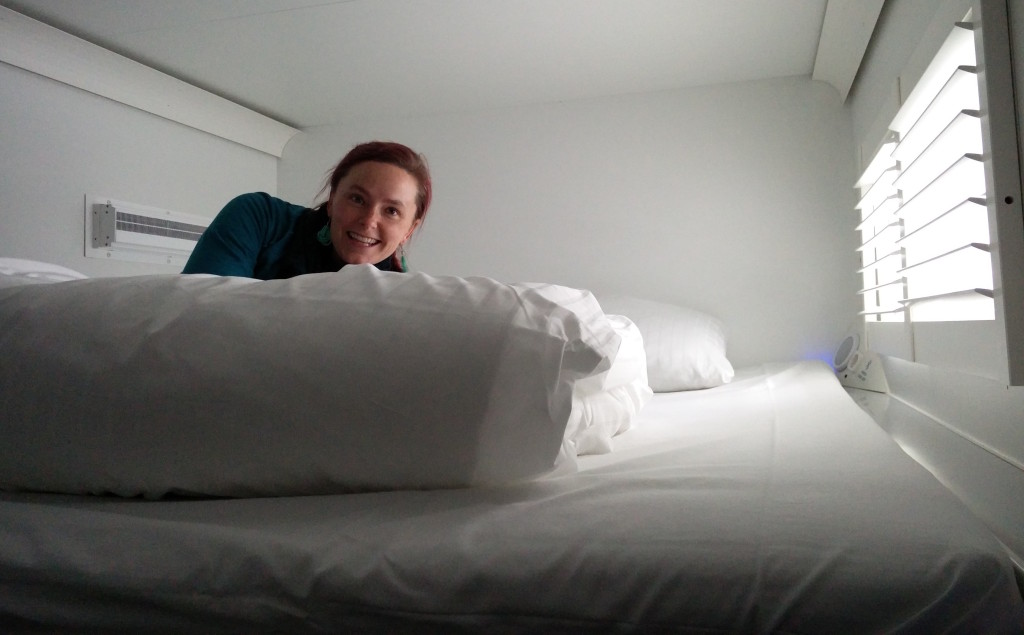 It was actually really cozy — these rooms put our capsule hotels in the Warehouse to shame. The capsule had a queen-size bed, color-changing LED lighting, bluetooth speakers, and a small area where you could stand up, with hangers and cubbies to stash our stuff. Outside the capsule, there were immaculately clean shared bathrooms, and a nice lounge area where you could pour yourself a beer or coffee using your wristband.
Just outside, the neighboring street had a lovely Christmas market (Ten Katemarkt). This street is empty at night but during the day it is jam-packed with food and craft stands.  Every day, we gorged on fresh orange juice, Turkish flatbread, olives, 12 kinds of hummus, and even topped up our supply of toiletries.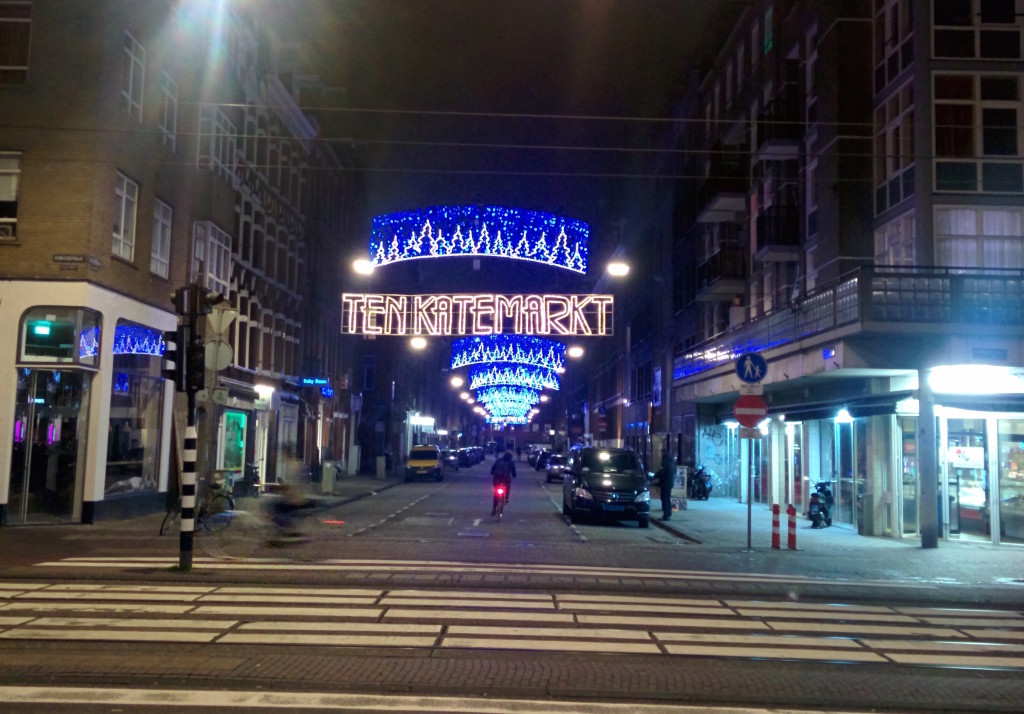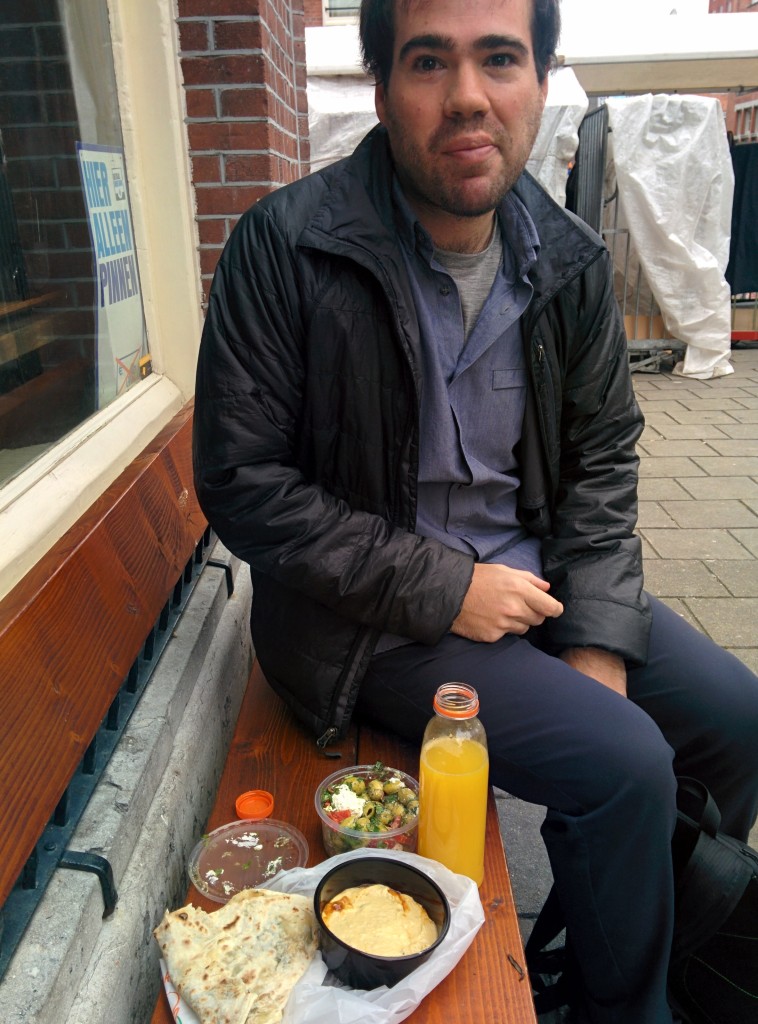 And right next-door, we found this huge FoodHallen which was the most hipster, San Francisco thing we'd seen in months.  The hall was filled with food-truck-like stands, and we filled up on delights like a salmon sashimi taco with herbed cream served out of a whipped cream dispenser.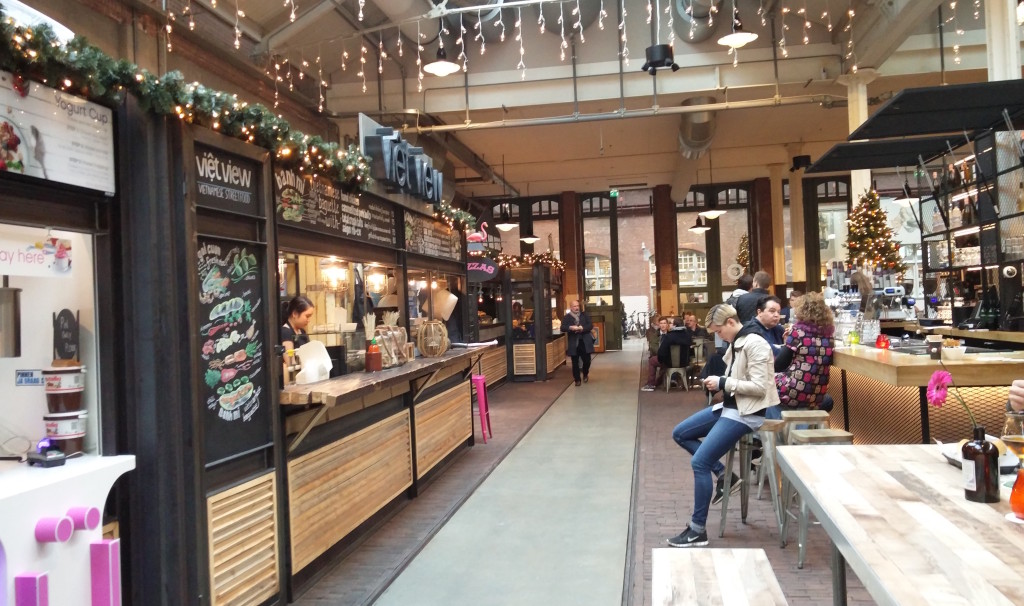 We, of course, rented bikes and explored this biker's paradise.

On our ride, we enjoyed delicious craft beers at a windmill brewery, the Brouwerij 'Tij.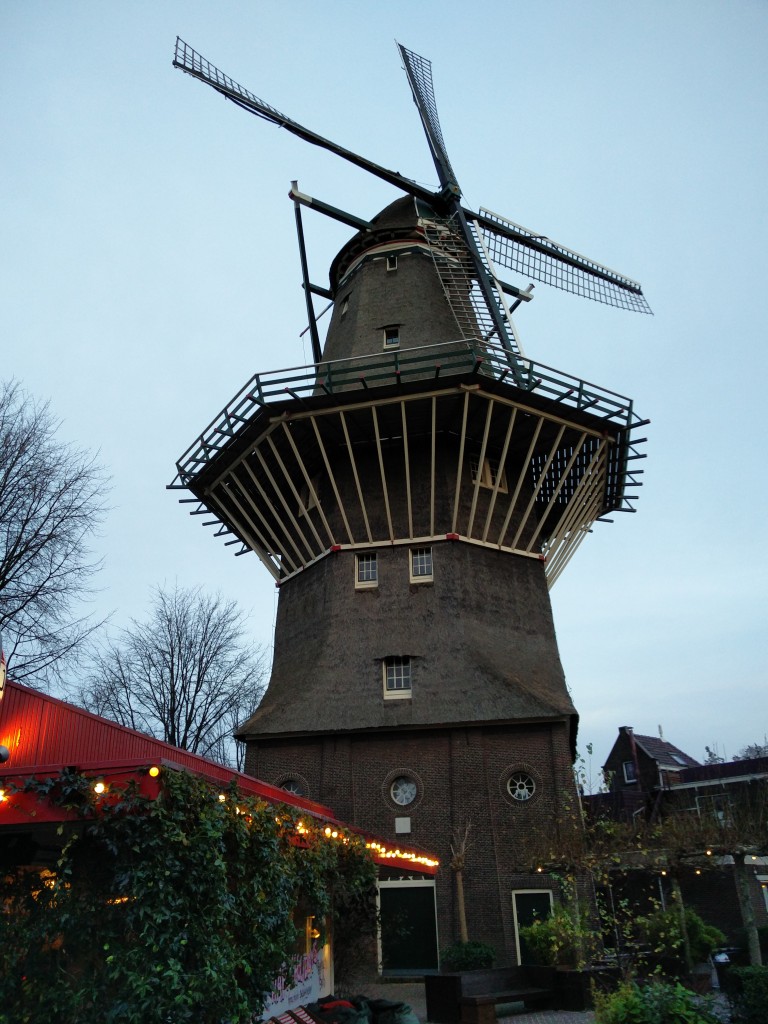 It's truly amazing how built-for-bicycles the city is.  The signage, bike parking, and wide and extensive bike lanes are so far advanced compared to the US.  That said, some things did take a little getting used to – like the fact that scooters and motorbikes can also use the bike lanes.  They zip by pretty fast and it can be a little daunting.

After Amsterdam, we took the amazingly easy and extensive public transport to visit our good friend Maartje in Leiden.  This is just one tiny portion of the bike parking at the Leiden train station!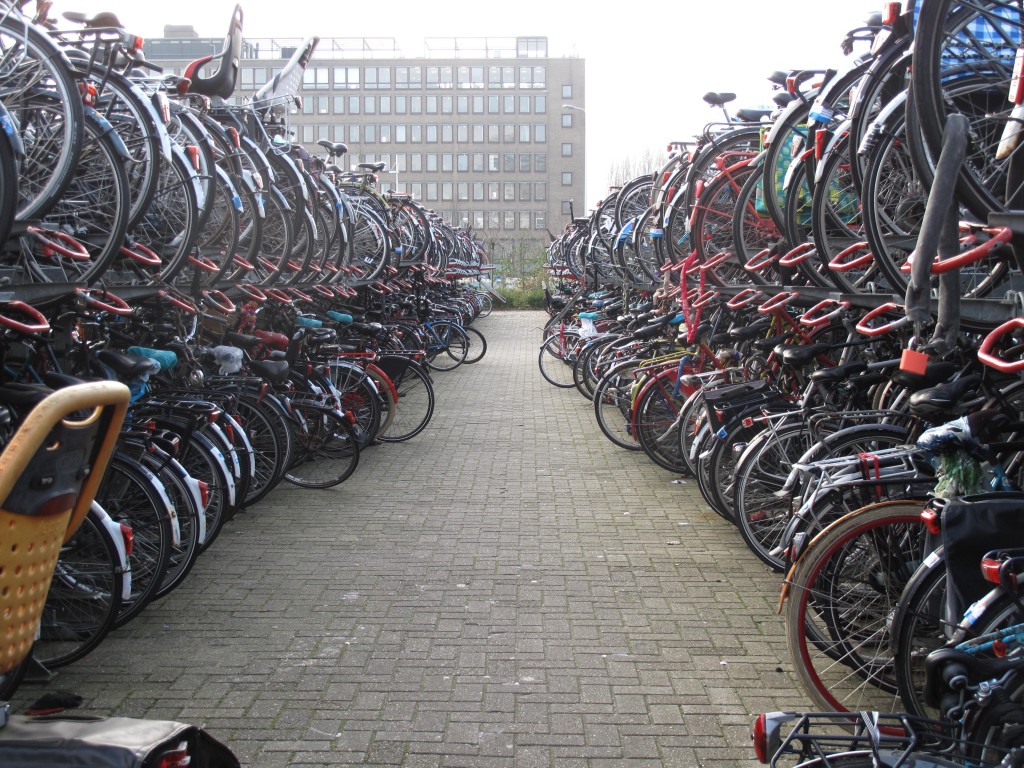 We visited Maartje at Leiden University, where she studies Criminology and recently became a full professor!  Congrats Dr. Van Der Woude!!!!

Maartje made sure we had the full Netherlands experience.  First up was gulping down some herring (which was surprisingly tasty, despite the look on Sarah's face).

We also had fresh stroopwafels (so good when they're hot!), delicious aged gouda (Sarah's favorite) and knoflookworst (garlic sausage).  Maartje also cooked us a yummy curry dinner.  And she surprised us with some traditional holiday treats – chocolate hazelnut letters for each of us and addicting pepernoten ('pepper nuts'), spiced cookies which are traditionally given for the Sinterklaas holiday.  Apparently, parents throw pepernoten around the room so children can search for them.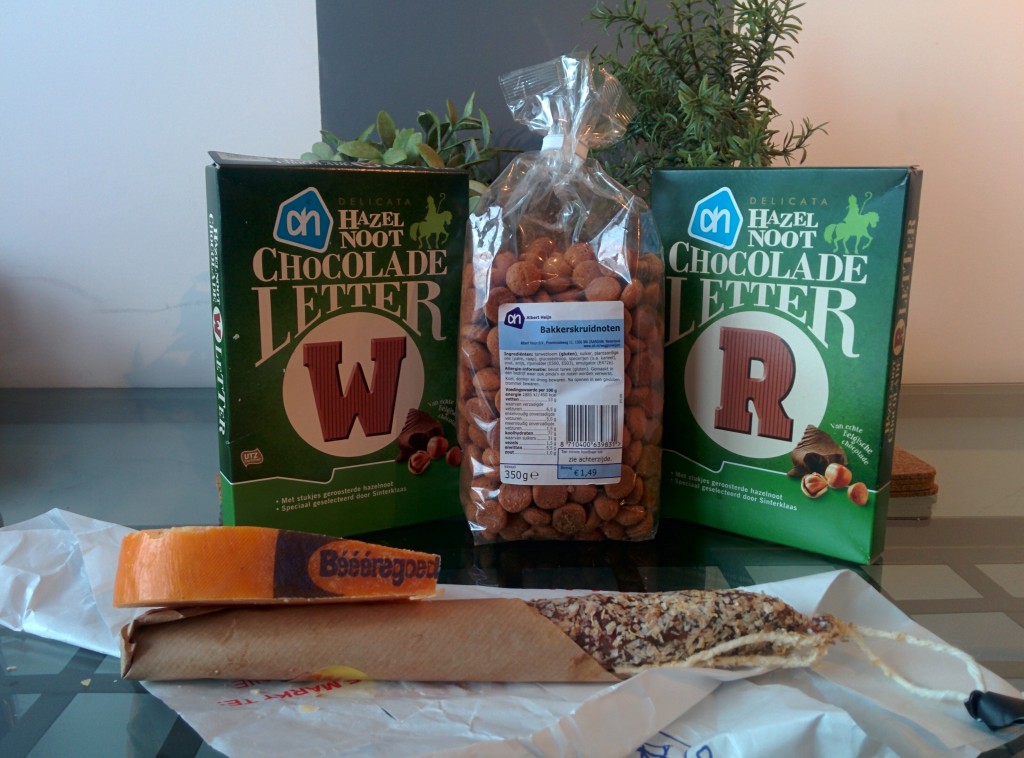 Maartje also made sure we were aware of the controversial undertones of the Sinterklaas celebration.   Sinterklaas is an older, white-bearded man who rides a horse and puts gifts in the shoes of Dutch children on December 5.  (We were surprised to find that Sinterklaas is not the same as Santa Claus – apparently Santa Claus is loosely based on the Dutch character.)  
The controversy comes with Sinterklaas' helper Zwarte Piet (or Black Pete), who is said to be a Moor who came to the Netherlands from Spain.  As part of the celebration, Dutch people dress up as Zwarte Piet by donning blackface and thick red lips and use a kind of slurred accent.  Many people, including Roger Ross Williams, an American expat living in the Netherlands who made a documentary about Zwarte Piet, find the tradition racist.  However, despite the Netherland's reputation for liberalism, most Dutch don't agree with Williams' conclusion:  a recent survey found that more than 90% of Dutch residents did not find the tradition racist.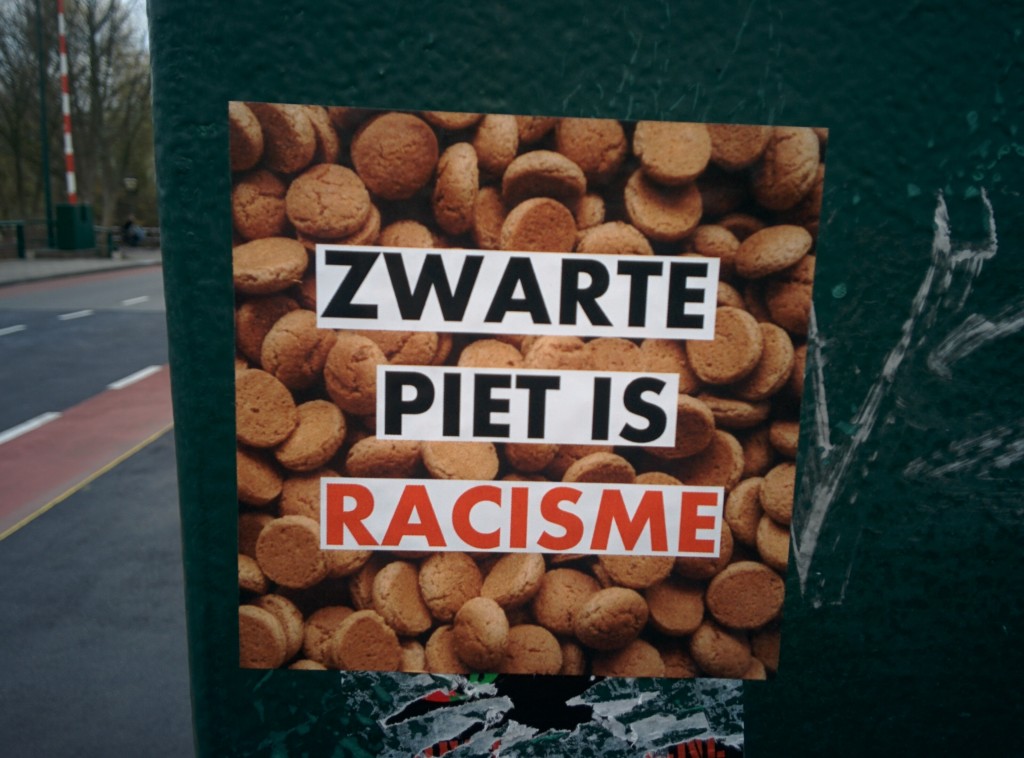 While Maartje was giving her last exam for the semester, we went on a longer ride to Katwijk, a sleepy beach town about 10 km from Leiden.  In the Netherlands, you can pretty much bike anywhere – bike lanes connect all cities, including rural areas.  So awesome!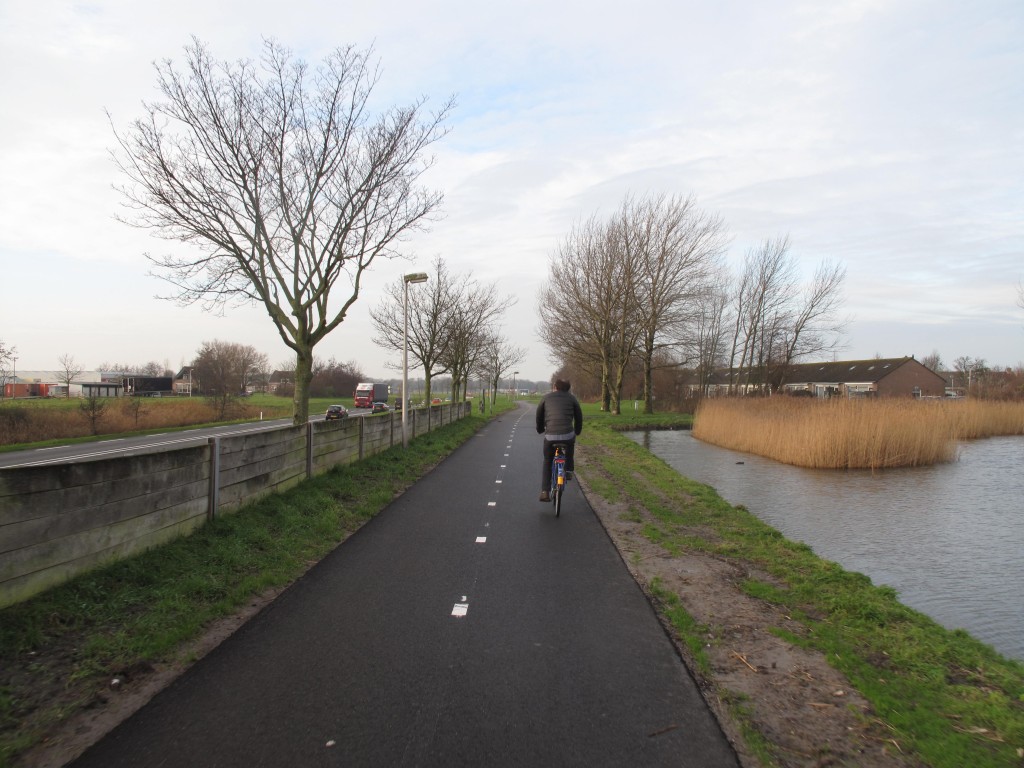 The bike lanes went through some beautiful rolling grasslands.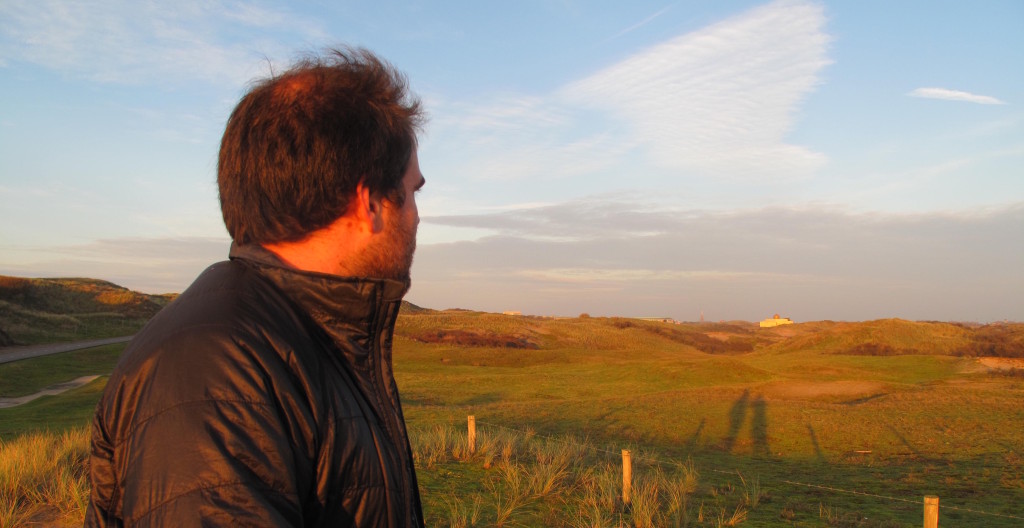 We enjoyed the warm, sunny day at the beach because our next stop was expected to be a bit chillier.  See you in Oslo!