"Why did you pick that riad?" the driver, named Mobarek, asked us in a dismayed voice. (A riad is a Moroccan hotel, whose rooms look out onto a central courtyard.) "It's so far away from the main square and medina (a distinct, walled portion of many North African cities). It will take you almost an hour to walk there." Mobarek was from a tour company with which we had booked a desert tour. He met us at the Marrakesh airport so we could discuss the future tour plans and agreed to drive us to our hotel in Marrakech. We had chosen the riad largely for its close proximity to the medina, and were following our drive using Google Maps offline (a frequent life-saver), so we expressed surprise: "it looks like only 10 minutes on the map." His response invoked lots of twisty streets, dead ends, and other obstacles that would add up to the quoted hour. Somewhat disheartened (but also a bit skeptical), we decided we'd stick to our guns and deal with the walk.
We arrived at the riad, and the friendly manager, Said, greeted us with the first of many, many cups of mint tea we would drink in Morocco.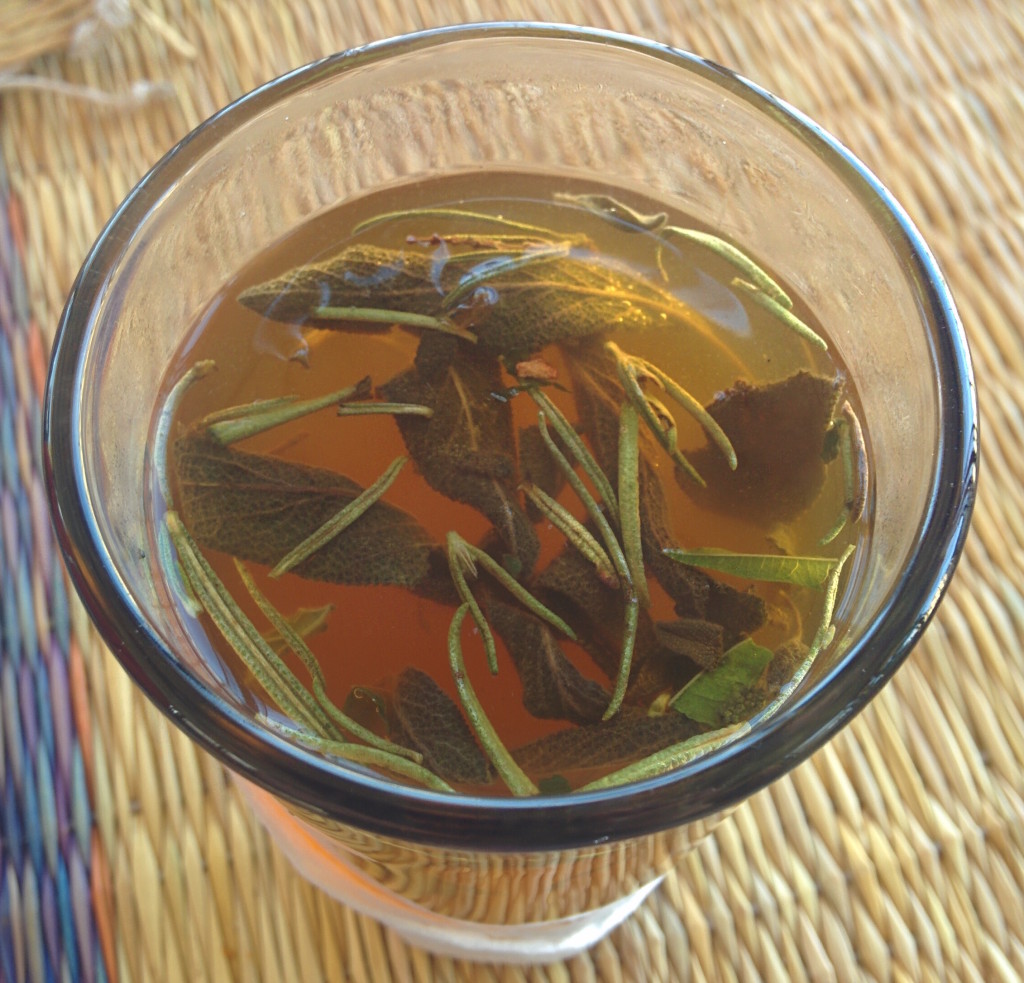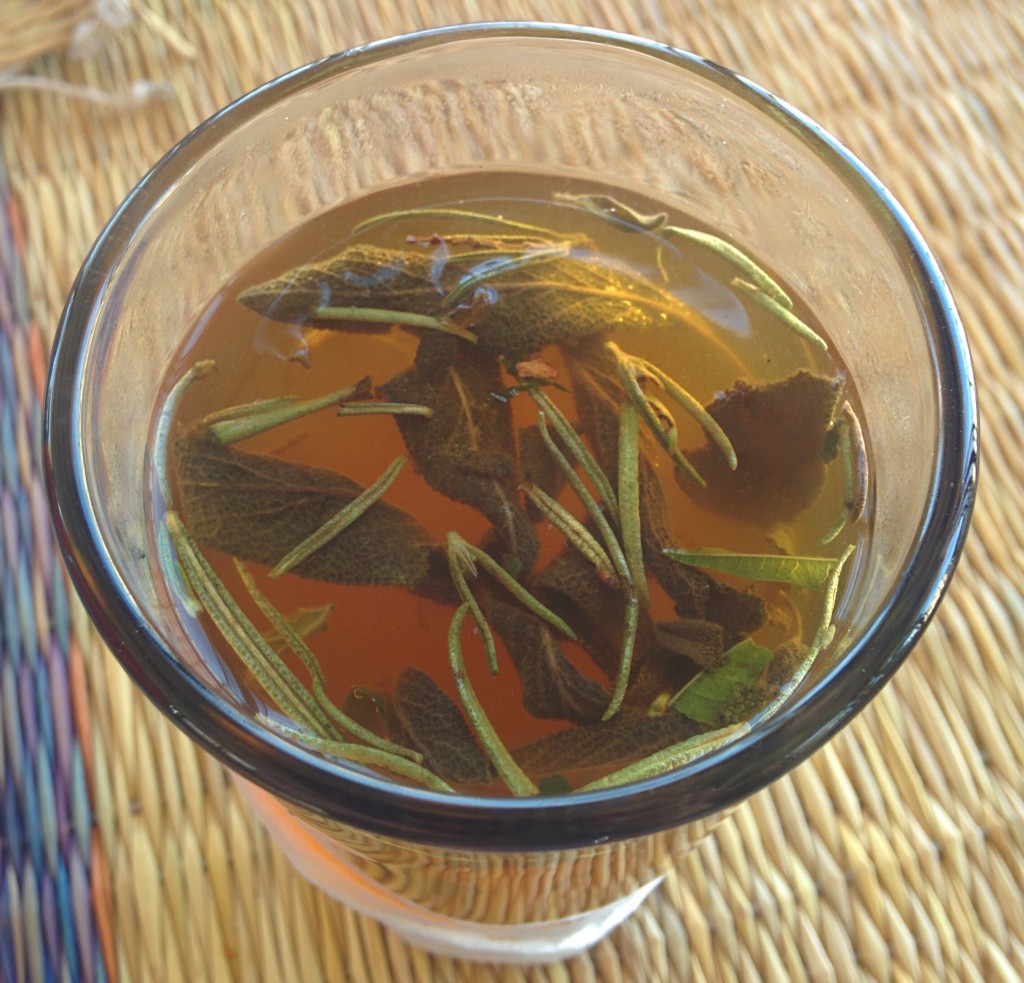 Nearly every social interaction, from checking into a hotel to eating a meal to making a purchase, often starts and/or ends with an offering of mint tea. The ingredients vary from place to place: more or less sugar, different herbs, and even a particularly tasty version with rosemary (Berber tea). And as Sarah (who is very sensitive to caffeine) would soon discover after too many cups, green tea is a constant between all the varieties.
Once we got settled, we decided to brave the walk to the medina. We headed out the door, down a long straight street, and 10 minutes later we were in the main square. It seemed that our driver, despite appearances of being friendly and helpful, was just looking for a commission for delivering us to an alternative hotel. We were already on guard for scams after hearing stories from friends and reading online tips, but this was a clear reminder that despite how friendly someone seemed, we needed to keep our guard up.
Suddenly, it started pouring. As we tried to locate the restaurant we'd selected on Tripadvisor, we quickly found that Google Maps left a lot to be desired in the twisty streets of the medina. We would duck under shelter to sneak a glance at the map, and be instantly bombarded with shopkeepers asking questions and inviting us inside. Then back out in the downpour to try another street — "I think this must finally be the right one." As our blue dot converged on the map marker, we found a narrow, dark alley with a long counter sporting a lamb's head, no signs, and many different restaurant owners calling loudly for us to come inside.
Overwhelmed, we turned around and made a beeline for a safer-looking option we had spotted on the way. There, we hid from the rain and warmed ourselves with soup and our first of many tagines (a Moroccan stew baked in a clay dish with a pointy top).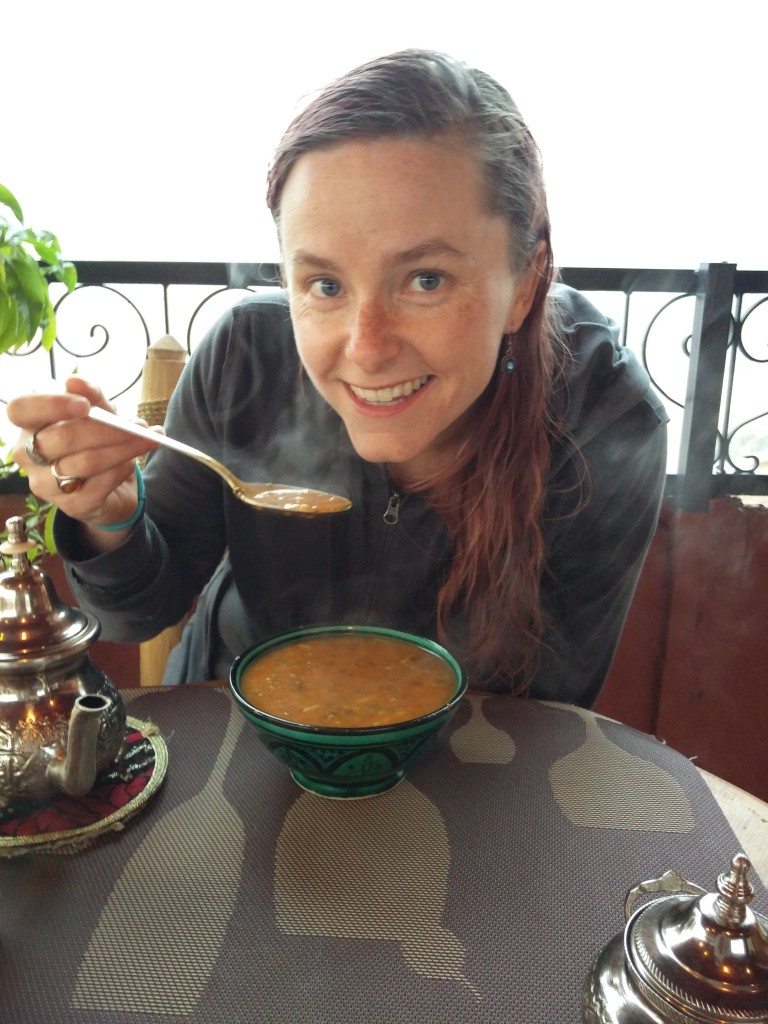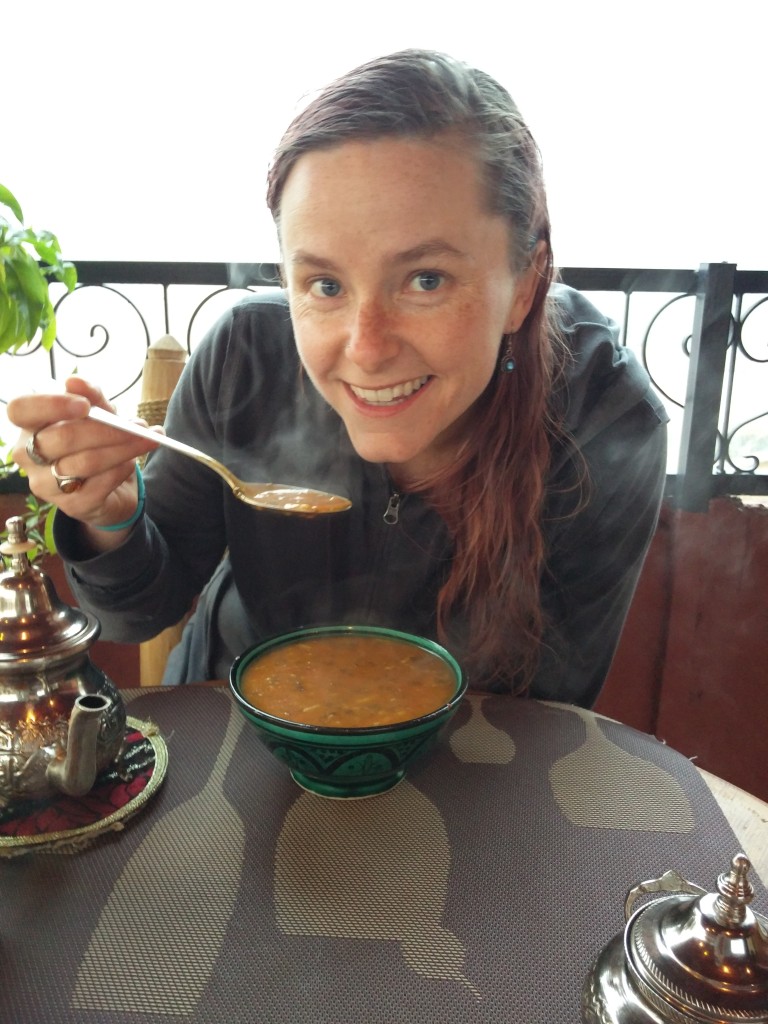 The next day, the weather was much more pleasant, and we spent more time exploring the medina's twisty alleys and people-watching the main square and its souks (open-air markets) from a nearby terrace.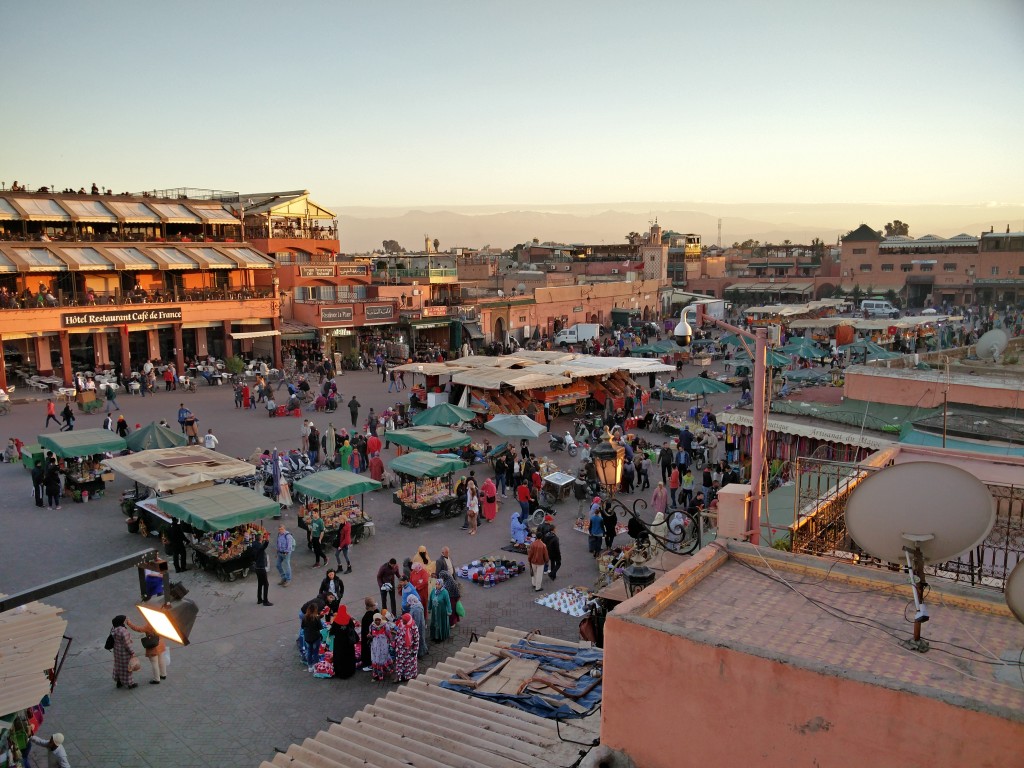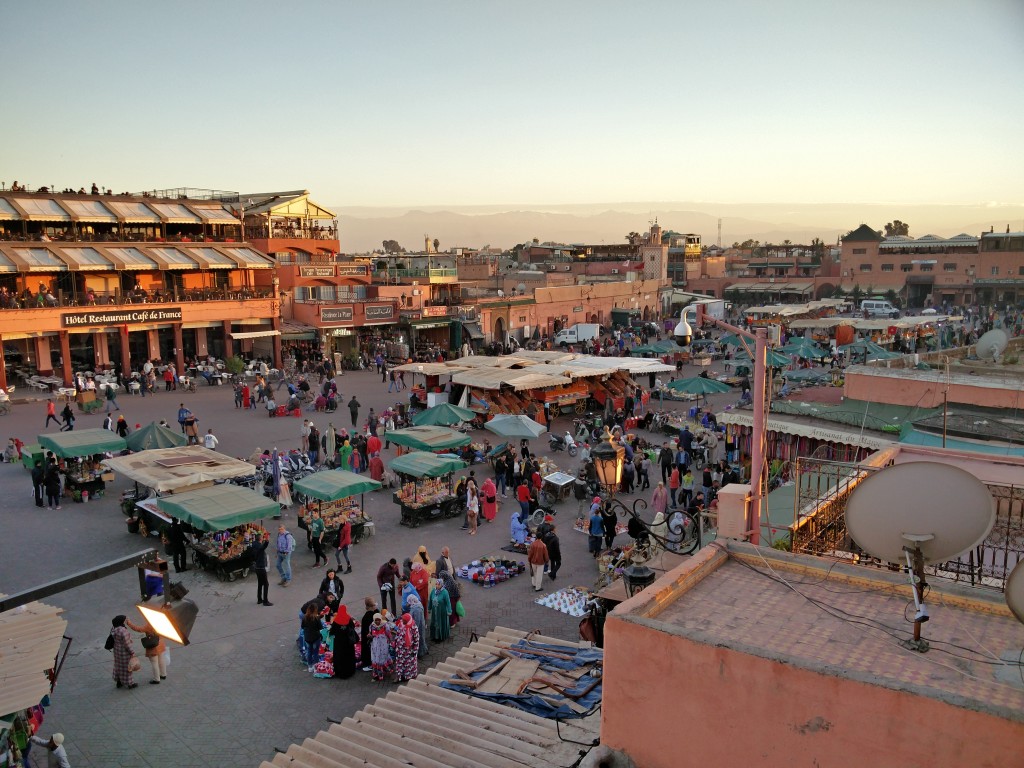 The medina was fascinating and overwhelming: a maze of meandering, covered paths, the labryinthine nature of which is impossible to describe. Medinas are named after the first Islamic community founded by the prophet Mohammed, which became a template for other Arabs towns and communities. The streets within the medina are often less than a meter wide, and some medinas were used to confuse and thwart invaders because of their winding layout. We both consider ourselves to have a pretty good sense of direction, but we felt completely lost and turned around in the medina. Not to mention the fact that GPS barely works inside its walls.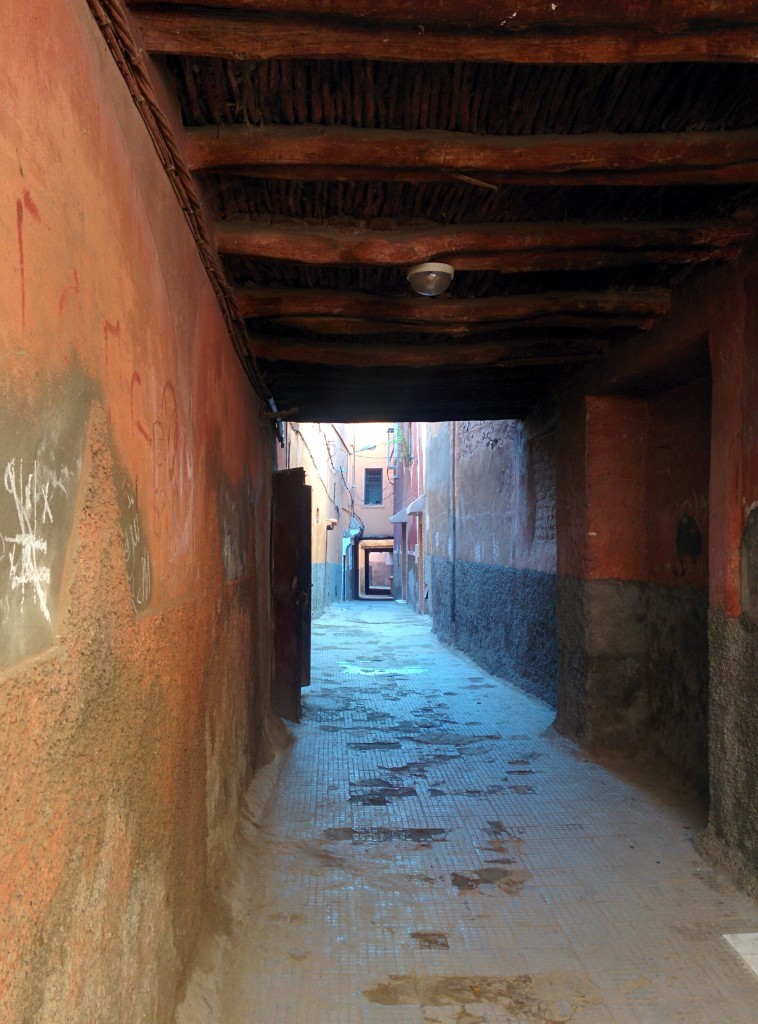 One of the most common scams is to act like a friendly person who just wants to help you find your way in the admittedly very confusing medina. If you follow them, or even if you just allow them to walk in front of you on the way to your destination, they will claim that they served as a guide for you and charge you for their 'services'. Luckily we had read about this and were able to avoid the swindle, which was attempted many times.
While we wandered the medina, we saw lots of people wearing the traditional djellaba (a long, often woolen cloak with a pointed hood) and lots of donkeys hauling goods through the narrow streets: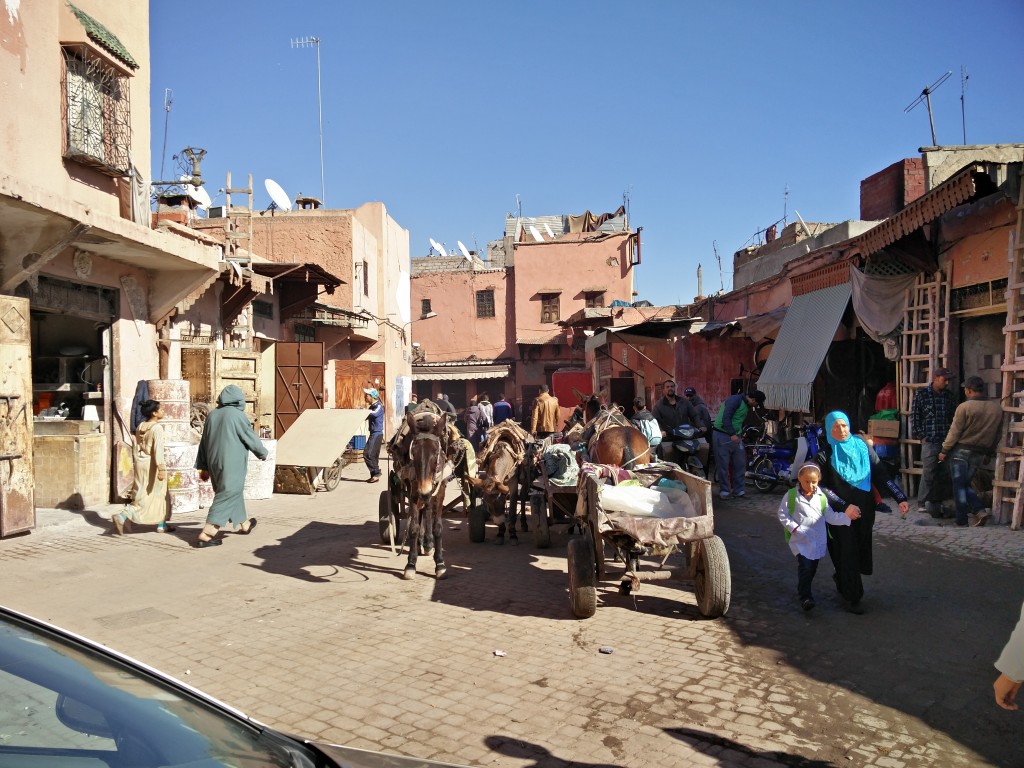 There were so many shops selling items from the ordinary, like toiletries and shoes:

to beautiful handcrafted metal lamps:

to heaping mounds of olives, dates, and herbs: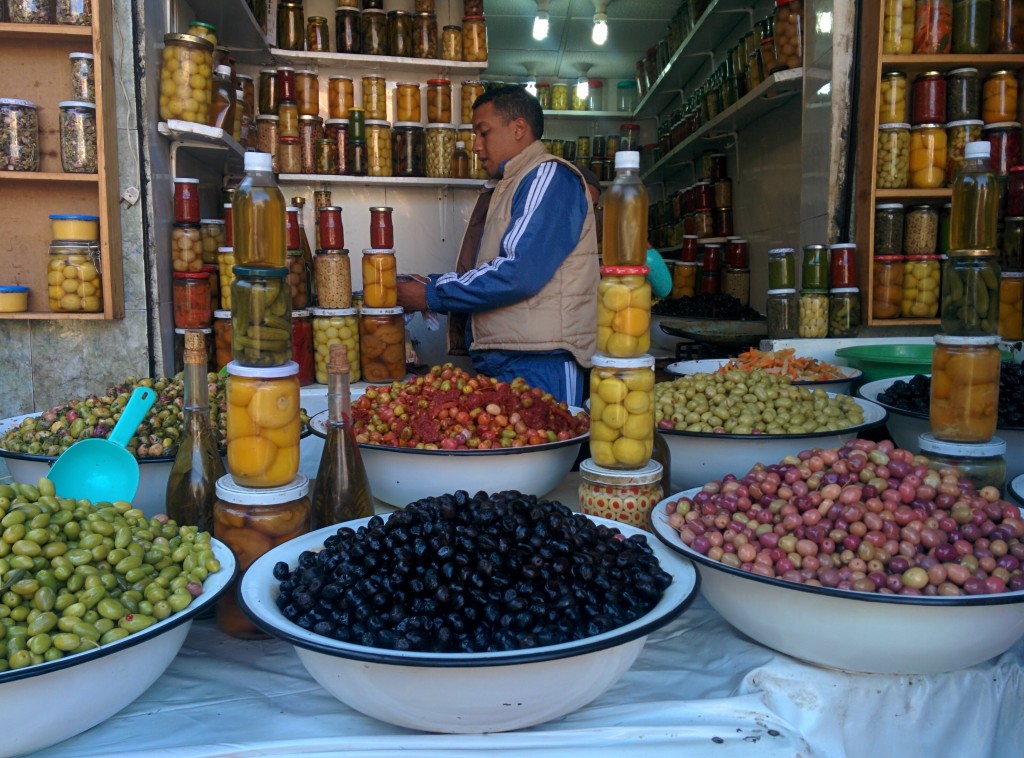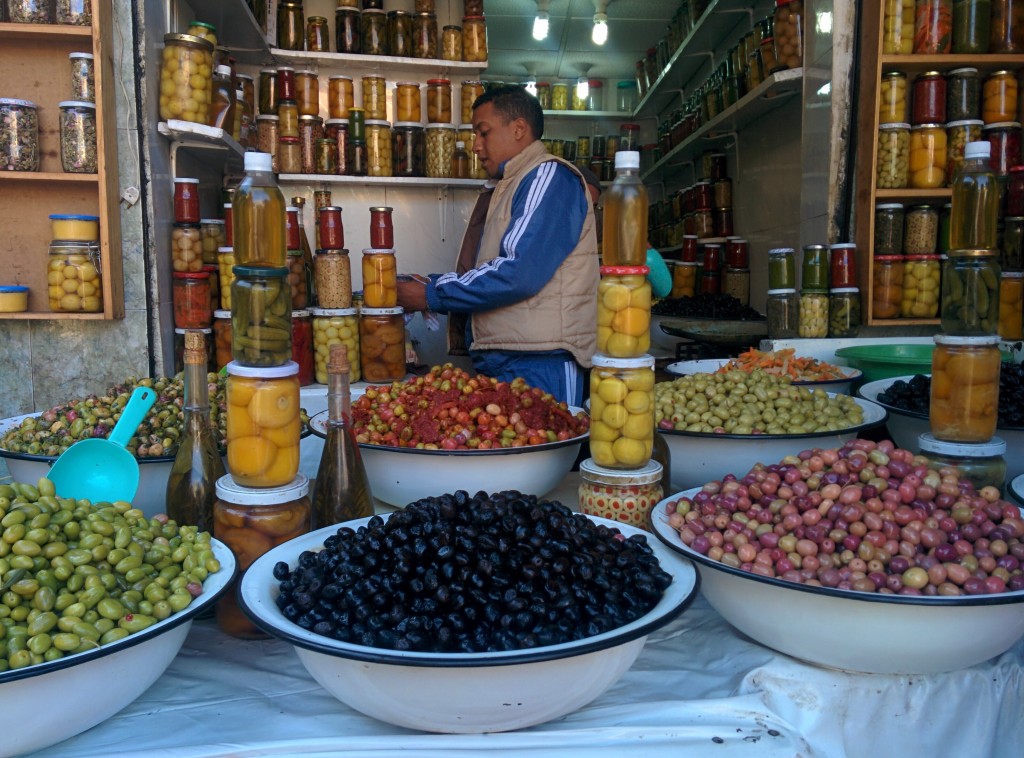 On the other side of the medina, we stopped off at Ben Youssef Madrasa, the largest (now, former) Islamic college in Morocco, which sports more than a hundred dormitory rooms to explore, and is decorated to the hilt with intricate hand-carved cedar, marble, and stucco.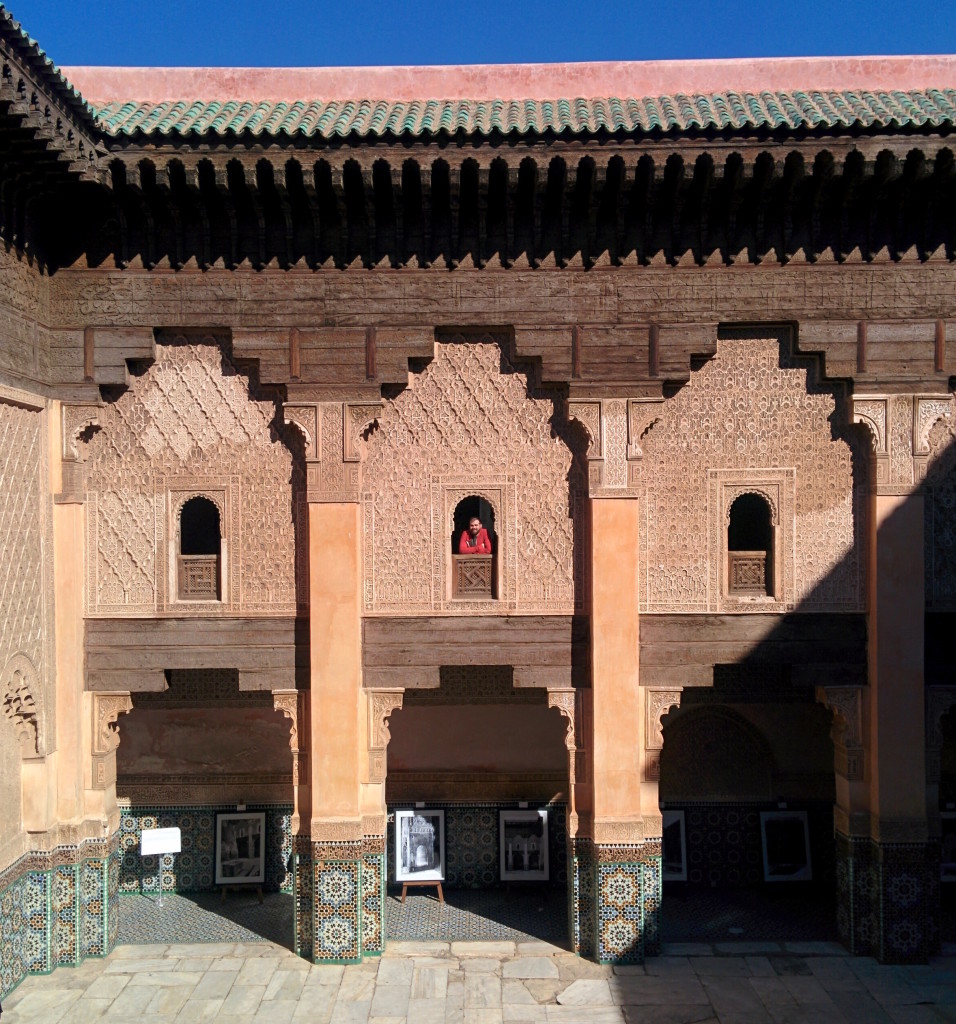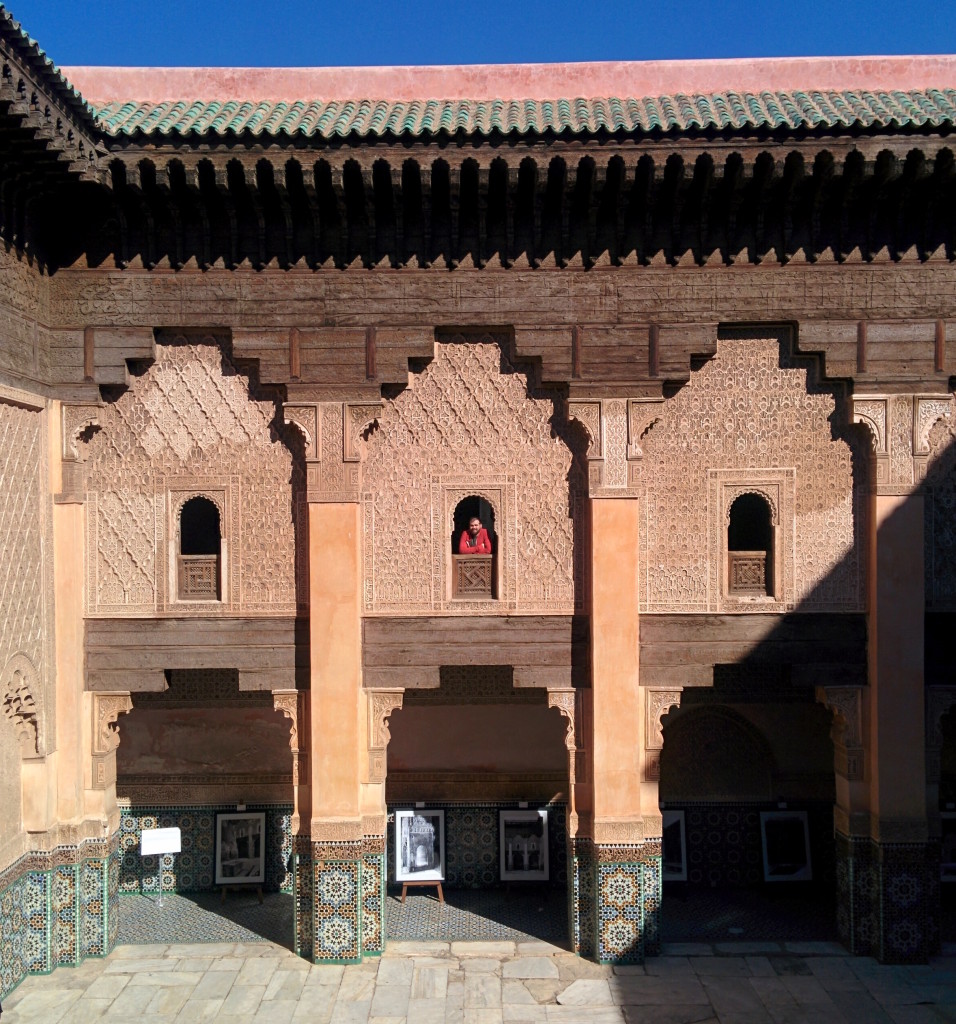 By this point, we were pretty good at heading off offers and scams by firmly stating "La'a chukran" ('no thank you' in Arabic). But on our way out, we nearly got tricked by a particularly clever guy, who pretended to work at the Madrasa and told us about a special event that was happening that day. He then "co-incidentally" ran into us again shortly after we left, and offered to point us in the right direction. When we expressed hesitation, he said 'no problem' and started walking in the other direction, making it seem like he wasn't a scammer. A few seconds later, another guy showed up and the first guy said, 'Oh, my friend can show you. He is not a guide – he is a vendor and he's heading there anyways.' We had never experienced the intricate two-person scam before and these guys were really good actors so we tentatively started after the second guy who seemed indifferent to us following him. But we luckily recognized our mistake before following the second guy too far in the wrong direction and quickly did an about-face.
Despite the veneer of scams and heavy haggling in Morocco, most Moroccans we met we were friendly and kind-hearted, with a sarcastic sense of humor. Once we accepted the intensity of the experience and considered it inevitable and fun to get lost in the medina, we had an incredible time in Marrakech.
At the end of our stay, we got up the courage to find our way back to that alley with the lamb's head. We sat down, and before we could ask for a menu, they brought us a tagine of slow-cooked lamb, khobz (a round Moroccan flatbread), and mint tea.

The lamb was delicious and falling-apart tender, and we mopped the dish dry with the khobz before calling it an early night, falling asleep to the sounds of the Isha'a (the evening prayers) being broadcast over the mosque's loud speakers. The next morning, we would leave early for a trip to the desert.