We left Marrakech early to head towards Merzouga and the Erg Chebbi dunes. On the way, we drove through many small towns and villages, which always perfectly matched the color of the surrounding landscape.

We crossed through the Atlas mountains via Tizi n'Tichka ('difficult pass').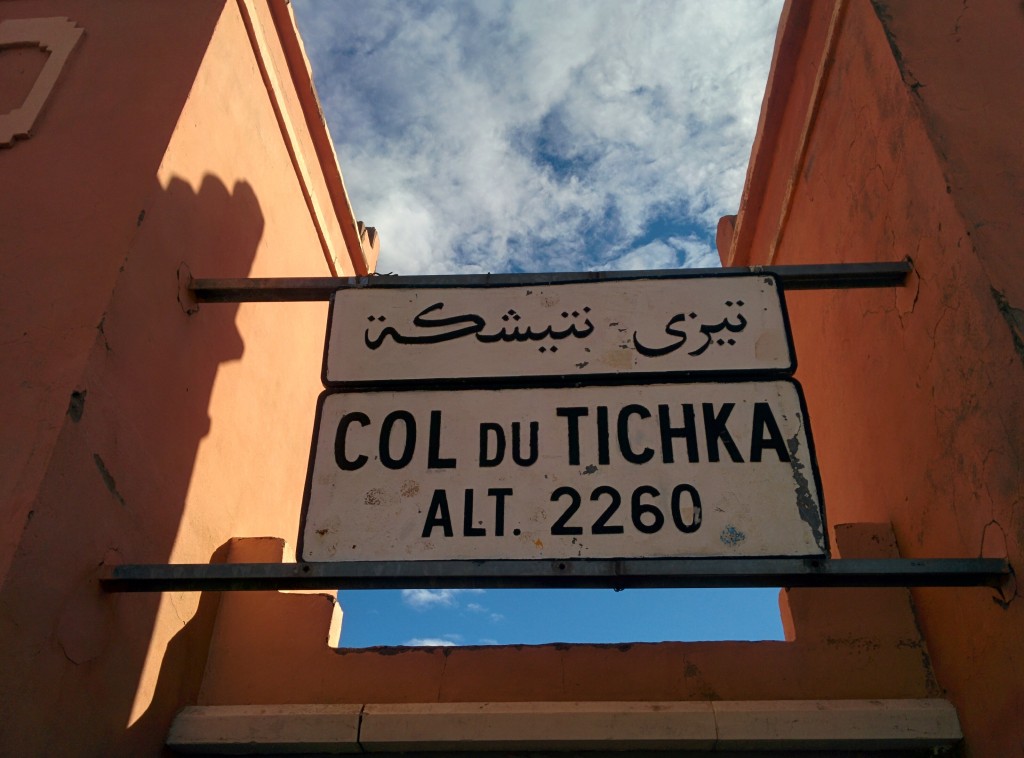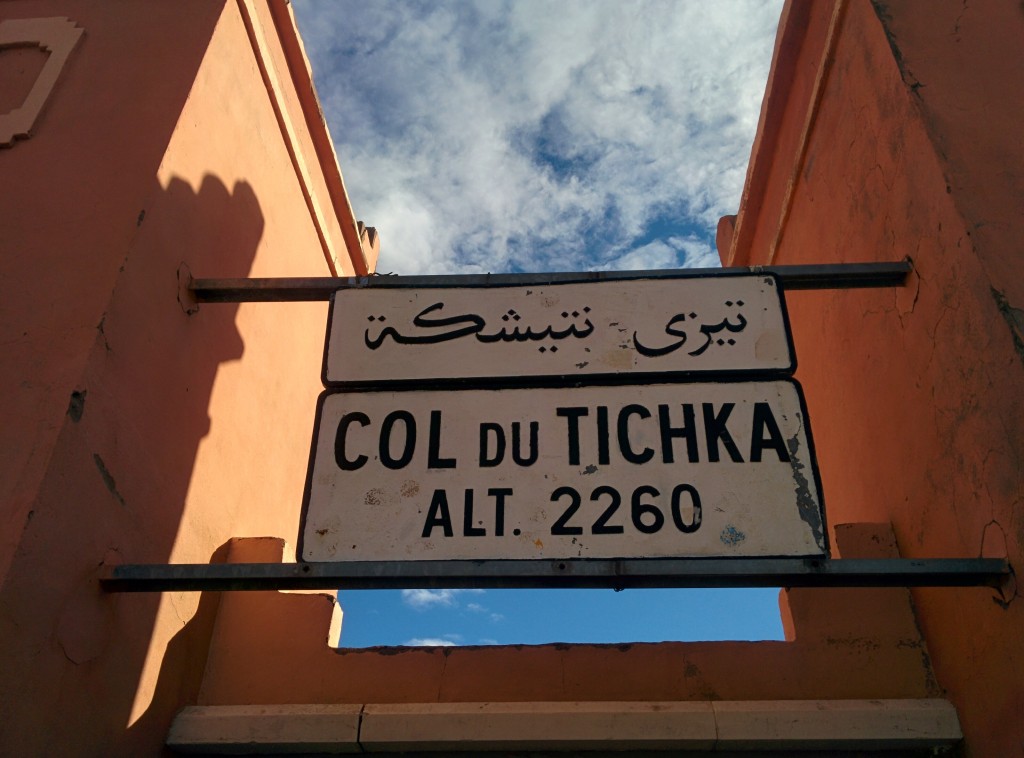 The Atlas separate the Atlantic and Mediterranean coasts of Morocco from the Sahara Desert. They support a number of plant and animal species found nowhere else in Africa — like the Barbary macaque, the Barbary leopard, the northern bald ibis, the Atlas cedar, the Barbary lion (extinct in the wild), and the Atlas bear (African's only bear species, now extinct).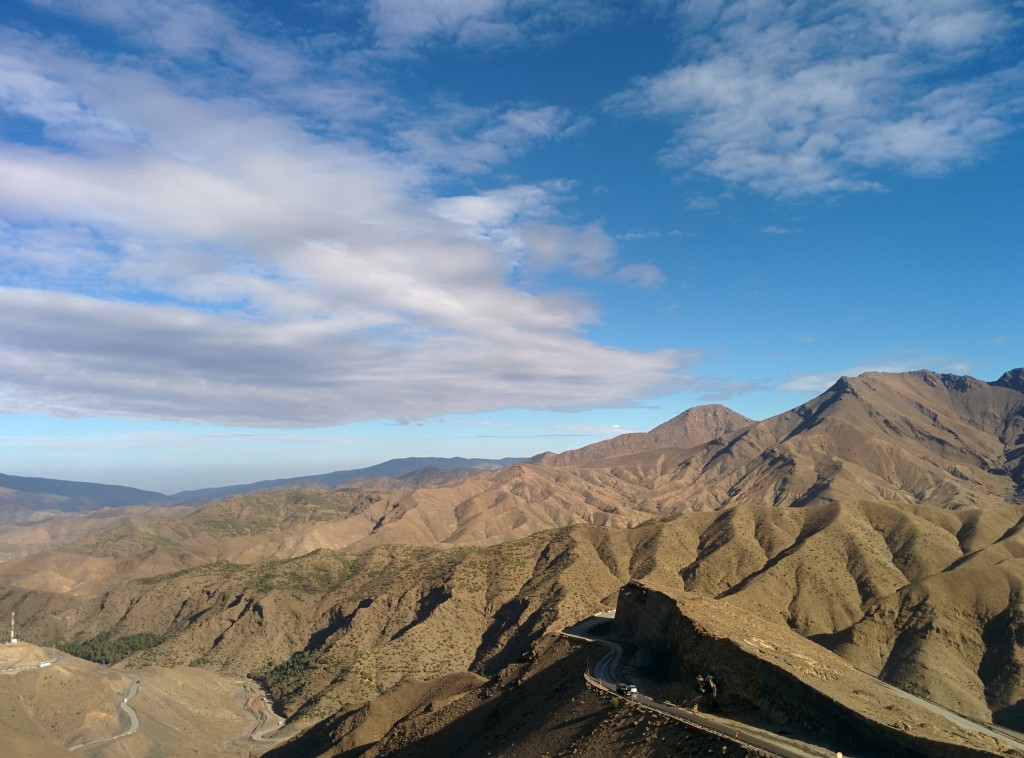 We made a quick stop for lunch at Aït Benhaddou, an old kasbah (fortified city) where Gladiator, The Mummy, and some scenes from Game of Thrones were filmed.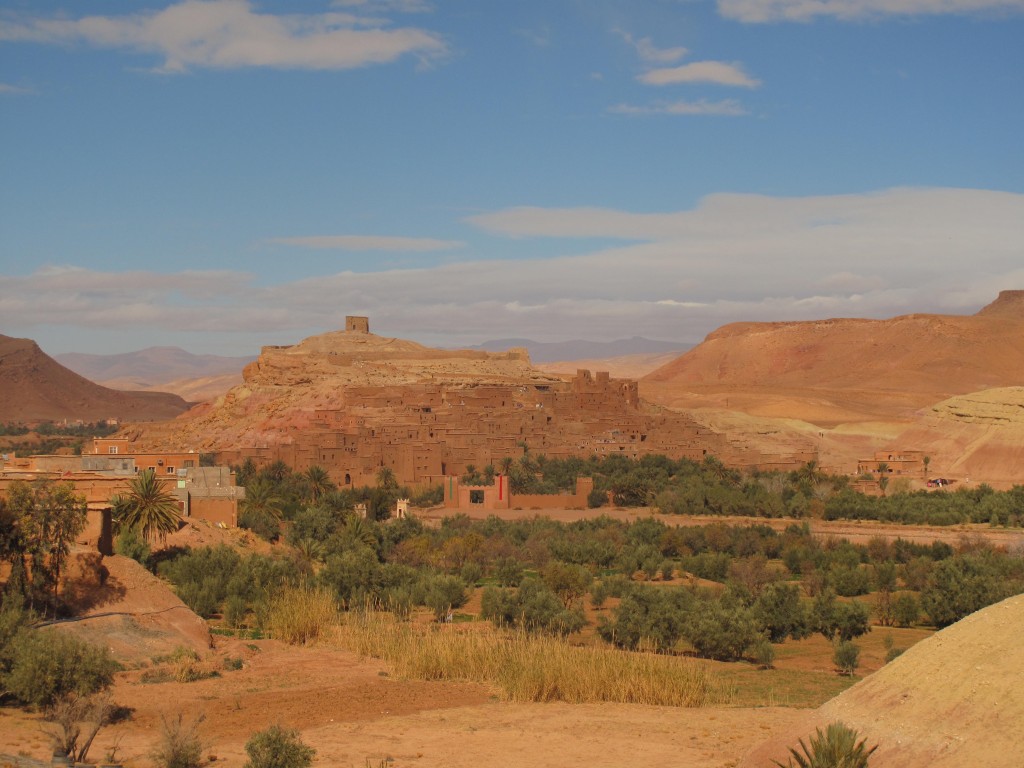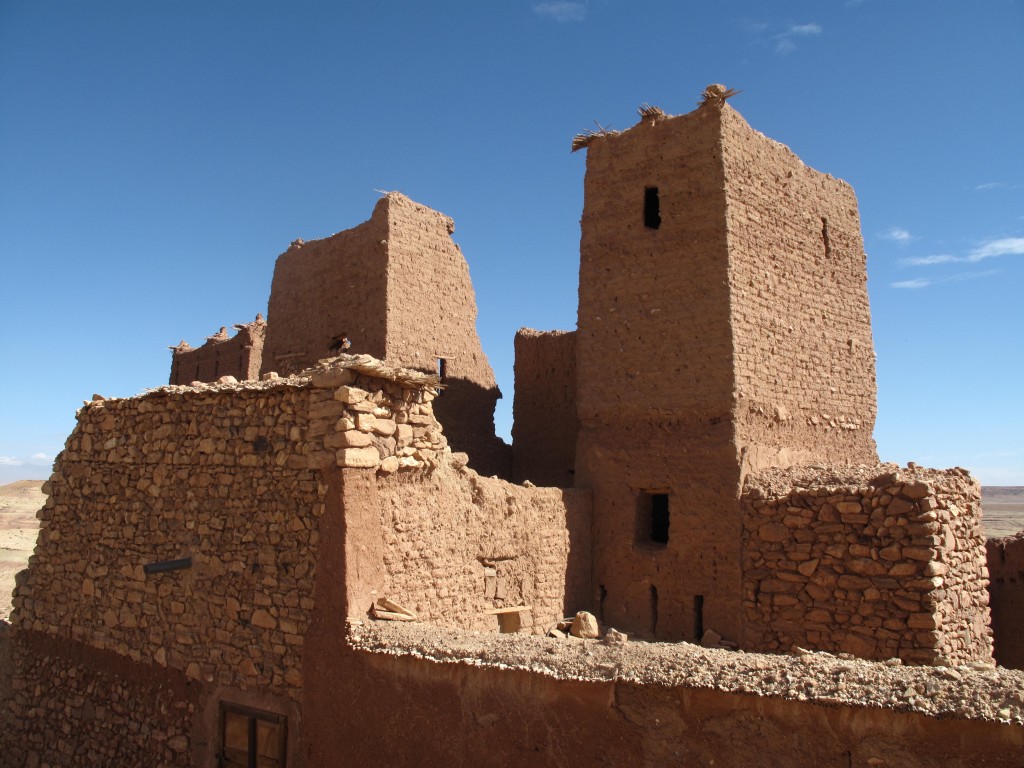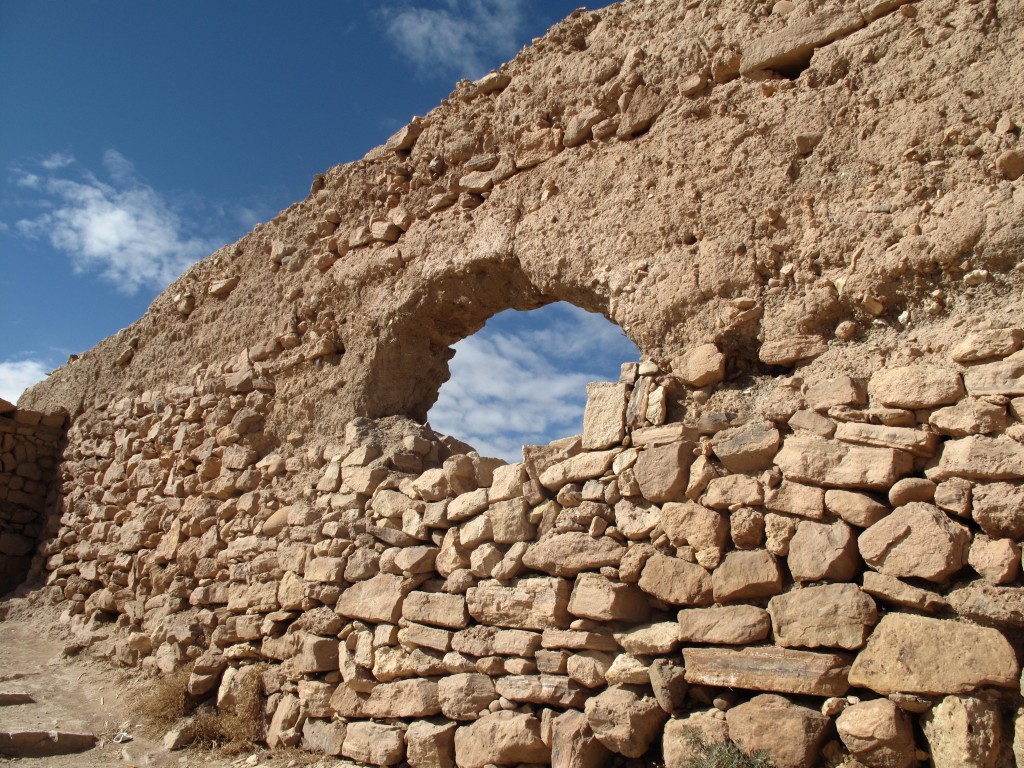 Forty kilometers down the road, we passed by the Ouarzazate solar power station, a colossal concentrating solar power plant that uses 12-meter tall mirrors to heat water and generate steam for Morocco's energy needs. Eventually the project is expected to cover 6000 acres and generate 580 MW of power! (Photo courtesy Masen)

We ended the day enjoying the sunset from our hotel overlooking the picturesque Dades valley. (Dades means 'figs' in Berber.) Unfortunately, we didn't get a good photo of the valley, but we did capture this blurry version of the Berber alphabet from inside.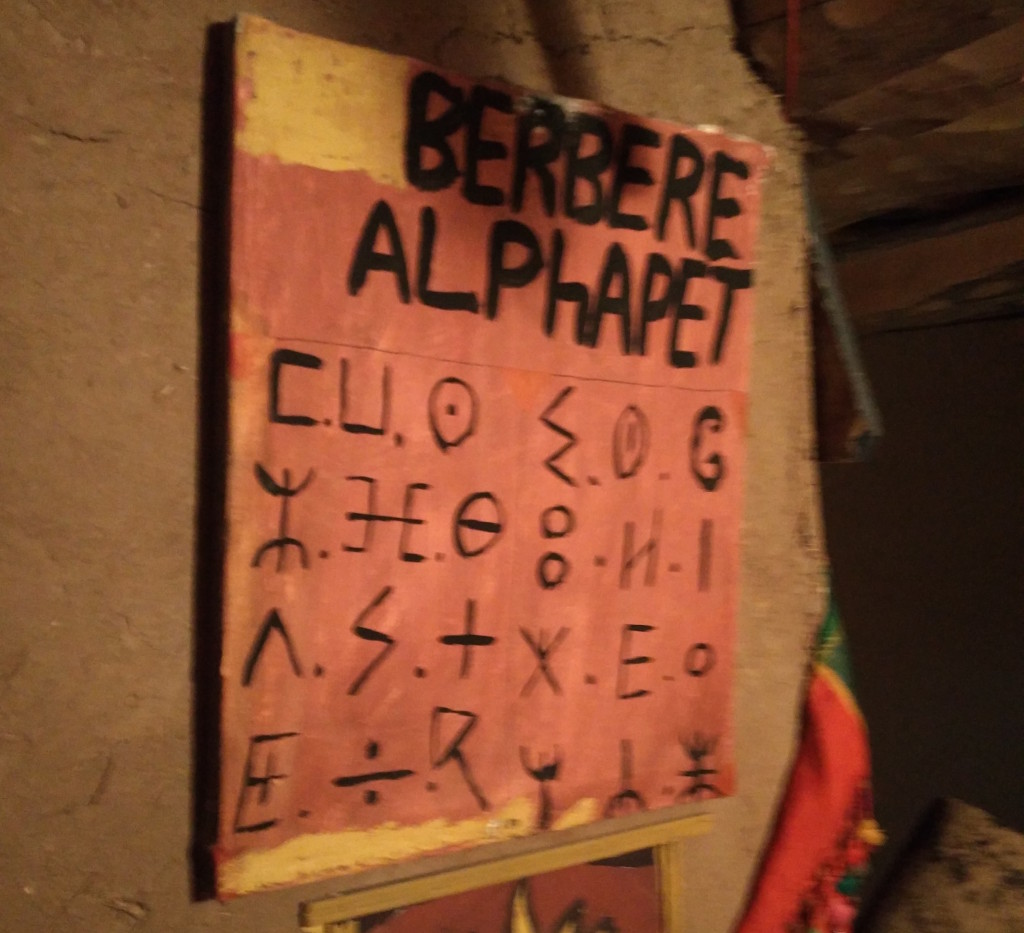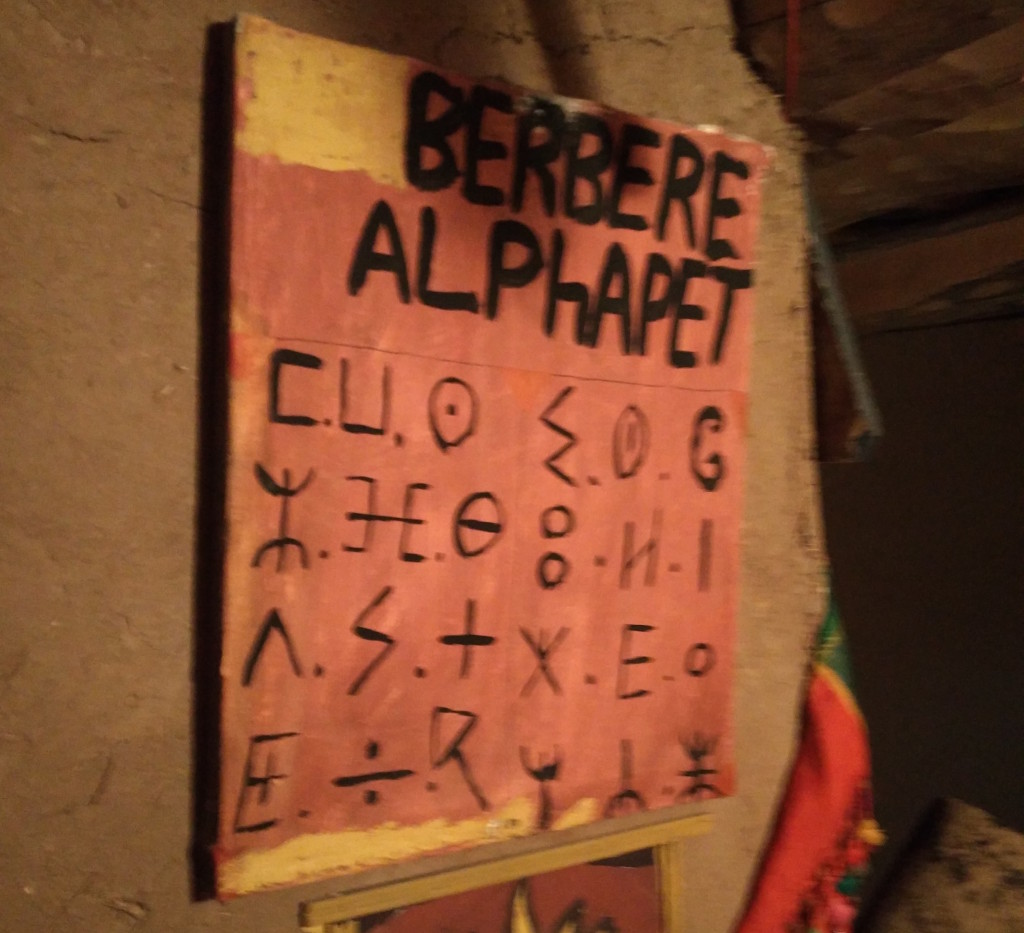 Most people living in the Dades valley are Berbers, or as they call themselves, i-Mazigh-en (free people). Berbers have lived in North Africa since at least 3000 B.C. and make up about 40% of Morocco's population. While Berbers have a long and fascinating history in North Africa, Berber was only recently granted official language status. After Morocco gained independence from France and Spain's protectionism in the 1950s, Arabic became the official language and was given a kind of elite status in the country. But, finally, in 2011, Berber became an official language and is now taught in all Moroccan schools.
The next day we were up early, and after a long drive with a few quick stops we found ourselves rather suddenly atop camels (dromidaries, to be precise) being led by strangers into the Sahara desert for the night.
Jason's camel was named Bob Marley, and he was passing a near-continuous stream of gas into the face of Jimi Hendrix (Sarah's camel). Truth be told, we felt rather silly riding the camels when we clearly could have just walked (and especially when the two guides were texting on their cell phones while they led the camels), but it was still a fun experience.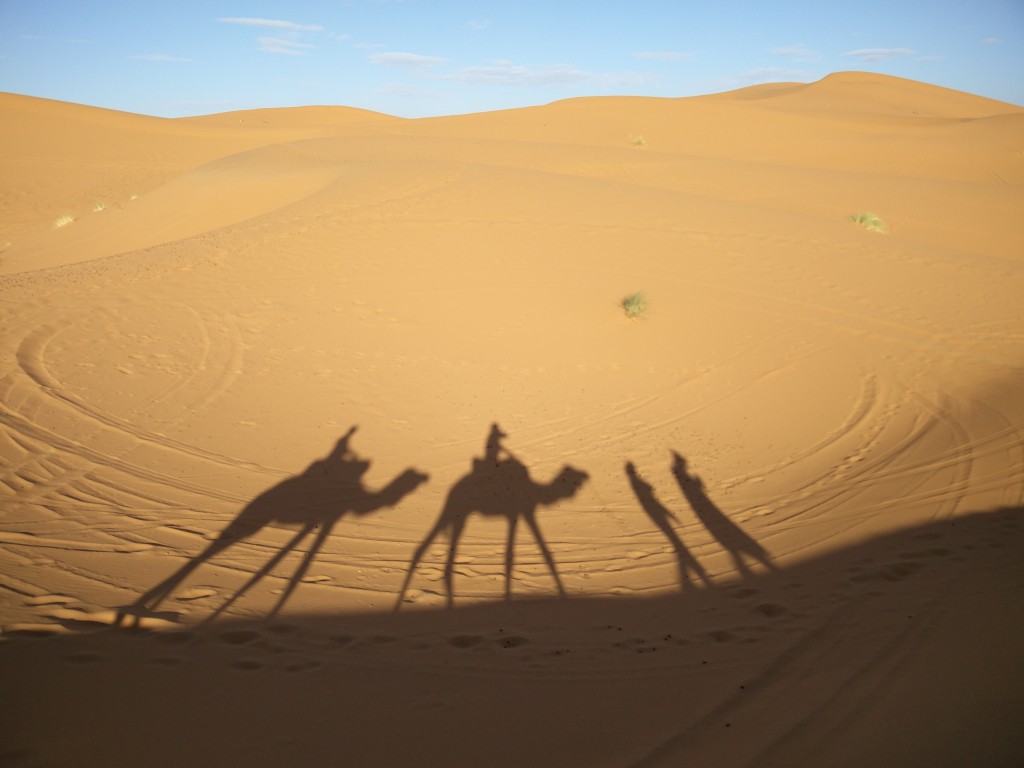 An hour or so into the dunes, we found our way to our campsite (loosely modeled after a traditional Berber nomad camp) where we would spend the night in the dunes. It was set up for about 20 guests, but we were the only visitors this night (it was low season).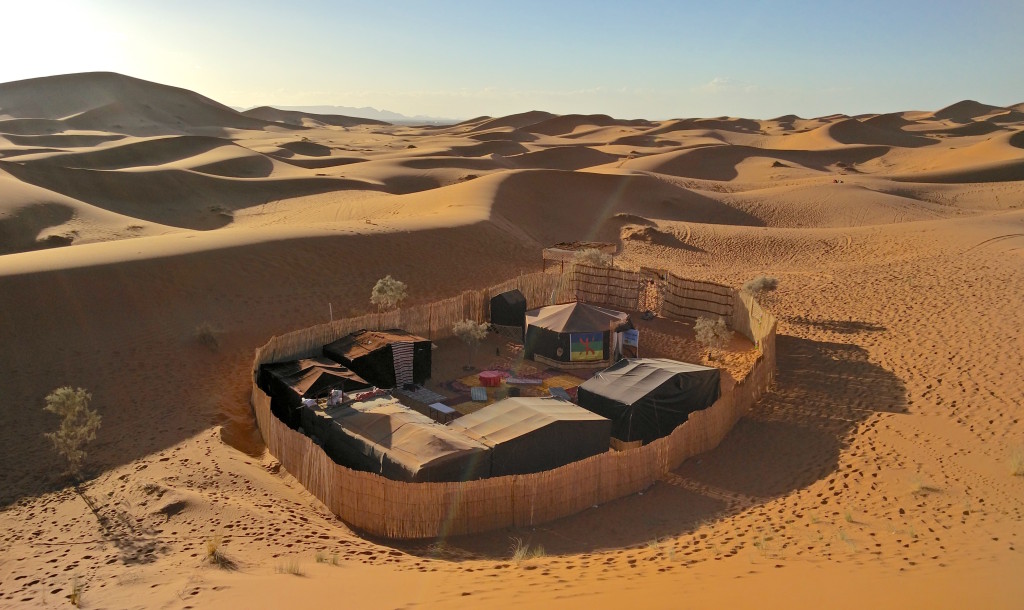 After some obligatory mint tea, we explored the dunes, enjoying the intricate patterns shaped by the wind: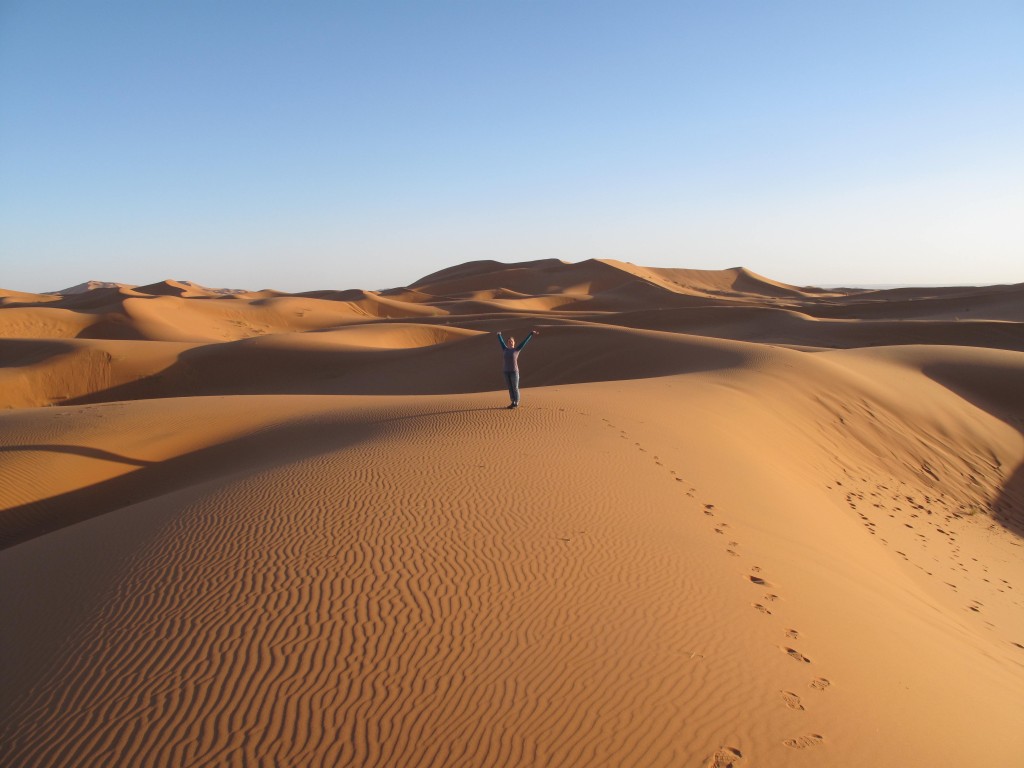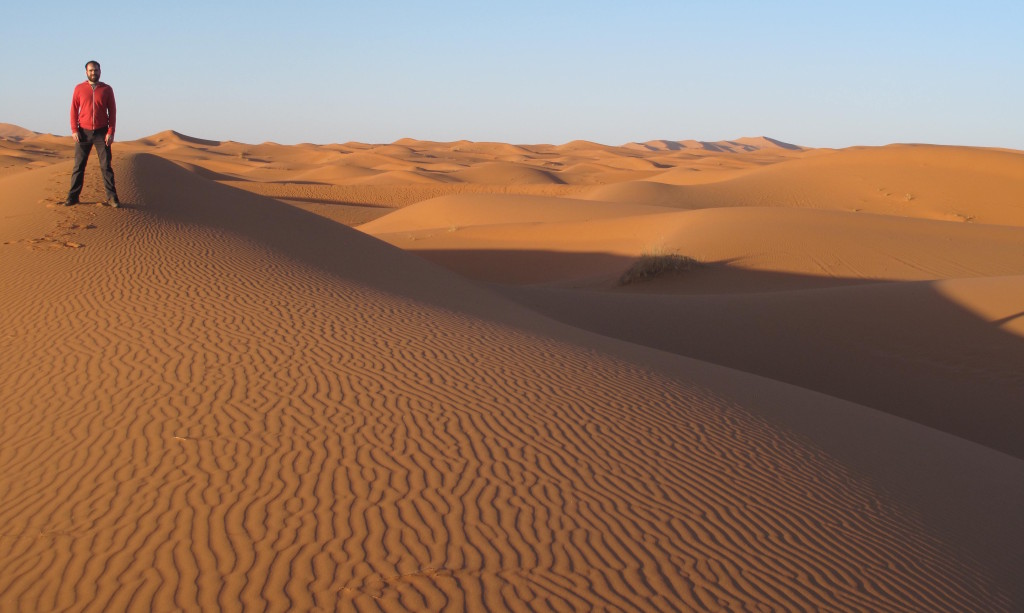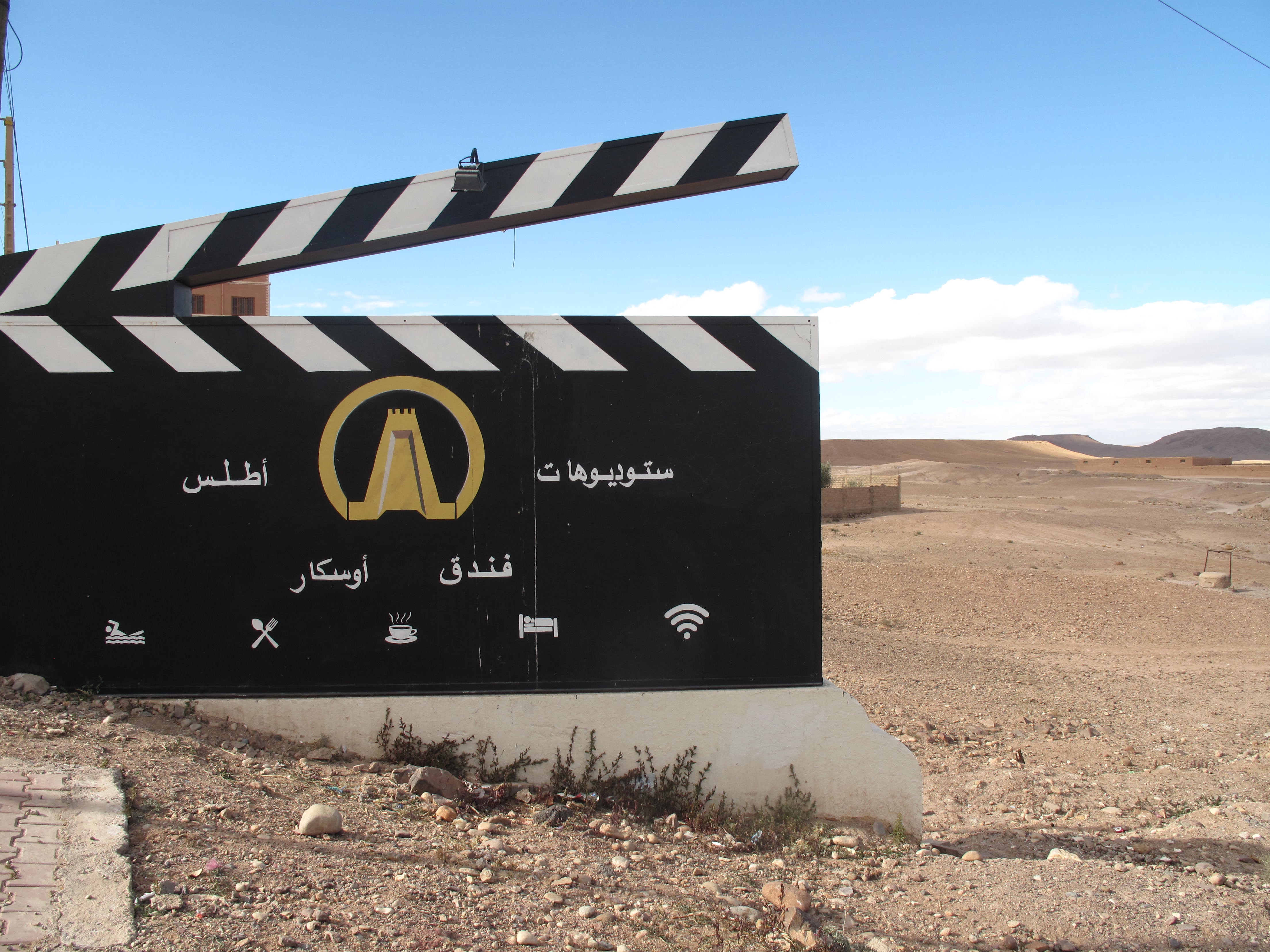 and even tried out "sand boarding" with a kids' size snowboard

until it was time to watch the sun set on the sand.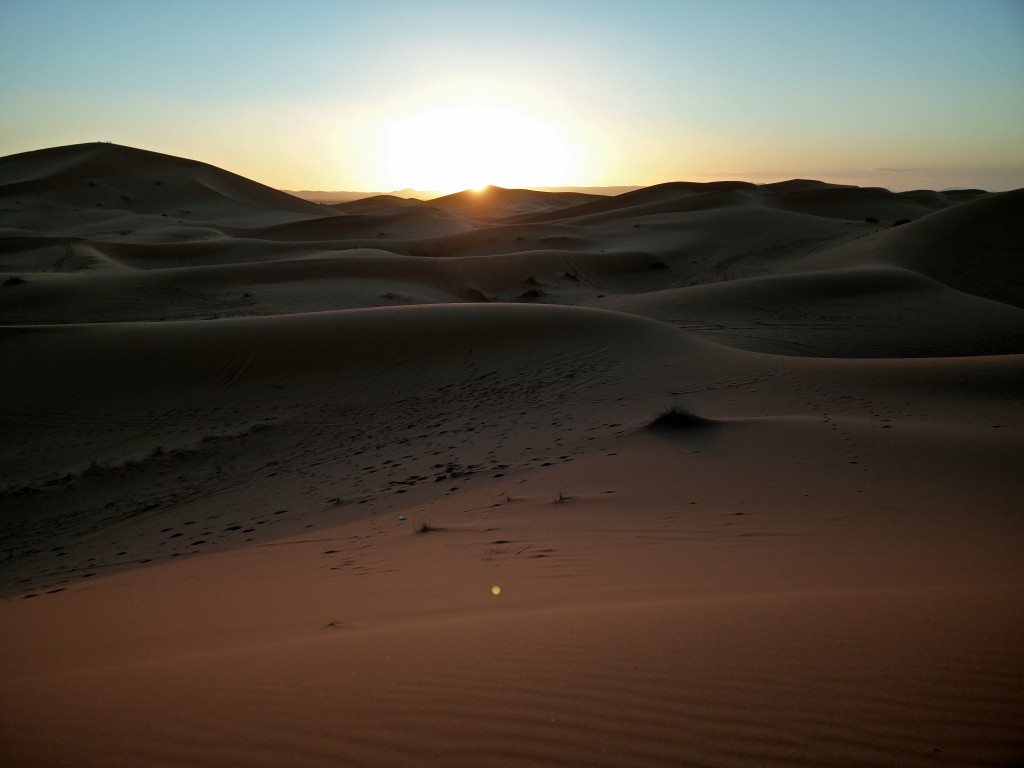 Shortly afterwards, our tour operator Ibrahim (who had arranged the tour, but we had yet to meet) rolled up on a 4-wheeler and we enjoyed dinner, a drum circle around the fire, a few forbidden beers (Morocco is largely a dry country), and a somewhat forced dress-up session together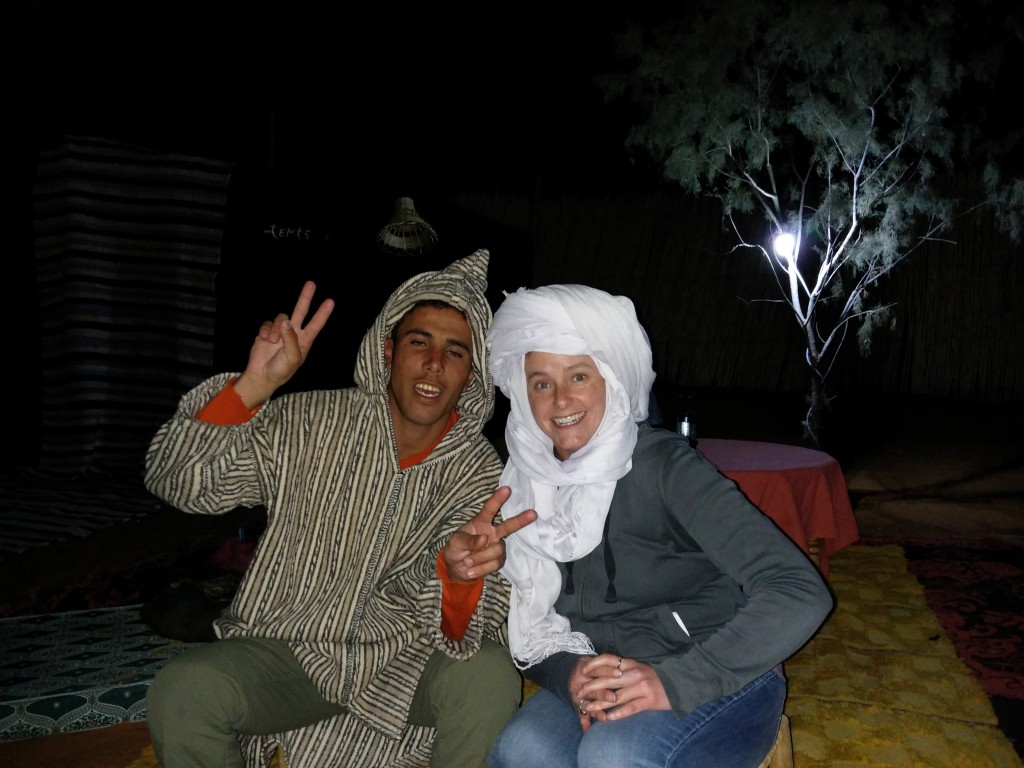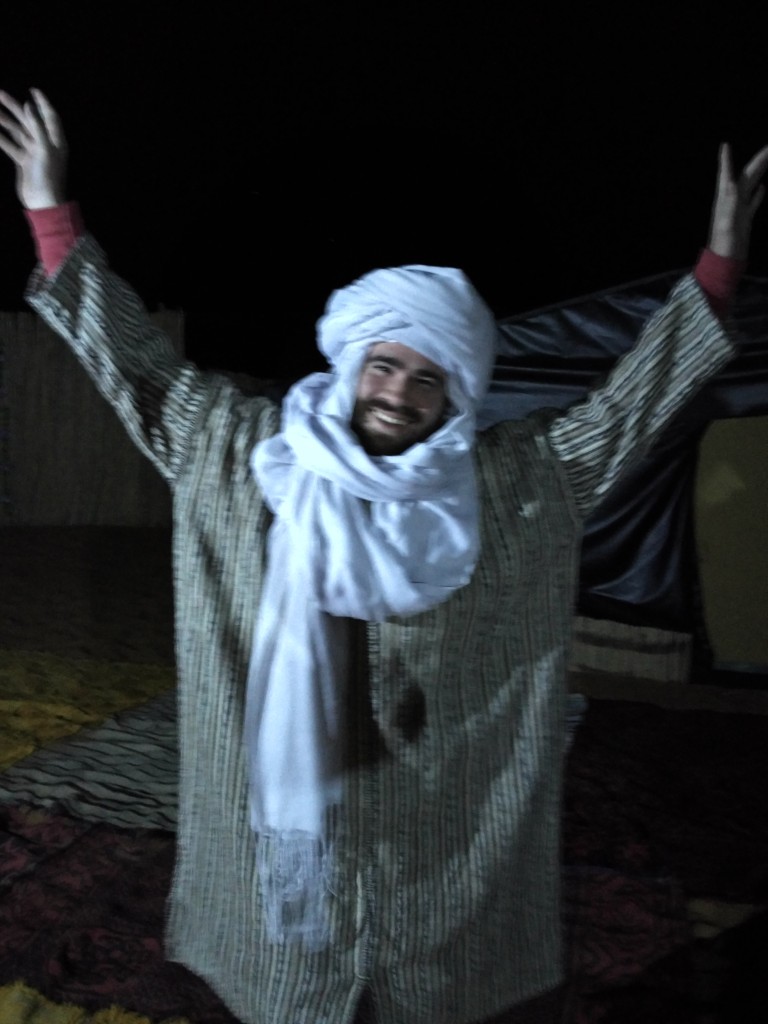 before grabbing a mattress and hiking a short distance away from the camp for several hours of breathtaking star gazing.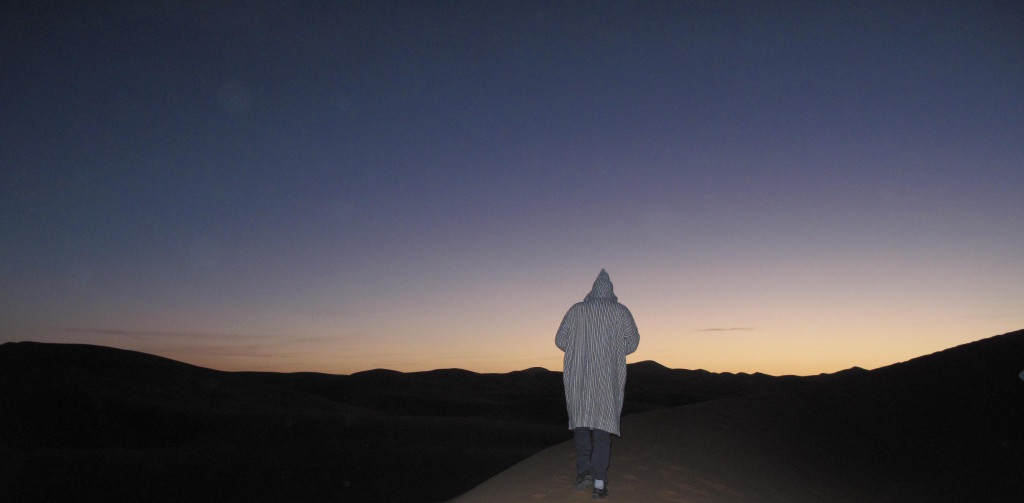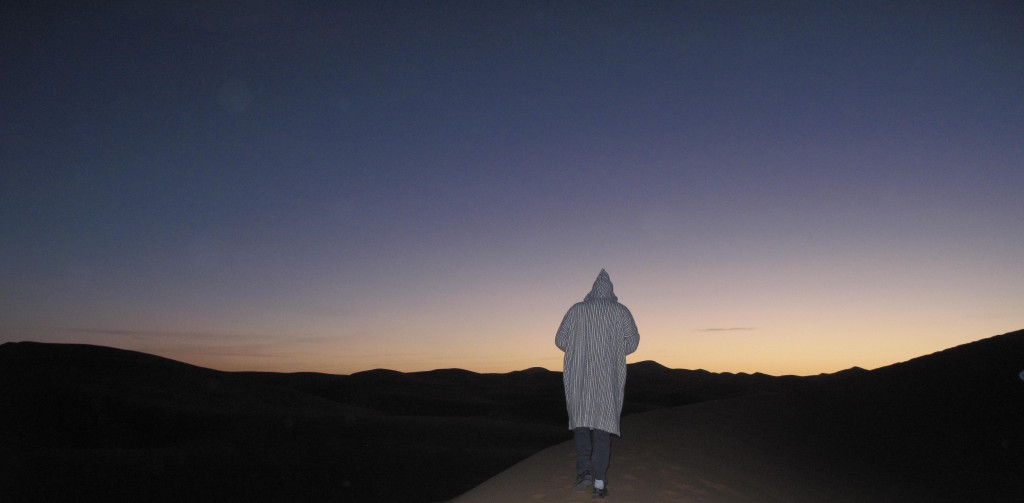 Then, we retired to our tent (complete with a Berber flag) for a few hours of shut-eye.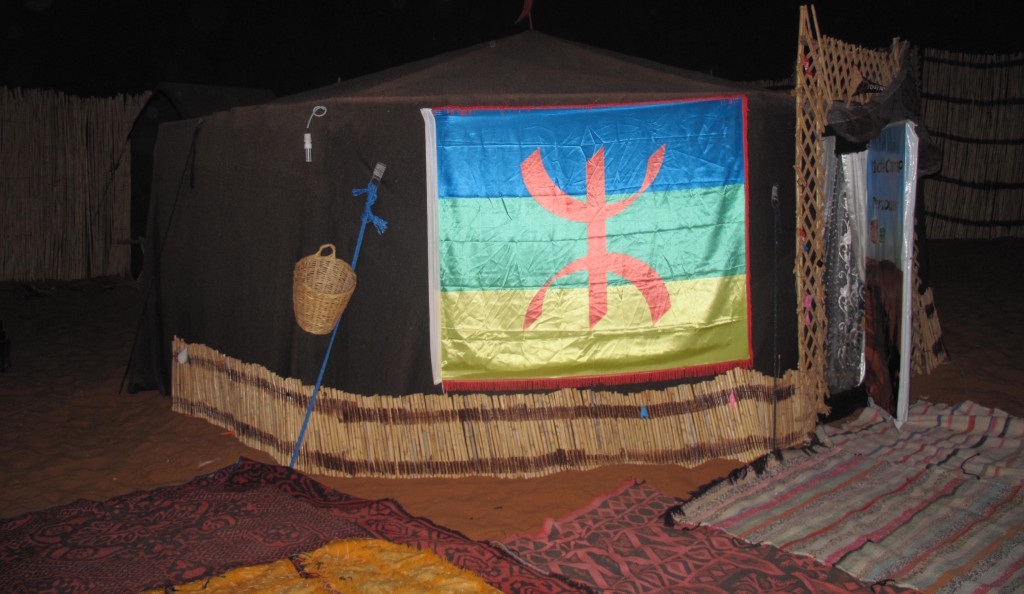 before waking up before dawn to catch the sunrise.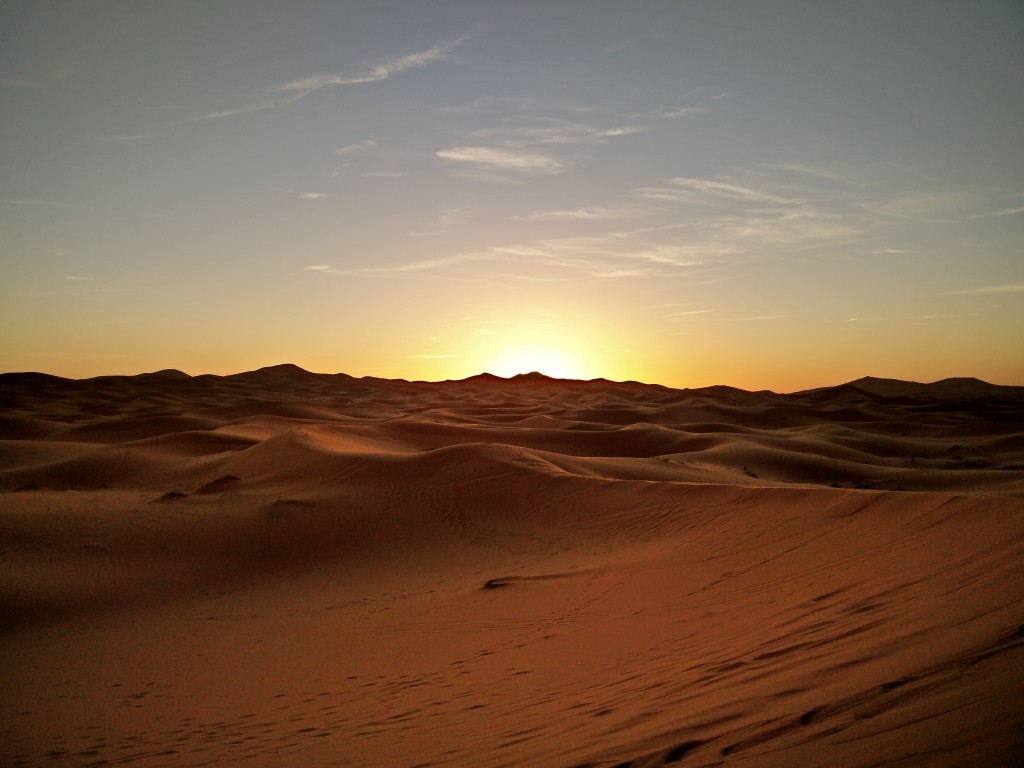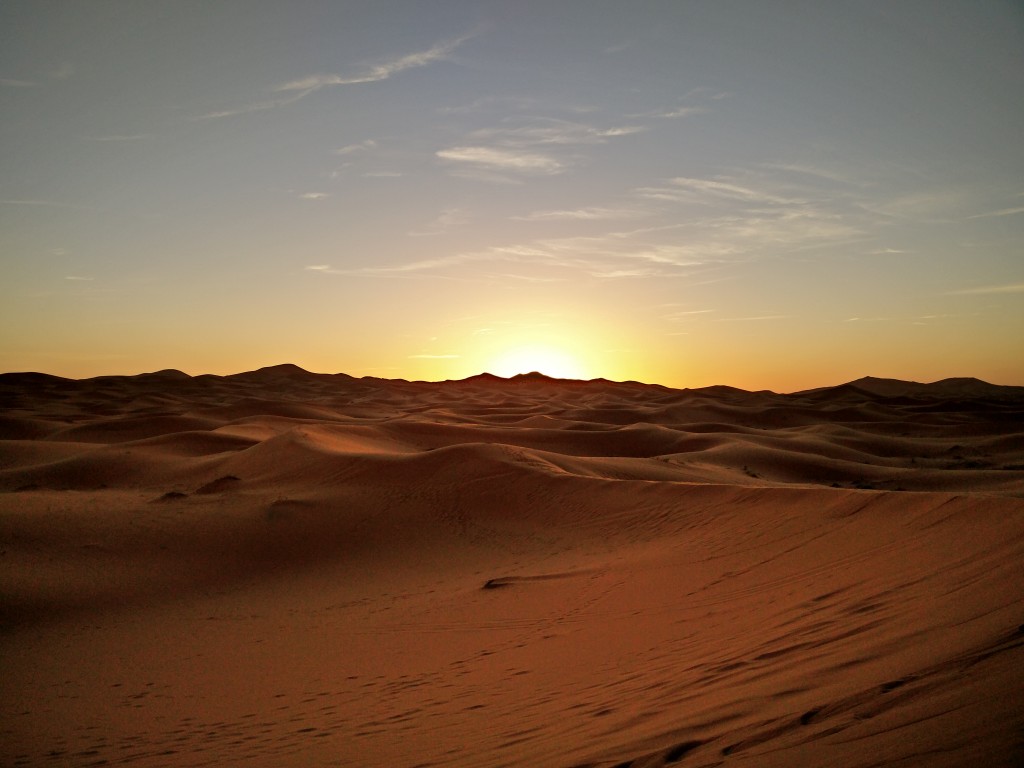 The next day was spent off-roading in a big loop around the dunes. The first stop was this large irrigated section of town, where every family gets a plot and a few hours per week of water.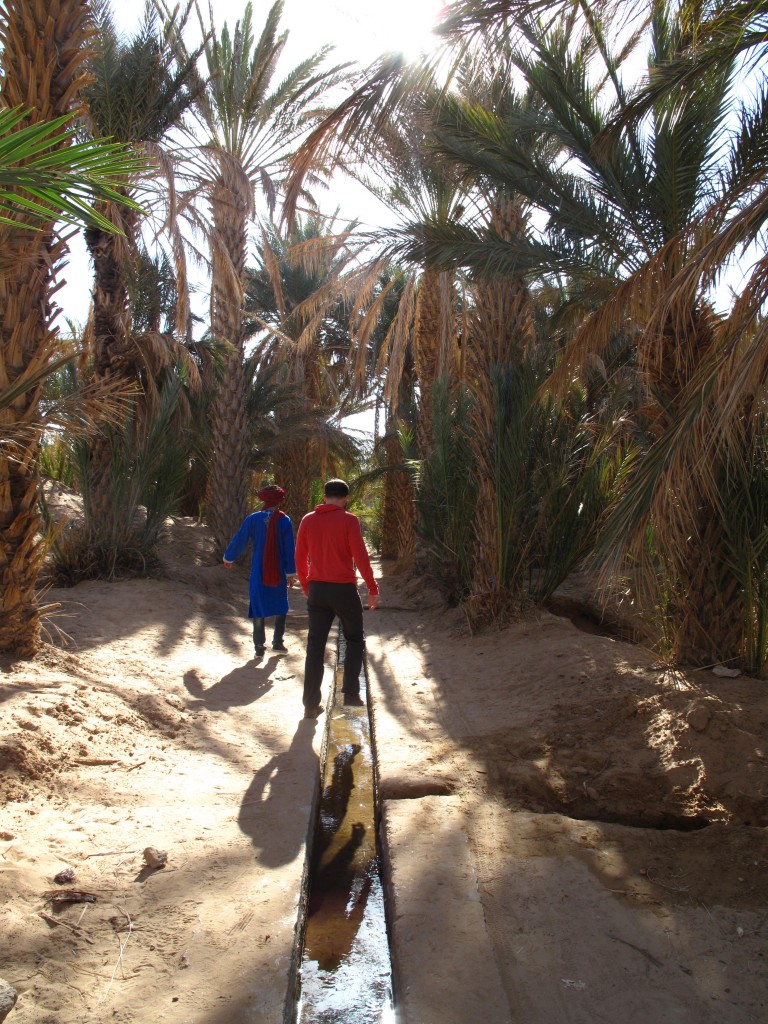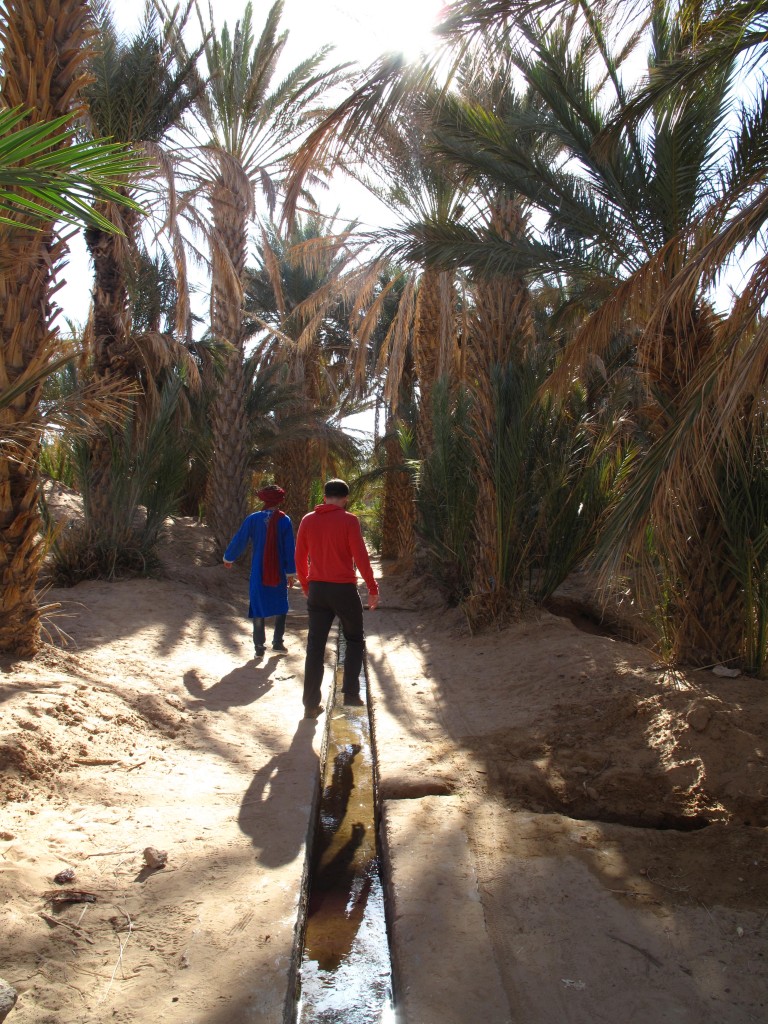 Next up, we visited another village to hear some Gnawa music from a group called the Pigeons du Sable. Gnawa is a trance-like spiritual music with roots in Sub-Saharan Africa. Gnawan instrumentation includes the guembri, a 3 stringed lute that plays a bass line, the drum called ganga, and metal castanets called qraqeb.

Afterwards, we visited a small Berber family (mother and son) living on the edge of the dunes.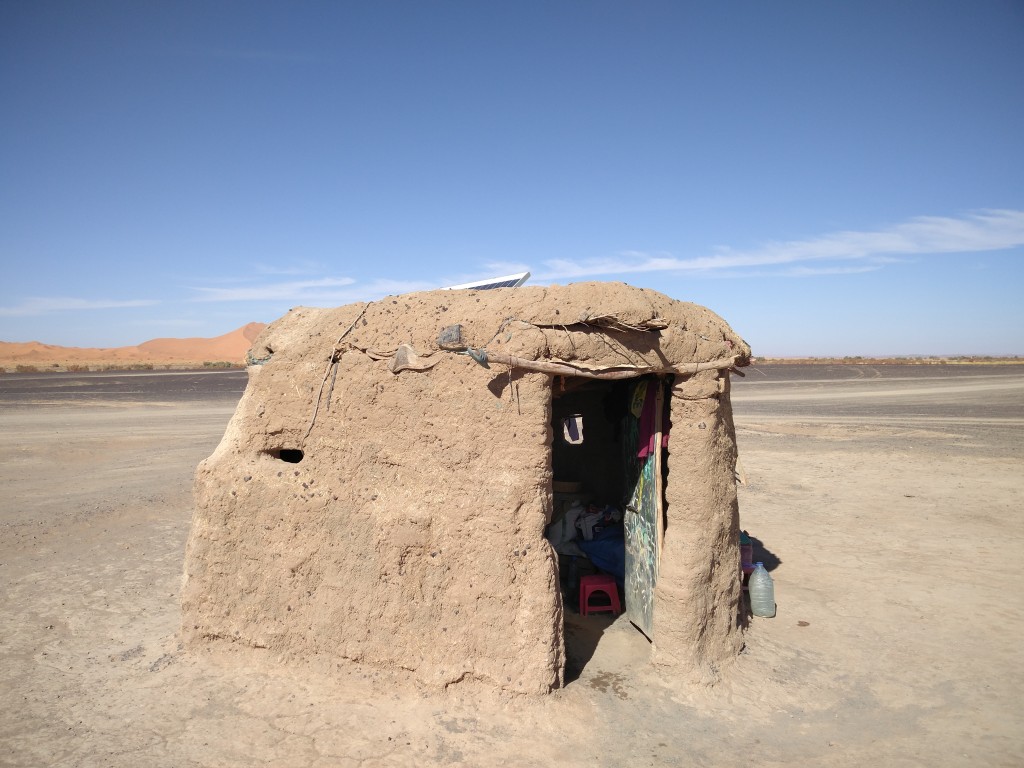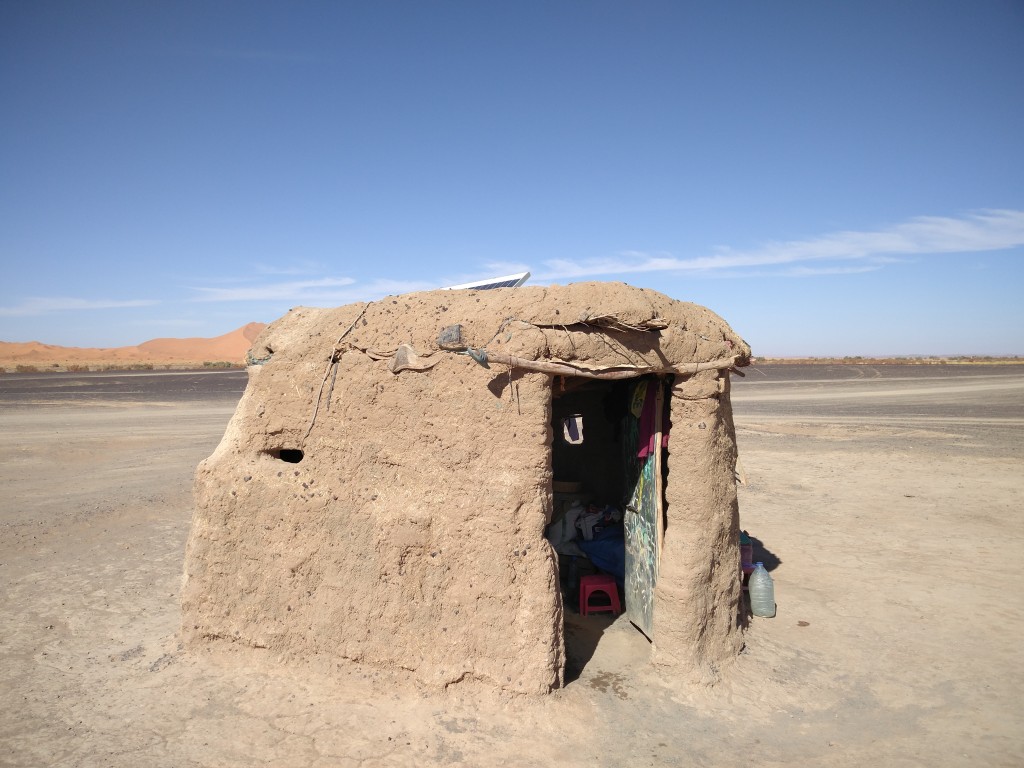 When we first arrived, the son Hassan was highly skeptical and guarded and we wondered how many random tourists sweep through his home every day. But after trying out our little bit of Berber with him and playing some soccer, he really brightened up and relaxed. Here's Hassan with our driver Ibrahim (different from the tour manager).

We said goodbye to Hassan and Mohina and their awesome goats and goat house and were on our way.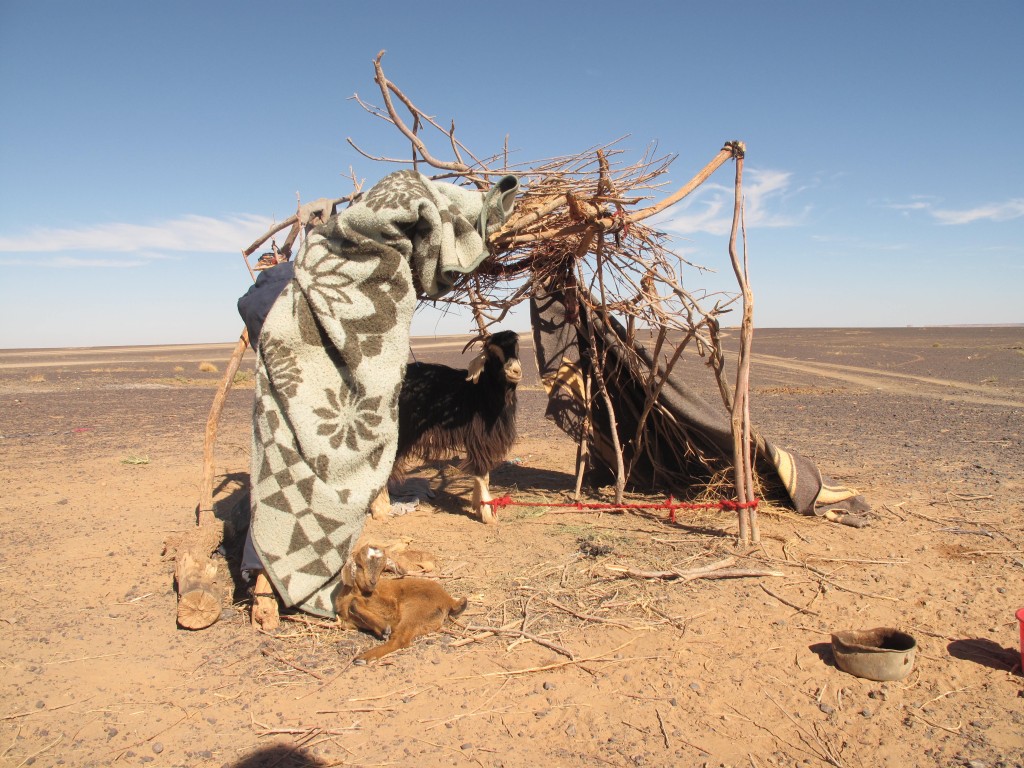 After completing the circuit with a pleasant stop at Ibrahim's house where his mother served us lunch and his sister applied henna on Sarah, we had a relaxing night to catch up on sleep, and a big Moroccan breakfast to see us off on the long drive to our next stops, Fes and Chefchaouen.

Ibrahim made sure we didn't leave empty-handed, however — despite our insistence that our bags were small and often over the carry-on weight limit as it was, we were gifted about 10 kg of souvenirs including this giant marble clock inlaid with our picture: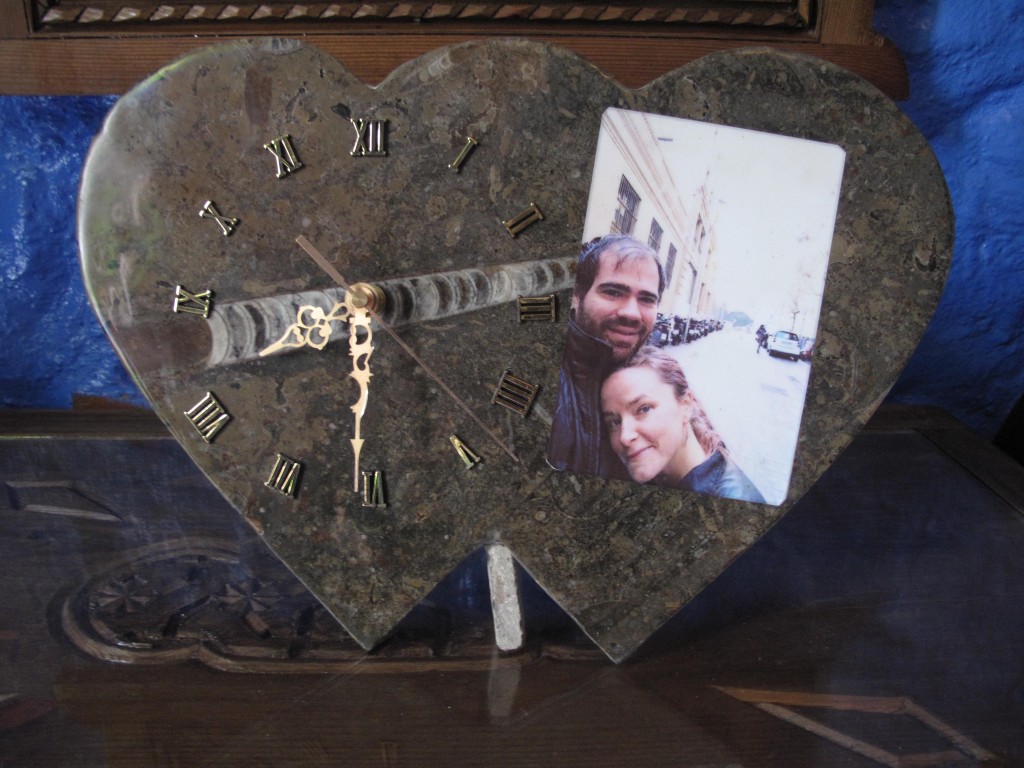 as well as this large collection of desert rocks.


Thanks Ibra!