After the desert we made a short stop in the ancient town of Fes, whose giant medina earns the title of the largest non-car urban center in the world.  Breakfast was served on the roof deck of our riad, one of the highest vantage points in Fes' medina.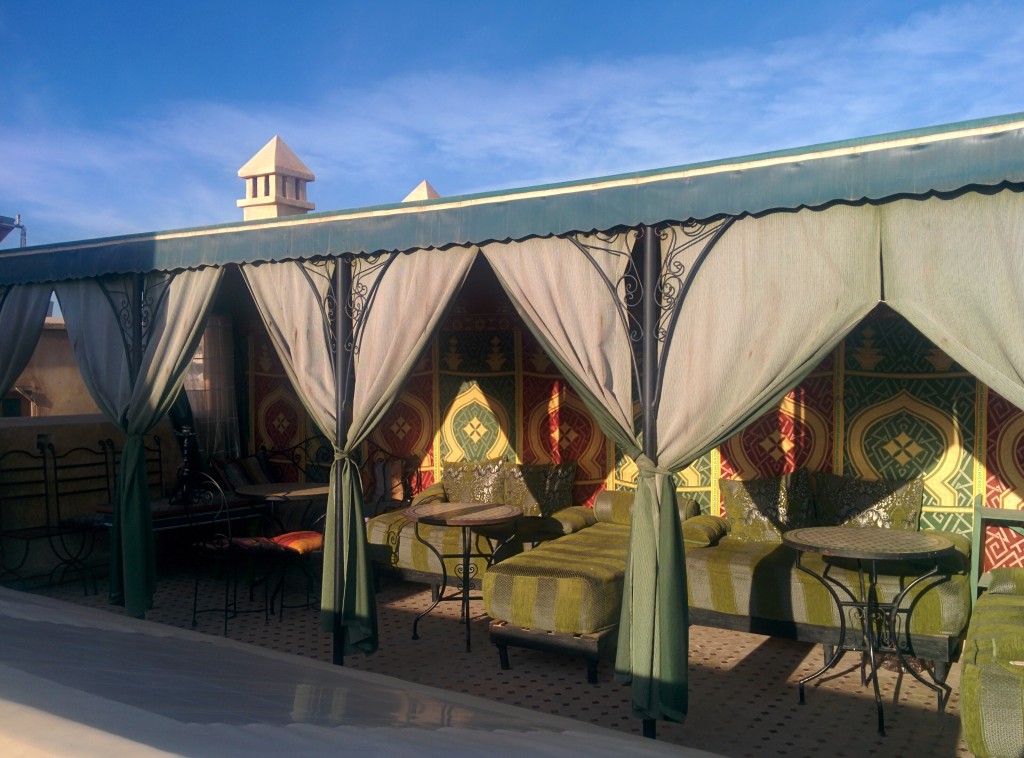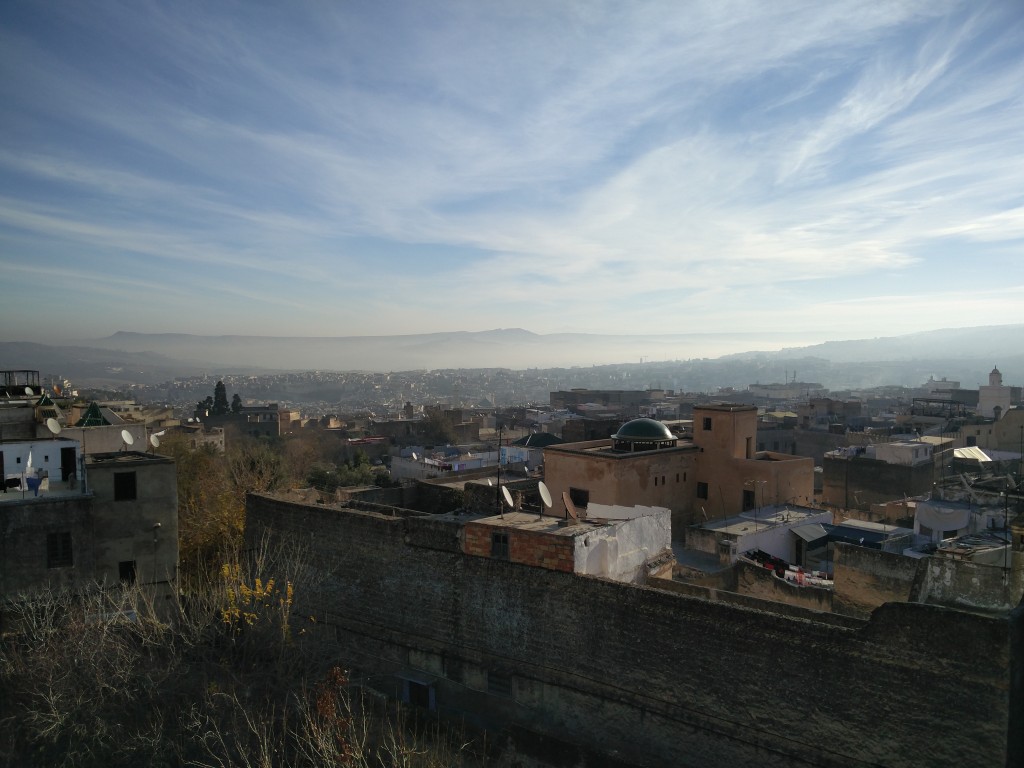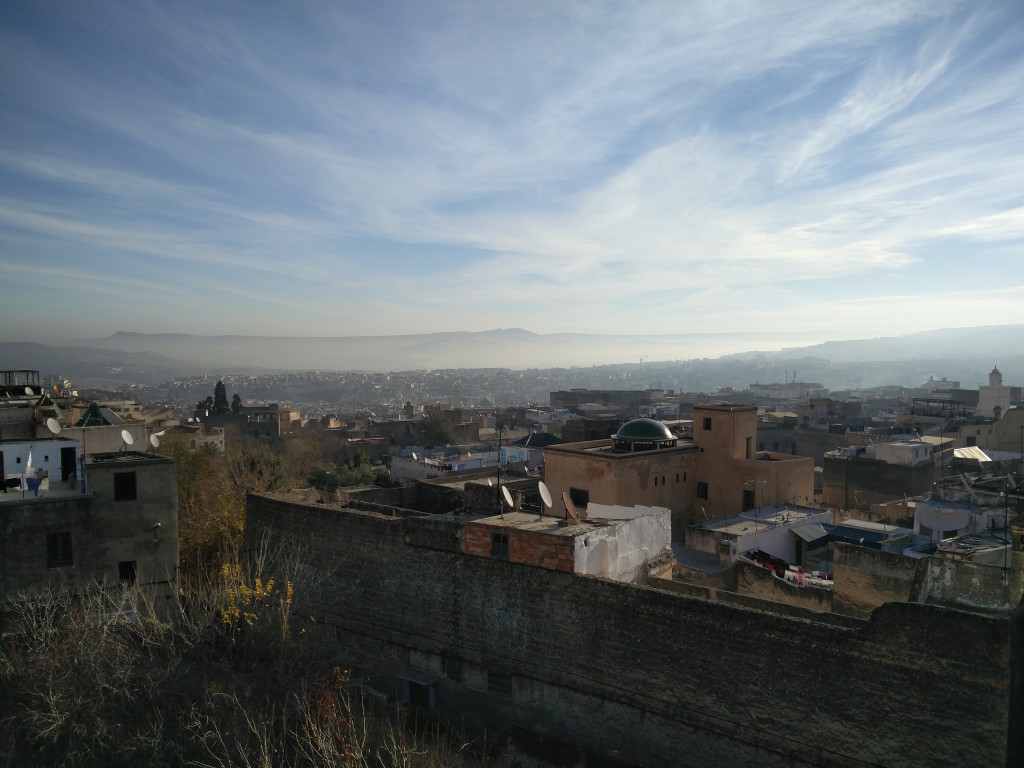 We were excited to explore another medina and Fes' was even more disorienting and spellbinding than Marrakech's.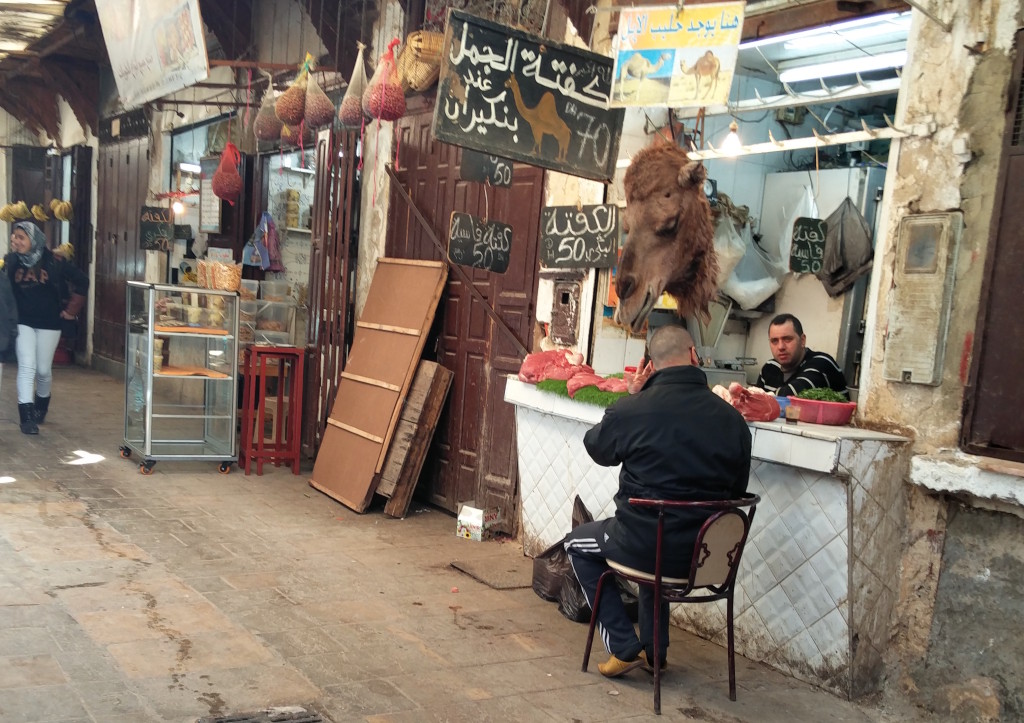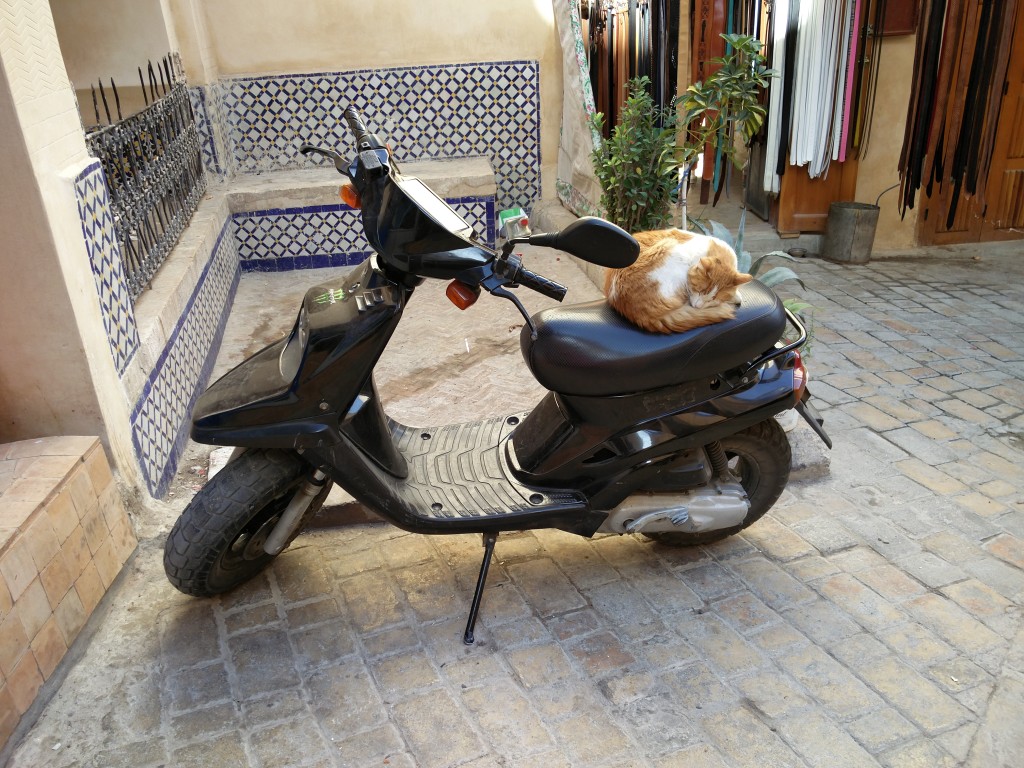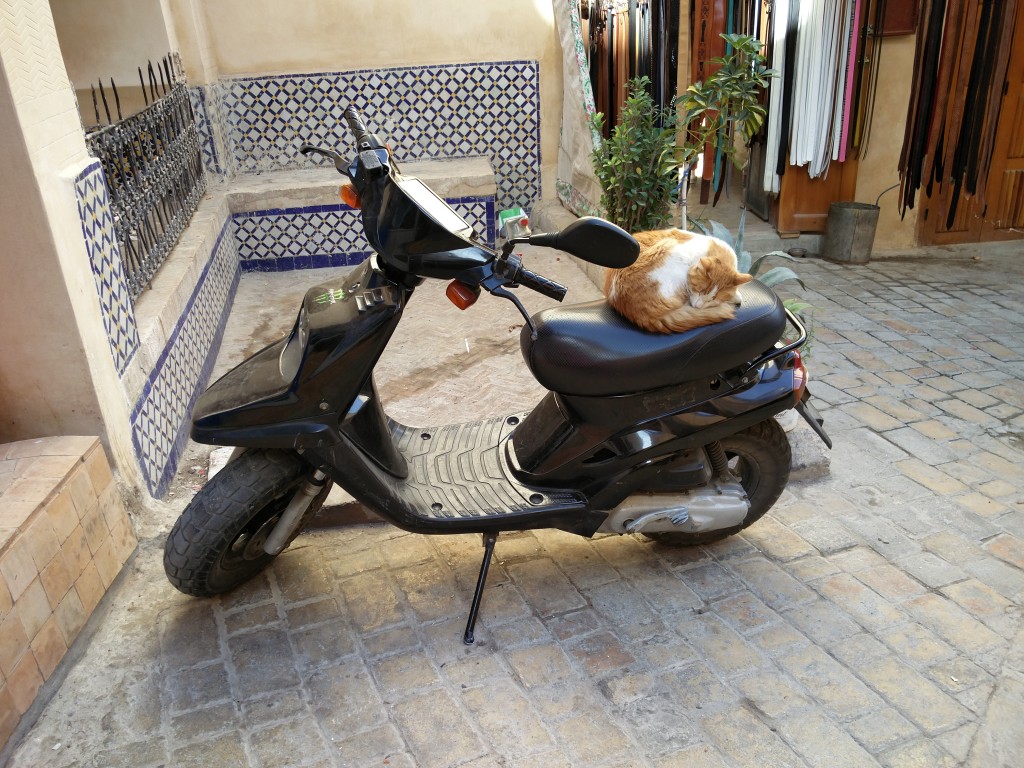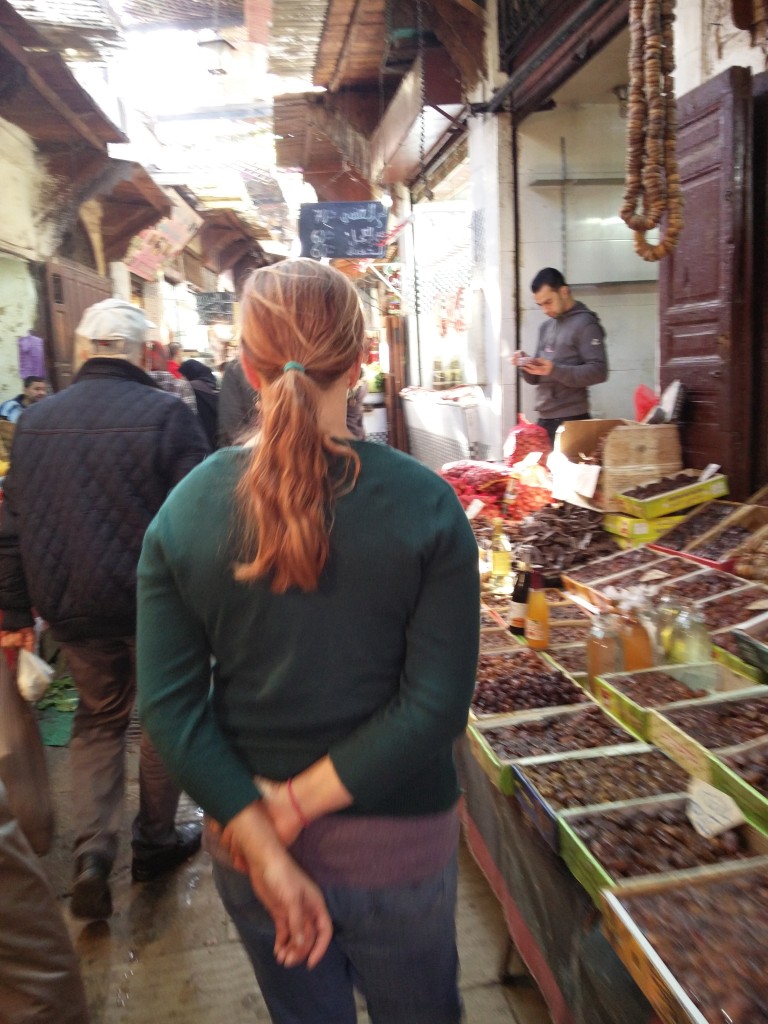 As we walked, many strangers offered to guide us to the famous leather tannery in town — although funnily enough, they all seemed to be pointing in different directions! Eventually we found our way back to our riad, where Sarah joined a virtual meeting to serve on a review panel for National Science Foundation fellowships, and Jason made some calls to try to narrow in on a consulting position for the rest of the trip.
While he had run across a number of interesting options over the past few weeks, this very last call presented what seemed like an instant winner: a position developing a prototype feature for the Allen Institute for Artificial Intelligence (AI2). Not only was the problem interesting, but the AI2 people are great and the mission (AI for the greater good) was very compelling; and within a day or two, he had started work just as his time at Prismatic was officially ended.
The next day, we caught a very early bus to Chefchaouen, where we planned to spend the remainder of our time in Morocco.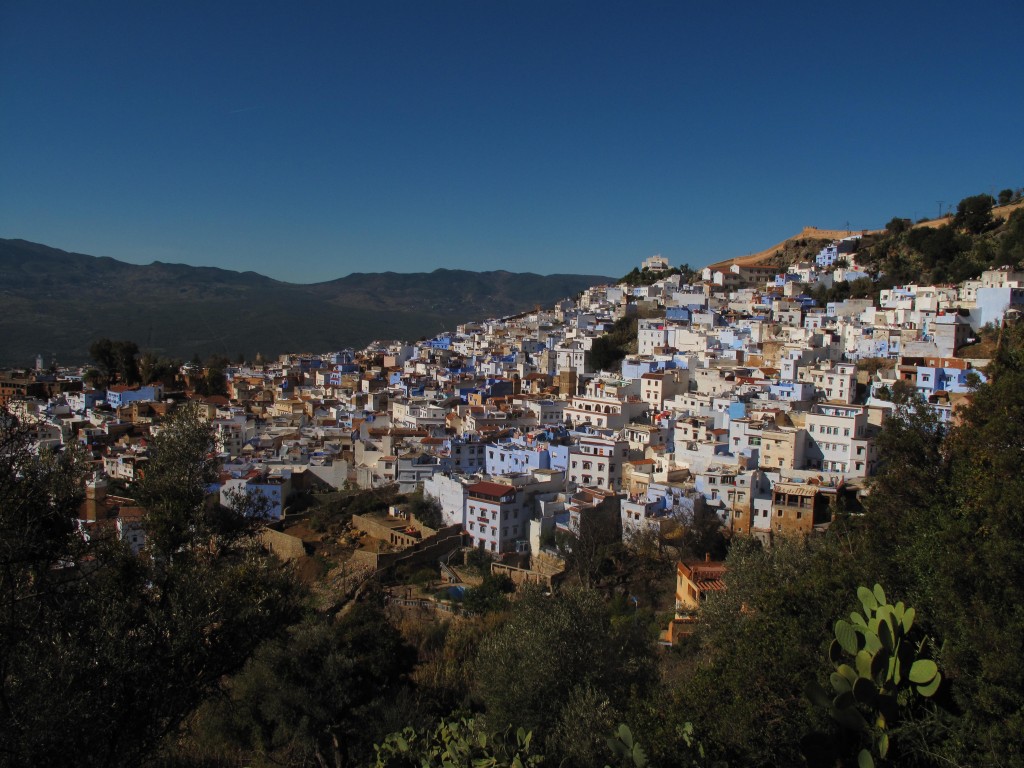 Chefchaouen is famed for its laid-back culture and blue buildings (painted by the Spanish in the 1930s), and our riad was no exception.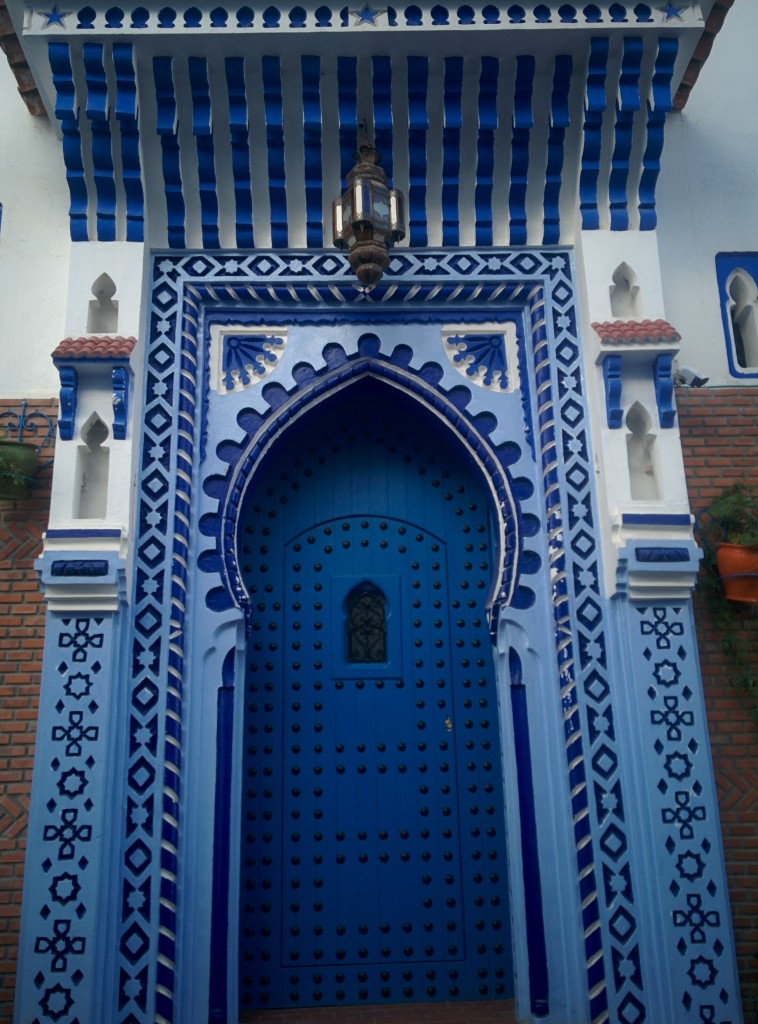 The accommodation itself was pretty spectacular, with a huge bedroom, balcony, sitting room, and kitchen all for about $40/night.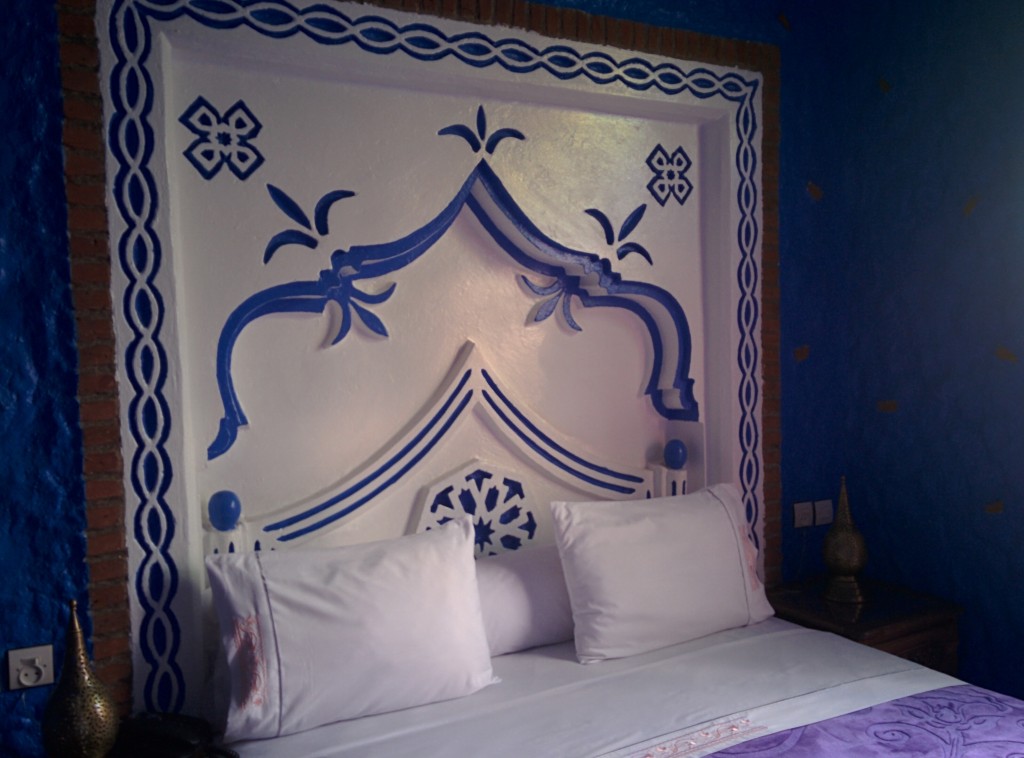 We didn't really appreciate the full extent of the blue, however, until we started exploring the medina.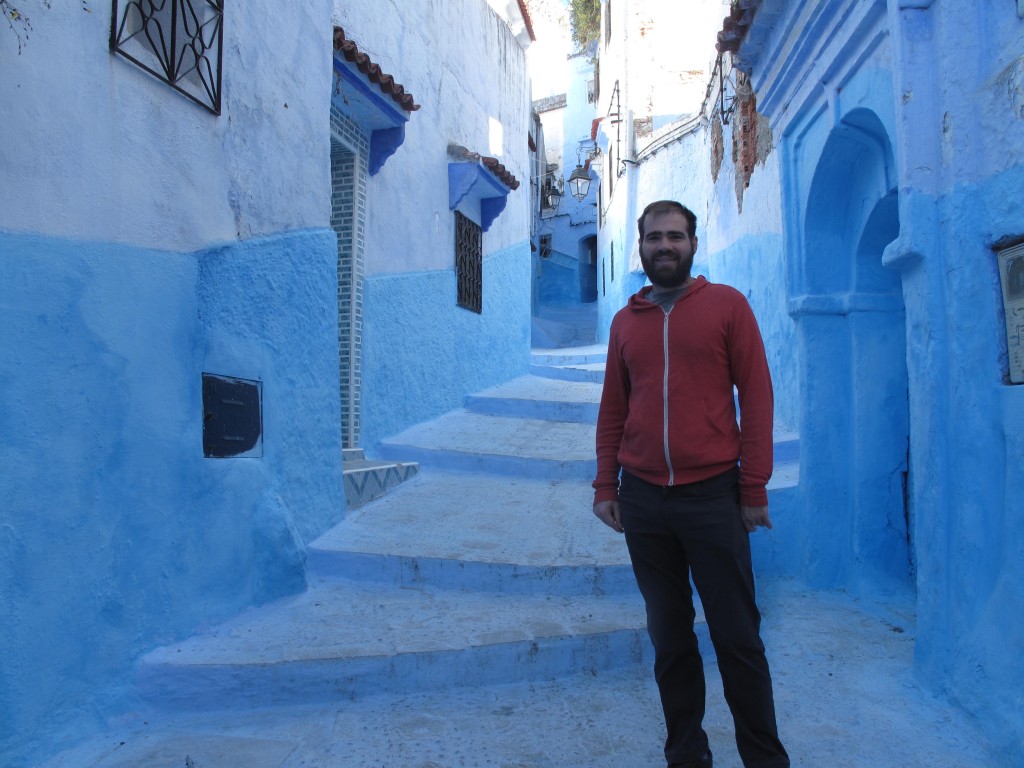 Without exception, every wall was painted some shade of blue up to at least head-height, and the patchwork of blues was mesmerizing.

It also made it a bit harder to navigate, but fortunately the town was small enough (and the hill provided sufficient sense of direction) that we soon found ourselves feeling quite at home.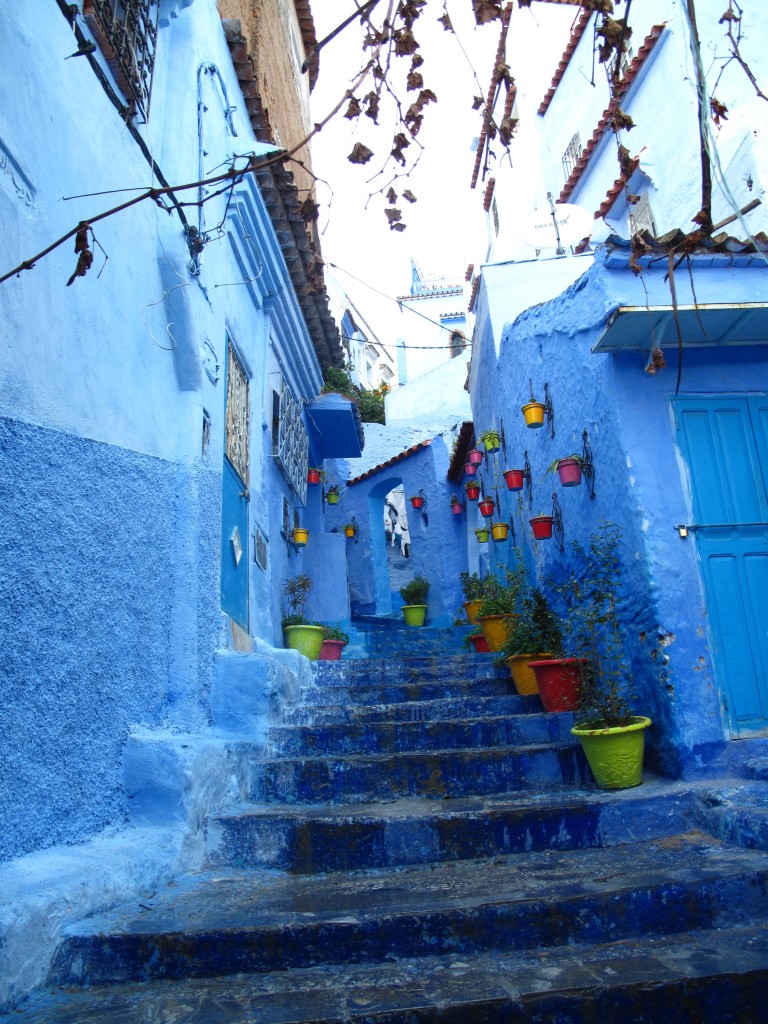 Chefchaouen was also different from other Moroccan cities in that we experienced way less badgering. By this point, we were pretty hardened to the summons of strangers we passed on the street – most greetings, regardless of how authentically friendly they seem, lead to an offer to guide you around the city or sell you a watch. But in Chefchaouen, we found that when people asked where we were from, they were actually just curious and wanted to chat – so refreshing! Chefchaouen was also a fun place for Sarah to practice her Spanish. While so far we'd been communicating using a haphazard mix of Arabic, Berber, French, Spanish and English, people in Chefchaouen (and northern Morocco in general) speak a lot of Spanish. Bueno!
Without a doubt, Chefchaouen was home to the highest density of cats we've encountered anywhere on the trip thus far.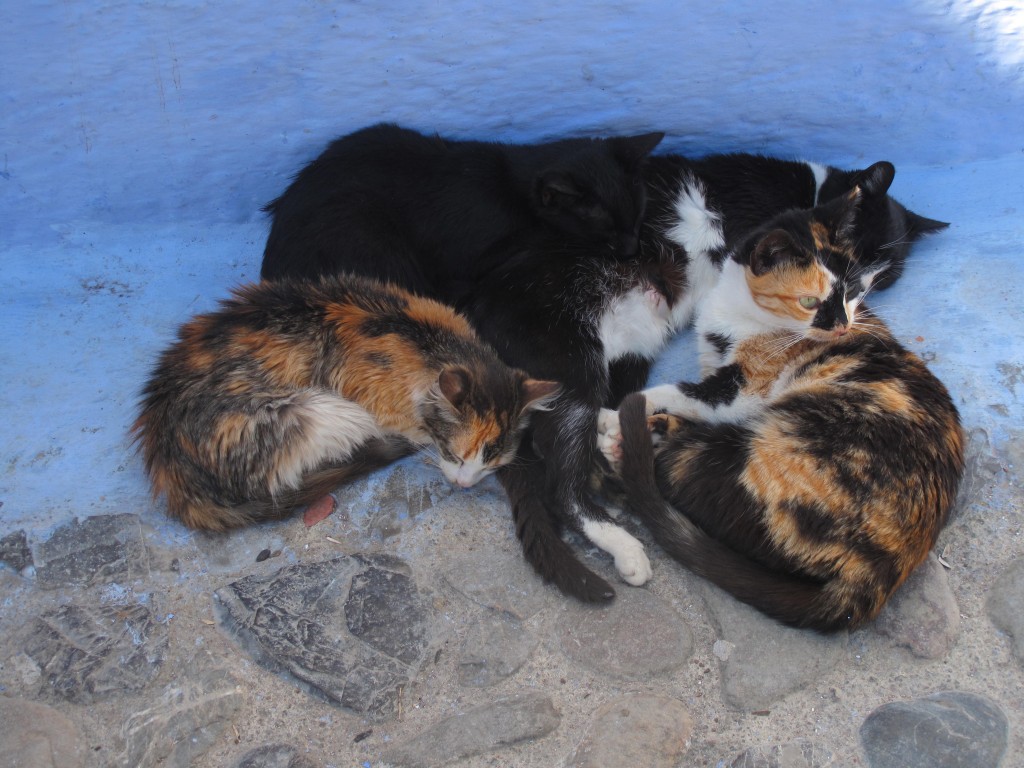 Every outdoor restaurant meal was a comical scene of cats, which would slowly creep closer to a table until a small crowd was gathered and begging for food, at which point the waiter would make a show of shooing them away. Within a few minutes the bravest cat would be back, and the cycle continued.
Besides exploring the medina, eating delicious pizza, and catching up on work, our main activities in Chefchaouen were two hikes around the area. Chefchaouen means 'look at the peaks' and the city is surrounded the forested hills of the Rif mountain range. The first day, we took a short hike upwards and clockwise around the valley.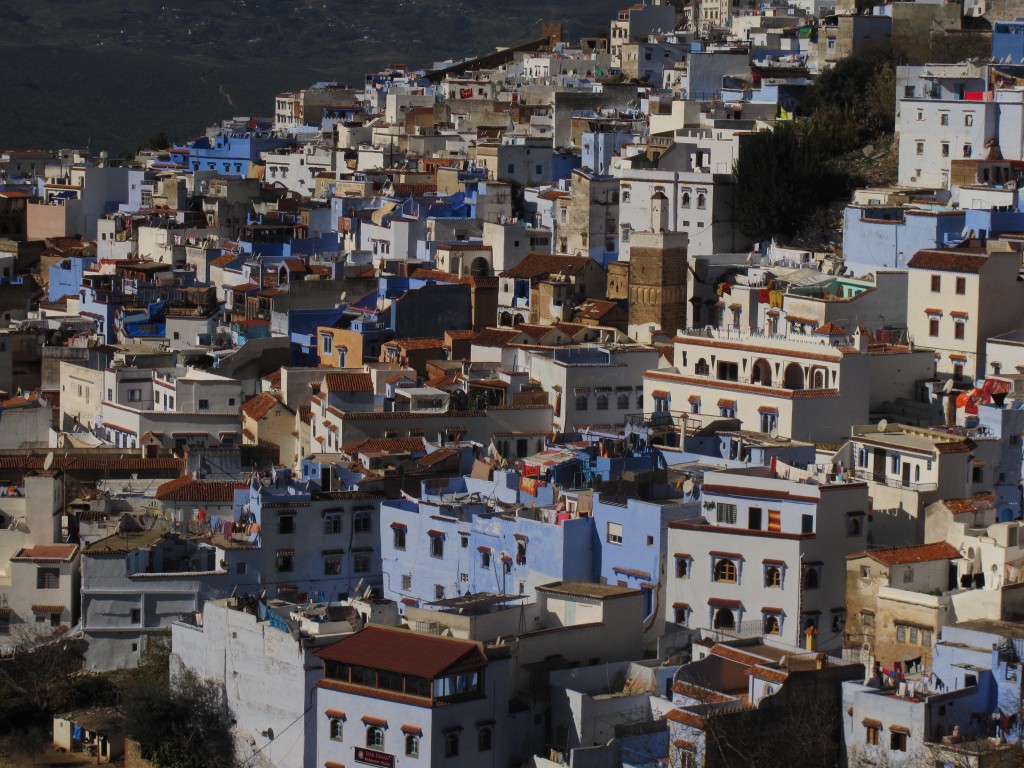 Jason's knee had been acting up a bit, so we hiked a short ways before scrambling up this ravine to rest on the rocks and appreciate the panoramic views of the city.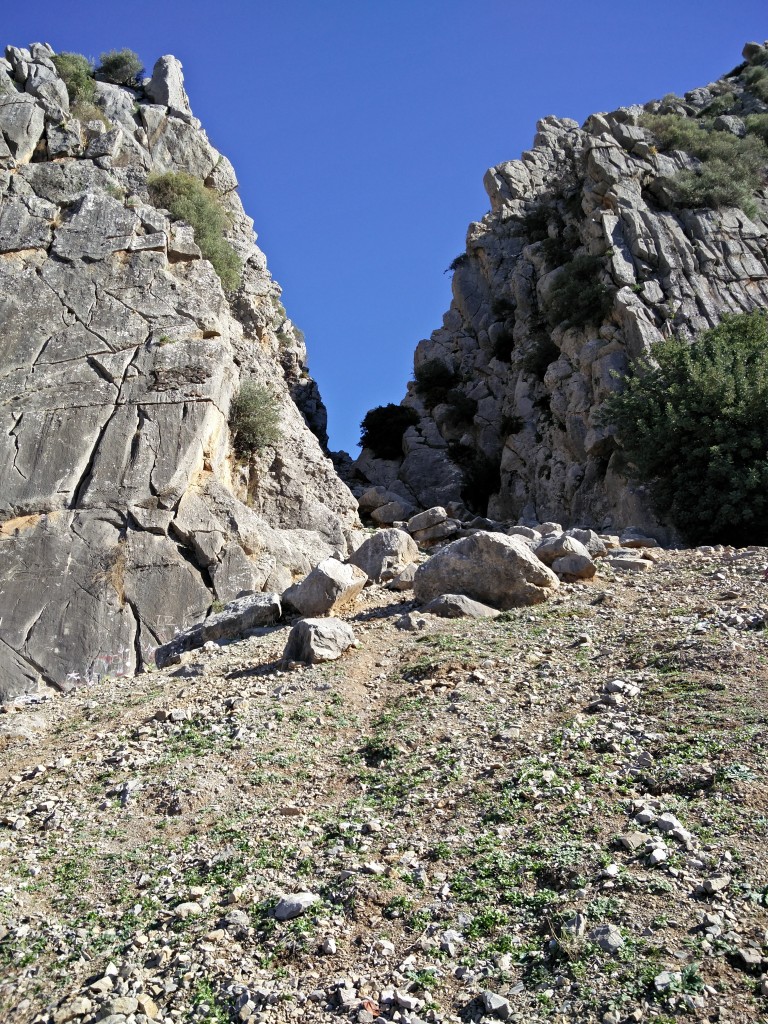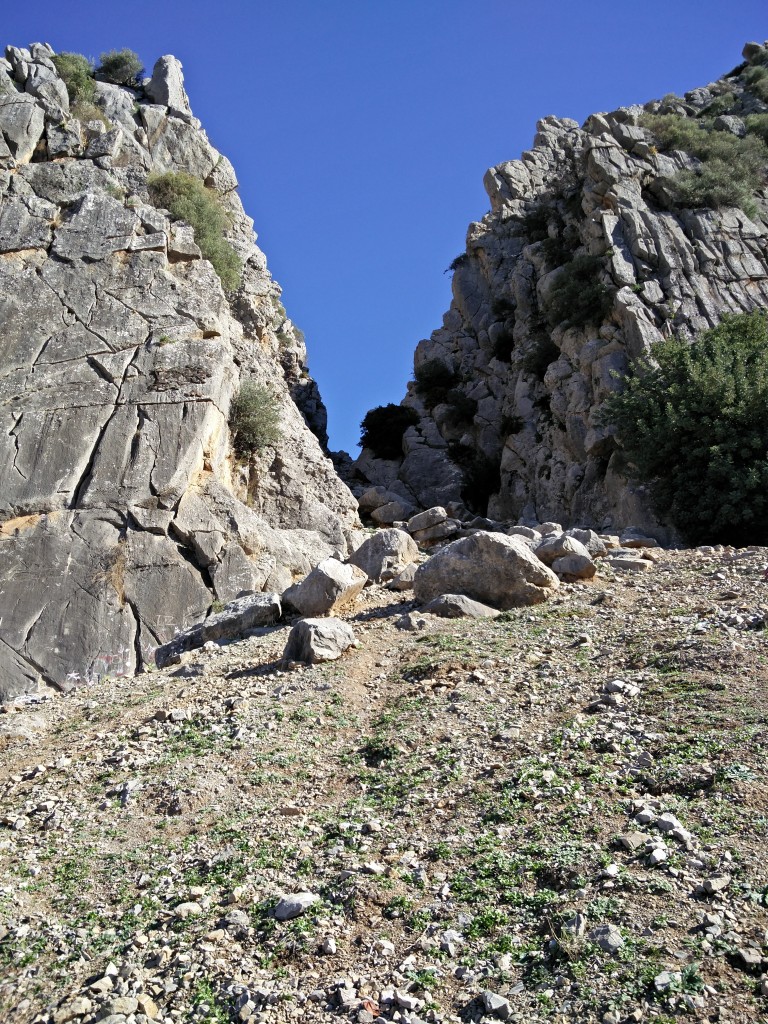 About 10 minutes passed before we heard a growing rumble behind us. We quickly ducked behind the tree off to the right, and soon after a ~50lb boulder came tumbling down the ravine, passing right through the spot where we had been sitting about 30 seconds earlier. Apparently a large amount of marijuana is grown in the mountains above Chefchaouen, and while we had heard stories about farmers throwing rocks to warn tourists away, we certainly hadn't expected this.
On our last day, we decided to try another hike — but this time, we would stick to the trail! This one went straight up the mountains behind the city, ultimately reaching one of the higher peaks called Jebel al-Kalaa. Fortunately, some travelers before us laid out very detailed instructions, or sticking to the unmarked trail would have been a challenge.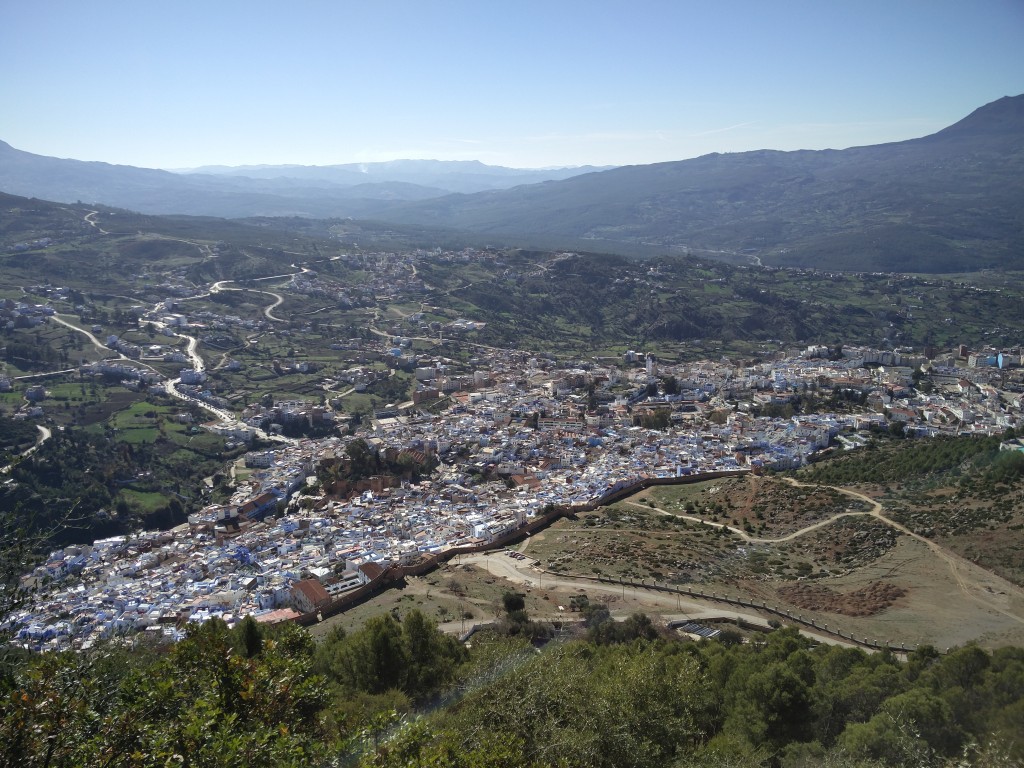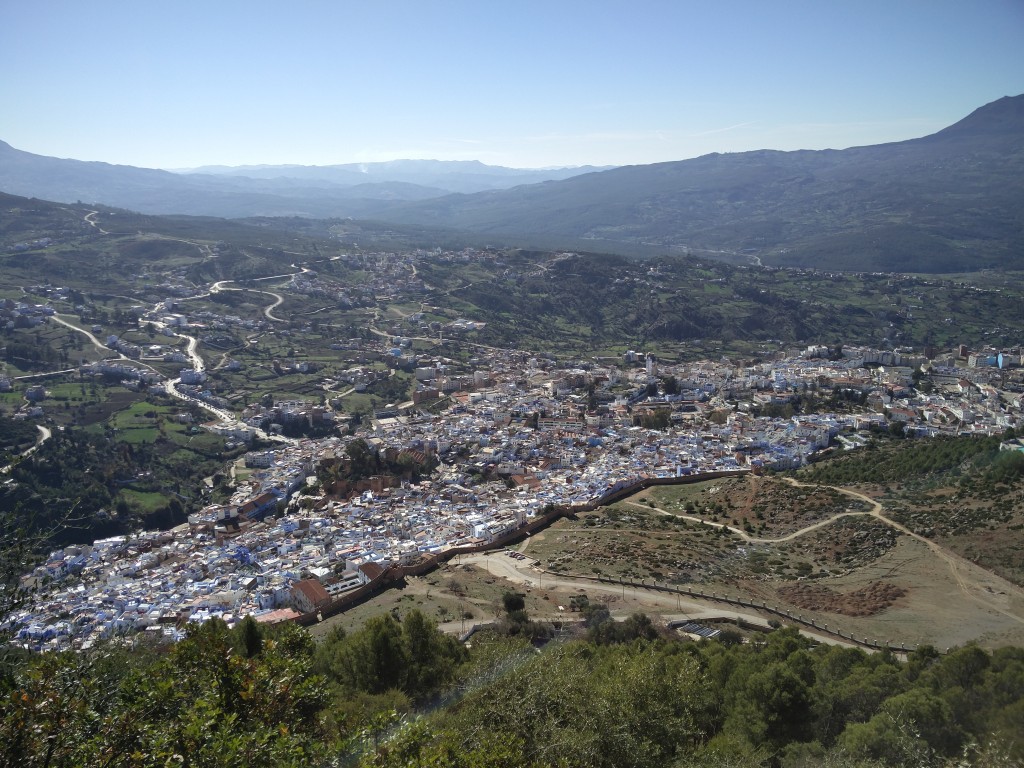 We had gotten a late start, so we turned around at a viewpoint about 30 minutes from the top. When Jason's shoes started disintegrating on the way down (our first purchase to fail, after only about 4 months use), he was happy we had skipped the final scramble up a rocky ridge.

About halfway down the mountain, we somehow found ourselves invited into a small house, where a man named Abdul and his two employees offered us mint tea, olives, and the traditional bread with a delicious unfiltered olive oil. In one corner of the main room sat a giant bag of marijuana roughly the size of a horse. After we ate, Abdul excitedly offered to show us something, and he unlocked a small room and walked us through the laborious process (that involves beating a large tub of marijuana with a stick for hours) he uses to make hash. He also showed us a giant ball of the finished product, that was about the size of a soccer ball. It was a pretty unexpected and crazy experience. We thanked him for the tour of his kif production (unfortunately, we didn't feel comfortable taking any pictures) and found our way back down to our riad just before night fell.

The next day, we had another long bus ride to Casablanca, and from there it was onwards to Ethiopia!