After a brief stop-over at Johannesburg Airport (and another visit to the Airport Craft Brewery!), we landed at the tiny boutique airport of Skukuza, which is actually located inside Kruger National Park. After a short drive to the camp, where we dropped our stuff in our luxurious tent, we were off for our first drive in the Sabi Sands private game reserve.
When we were planning our Africa travels we knew we wanted to do a safari, and had initially thought about Tanzania or Kenya. But since we were already planning on visiting South Africa, it just ended up being more convenient. That said, we hadn't gotten our hopes up too high, especially after learning that this time of year the foliage is often too thick to see anything, and after hearing about disappointing visits from other travelers in Nature's Valley.
To our delight, within 10 minutes of entering the park, we saw our first of the "big five" — a group of three rhinos.

We were surprised about how close we got to the huge animals — about 10 feet away — and in the open-top land cruisers we could almost reach out and touch them. Our guide explained that since the animals grow up seeing safari vehicles every day, they've learned to basically just ignore them. But, if they were to see us on foot outside the vehicles, they would likely attack or flee.
Shortly after, we followed a herd of elephants tearing their way across the landscape, knocking over trees and stripping them of bark.

It was awesome to see these majestic creatures in the wild, and we would see many many more over the next few days. There are almost 80,000 in Kruger, while ecologists estimate that its proper capacity is only 20,000 — at great detriment to the trees and other vegetation. Elephants eat ~50 tons of food each year.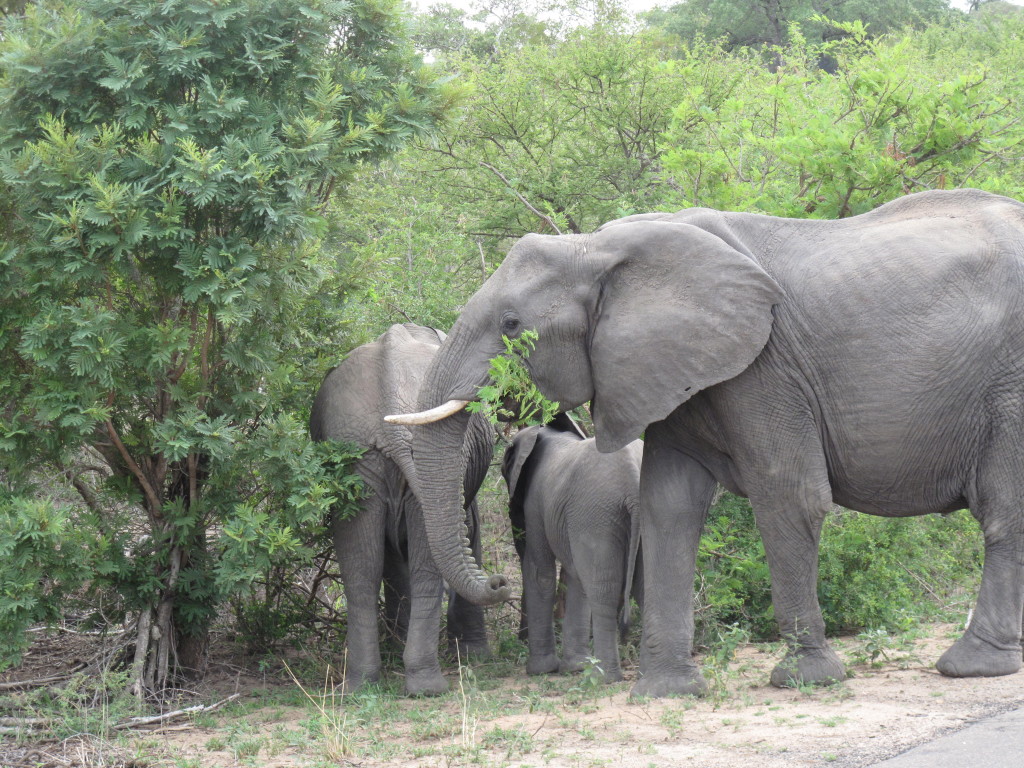 A few minutes later, we met this herd of buffalo.

This made 3 of the big 5 already, with just lions and leopards still to see. We were surprised when our guide said that buffalo are actually the most dangerous of the five (despite being herbivores, they are referred to as the 'Black Death'); the reason is that unlike elephants or rhinos, when they charge to kill, they do so with no warning. (And, weird side note, they've found up to 20,000 parasites living on these giant animals at one time.)
After some more driving and animal-watching, we stopped for "sundowners" (watching the sun set over beers and snacks)…

…Before hopping back in the truck and doing a night drive with a high-power spotlight, looking for lions and leopards hiding in the trees. We didn't find any leopards, but we did get a call on the radio from another car, and took off at high speed for the other side of the park. When we got there, we found ourselves in the middle of a lion hunting a pack of buffalo. As they went back and forth in the dark, the hunters and hunted both passed within inches of the truck. At one point, Sarah could hear the buffalo's breath as it walked up behind and past our jeep. After some time, they all vanished into impassable terrain.
Back at camp, a delicious (and gigantic) South African dinner was served to us around a small fire, before we retired to our "glamping" tent complete with two beds, air conditioner, and bathroom.
The next morning, we were back on the truck before sunrise for another drive. At the same time across the world, our friends' wedding reception was just getting started. We were very sad to be missing it, and were planning to phone in our congratulations, but with no cell towers in sight, we compromised on sending a photo instead.

This day we saw a huge variety of new animals, including the nyala (one of Sarah's favorites):

zebras:

graceful, curious giraffes:

as well as some old favorites with new twists, including these elephants playing in a river:

and these two rhinos engaged in a protracted passive-aggressive battle, with the rhino on the left slowly forcing the other backwards one step at a time.

While we watched, we listened to terrible stories about rhino poaching — apparently three are poached every day in Kruger, so that their horns can be sold for $60,000/lb in Vietnam and China for use in traditional medicine and as an aphrodisiac. Many of the poachers are from poverty-stricken Mozambique, and even their tiny cut of this huge price tag represents a huge windfall, enough to feed their families for years with a single kill. Not everyone has such an excuse, however; sadly we also heard stories of well-off South-African veterinarians and guides secretly assisting the poachers.
After a giant breakfast and some down time, we climbed into a closed-top jeep for the first time to head to Kruger National Park. Many South Africans consider Paul Kruger, president of the Transvaal Republic, a racist who laid the foundation for apartheid. But, after realizing wildlife was declining because of overhunting, he did have the foresight to create a large government reserve that would later bear his name. If he had not done this, there might not be any rhinos left at all – most of the world's rhinos reside in Kruger National Park.

Unlike the privately-held Sabi Sands reserve, in Kruger neither open-top vehicles nor driving off-road are allowed. Here's Jason looking out our jeep onto the Ula-saba River (which means 'River of Fear' in Chungon, the local dialect. There is also a lake in Kruger with another dramatic name – 'Lake Panic'.).

However, we still got to see an abundance of new wildlife, including the last remaining "big five" animal, a leopard that eagle-eyes Jason spotted through the trees.
Unfortunately we didn't get a good picture of the leopard, but we did capture this kudu whose spiral horns serve as the emblem of the South African national parks.

We also spotted these very elusive jafi hiding in the bushes nearby.

Just kidding! This was actually a picture of a kingfisher (the bird in the foreground) — the antelope in the background are impala, which are so prevalent in Kruger that they earned the nickname 'JAFI' (just another f'ing impala).
We also saw eagles,

the somewhat-rare sight of hippos out of water,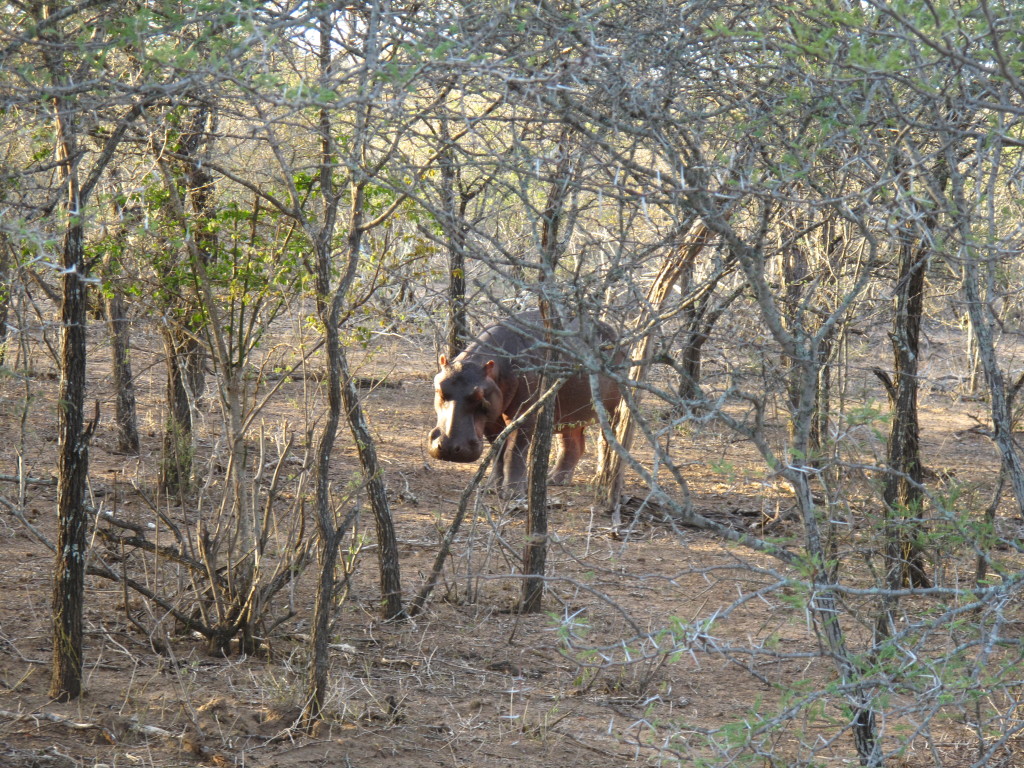 and many more creatures before driving back to camp under a colorful sunset.

We were very sad to have taken our last game drive, as we were headed to the airport the next morning. As we sat down to dinner, the gregarious owner of the safari camp asked us if we'd like to join the morning game walk (for free!) in place of the scenic route to the airport. Of course we said yes, and we were glad we did!
We looked forward to the next day while the guides prepared the braai (South African barbecue).

The next morning, in the truck on the way to the walk, we spotted a hyena.

Across the field, we heard what sounded like many more. As we pulled up, we were greeted with the sight of this lion with what remained of a wildebeest's head in its mouth.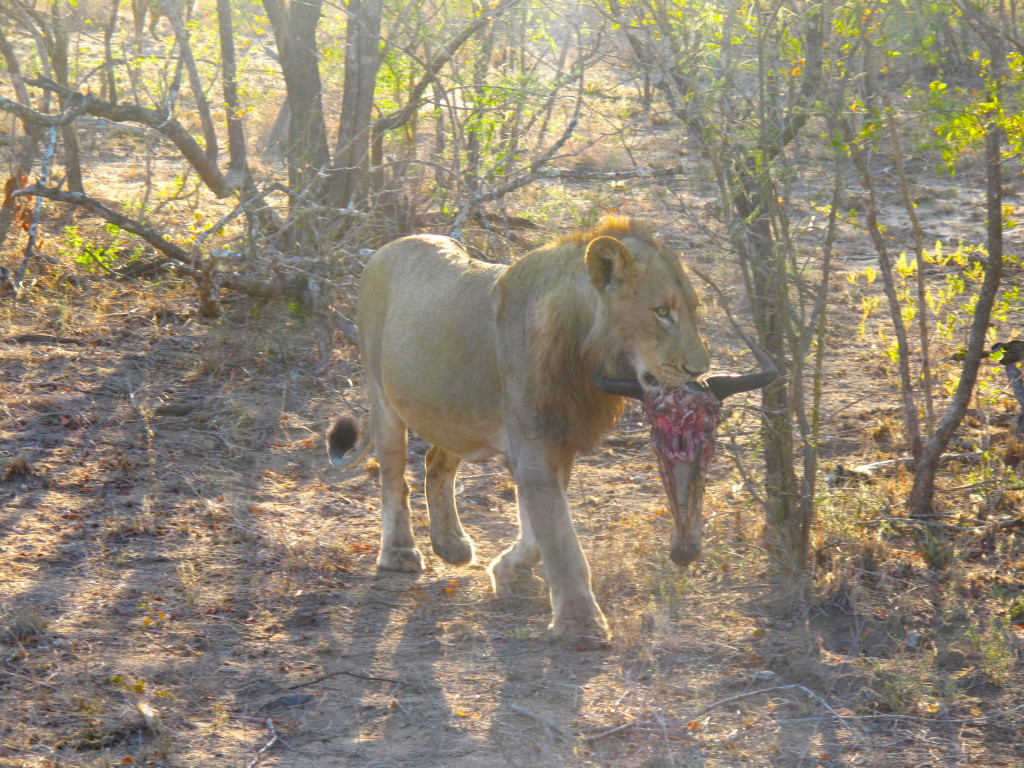 Presumably, the three lions had killed the beast, and the pack of nearly 20 hyenas were trying to steal what remained of the carcass. Or, perhaps that was just our Lion King prejudice at work — according to our guide, hyenas are actually more effective hunters than lions, and so it's just as likely that the kill rightly belonged to the hyenas.
In any case, when the lion turned to stare right at us from a distance of about 15 feet, we were just hoping he had had his fill of wildebeest already. It's hard to describe the mix of emotions when this amazing predator stares at you while you sit in an open vehicle just feet away – a combination of awe, terror, and surreality. (And the hope that you are not the slowest runner in the jeep.)

We watched the drama play out raptly for about half an hour, with the hyenas eventually stealing the spine and hide and loudly cracking the vertebrae with their teeth to get at the marrow. We had never seen anything like this and we were awe-struck.

After that phenomenal diversion, we got a late start on our walk. It was a nice change to have our feet on the ground, but we found that unlike in the truck, most of the animals would scatter as we approached. We saw giraffes and impala and other animals from a distance, while the guide talked about botany and park management and what we could learn from the dung (herbivore poop like the elephant dung shown here), feces (omnivore poop), and scat (predator poop) the fleeing animals left behind.

Fortunately, we didn't surprise any buffalo and he returned to the truck with a full complement of bullets.

Back at camp, we packed up our things and reflected on what we'd just seen.
It's always great to go into an experience with low expectations, and then have it knock your socks off. An ongoing drought contributed to the good viewing conditions, but by and large our great experience came largely down to our choice of Tydon safari camp, which was just all-around awesome from the accommodation and meals to the very friendly staff to their access to a private game reserve where we could drive right up to the animals and, most importantly, their commitment to conservation. The abundance, diversity and proximity of animals on our drive exceeded all of our expectations. It wasn't cheap, but given what we got it was definitely worth it — and a downright steal compared to the neighboring camps, some of which charge upwards of $1000/night.
After one more meal, we said goodbye to our campmates, Kruger, and South Africa (but not before one last visit to Airport Craft Brewery, of course). Next stop: India!