After brief stops in Abu Dhabi and Mumbai, we arrived in Goa nearly 24 hours after leaving Johannesburg — tickets which somehow set us back only $236 each. Our crazy taxi driver dropped us at our hotel, and we caught our first glimpse of the ocean from the balcony of our room near Calangute. We had chosen Goa because we thought its well-established tourist industry and 63 miles of coastline might be a good way to ease our way into India.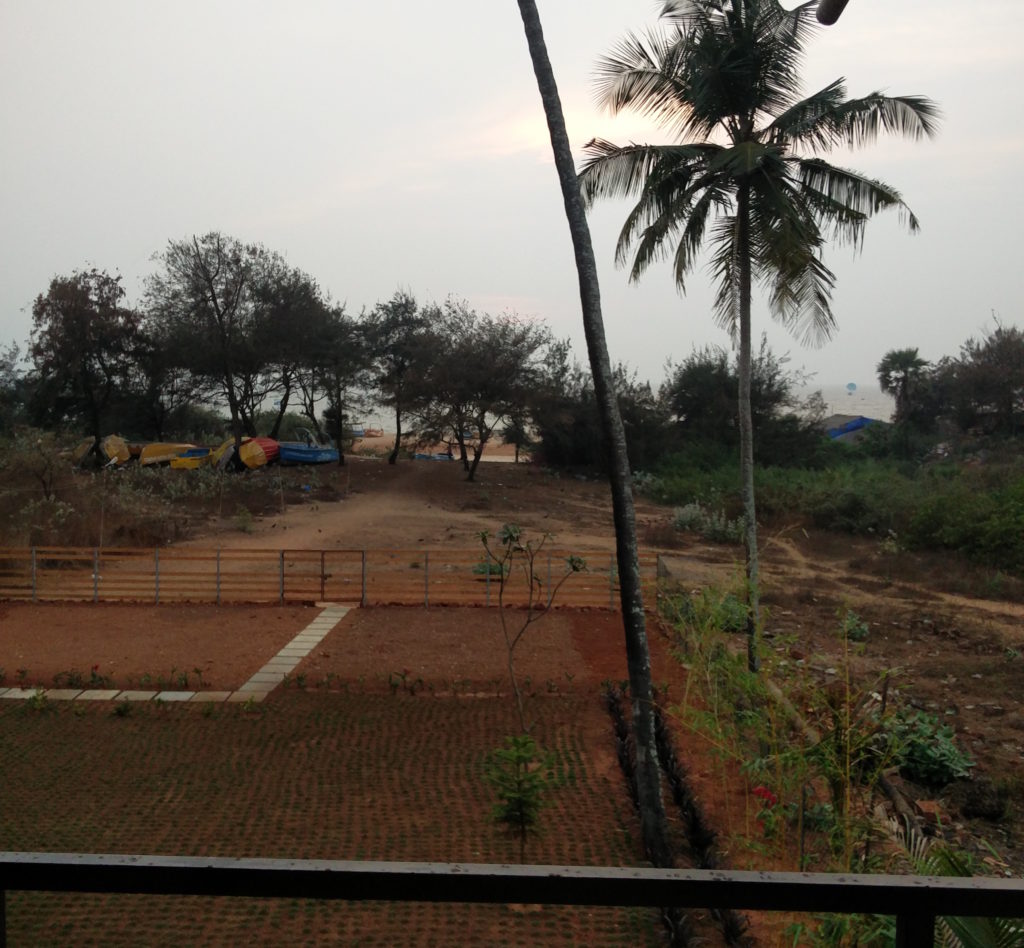 After a brief nap, the next order of business was Indian food! Tripadvisor suggested a nearby place called Relish, so we decided to give it a go. We ordered the Laal maans (a lamb curry, the spiciest item on the menu), chilli milli (a spicy mixed vegetable dish), and a mango lassi. Everything was so delicious and perfectly spicy (i.e., we were sweating), we ended up returning to Relish 8 times during our 10-day stay. We enjoyed it so much that at one point, Jason turned to Sarah and said: "You know, I have an elevated sense of well-being for hours after eating [at Relish]"!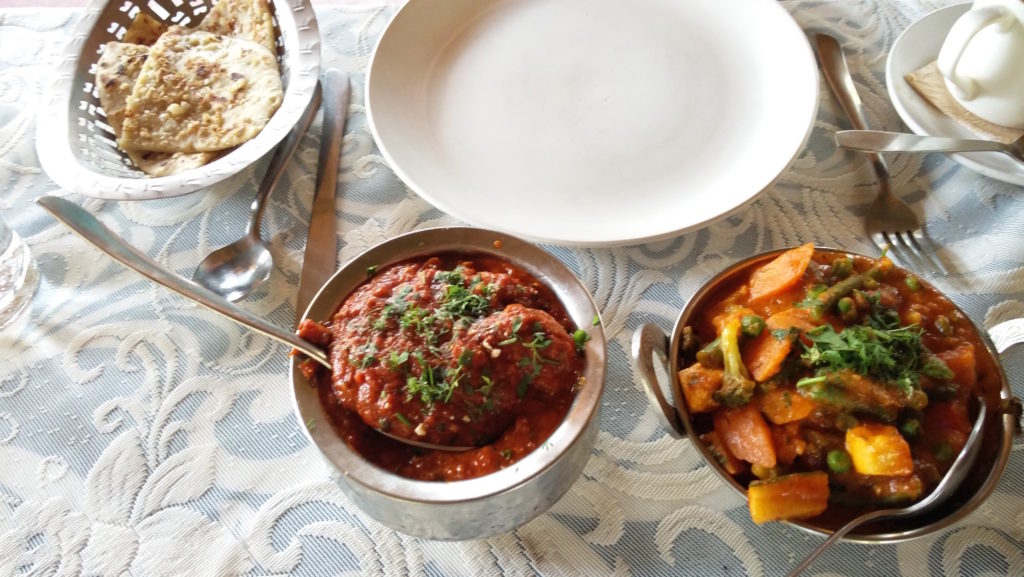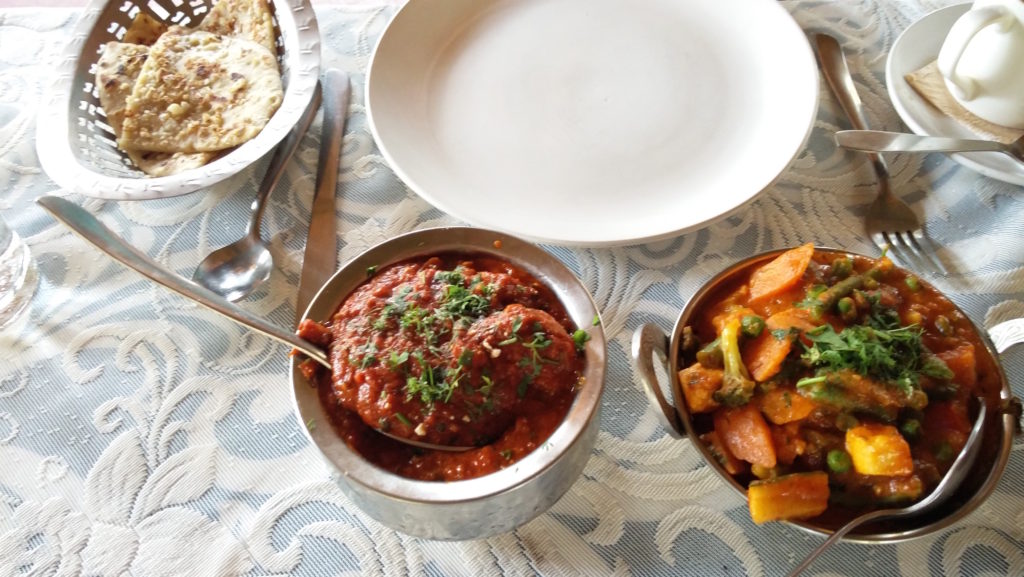 Anticipating our visit to India, were particularly excited about the food, since our favorite favorite place to eat back home is a Pakistani/Indian joint called House of Curries, where we have ordered the Chicken Vindaloo extra spicy and Veggie Korma spicy about once a week since we started dating. Vindaloo is a Portuguese/Indian dish (hailing from the Portuguese garlic and wine sauce known as vin d'alho), and it's native to Goa (which was ruled by Portugal for nearly 500 years). While we were consistently blown away by the food at Relish and elsewhere in India, we were a bit sad that we never found a vindaloo that quite hit the spot like our home standard (which, while delicious, is probably inauthentic).
After food, the next order of business was to rent a scooter. Every other business on the main street rented them, but we ended up just getting one through our hotel for a few dollars a day.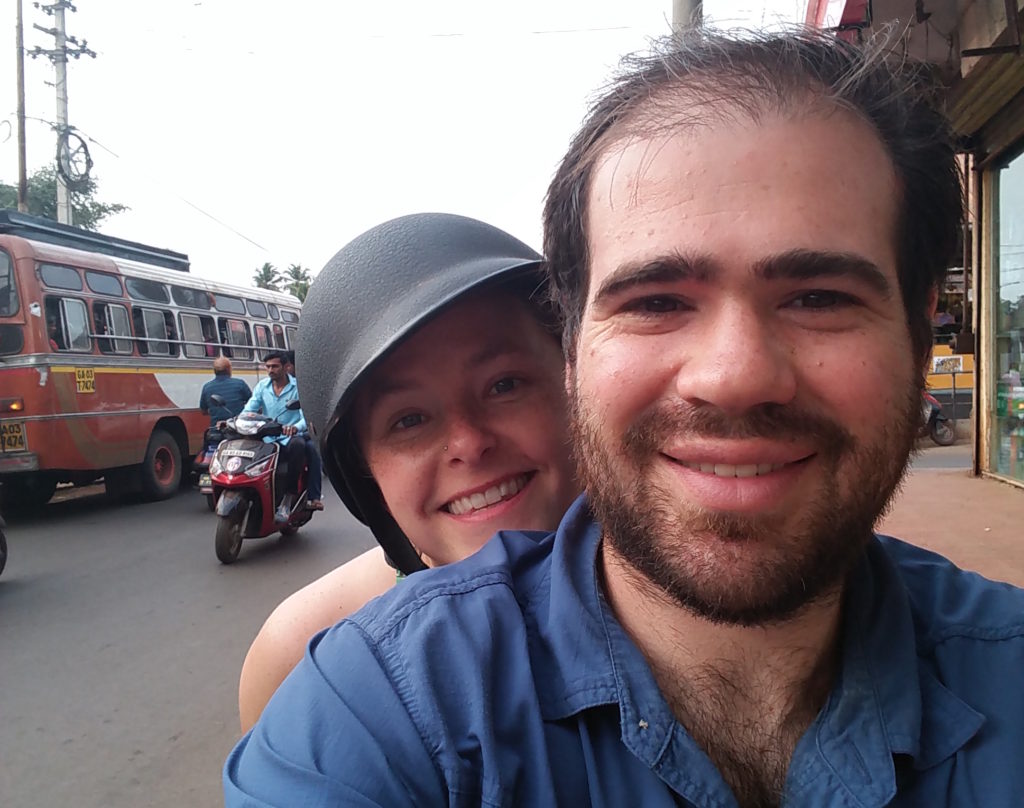 The traffic around our hotel was chaotic but mellow, and we mostly used the scooter to run short errands — like a daily trip to this SIM-card store, where the people were nice but it took a full week for our new SIMs to be activated (the fault of a new bureaucratic identity verification process created to try to curb terrorism).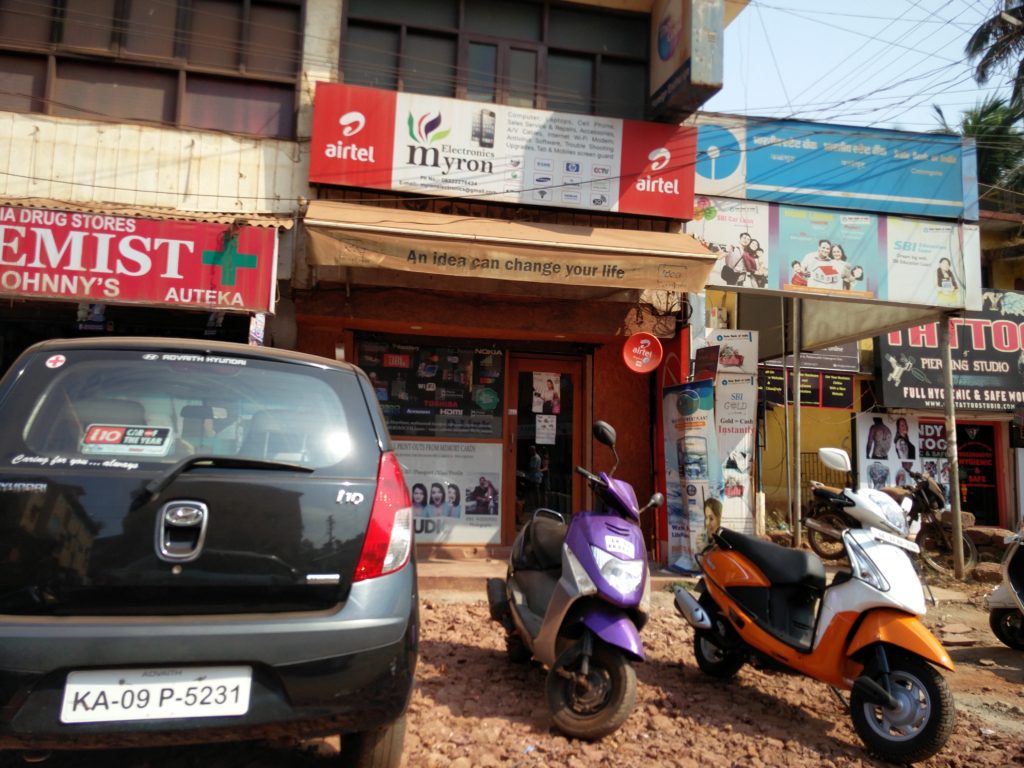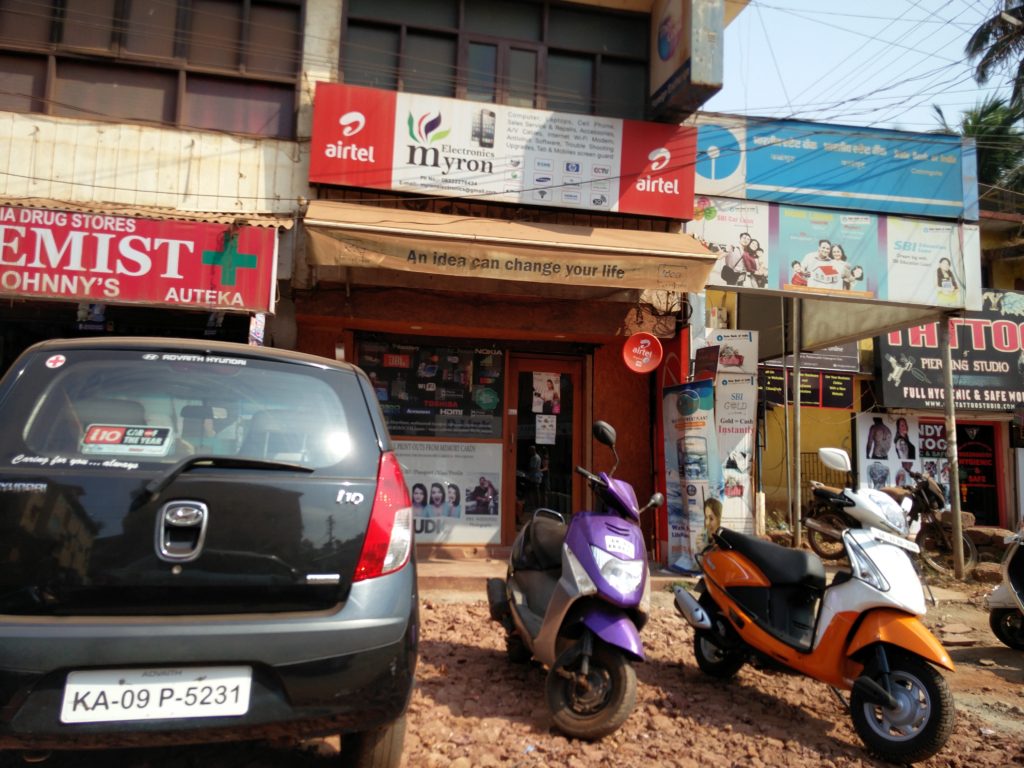 On a not-really-a-bet with Sarah (he was really just curious to try it, having never done it before), Jason decided to shave his head.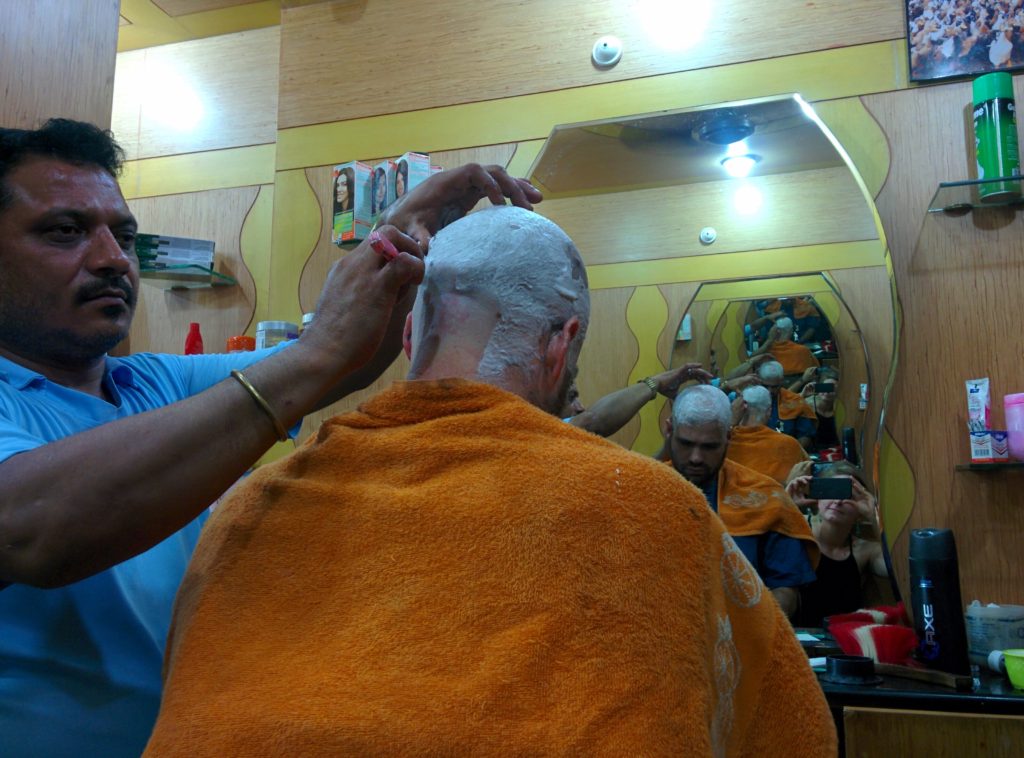 This barber did an awesome job shaving him with a straight razor, and the whole shave and beard trim only cost a few dollars. Here are the results, at a Frank Zappa-themed beach shack near our hotel.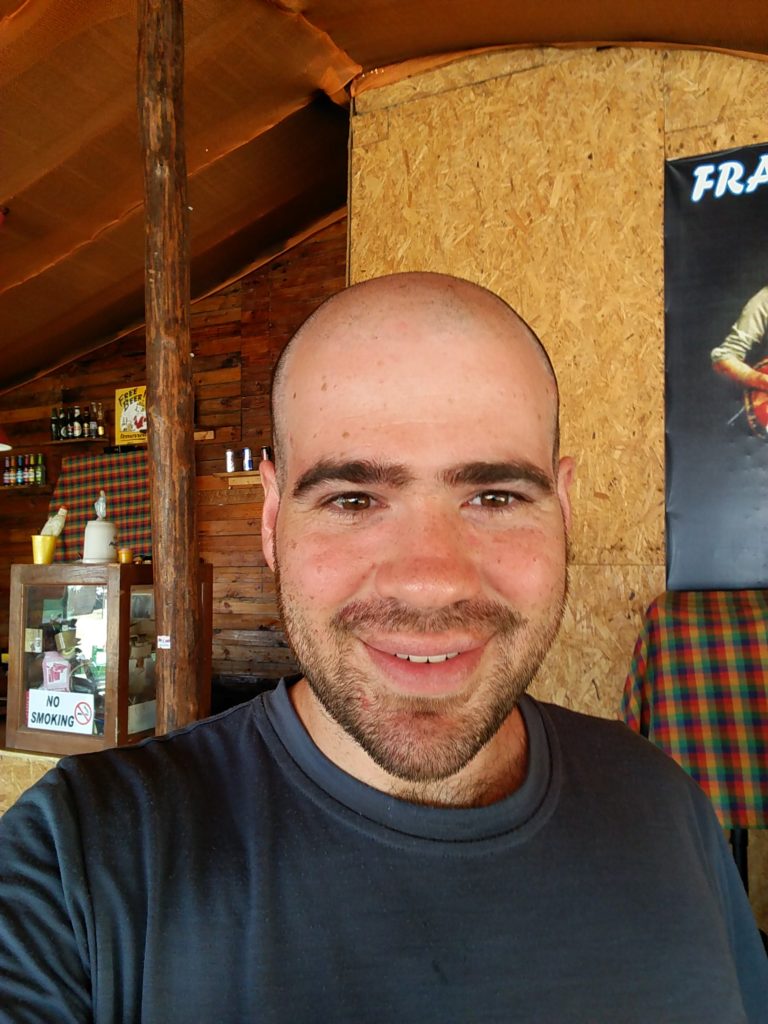 Besides catching up on work and swimming, we also were pleasantly surprised to learn that one of Sarah's college friends Raj (and his wife Tanya) happened to be living in Goa. They were kind enough to let us crash their family beach party and to invite us over to meet their sweet dogs (Shakti and Mishti) and to feed us some more delicious Indian food. So nice to catch up with old friends and meet new ones!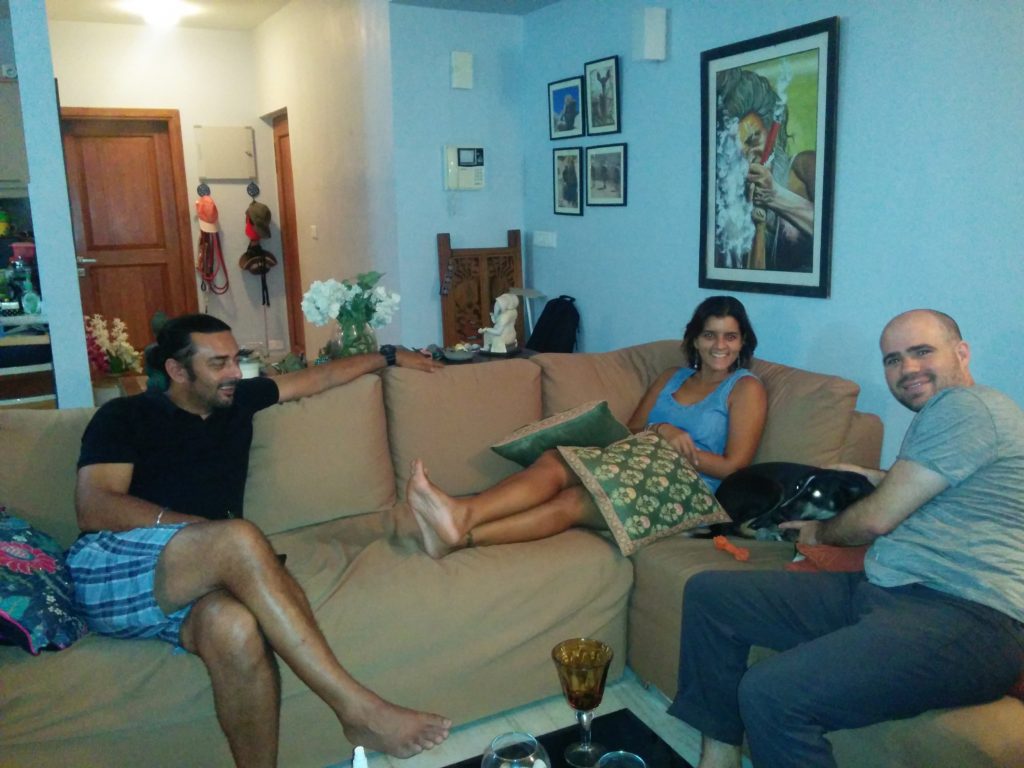 Sarah also honed her bargaining skills on some earrings at the Saturday night market (which had awesome music and Eugene-like vibe), befriending this shopkeeper in the process.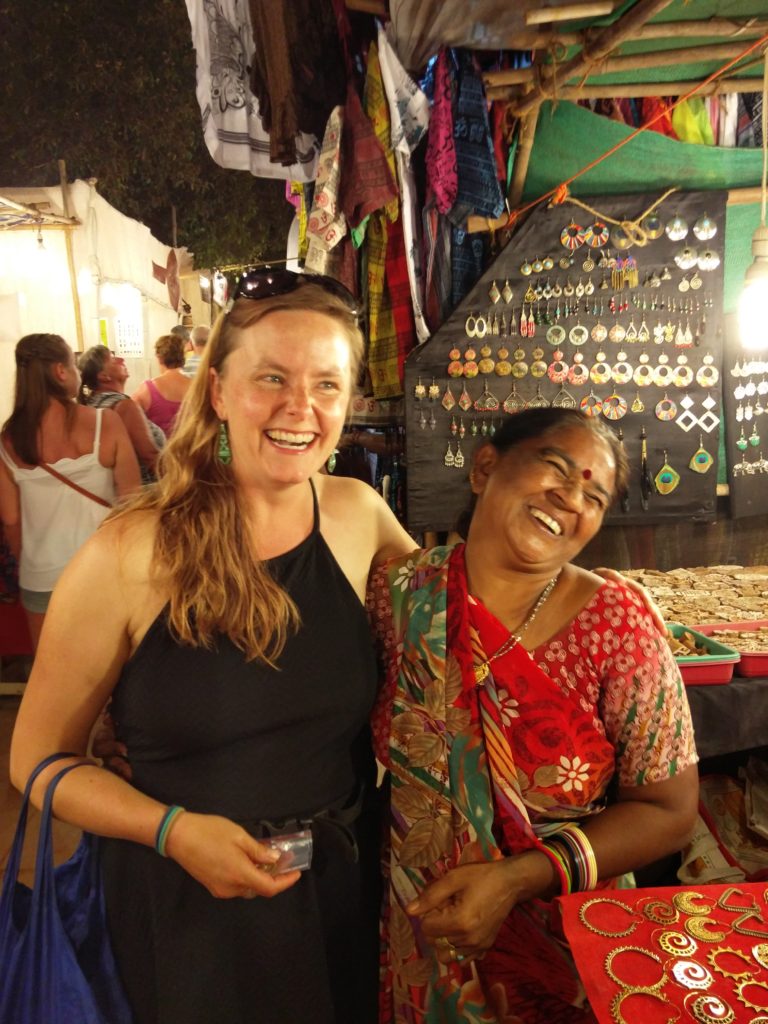 However, we decided to skip the more touristy activities like the snow park just up the beach (?!)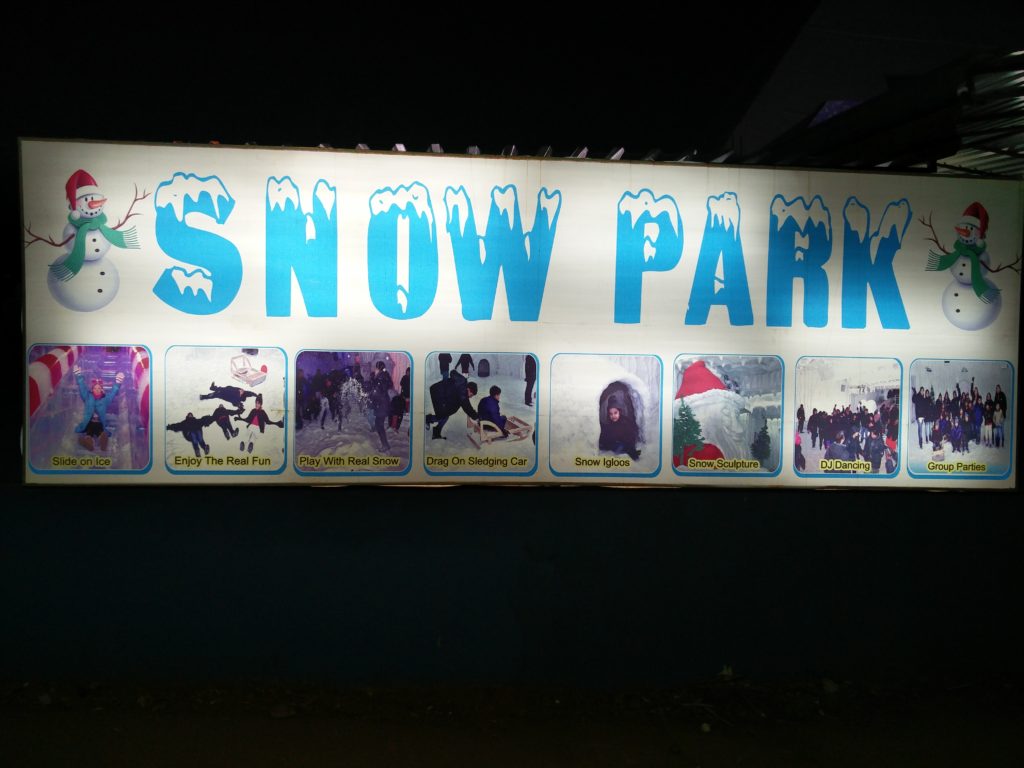 preferring to relax on the beach with the beach cows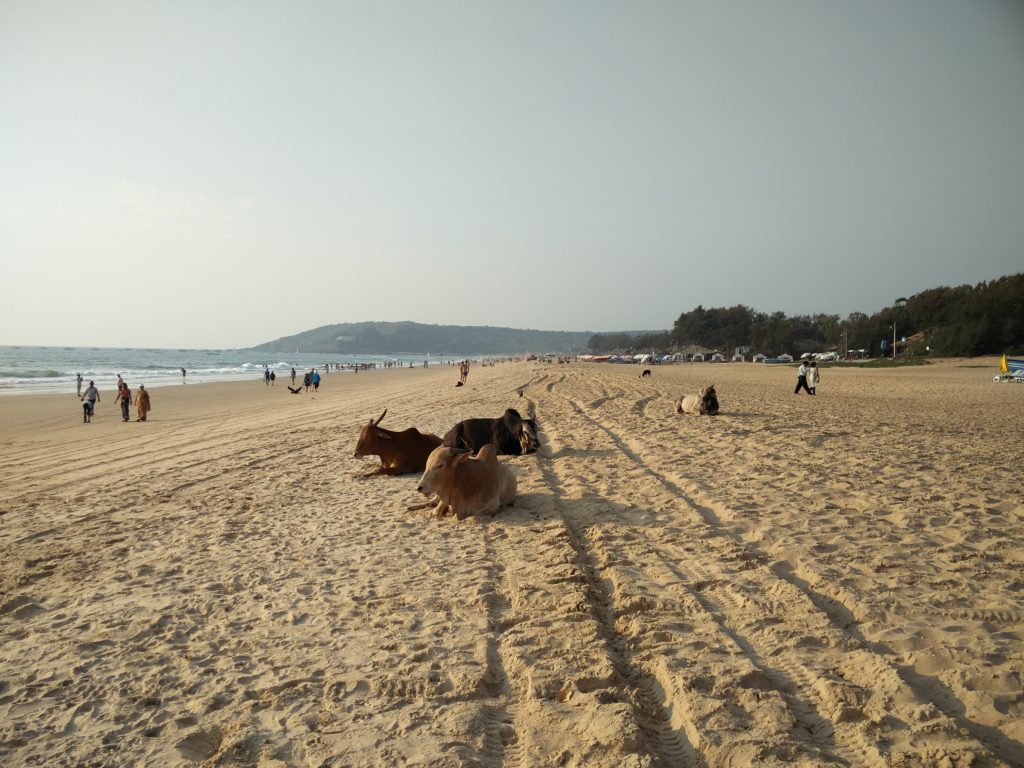 and sunset beach dogs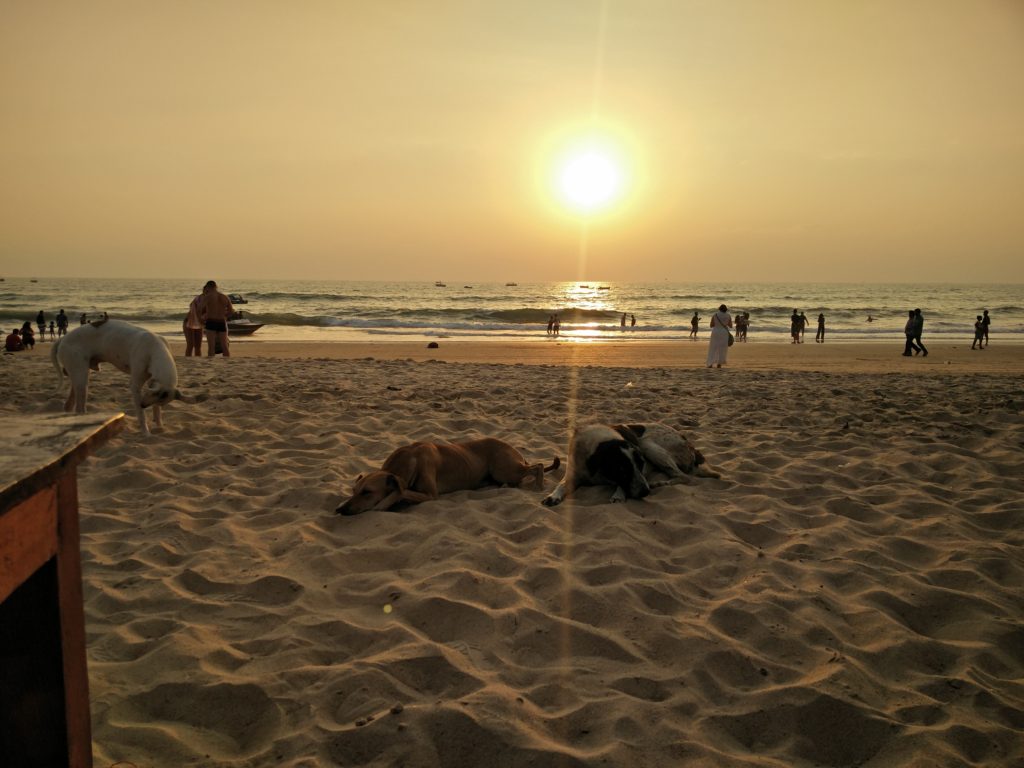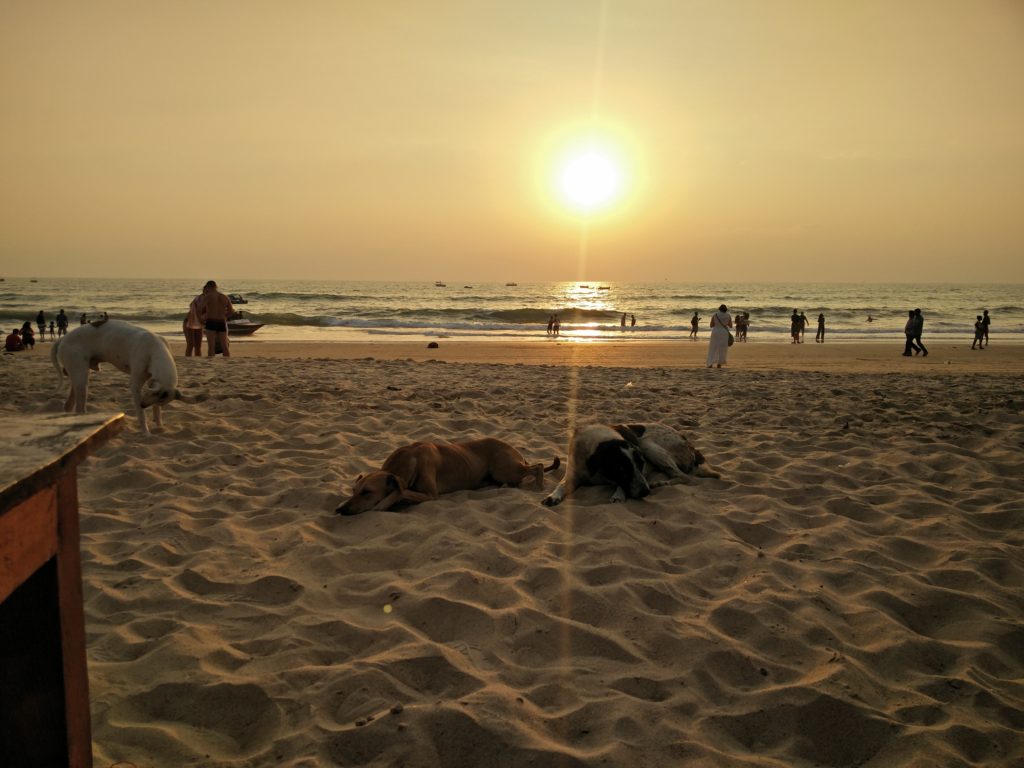 and just soak up the Goa vibe.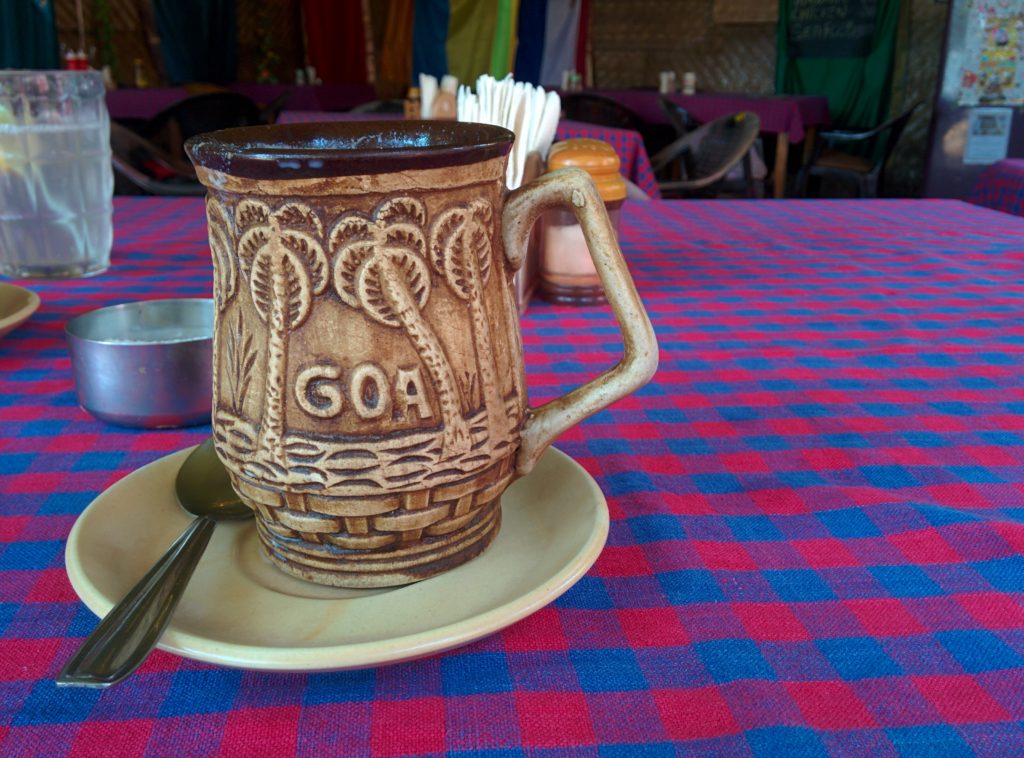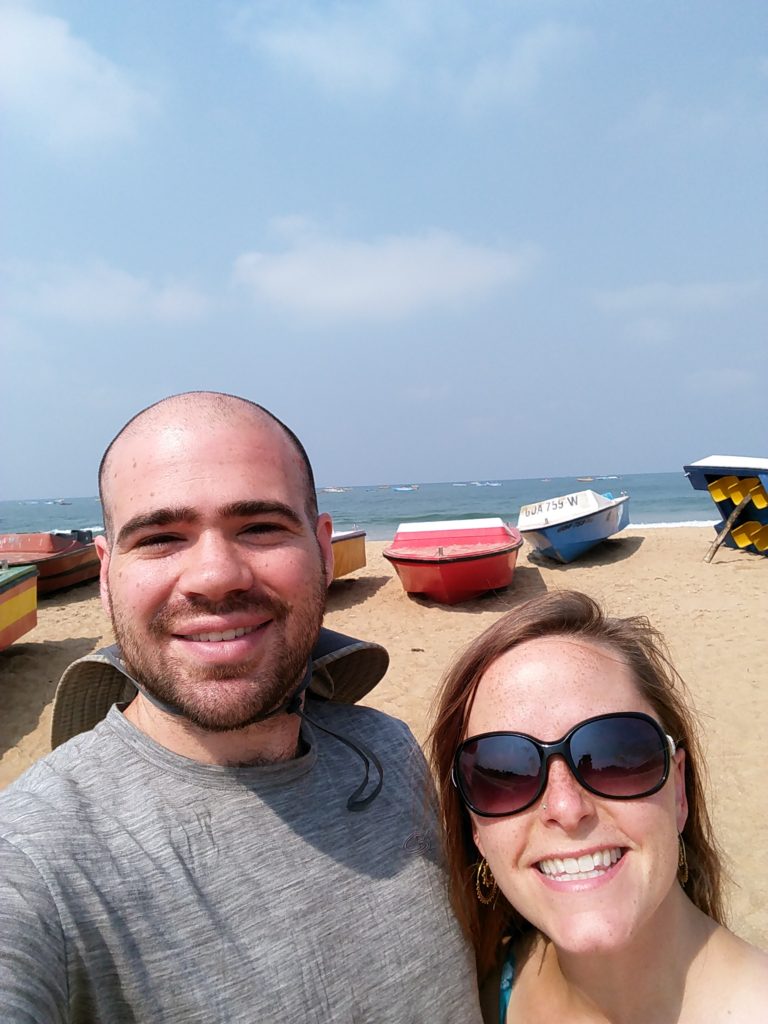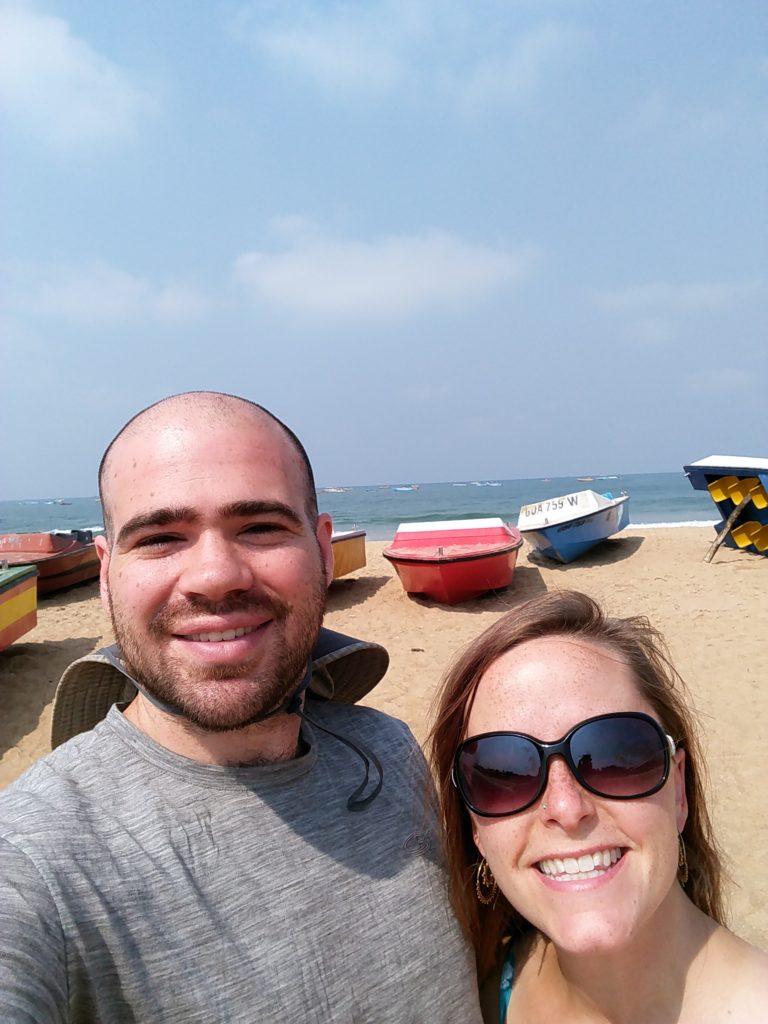 We had initially planned to head to Kerala for a backwater cruise after Goa, but decided to cut that out in favor of more relaxing and less bouncing around (India is so big!). On our way to our next destination, Rajasthan, we got our first taste of India's inefficient and gender-segregated airport security. Sarah was not a fan, not least because it meant that women were often separated from their belongings for several minutes while waiting in a separate line and then being wanded in a private booth.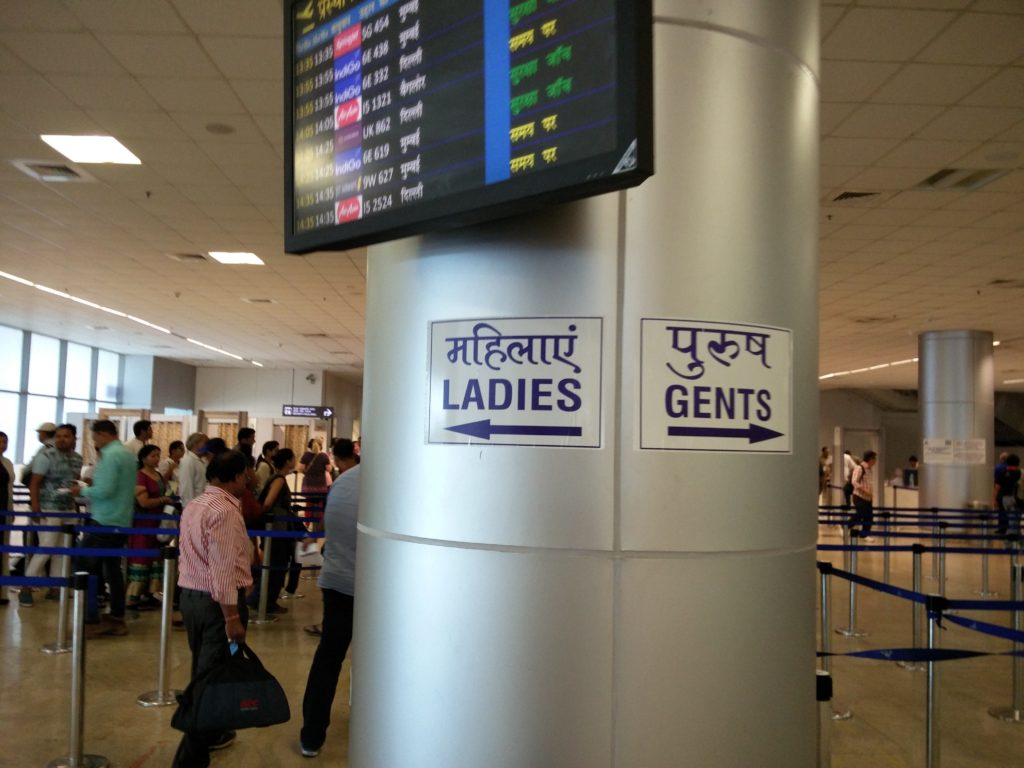 Nevertheless, her stuff was still there when she got through, and we were onwards to Udaipur!