We expected to find our first taste of "real India" in Rajasthan, a largely desert region in the Northwest of India with more than five thousand years of history, famous for its forts, folk culture, and spicy food. Our first stop was Udaipur (aka the White City), a beautiful town centered around several artificial lakes and the setting for the James Bond film Octopussy.
The taxi dropped us at the elaborate Jagdish temple near our hotel: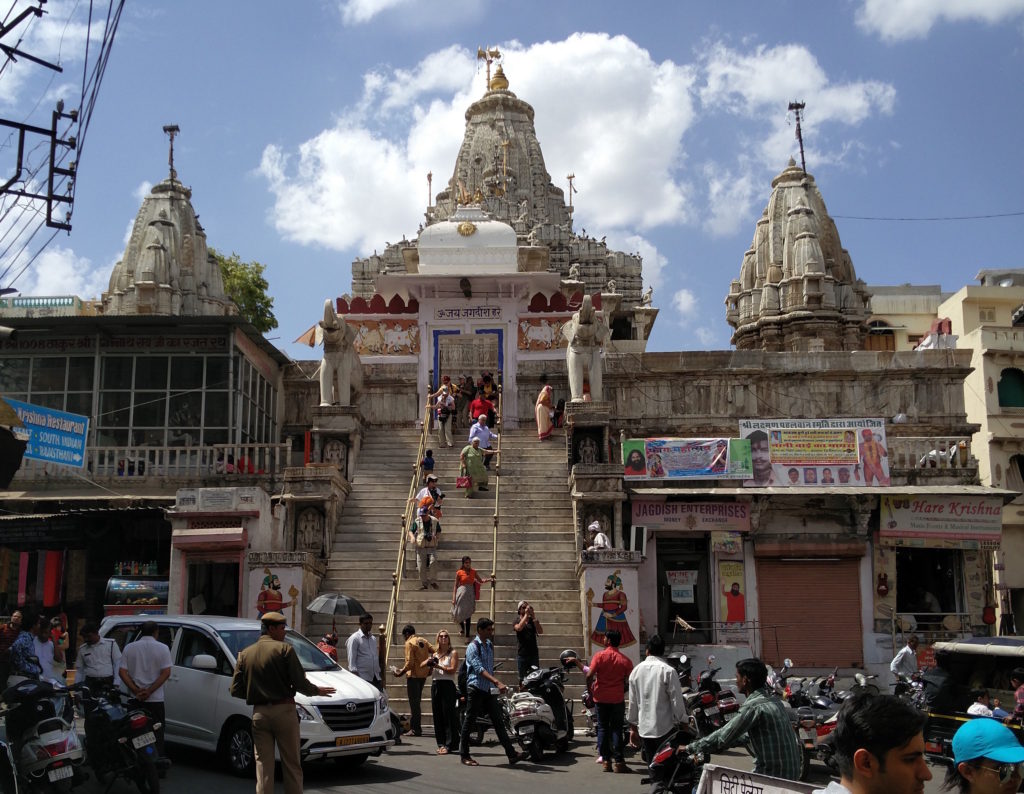 since the narrow winding streets to our hotel could only admit tuk-tuks, motorbikes, and of course the staple trash-eating cows.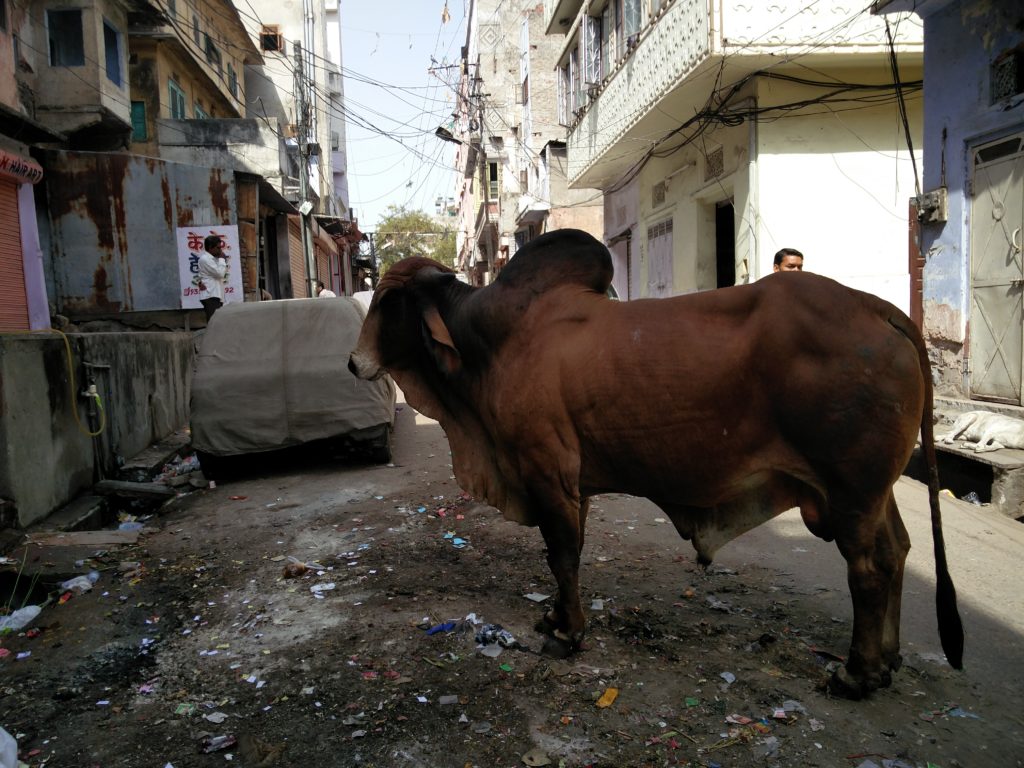 After dropping off our stuff, we made our way to the waterfront and were greeted with beautiful views of the city, lakes, and numerous elaborate structures that seemed to rise right from the water. This one (in the background) is actually now a hotel.

Later on, we encountered a number of artists who all, curiously, (after asking where we were from) told (tall?) tales of an upcoming convention in New Mexico in an attempt to lure us to their shop. After fending off the artists, we took some time to explore the temple (the first we had visited in India, since Goa's Portuguese heritage meant that primarily Catholic churches had been on the menu).
Every inch of the temple was covered in incredibly detailed carvings.

and inside, we sat and watched the prayer ceremonies for a while, hypnotized by the drum beats. While this was the most elaborate temple nearby, we also enjoyed exploring the small shrines, like this one dedicated to Sai Baba, scattered all over the city.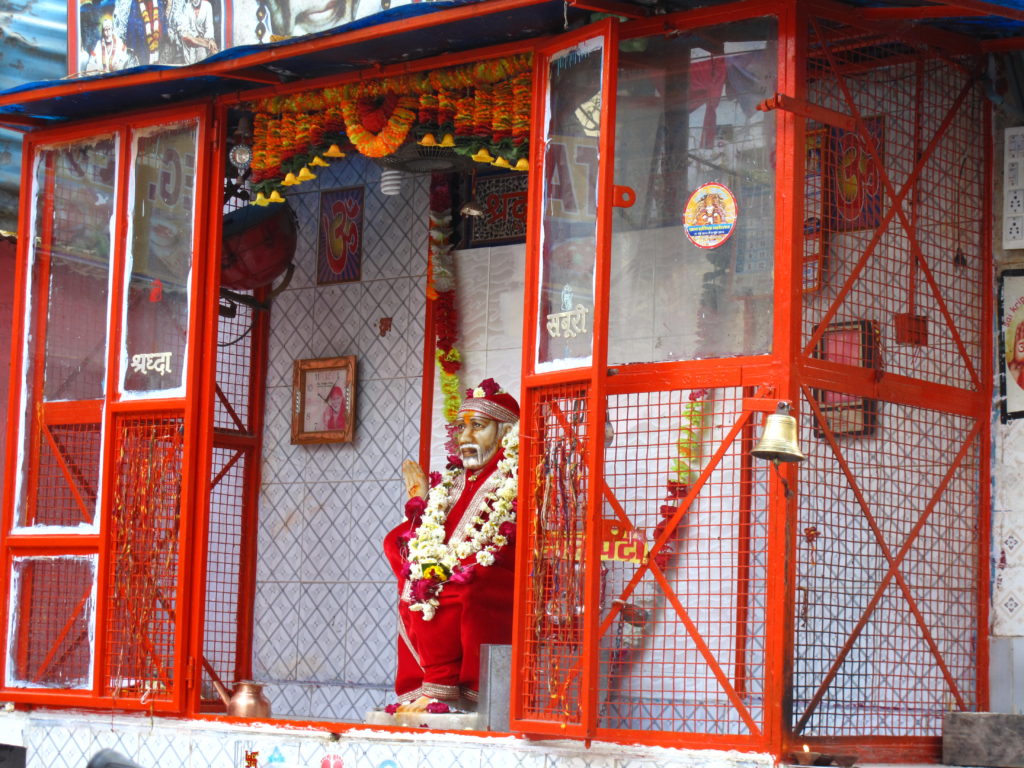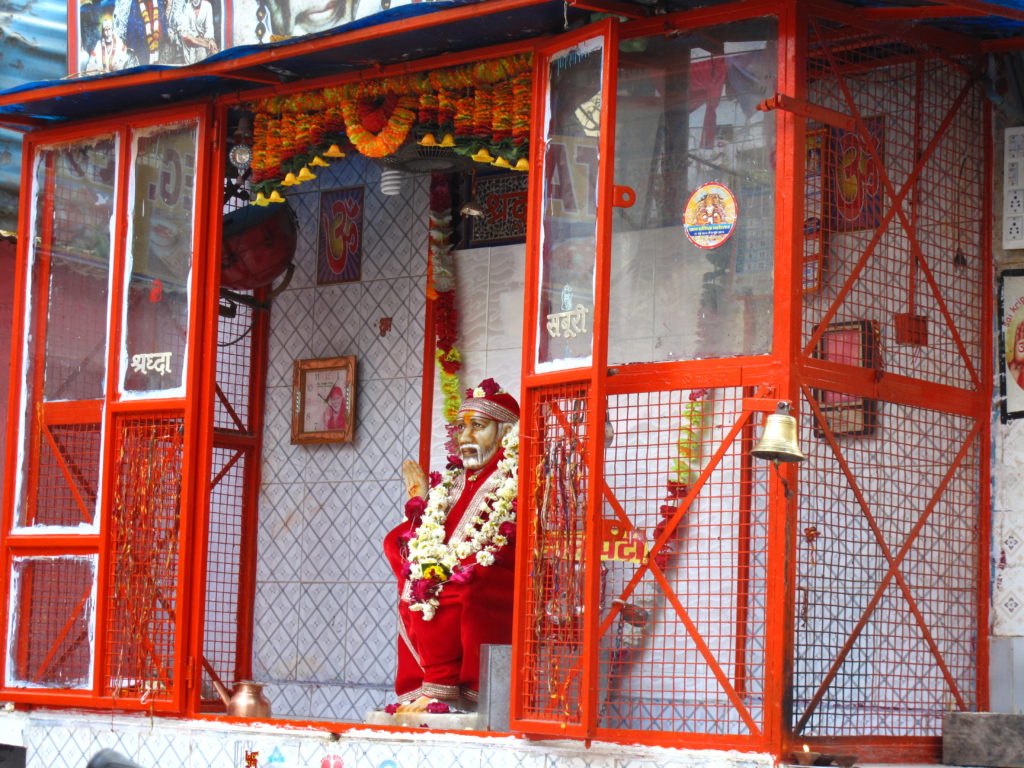 Jason's fuel for these adventures was a rather disgusting concoction of his own invention: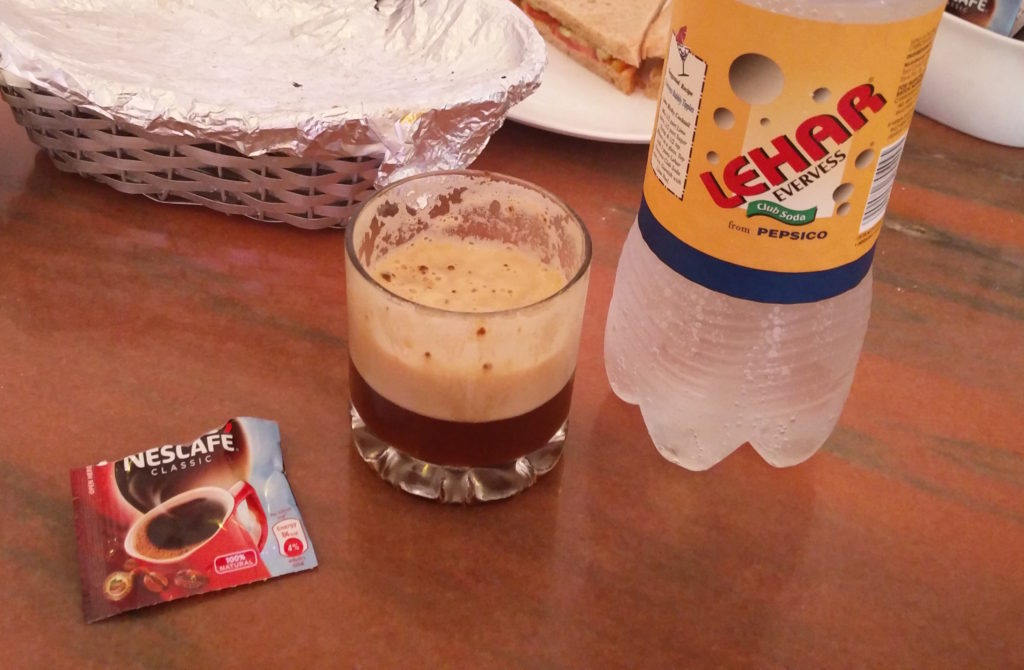 which combined his love of soda water and iced coffee, with the limited availability of actual coffee throughout the country.
In the evening, we went to see a dance performance that aimed to share and keep alive Rajasthan's rich dance culture.
The performances were all captivating in their own way, from these insane twirling dresses in the Ghumar dance:

to this dance-battle between two Hindu gods: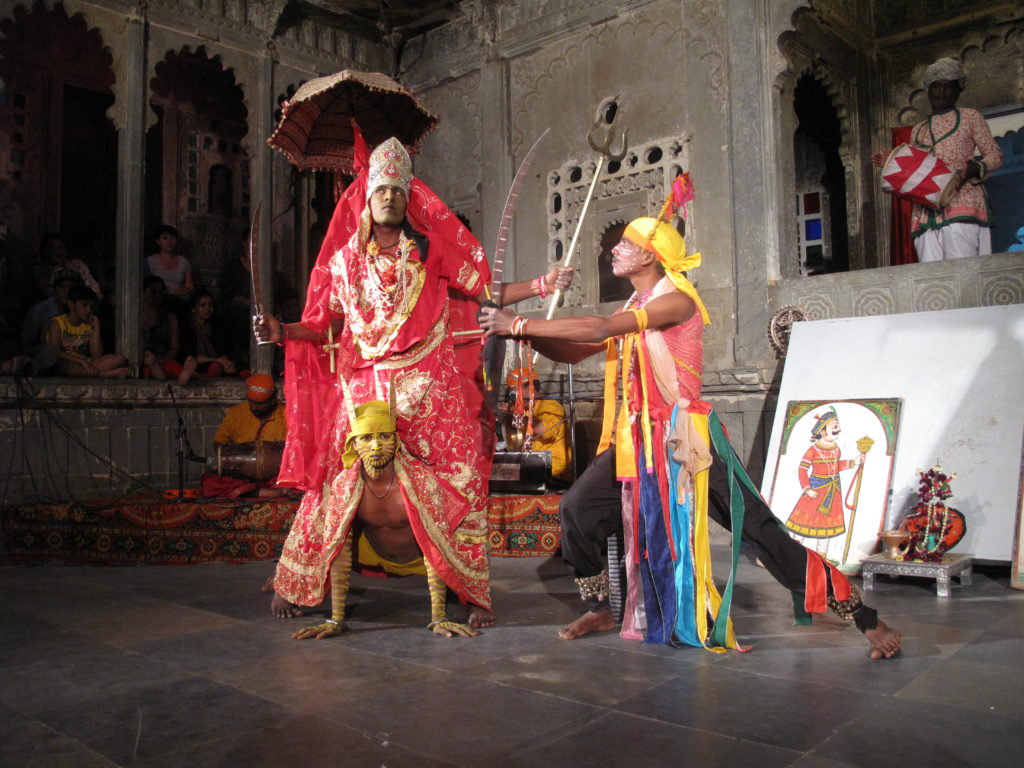 to elaborate sword and cymbal dances called Terha Taal: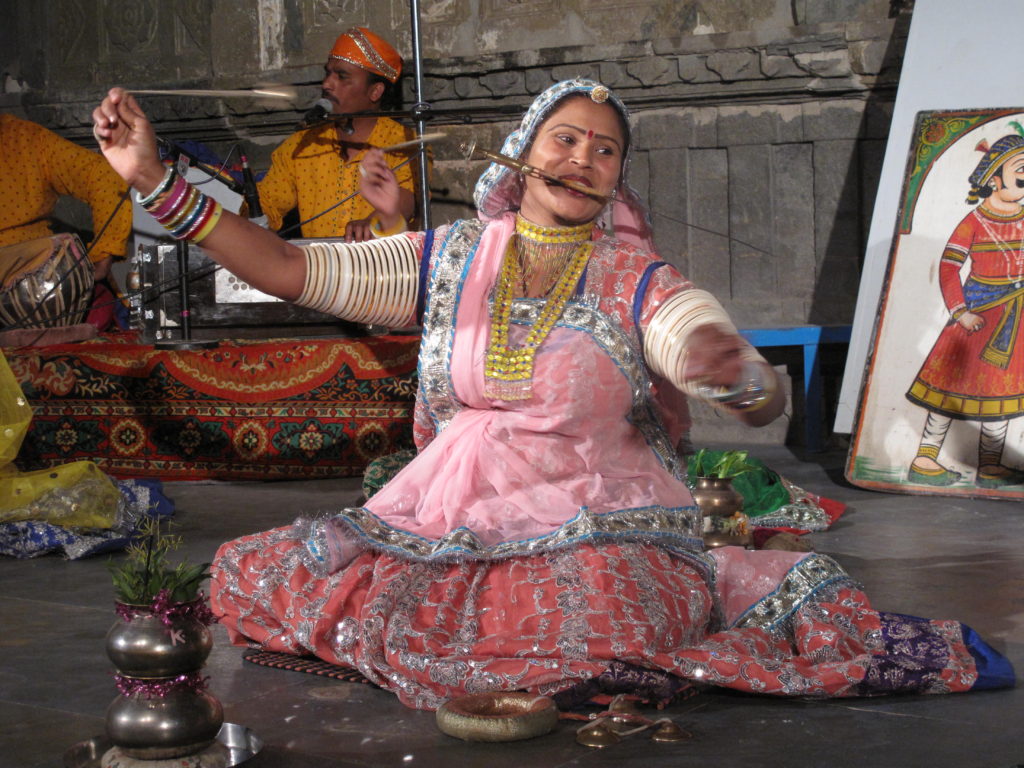 to the Chari dance, where the women dance with fiery pots on their heads:

to the grand finale, the Bhavai dance, where more and more pots were stacked on this woman's head while she carefully danced up steps, danced on broken glass, and performed other feats of extreme balance and concentration.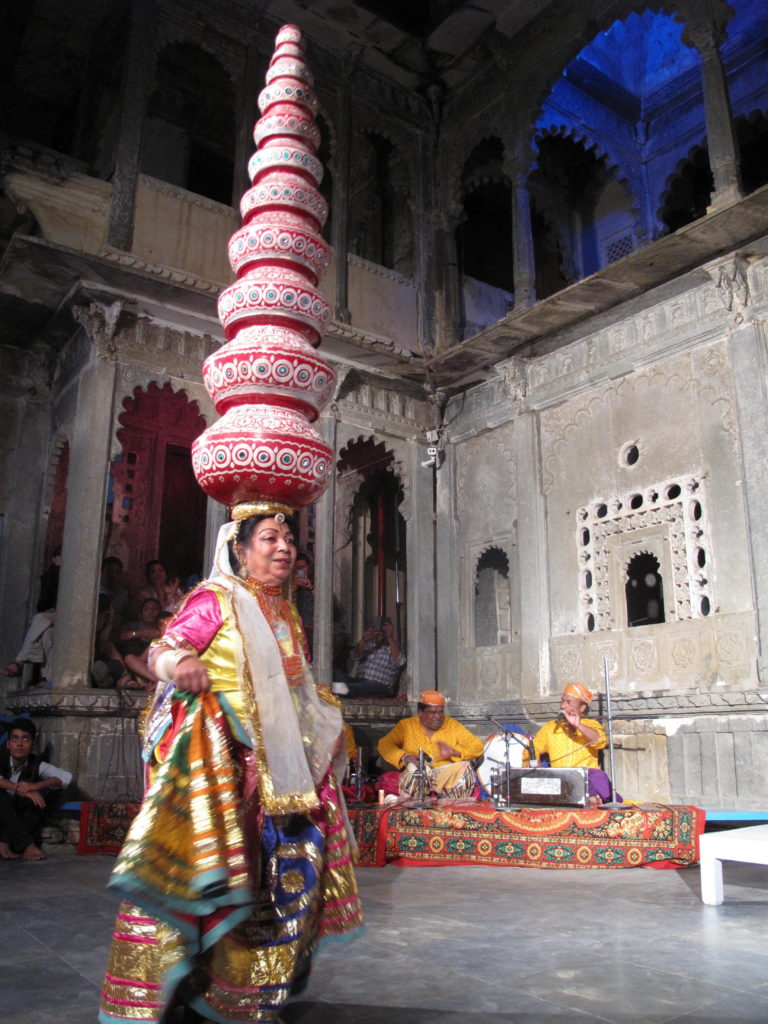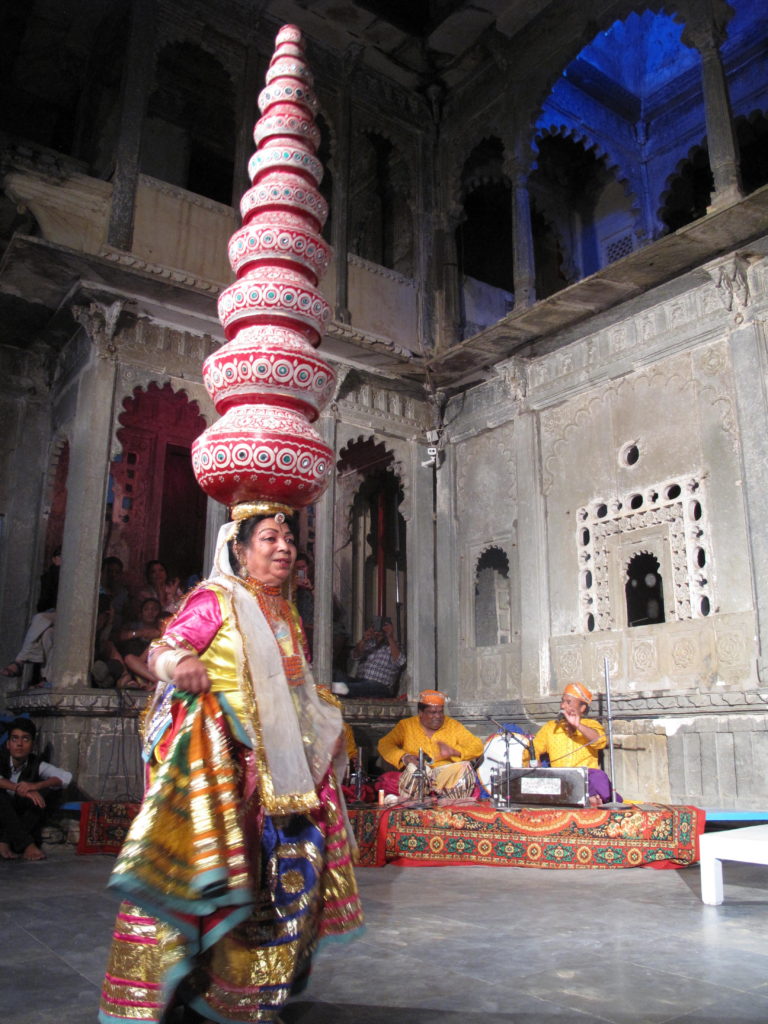 A few days later, we moved from our hotel to a homestay a bit out of the city center, which our charismatic and kind host Samvit uses to help finance several rural after-school programs and other service projects.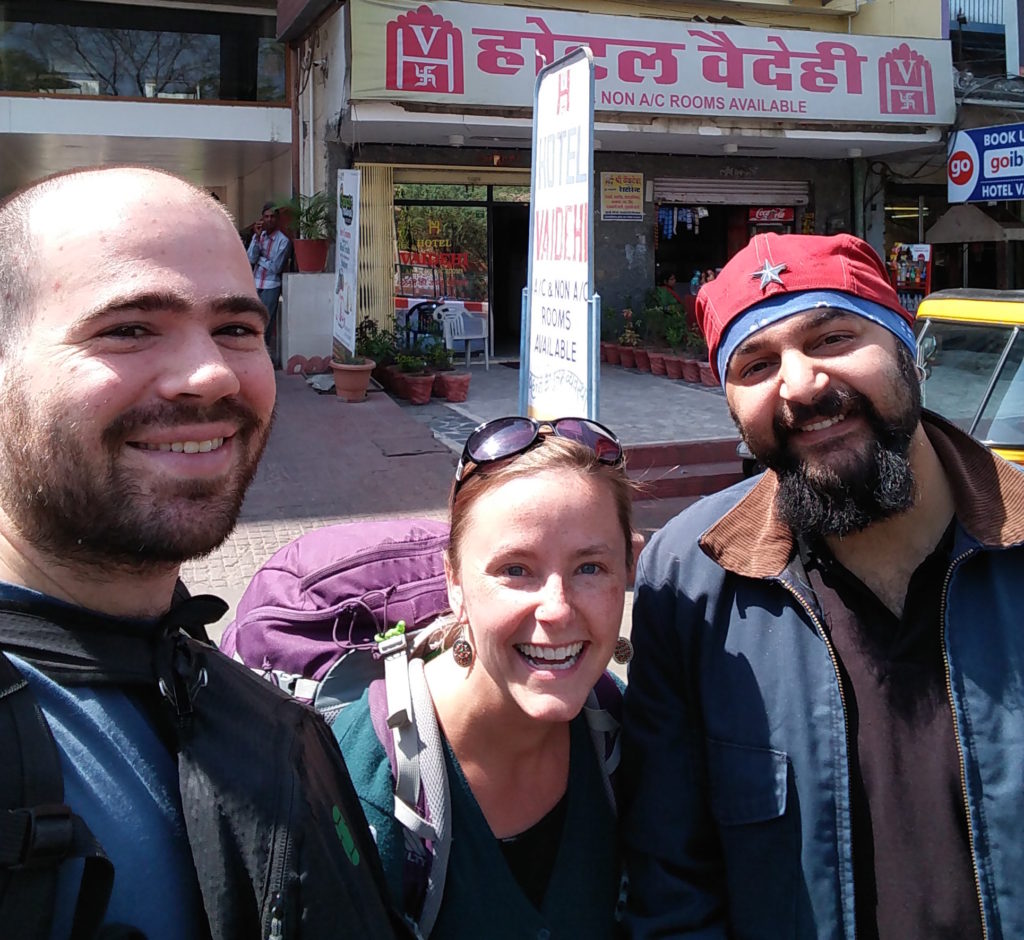 We were greeted by his exuberant Saint Bernard named Julie,

while this neighbor dog also apparently wanted to join in on the fun. He watched and excitedly barked from the adjacent third-story window — it almost seemed like he was going to jump!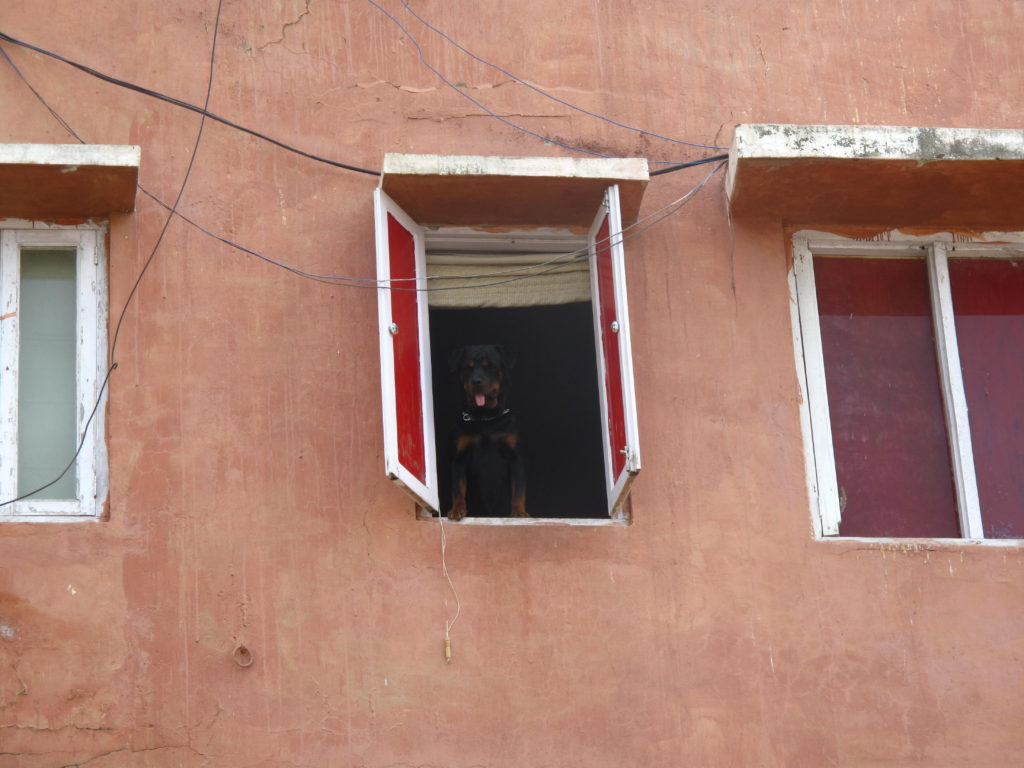 We tagged along with several of Samvit's long-term volunteers to the after-school program, where we met with and played some educational games with this group of super energetic and sweet local kids for a few hours.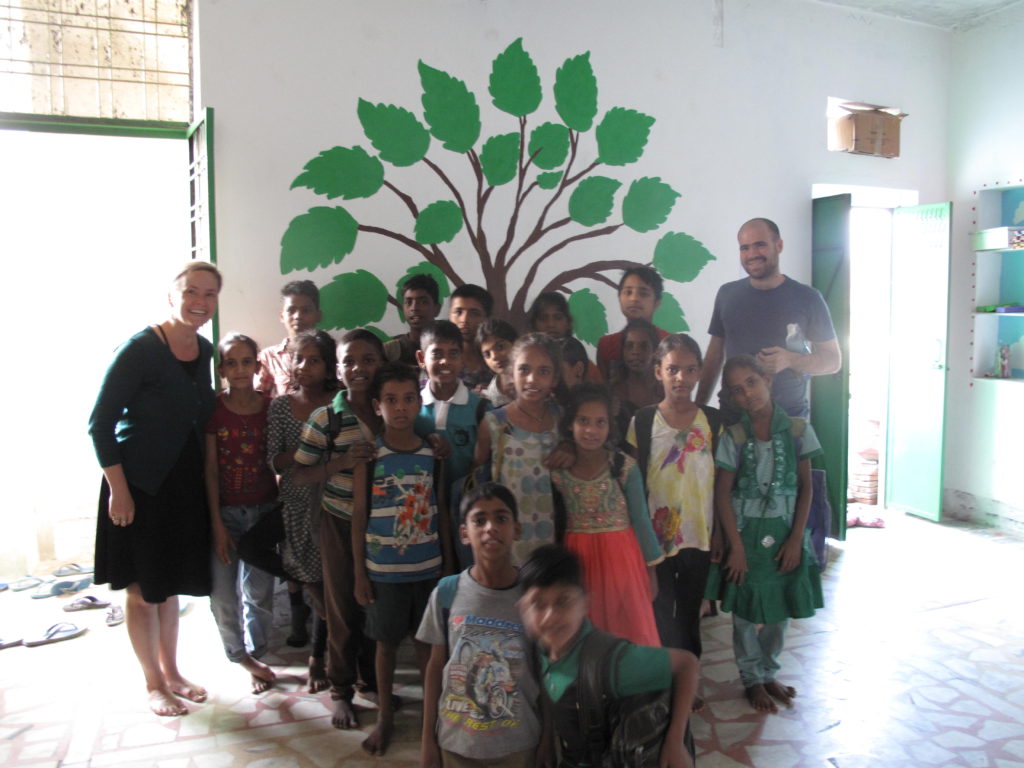 One of the activities was a family-feud style game of enumerating categories, and when the category was 'types of food', we were both amused when one of the kids confidently called out "non-veg" — unlike anywhere else we'd been, vegetarian food is the default in India, and there were probably more "pure veg" restaurants than those ("non-veg") with even a single meat dish on the menu.
When we later asked Samvit about recommendations for spicy food, he was almost overjoyed to have found some partners in crime to enjoy spicy pani puri, and soon after we found ourselves at his favorite joint. The chef could fill a little pastry with flavored water, chutneys, and chili in about 3 seconds, and it was our job to consume them as fast as he could dish them out.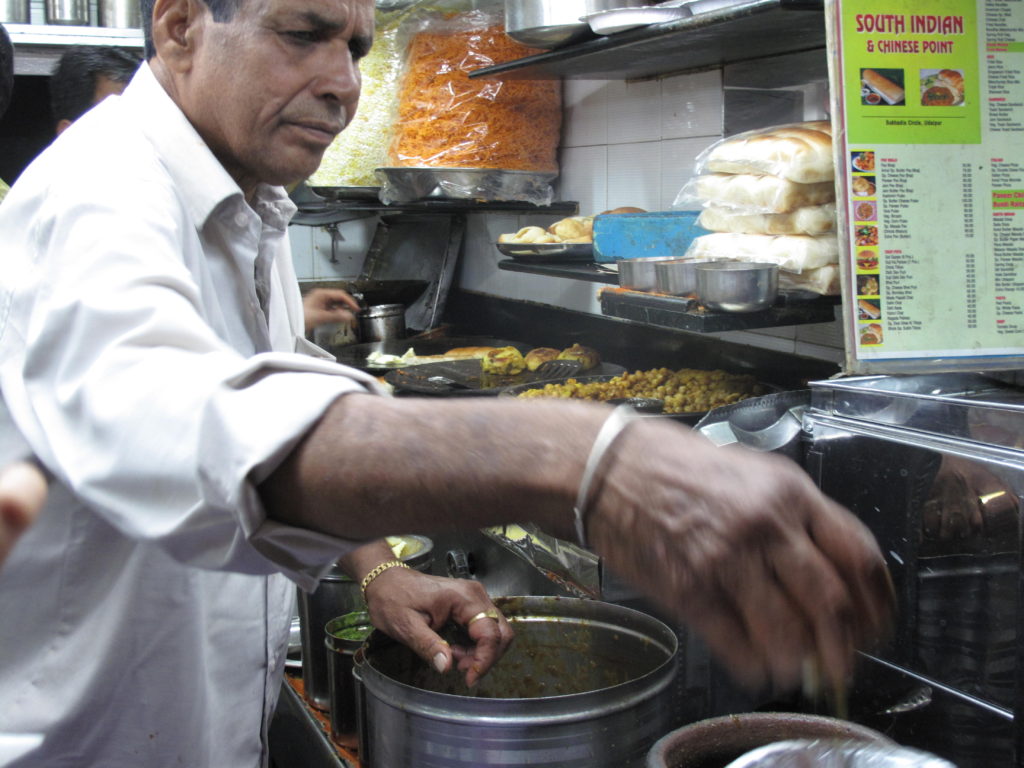 We were very glad we had asked Samvit for food advice, since the panipuri were so delicious and since he told us most other vendors get their "pani" (water) from the lake. Samvit also took us to enjoy the best kachoris (fried puffs filled with potatoes, served with spicy chili peppers).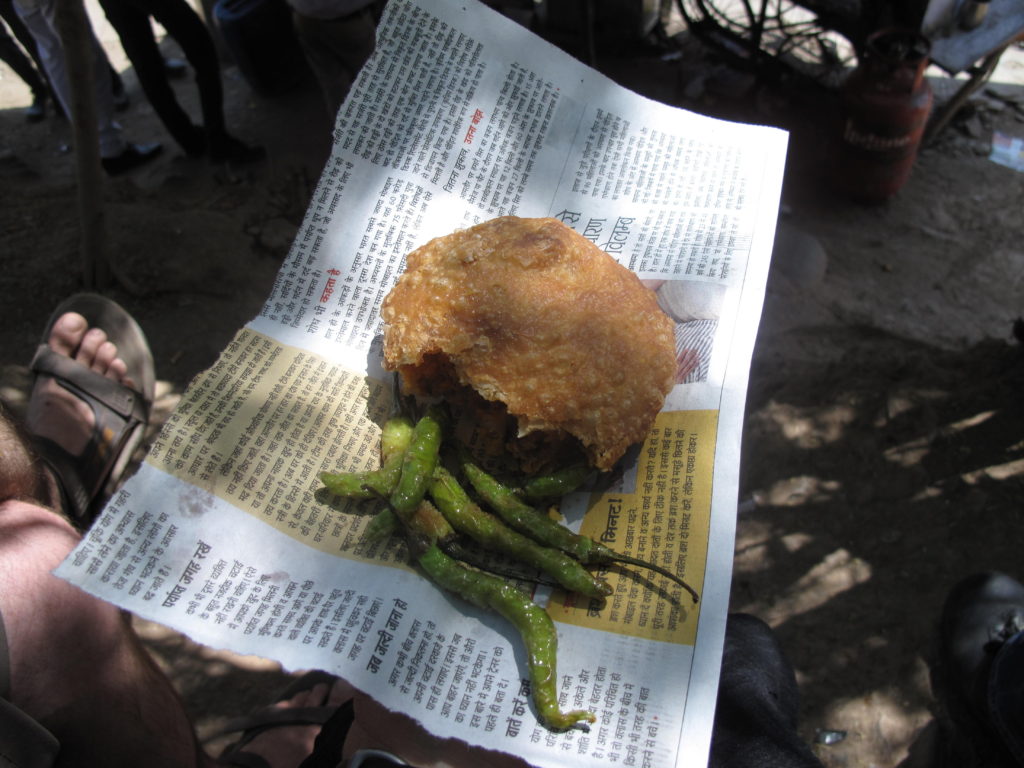 All too soon, it was time to leave for our next stop in Rajasthan, and on our walk to the train station we passed the Jognimata Kacchi Basti slums that abutted the wall of a fancy gated community. Until last year, none of the kids attended school, but one committed women was able to get more than 100 kids signed up and attending in the course of a few months.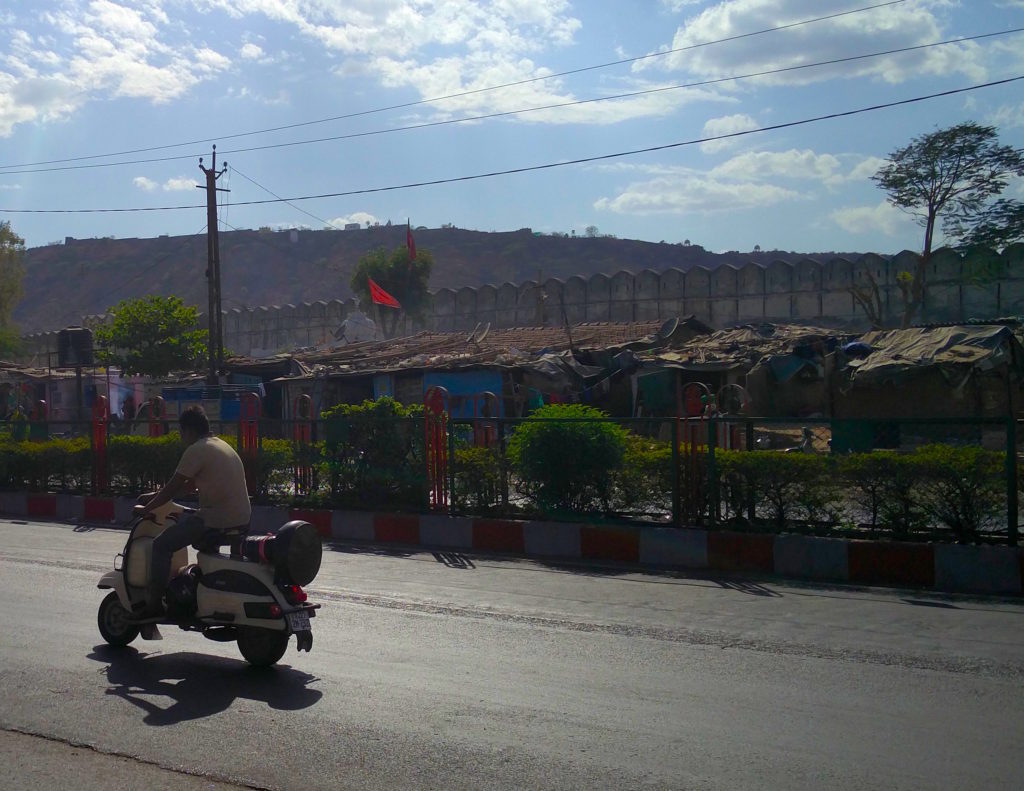 The train itself was nice, if a bit cramped with three beds stacked vertically and only a small and dirty window — but Sarah adored it nevertheless (as she does all trains).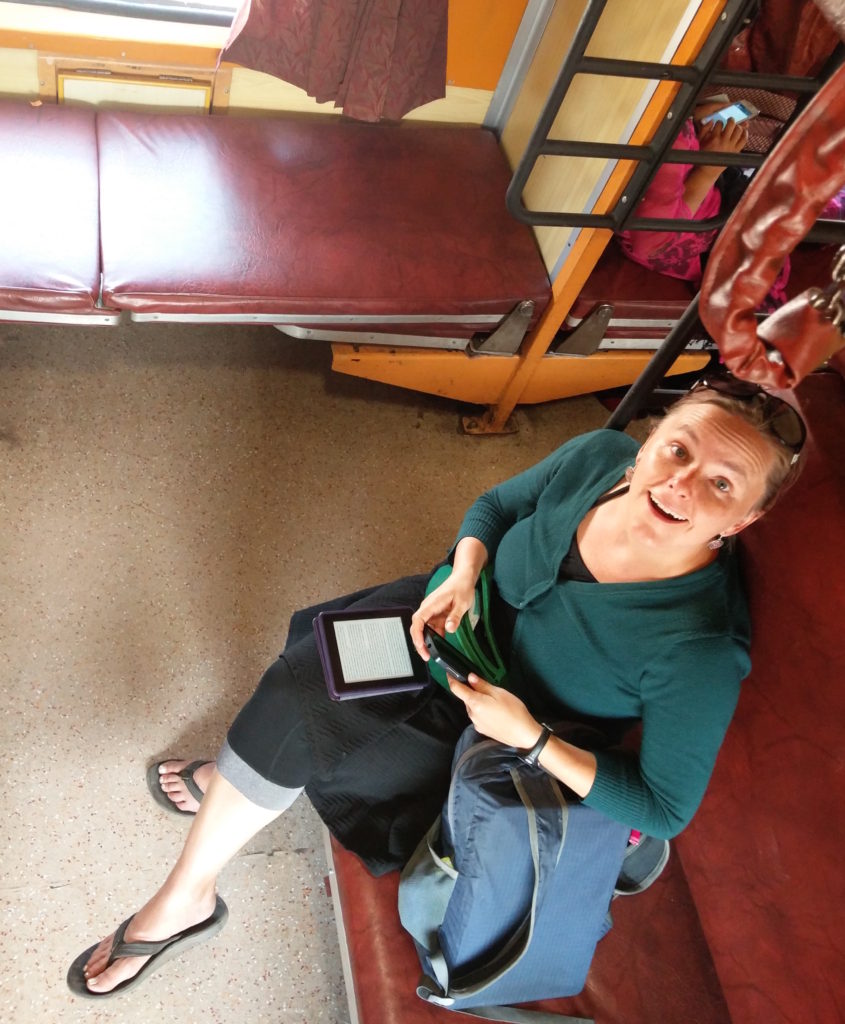 We had actually hoped to take a longer train journey, from Goa to Rajasthan or from Rajasthan to Varanasi, but the trains were all booked up weeks in advance and this was the only journey where we could find a seat. The train pulled into Jaipur well after dark, and we found our way through the dark streets of the capital and largest city of Rajasthan to finally arrive at our lackluster hostel.
The next morning, we went exploring and found the first supermarket we'd seen in India (where tiny markets and street vendors are the norm). So many Indian snacks to choose from!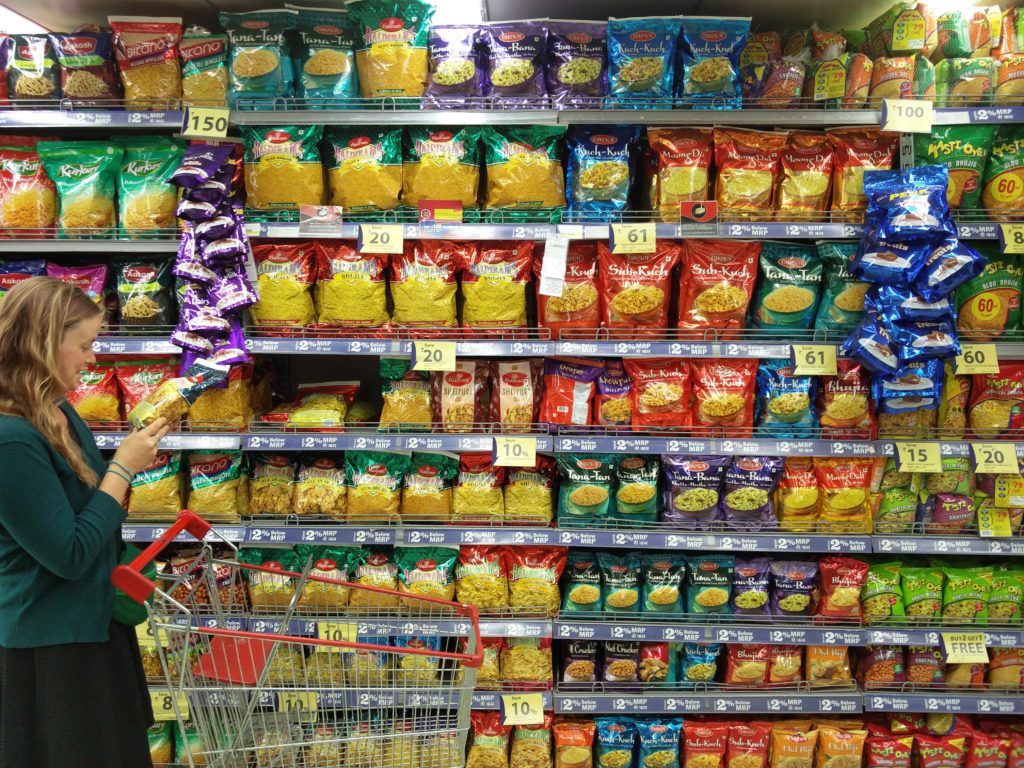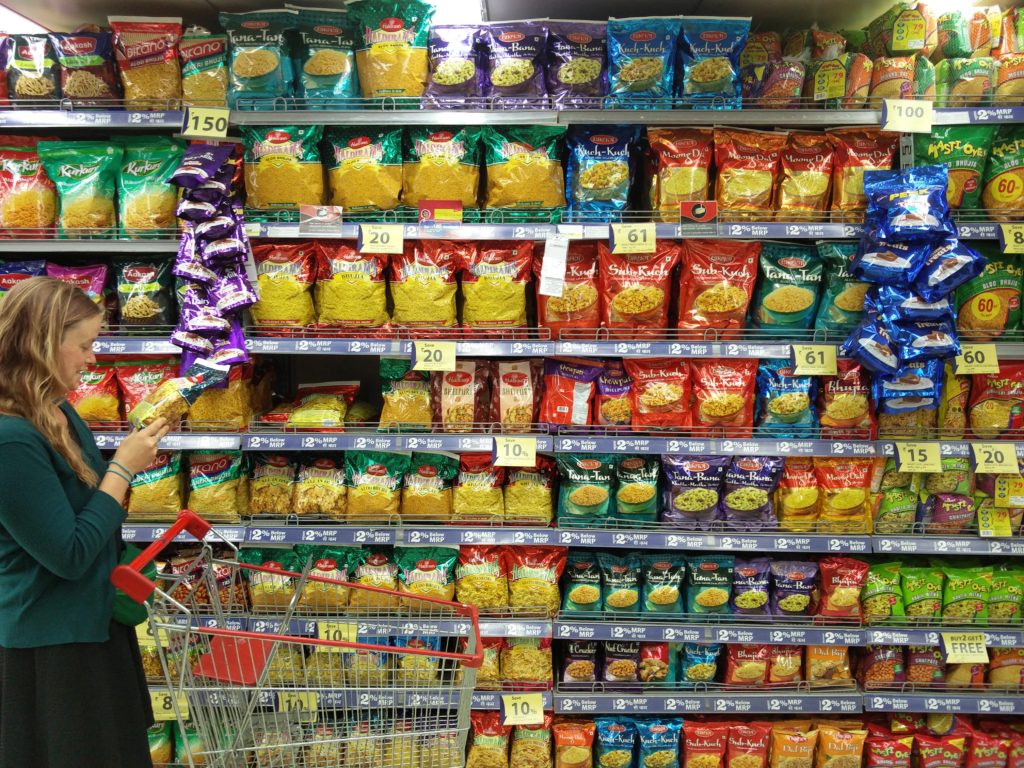 One of our favorite activities in Jaipur was a bike tour around the walled "Pink city", which was painted in 1876 to welcome the Prince of Wales. (Photo courtesy Cyclin' Jaipur.)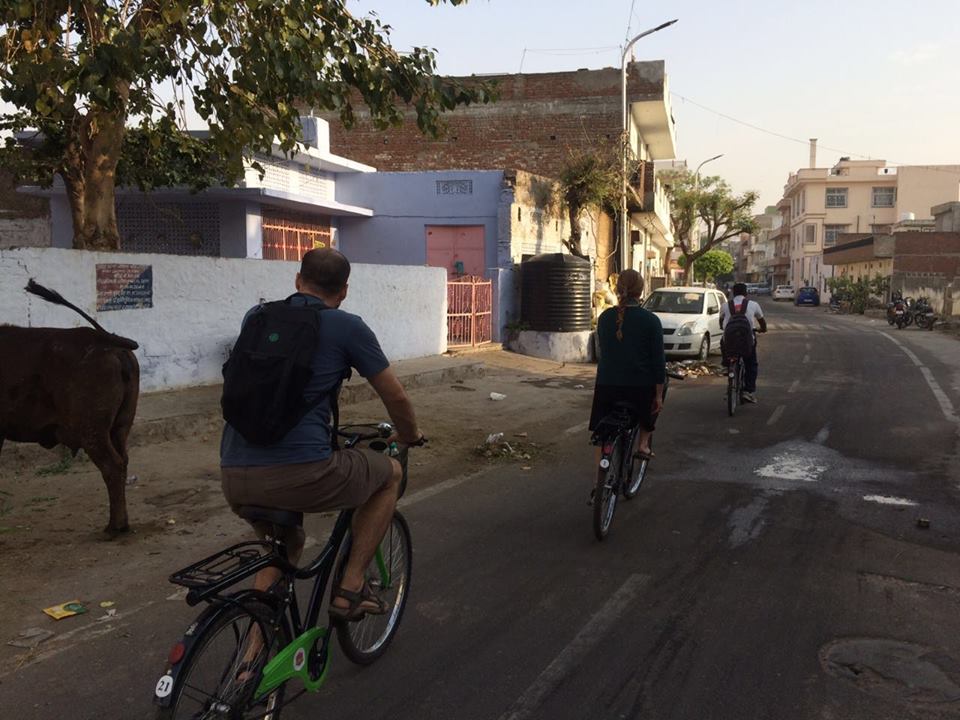 Our first stop was this elaborate structure called the "Wind Palace", which is just a facade where women of the royal household could observe street festivals without being seen.

Next, we entered a small nearby house, walked down a narrow, dark hallway, and shouldered our way past several large cows to arrive at a staircase. At the top of the stairs was a patio where every available square inch was being used to dry dung patties (which would be burned as fuel for cooking stoves, or as part of the upcoming Holi festival).

Past the dung patties, we made our way into a cozy kitchen where a nice mother and son served us a hearty traditional breakfast of dal baati chorma, consisting of heavy whole wheat dumplings dipped in a lentil sauce.
After breakfast, we explored many other parts of the city on bikes, from the marble-carving district (this carver was very proud of his fine work):

to a vegetable and flower market where a steady stream of women were carrying in 60+-kg bundles of veggies on their heads, to a kitchen where these men stirred giant pots all day concocting a delicious milk-based dessert called mahavir rabri (and then at night slept on the floor) — the fourth generation of their family to do so.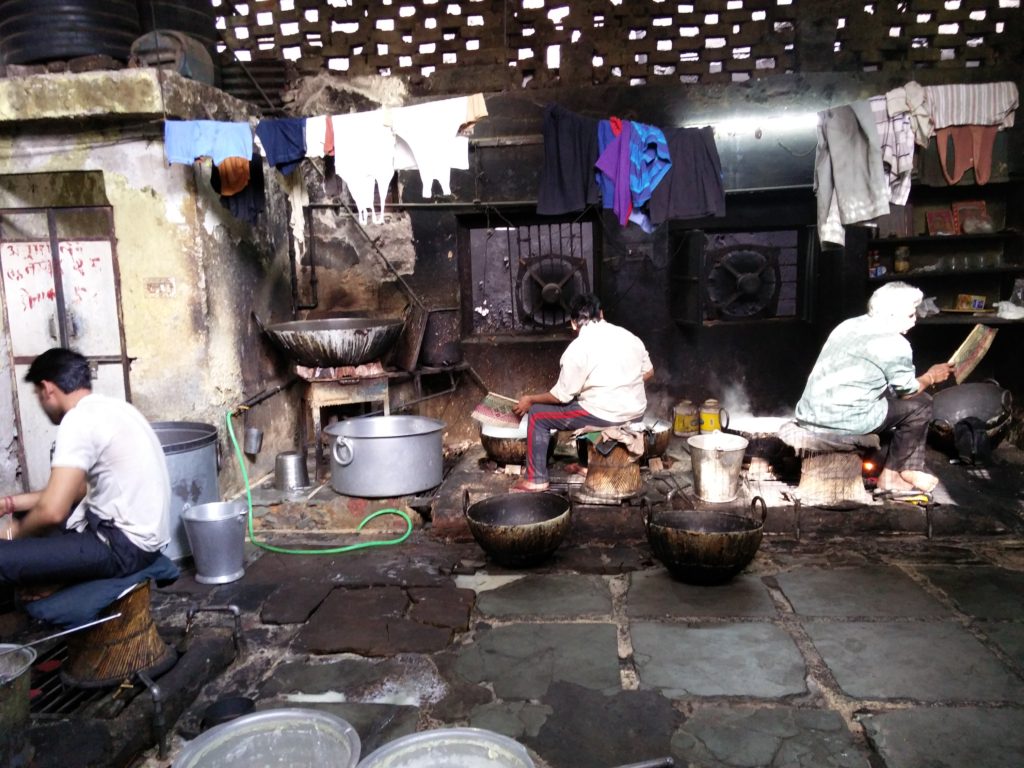 The best part of our hostel was the resident tuk-tuk driver named Lucky, who served as our driver and tour guide for the rest of our stay in Jaipur. Lucky was a jovial and super observant guy and we enjoyed seeing the city from his perspective.

We got unexpectedly lei'd by Lucky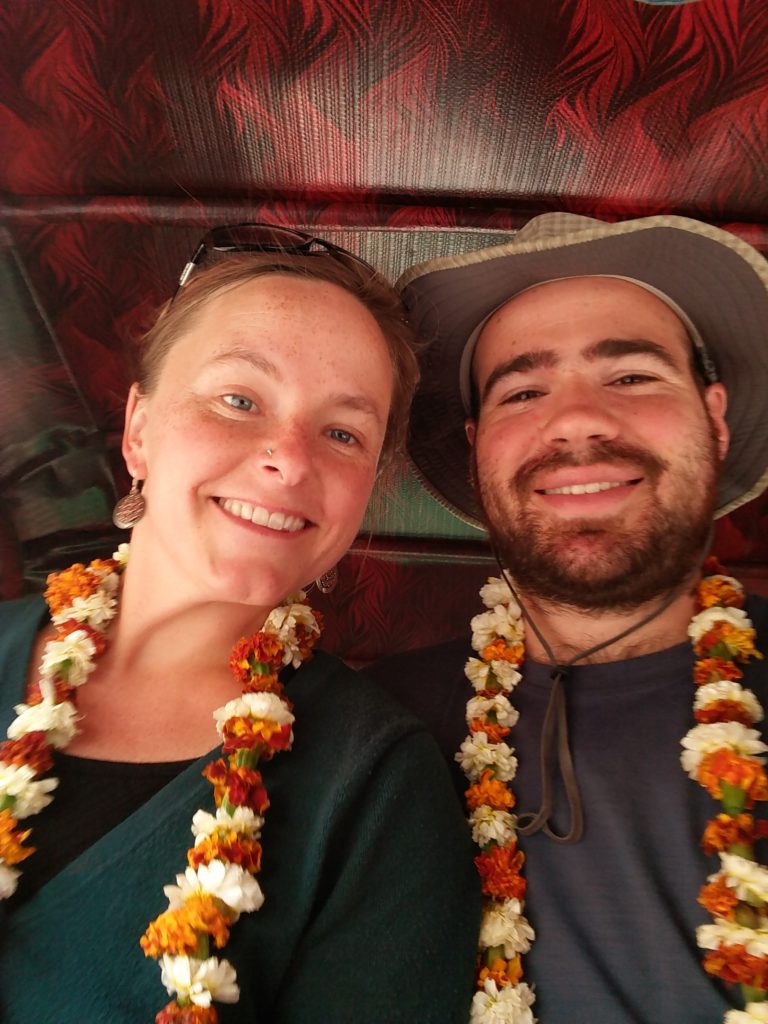 on the way to the Amber Fort, a giant Hindu fortress on a hill just outside Jaipur.

We enjoyed the architecture and intricate marble carvings,

before getting suckered into visiting some likely mistreated Asian elephants (an activity which Lucky later admitted to us he was so adamant about because he earned a cut of the costs). This is Lakshmi.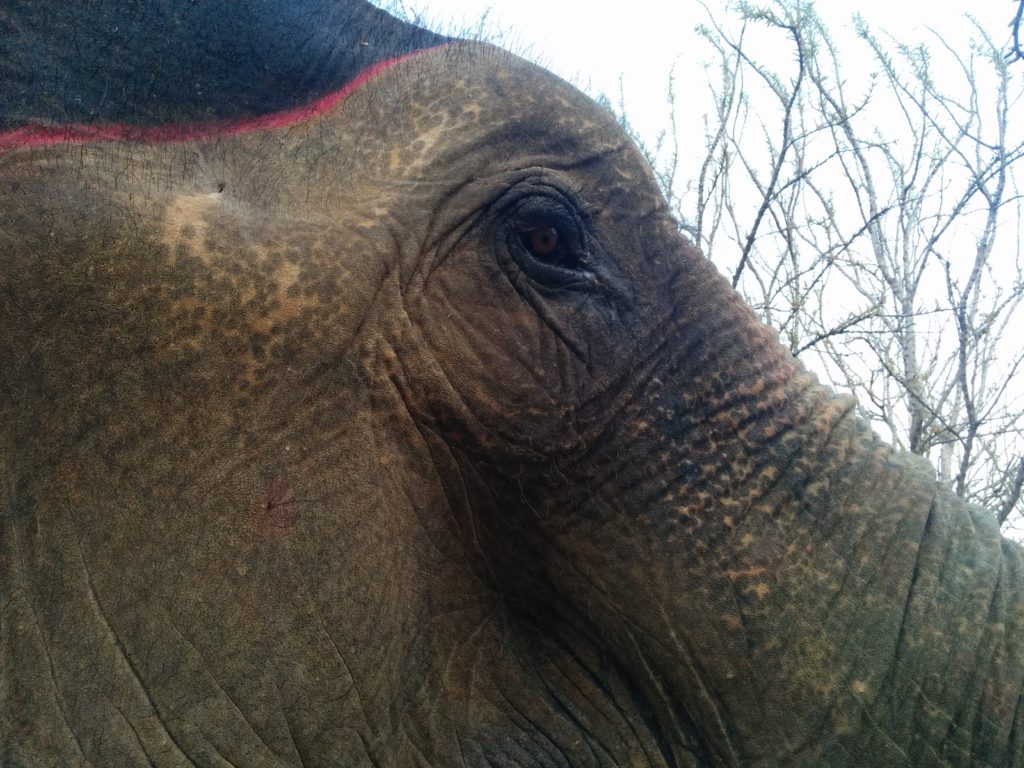 Before leaving Jaipur, we had one more activity planned: to watch a Indian film at the famous Raj Mandir cinema.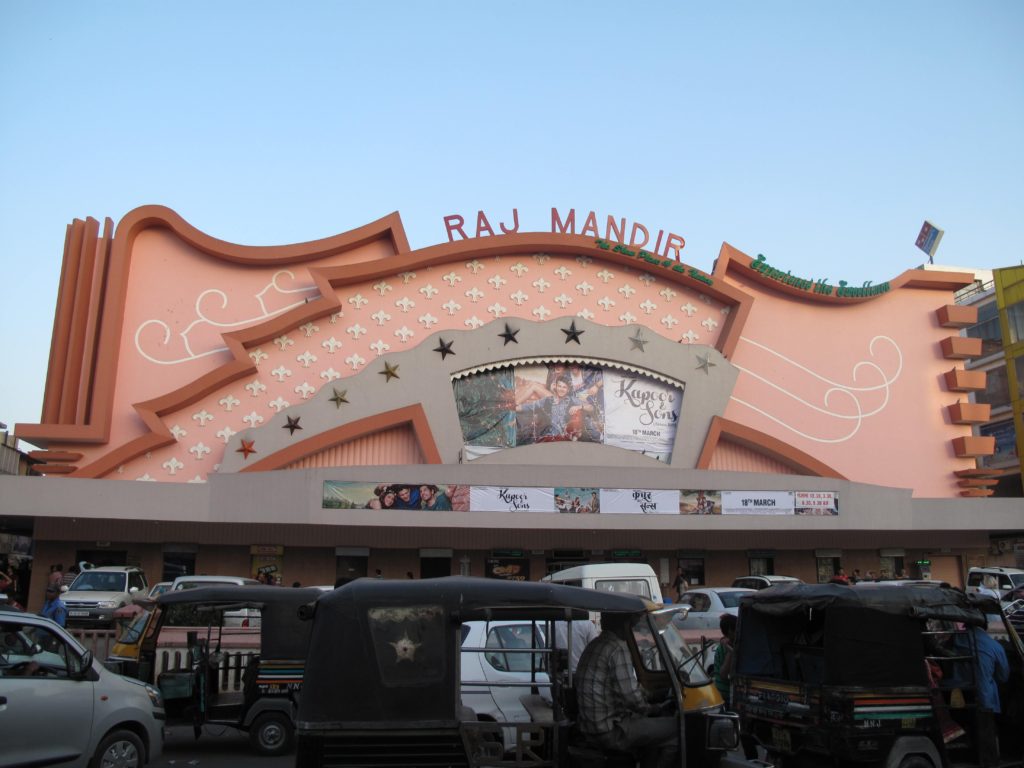 While it's not much to look at from the outside, the theatre itself was quite opulent. We could only halfway follow the Hindi with occasional words of English, but it was fun to experience how into the movie the audience gets. They were much more participatory than in US theaters – collectively clapping, cheering, jeering, or groaning, depending on the plot.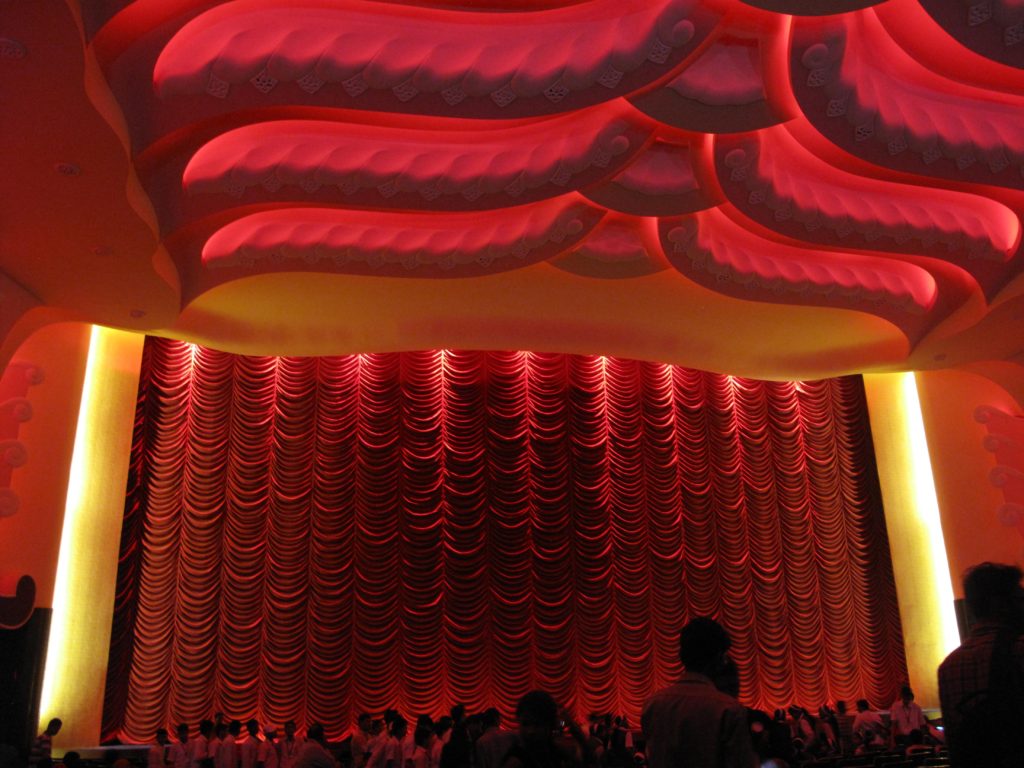 About halfway through we had our fill, and left in a stream of other confused tourists to call it an early night — Lucky was picking us up at 4am the next morning to catch a flight to our last main destination in India: Varanasi.