The Thai island of Ko Tao was a highlight of our 2014 trip to Asia, and we were very excited to return for a longer stay and explore more of Ko Tao and its neighboring islands. (Ko, also spelled Koh, means island in Thai.)
Ko Tao has no airport, so (following in our previous footsteps) we flew into nearby Ko Samui and carved out a day to explore the larger, more developed island before catching our ferry. We rented a beautiful little place right on the water, and enjoyed a couple spectacular sunsets from the balcony.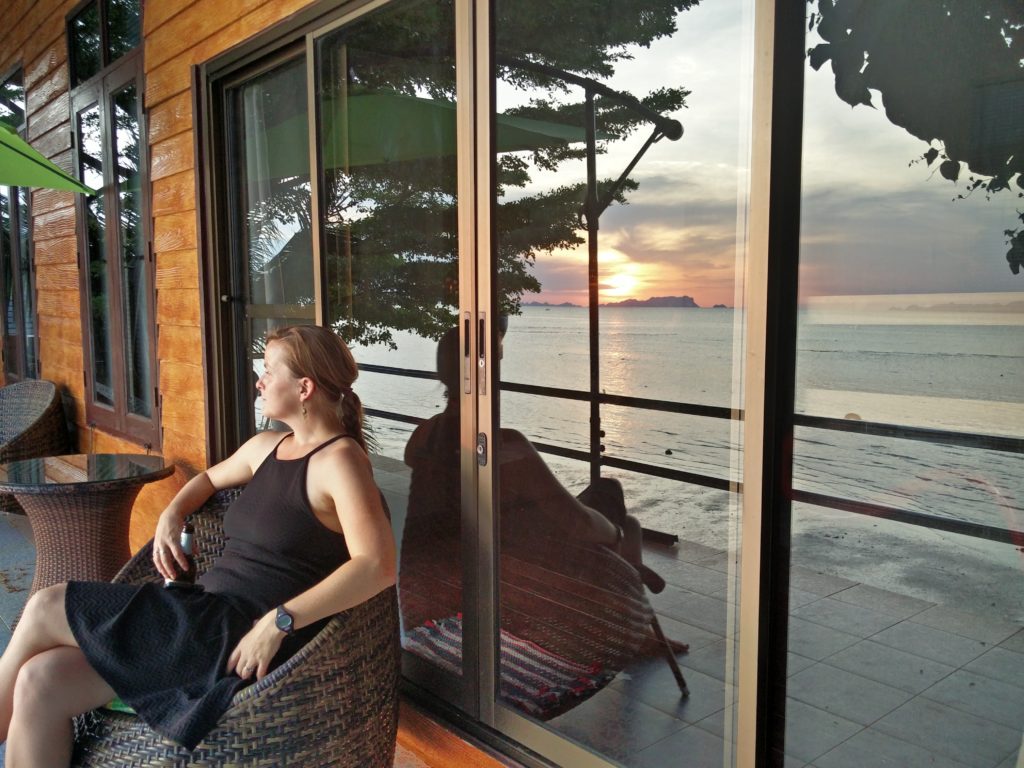 Our host also helped us rent a scooter,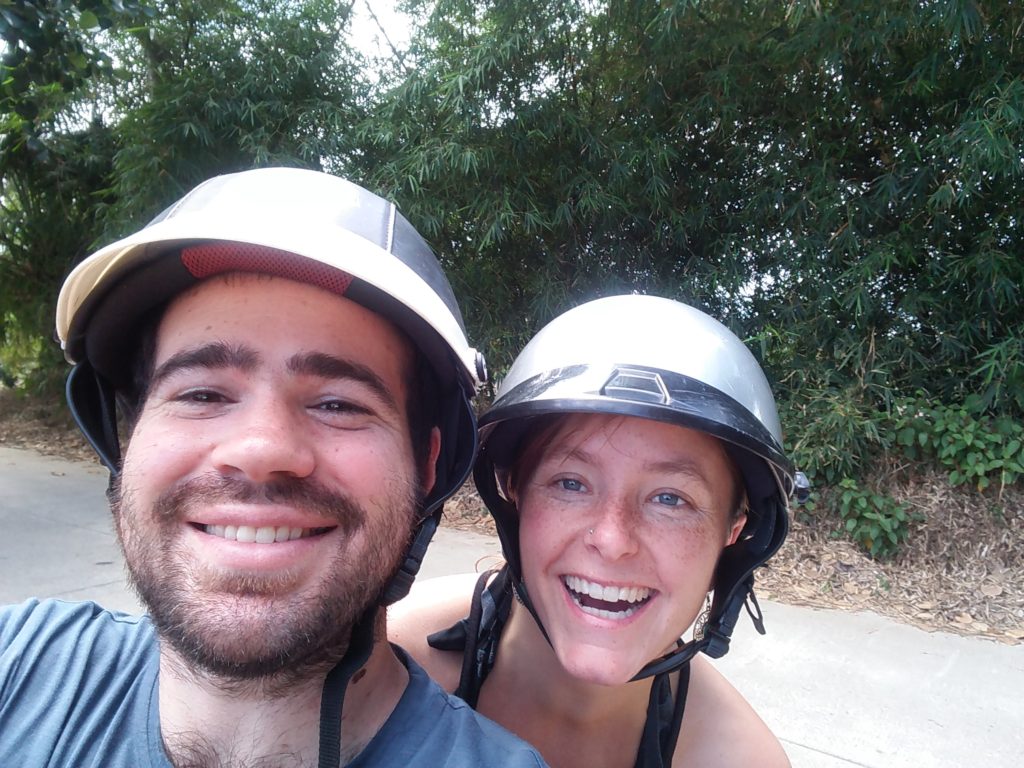 which we used to explore some of the back roads that wove around the hilly landscape in the interior of the island.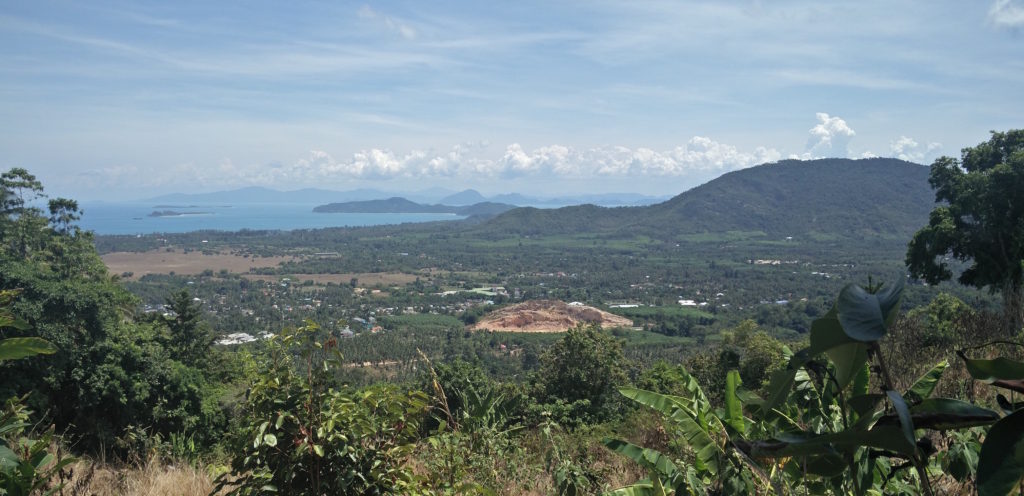 On the way down, the brakes started going out — likely a bubble in the hydraulic line that only appeared when braking on a steep hill (how convenient!) — so we proceeded slowly back home and spent the remainder of the afternoon relaxing in the AC.
In the evening, we walked to a pizza place just up the road, where this adorably hyper puppy kept wrapping her rope around pillars and table legs until she could hardly stand.

On the walk home, as we passed the restaurant right next door to our place, a (different) dog ran from the dining area to the sidewalk and bit Sarah's leg through her dress. It happened so fast, we were a bit in shock. The restaurant owner yelled at the dog, which we assumed was his, but did very little to help until we asked him to hold the dog until we passed.
Safely inside, we inspected the damage:

Although the bite wasn't too bad, a huge bruise soon appeared around the area — and unfortunately the dog had broken the skin. Jason went back outside to try to find out if the dog was vaccinated, but the restaurant owner (who spoke very little English) claimed it was a stray. Meanwhile, Sarah tried to call a nearby hospital: "Hi, I just got bit by a dog. And I'm wondering if you are still open and able to give me a shot for rabies." The response was a bit comical: "You're having a baby?" She clarified "No, I got bit by a dog. You know, an animal bite. On my leg, I got a dog bite." "Oh, you got in an accident on a bike?"
We decided to skip that hospital (especially after our host said it was one of the lowest quality places in Ko Samui), and instead rode across the island to the Bangkok International Hospital. It was swank – very much like a country club, and we were in at 12:30am and out in 30 minutes for less than $200 including antibiotics — not too bad for an emergency room visit, all things considered. Our preventative rabies shots had paid off, since the treatment was much less intensive (and expensive) than it would have been otherwise.
The next morning, assured that clinics on Ko Tao could supply the second rabies shot, we caught our scheduled ferry as planned.

Ko Tao is a small island primarily known for its scuba diving. (Tao means 'turtle' in Thai and the island is also an important breeding ground for hawksbill and green turtles.) While we didn't actually dive, on our first visit we had found that the island is very relaxed, without too much of the crazy party vibe that some of the other islands are known for. On that first trip, we also had a lot of fun renting a dirt bike (one of Jason's favorite pastimes back in high school) and a scooter (Sarah's first time), enjoying the amazing snorkeling, and eating at a tiny nameless Thai restaurant frequented by locals that served the best green curry we had ever eaten.
As we pulled up to the pier, we caught a first glimpse of our apartment down the beach, and crossed our fingers that things hadn't changed too much.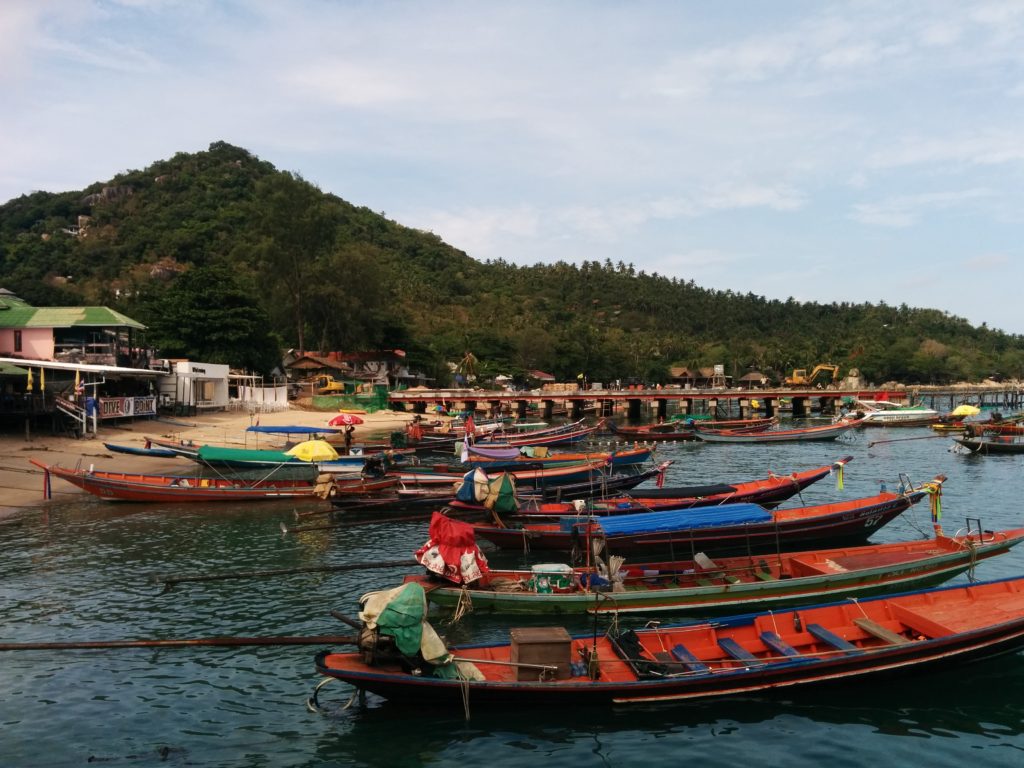 After dropping off our bags, we headed up the hill and were ecstatic to find that the Thai place was still there. It was no longer nameless, and even had a menu now, which worried us a bit…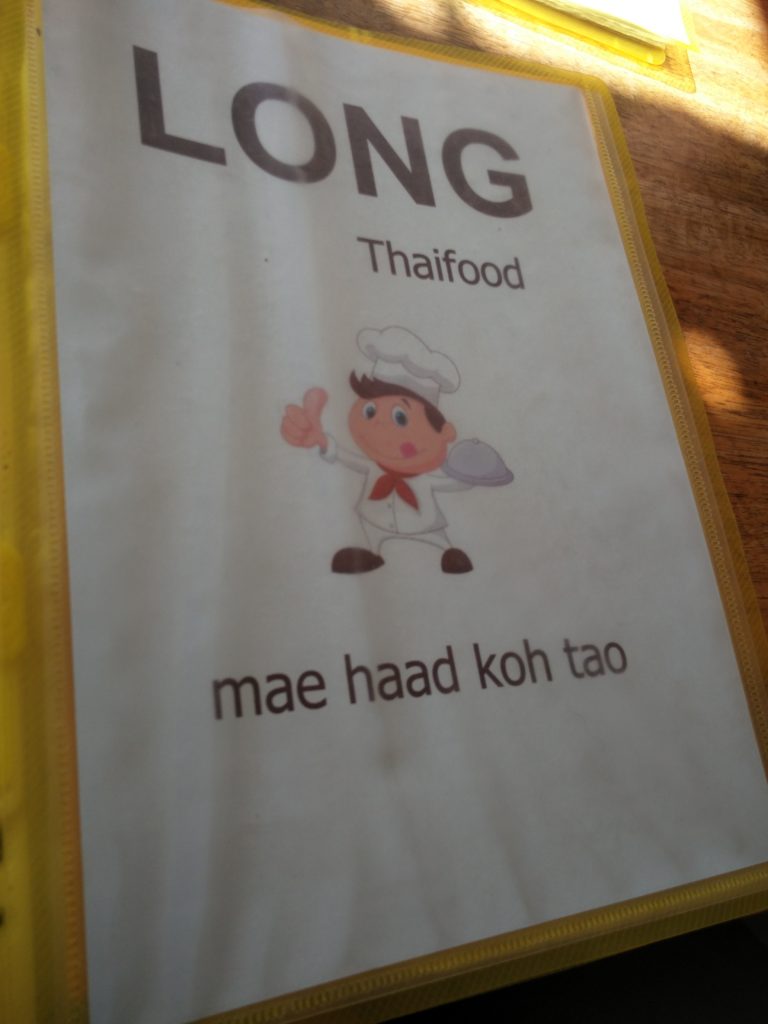 …until the green curry soup arrived, and was just as spicy and delectable as we remembered it!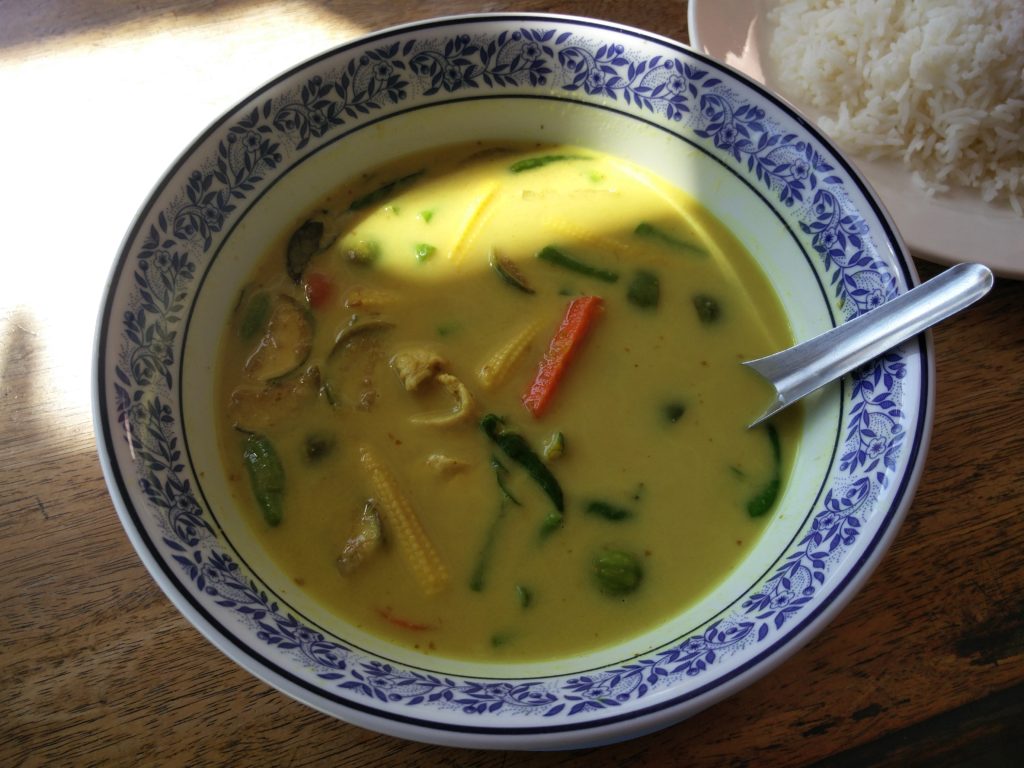 We mostly spent our time on the island relaxing, enjoying the sunsets from our balcony,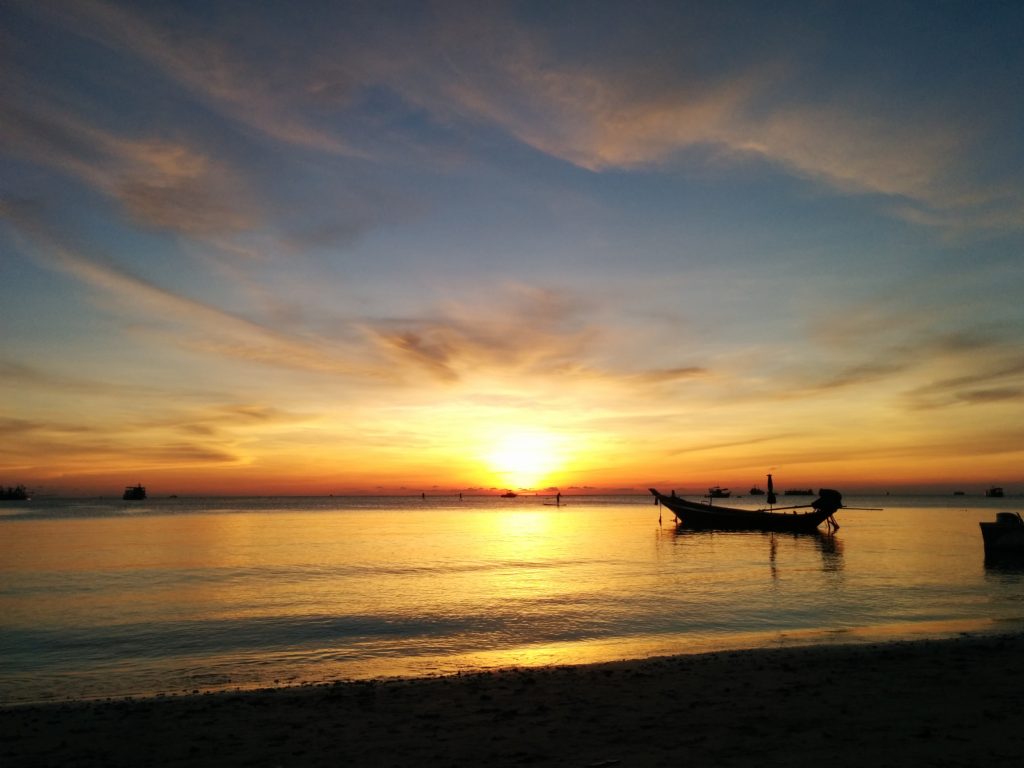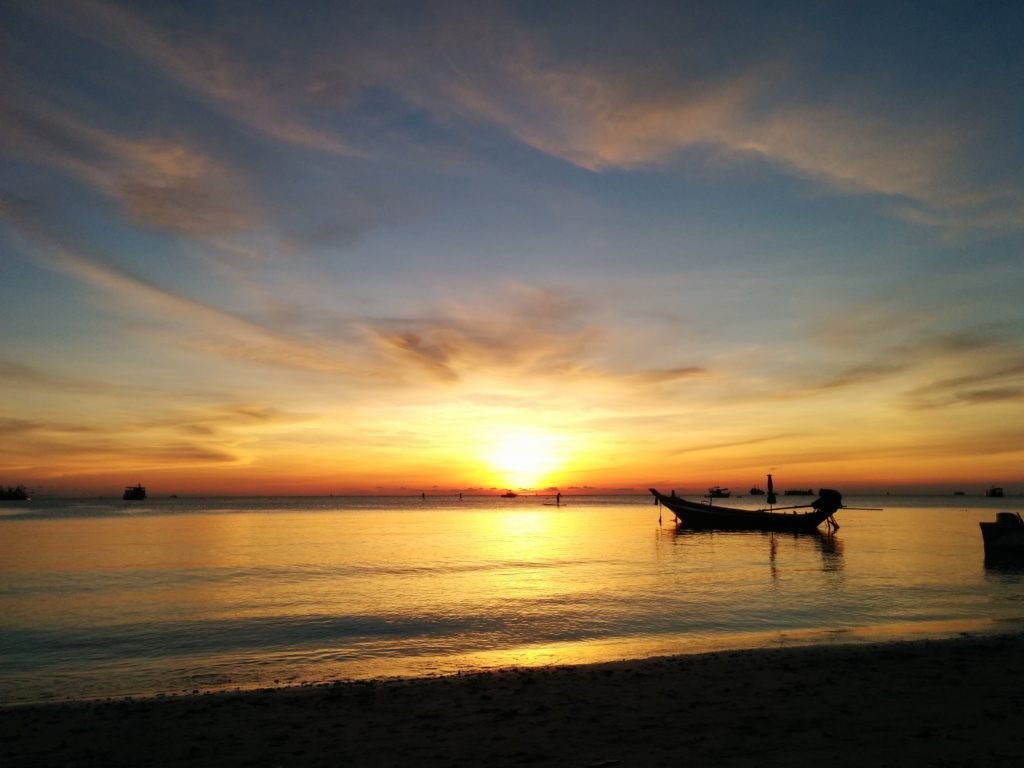 finding some of the best viewpoints,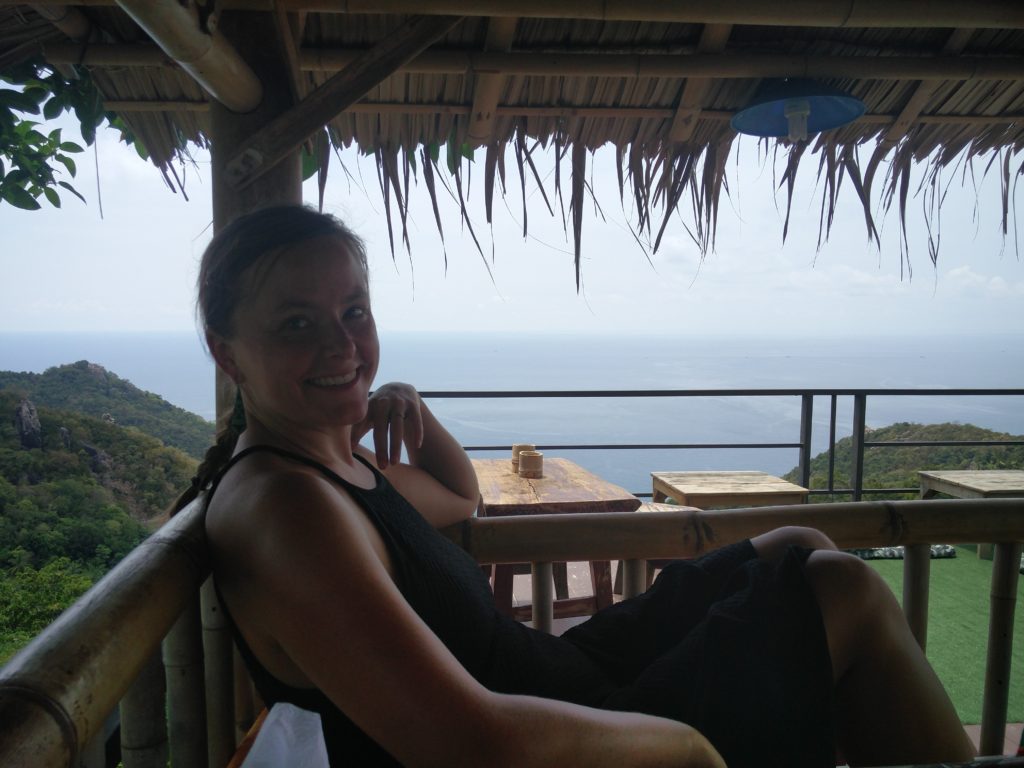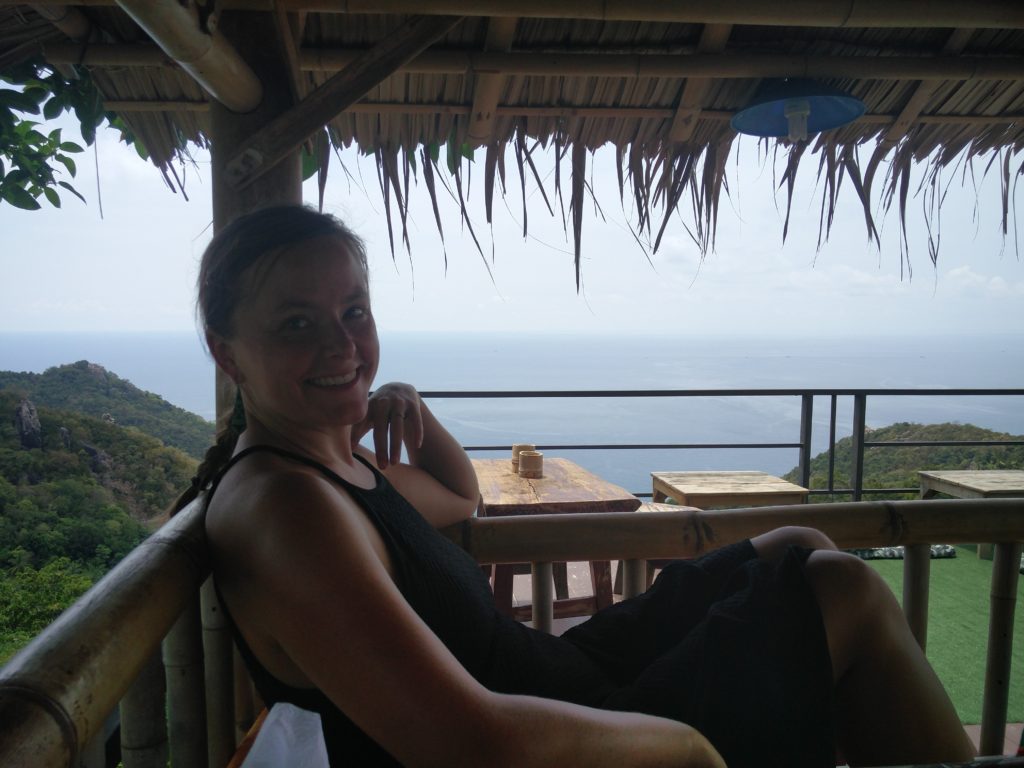 and taking lots of dirt bike / scooter rides across the island.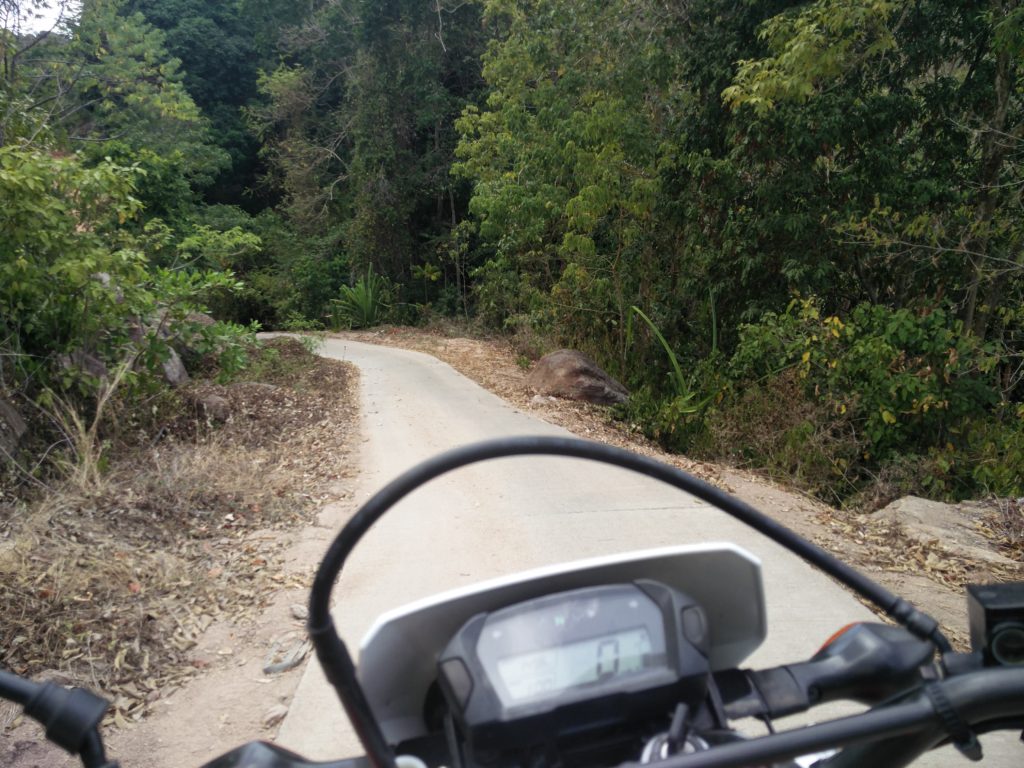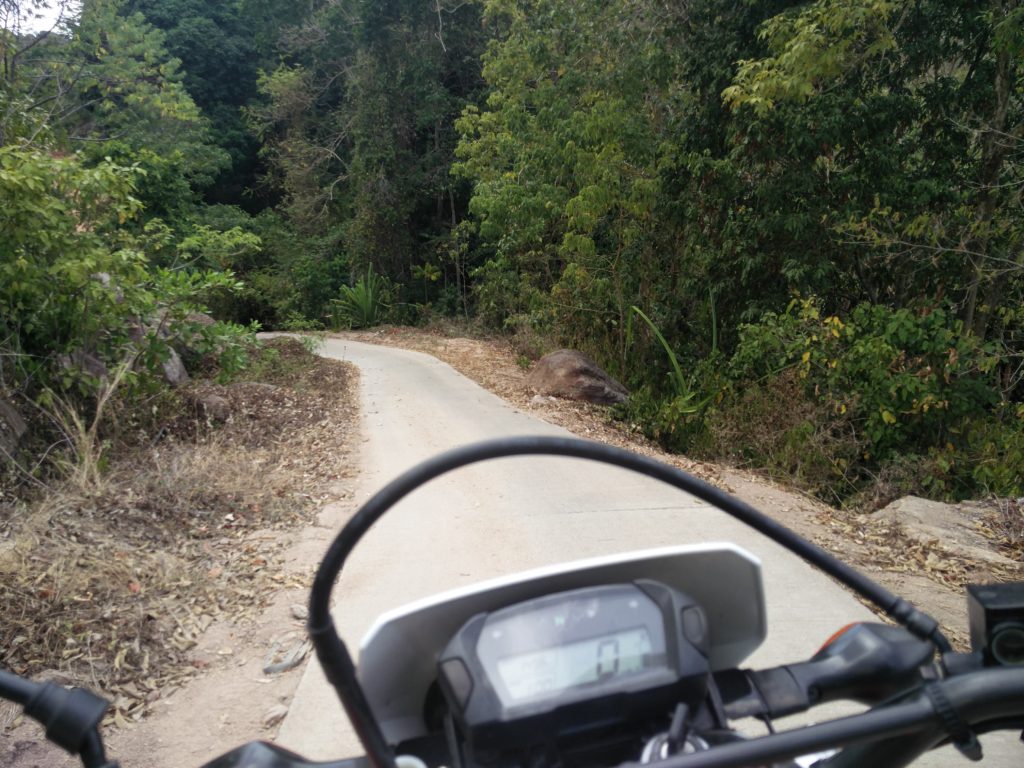 Many miles down a small, steep dirt road, we happened across this tiny "Happy Bar" run by a Thai man who was born on the property long before the first backpackers set foot on the island. He had just put this place up in the last few months, and was serving beers out of a small cooler.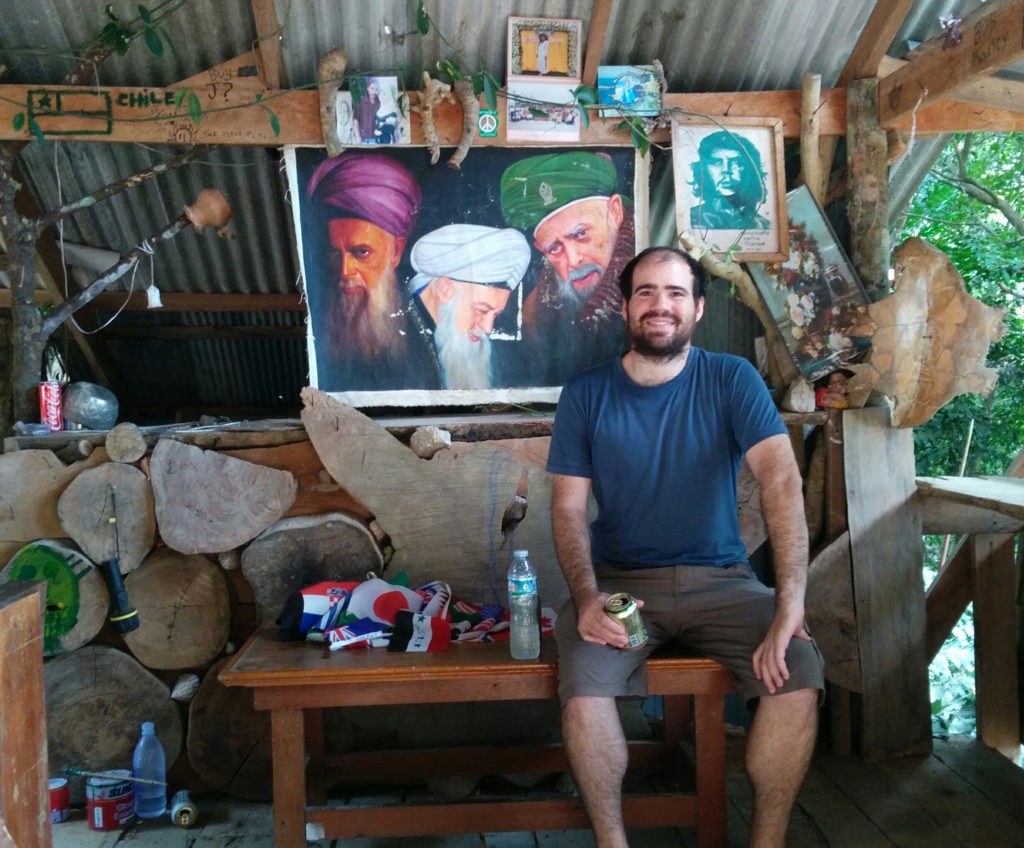 As we chatted, he tore open a jackfruit and gave us our first taste — which was quite unexpectedly, almost exactly like Juicy Fruit gum.
Since our apartment came with a free kayak, we took the opportunity to take it for a spin.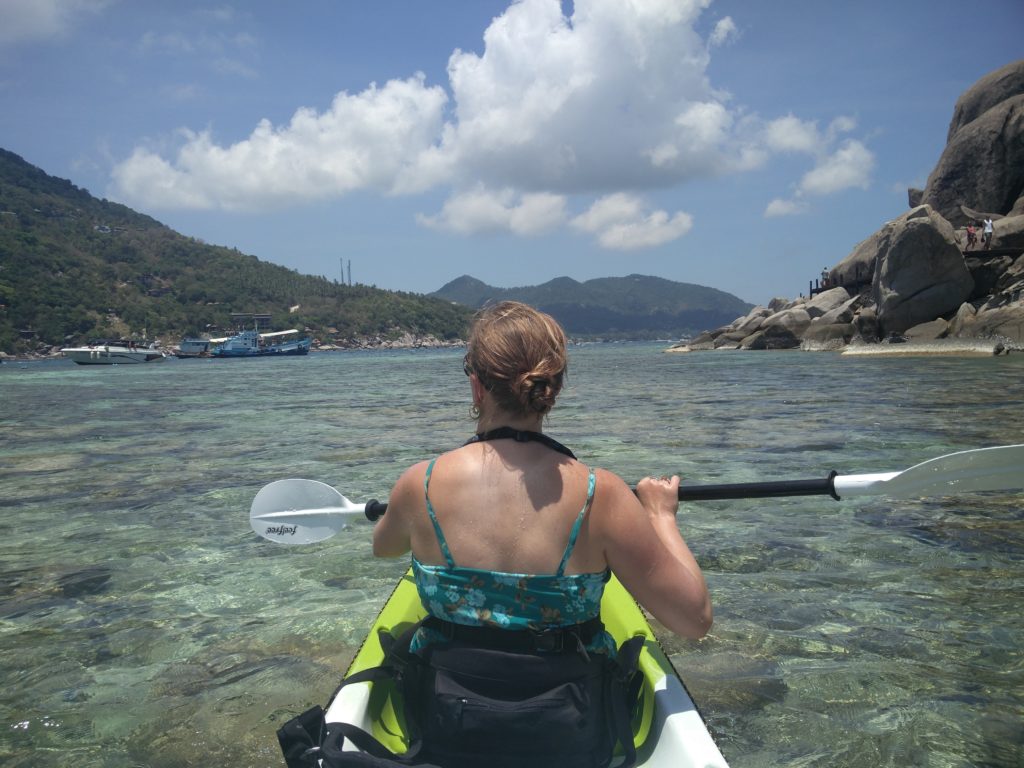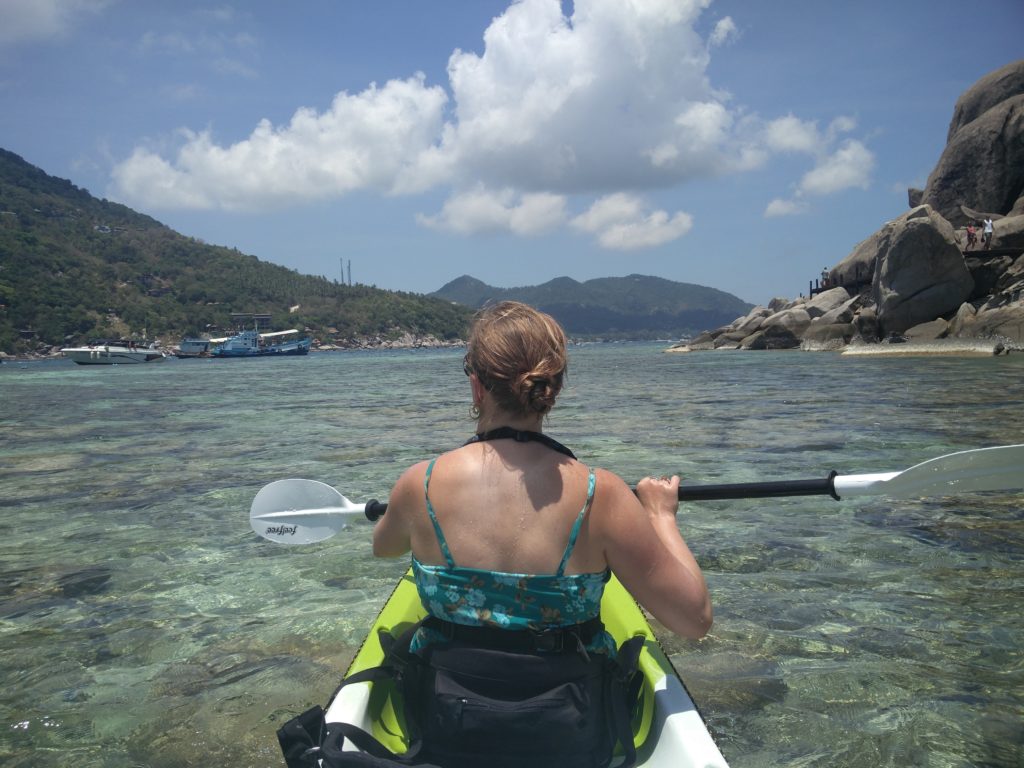 It was an hour paddle to the tiny private island of Ko Nang Yuan, but we were rewarded with great panoramic views of the sandbar:


as well as a terrible sunburn, when Sarah's hippie sunscreen failed to live up to its waterproofing claims.
We also went on a number of small hikes around the island to beaches and snorkeling spots. Sarah had really taken to snorkeling on our last trip, after seeing the amazing variety of fish and coral in the island's Jansom Bay. When we returned there, we were very sad to find that more than half of the coral had died since our last visit. Whether this coral bleaching was due to swimmers with fins damaging the coral or global warming (which has devastated the Great Barrier reef in Australia) we weren't sure, but either way we felt like we are part of the problem. We'd already been thinking about the carbon footprint of our trip (51000 pounds of CO2 per person as of June 5 – based only on our flights), but this motivated us to start seriously researching ways to offset the impact of our travels. So far, the top contender is to buy carbon credits through companies like Terrapass, but we're still not sure if that's the most effective way to mitigate the trip. Please share your ideas or suggestions!
Our last night on the island, we finally made it to a Muay Thai match, which we had been trying to see since Chiang Mai.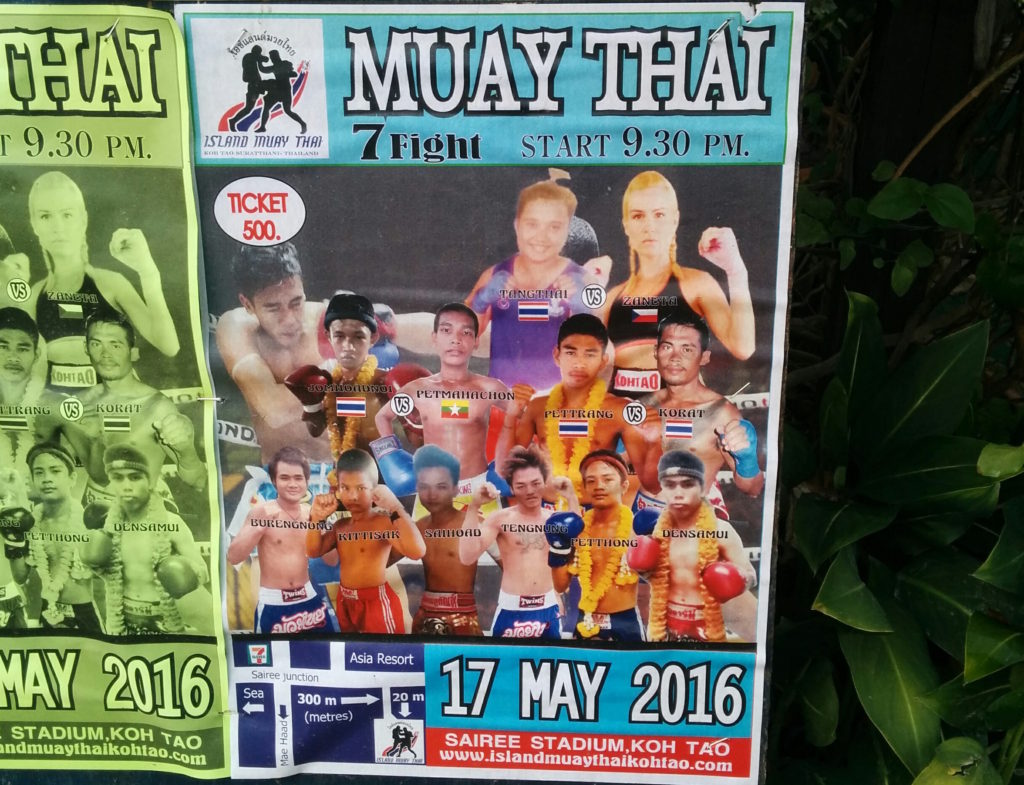 The stadium was packed with a mix of westerners and locals, and the fights started with kids who couldn't have been more than 12 years old, and proceeded to more violent matches with older kids that essentially ended in knock-outs. It was a lively atmosphere, but we had mixed feelings about the young kids fighting.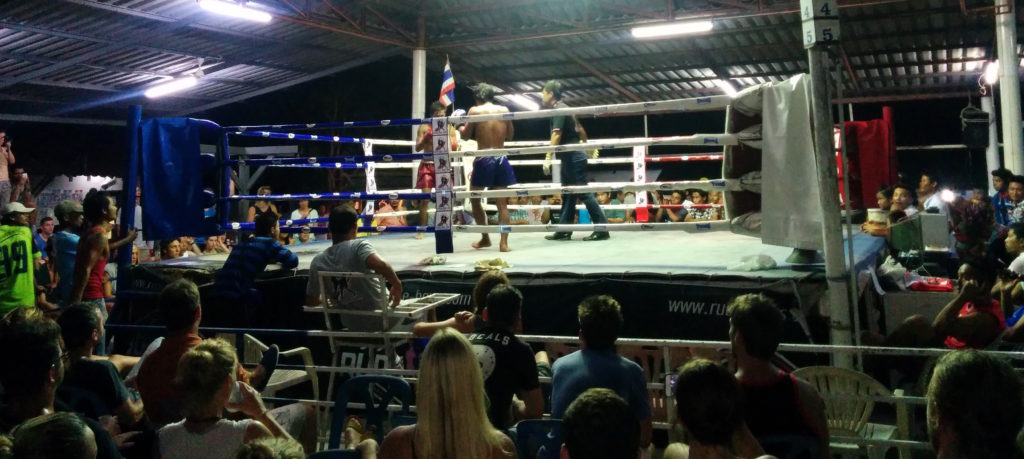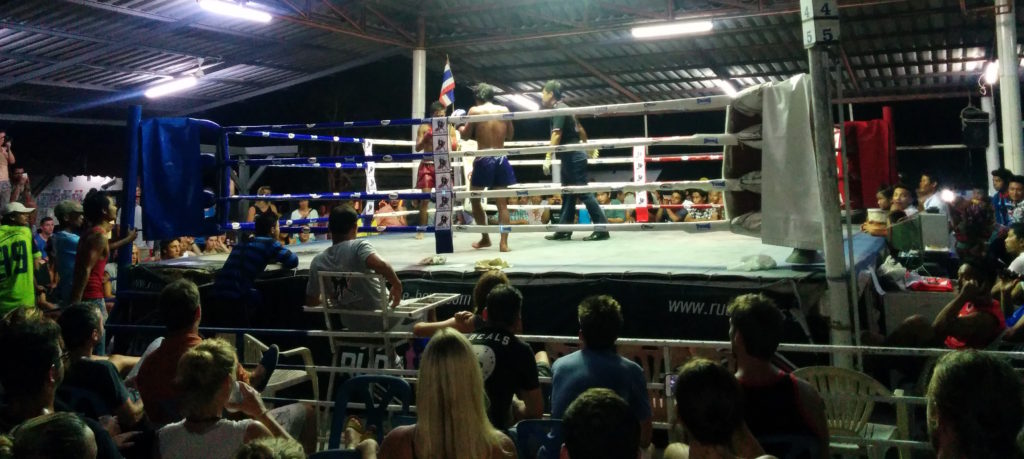 After a few matches, it started to thunder and we decided to skip the headliners (a match between two women) and grab a cab home before they were all gone. When the cabbies tried to overcharge us, we decided to just walk instead, and had a delightful (really!) walk home in the warm downpour, arriving home completely soaked but happy.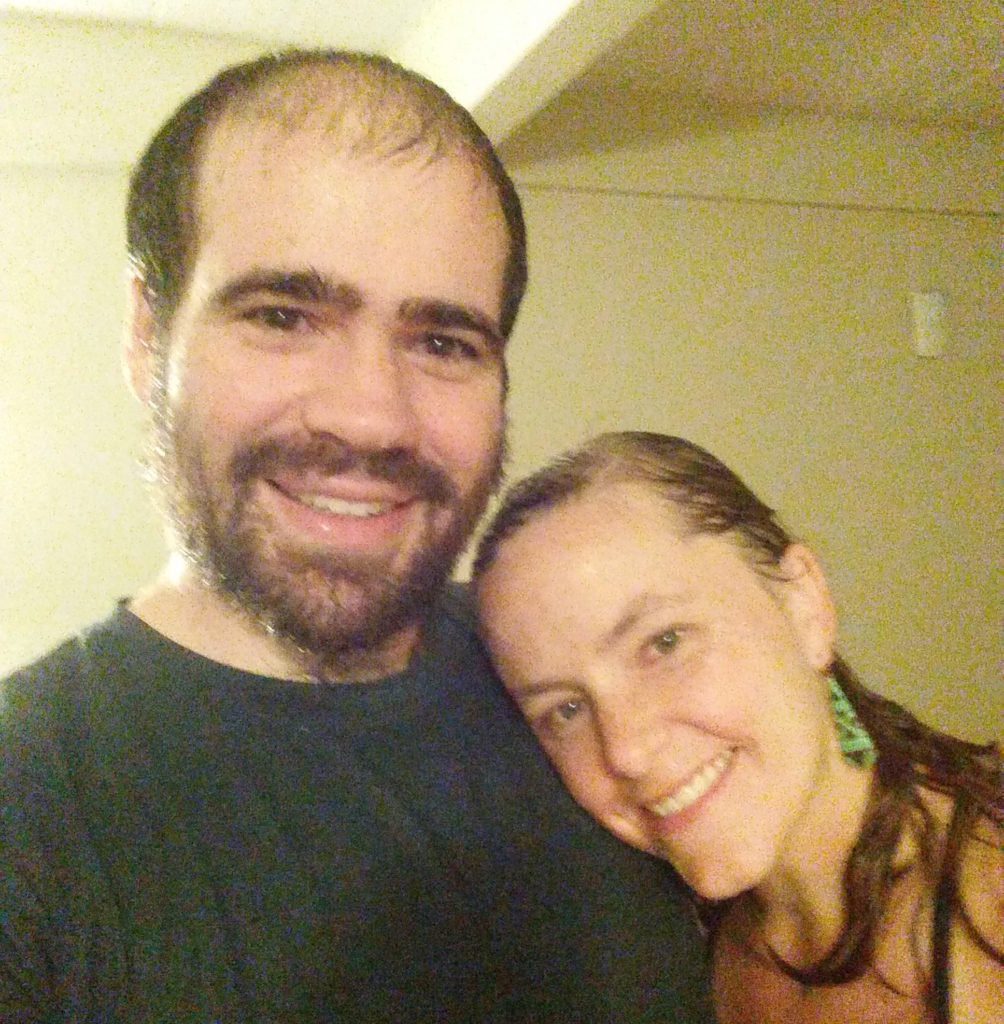 Our last few island days were on Ko Phangan, one of those "party islands" we mentioned earlier that is famous for its full moon parties.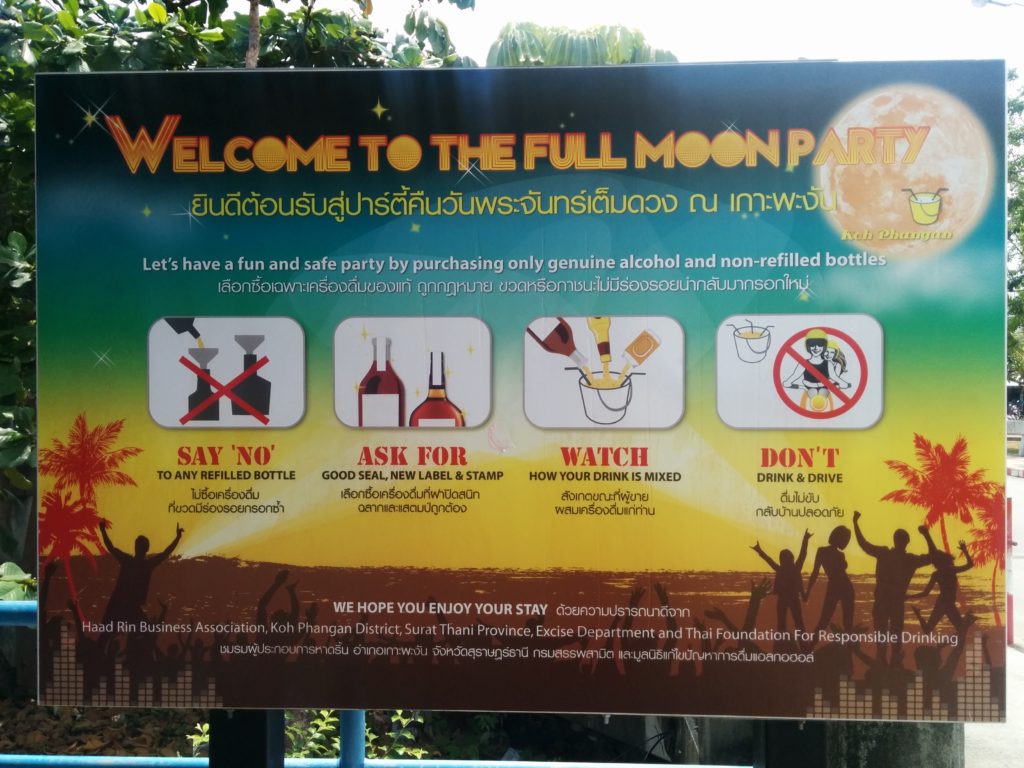 We had also heard nice things about the island, and wanted to see what it was all about (during a waning moon, when we expected things to be a bit quieter).  Our place had a lovely pool area with relaxing hammocks, two very friendly dogs, and more beautiful sunset views.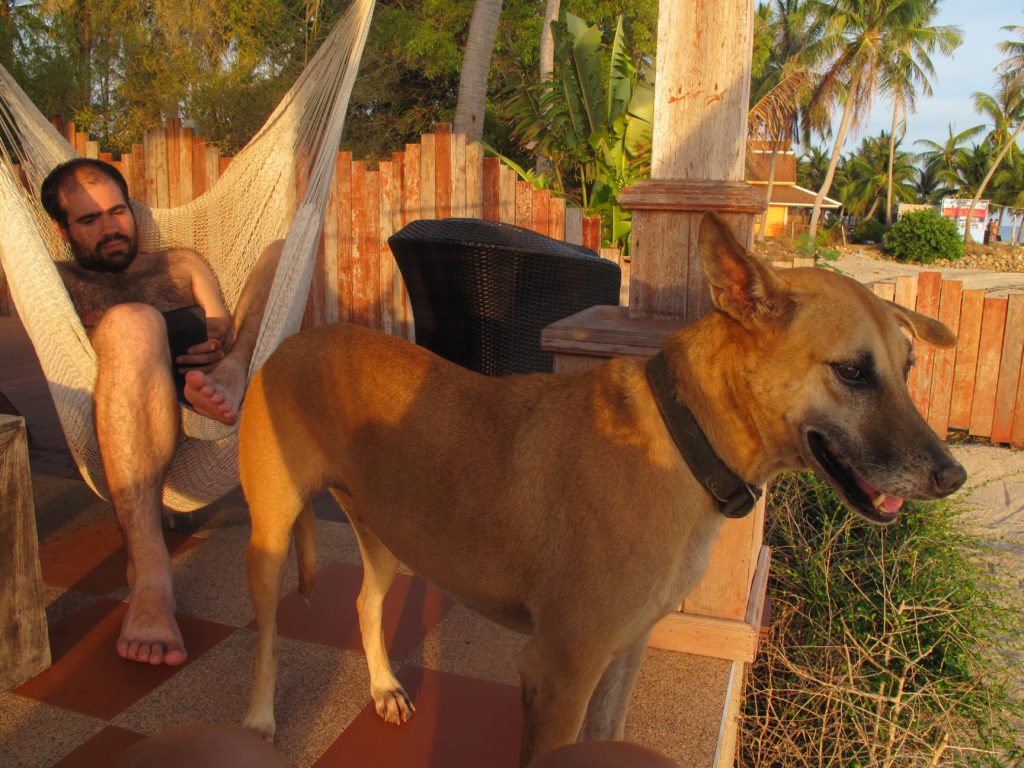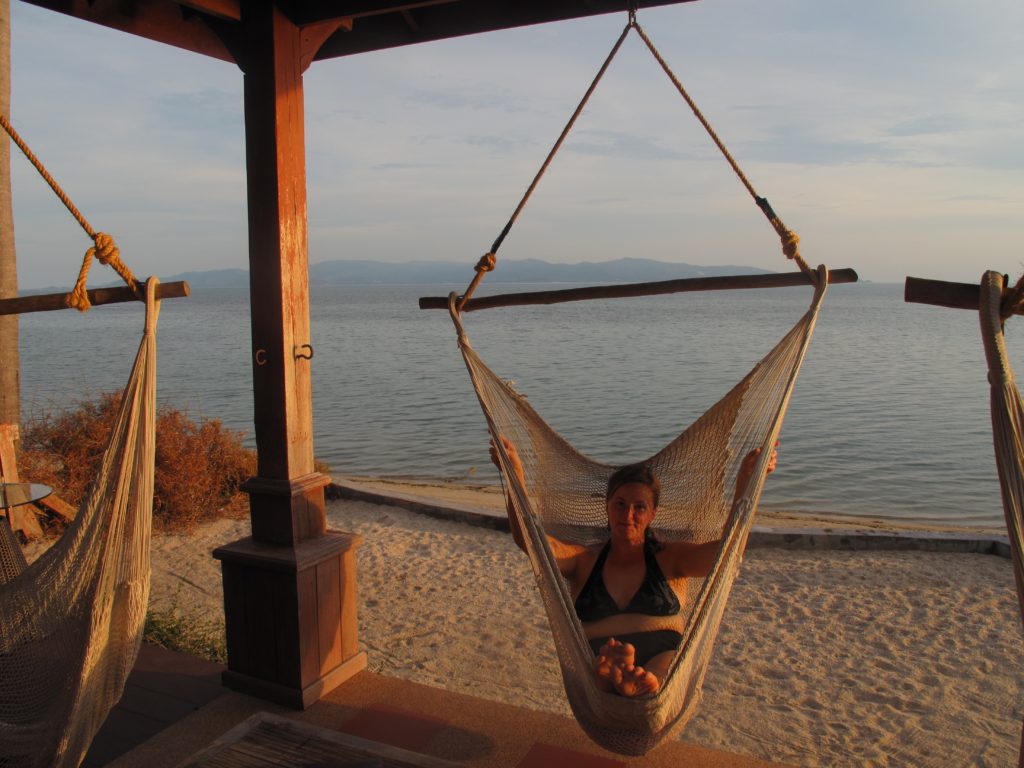 We again explored the island by scooter, filling up at this "gas station" after driving in the rain across the center of the island.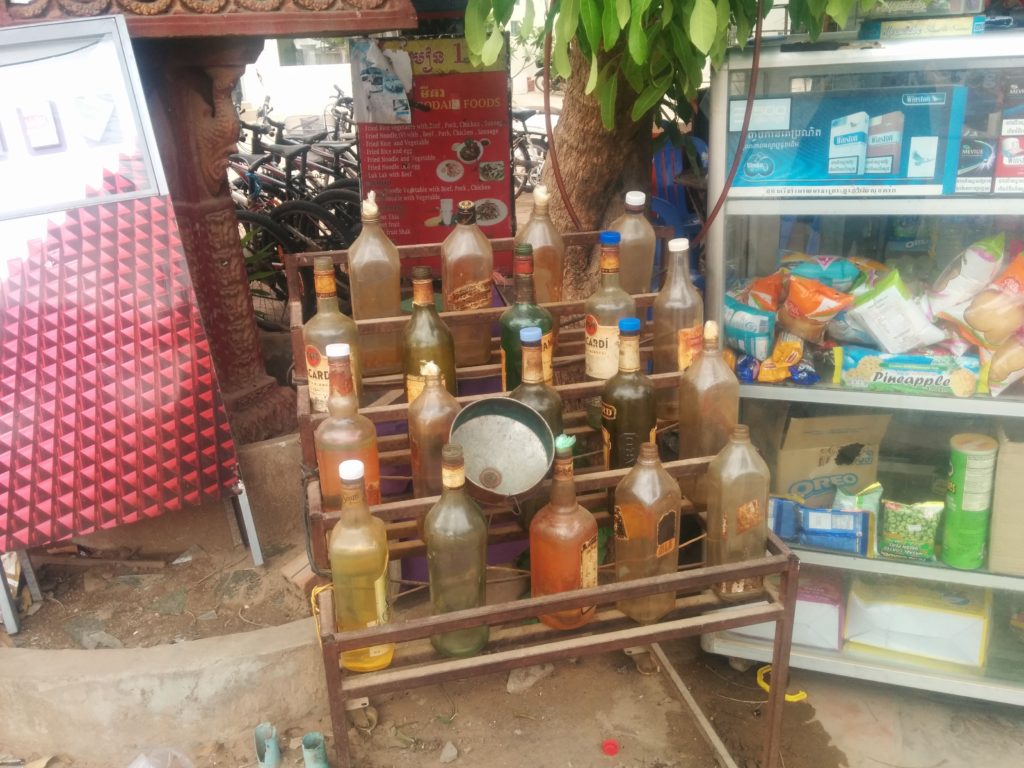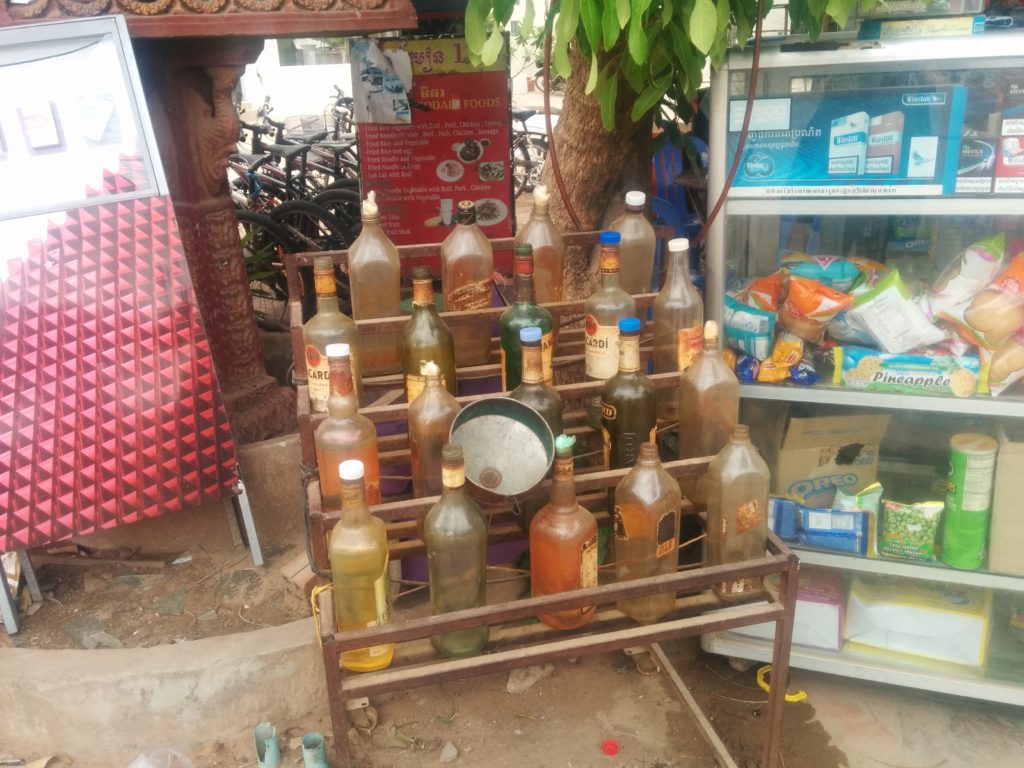 Overall, the island was much more charming and natural than we had expected. Many of the roads were unpaved, and there were yoga retreats interspersed with psychedelic art stores and signs for the various regular parties (of which full moon was apparently only one).
Despite our earlier statements, we decided we should probably see at least one of the parties, and the option available during our stay was the "Waterfall Party". After a cab ride and a short hike into the woods, at 11:30pm we were some of the first people to arrive and enjoy the fire-spinners in front of the waterfall.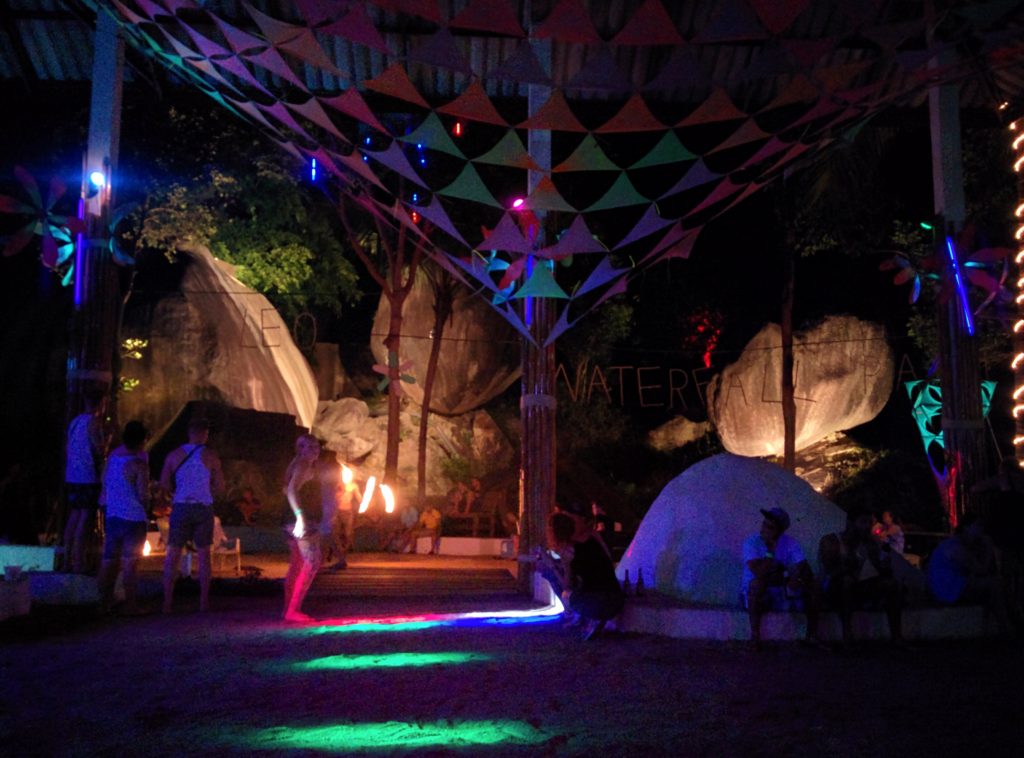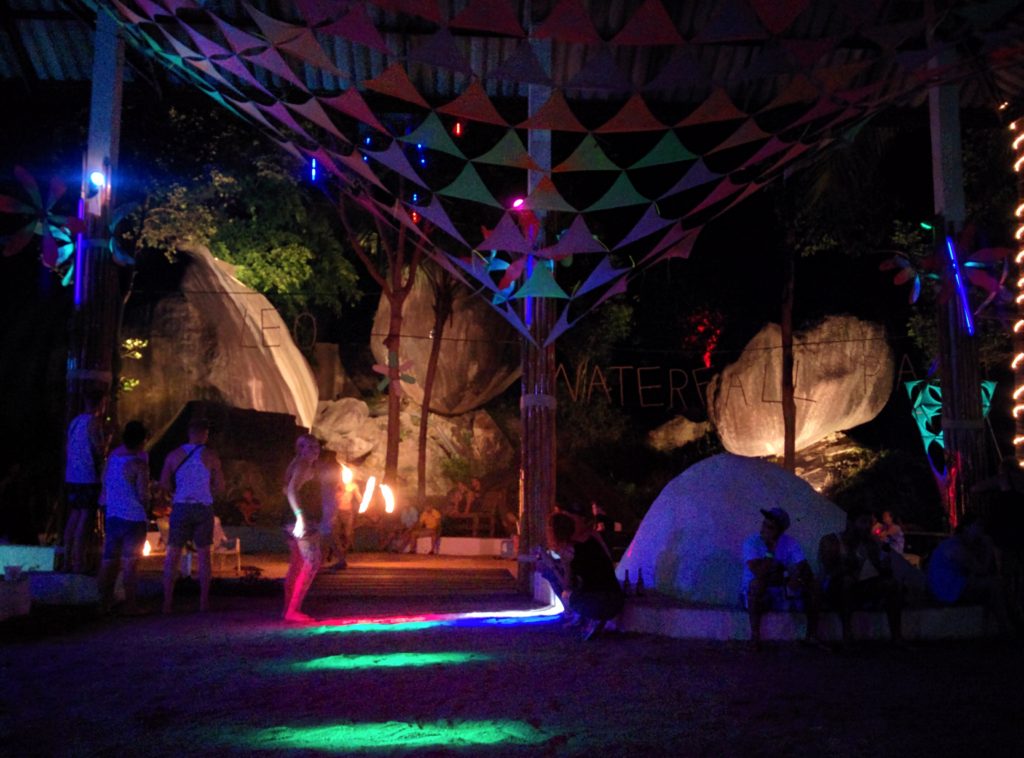 It also seemed obligatory to try a "bucket" of booze, the most popular concoction.

It wasn't too bad! But as the old-timers we are becoming, at 2am we were also among the first to leave the party, since we had to be up bright and early to catch a ferry+bus+plane from the Koh's back to Bangkok and then on to the Cambodia to meet Jason's sister.