We were down to only four empty passport pages, and our plan of adding new pages if needed was foiled by a US government policy change that stopped the practice after we left home. We made a quick pit stop in Bangkok to apply for brand new passports instead, before heading onwards to Chiang Mai in the north of Thailand.
After checking in to our AirBnb, our first order of business was to eat some Tom Yum soup, one of our all-time favorite dishes and for which nearly every Thai restaurant has their own special recipe. Ped mak mak ka! (extra spicy please!)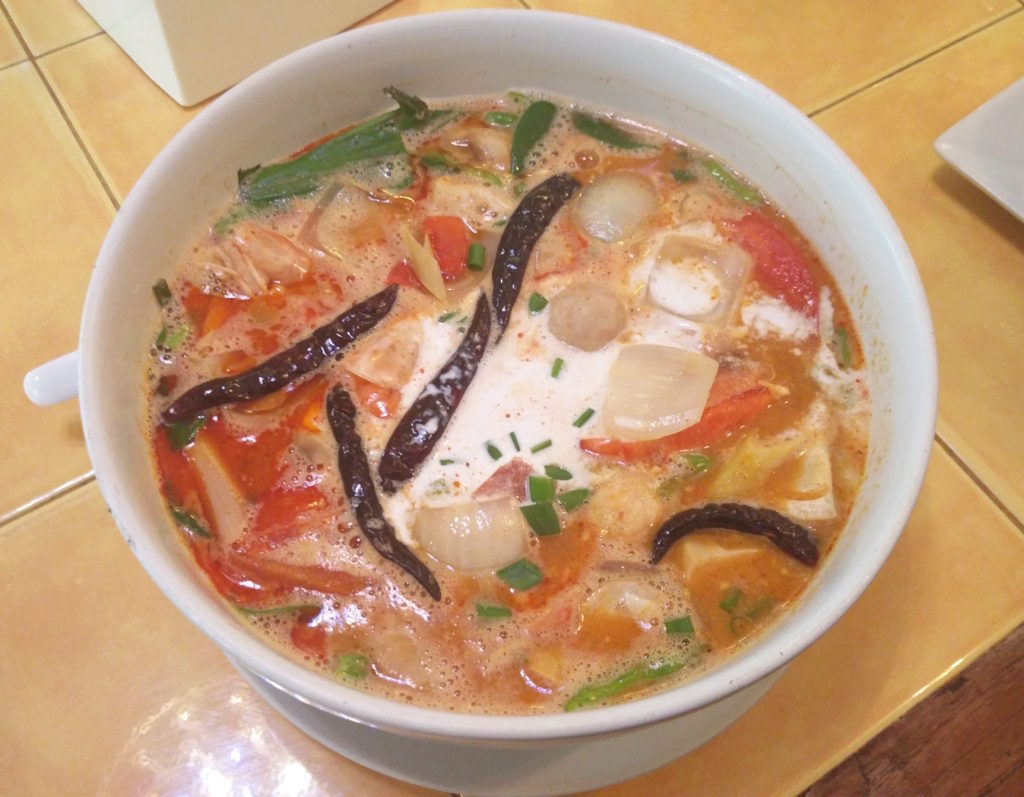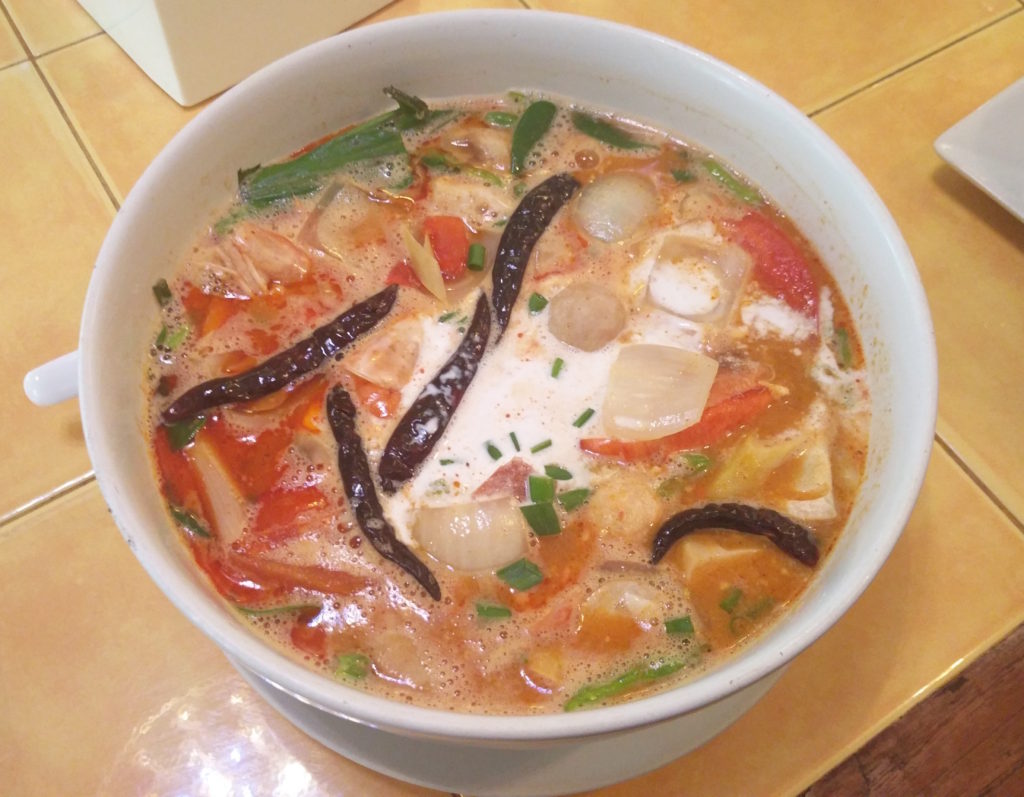 We got really lucky, and this first bowl from Cafe de Nimman was the best we had ever had. Needless to say, we returned several more times during our stay with our friend Medeha, who rejoined us for a long weekend the next day.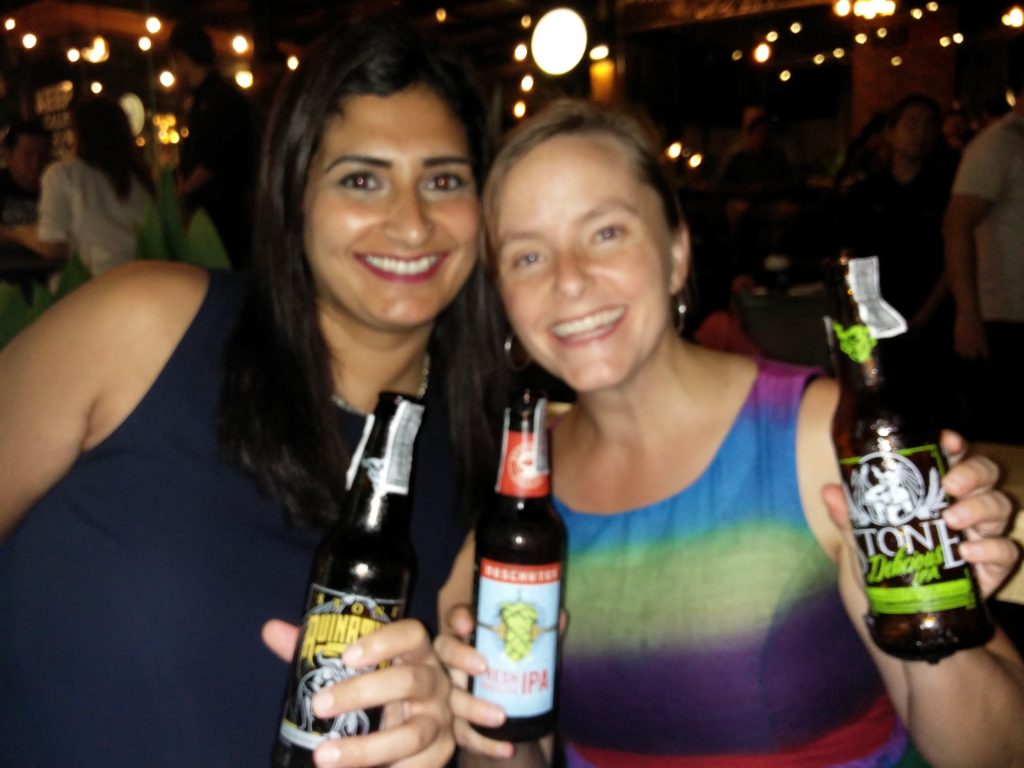 Chiang Mai has been ranked as the top destination for Digital Nomads, because it combines many modern western conveniences with the charm, food, and budget Thailand is known for. While we felt a bit silly paying $10 per bottle for our favorite California craft beers, it was really nice to enjoy a few of the comforts of home after spending so many months in countries without them.
Of course, Thailand isn't entirely progressive; we had our first taste of internet censorship, where many random websites would either redirect to the Thai police or fail to work entirely:

and were warned not to say anything about the King while in the country. We had heard stories about Americans being jailed for saying the wrong thing, and even someone being threatened with almost 40 years of jail for making a sarcastic comment about the King's dog. Despite these laws, the King is highly revered in Thailand — his face is everywhere, on flags, posters, and huge murals on the side on office buildings — and you never know who might take offense at an offhand remark. We kept our mouths shut.

On the lighter side, we also enjoyed the first of many, many "Engrish" mistranslations in Thailand.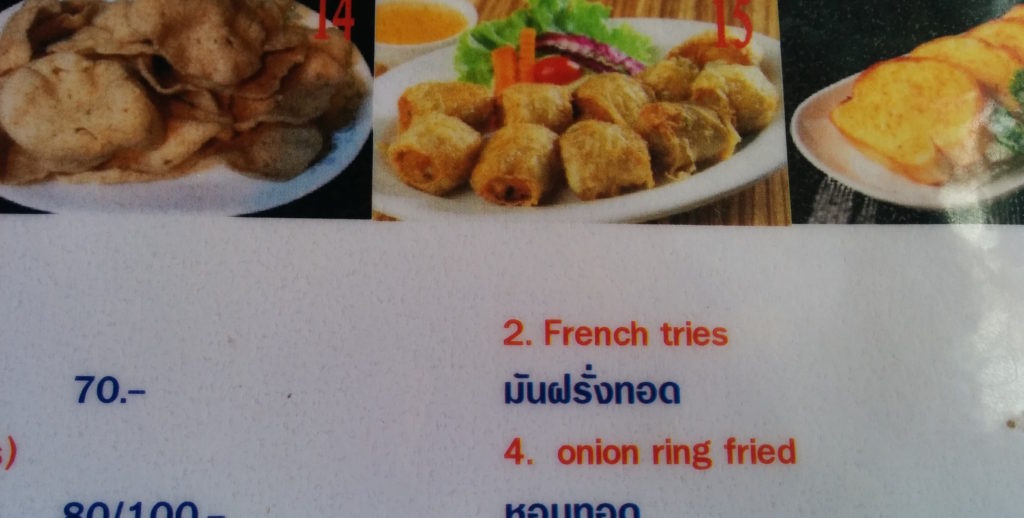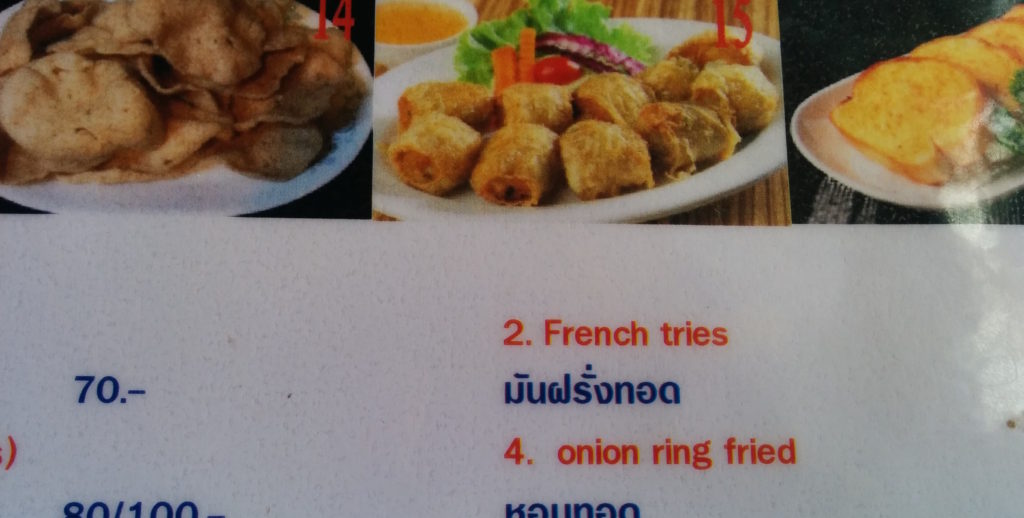 Invigorated by our Tom Yum breakfast, we started off on a multi-hour trek from Nimman (our hipster neighborhood in western Chiang Mai, full of fancy cafes), across the old walled city, to the backpacker neighborhood of Loi Kroh to the east.

The square wall of the old city stood out on the map (together with the plethora of temples inside), but we were still awed when we got our first glimpse of the massive walls and moat surrounding the old city,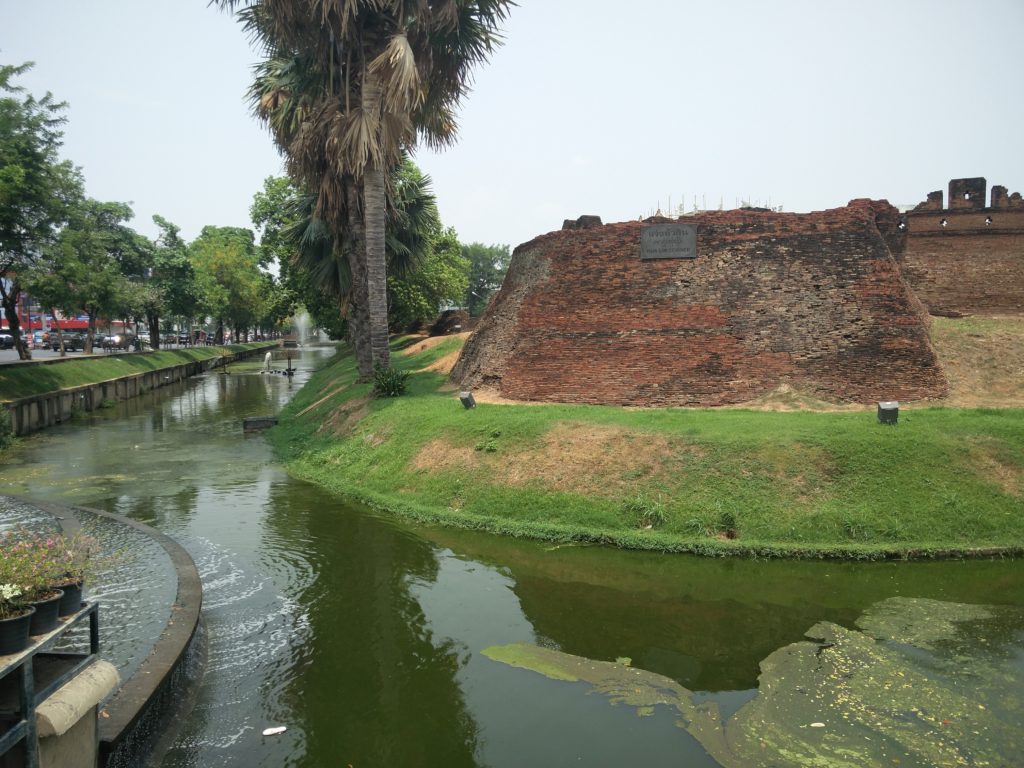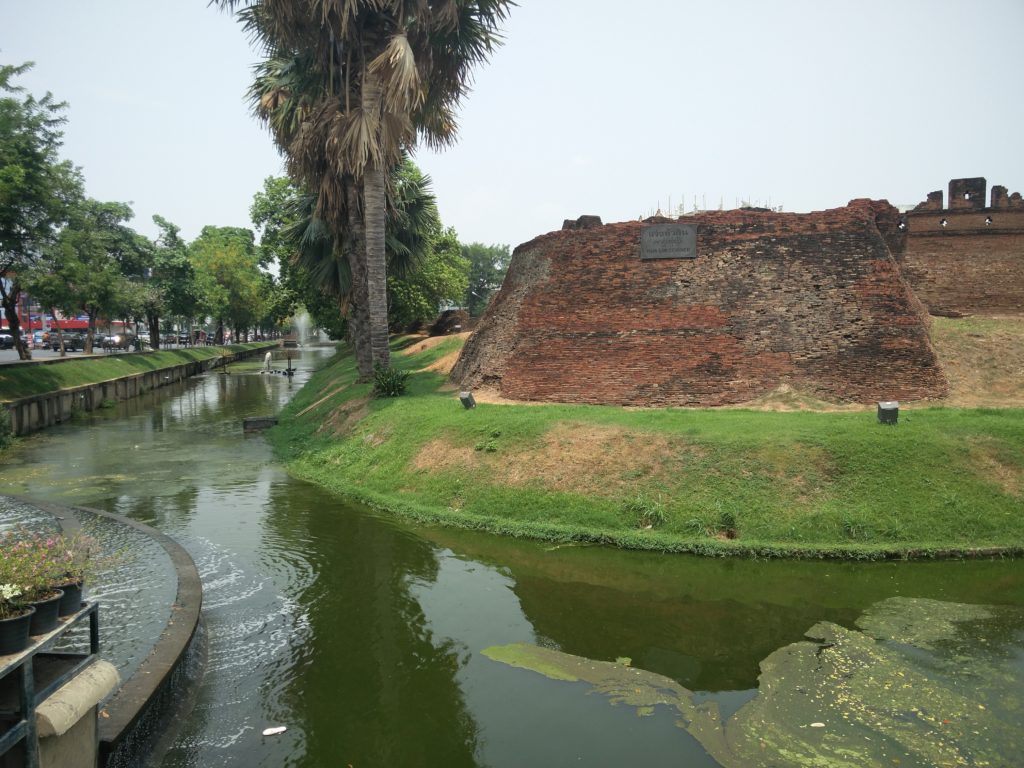 the beautiful flowering trees growing alongside the moat,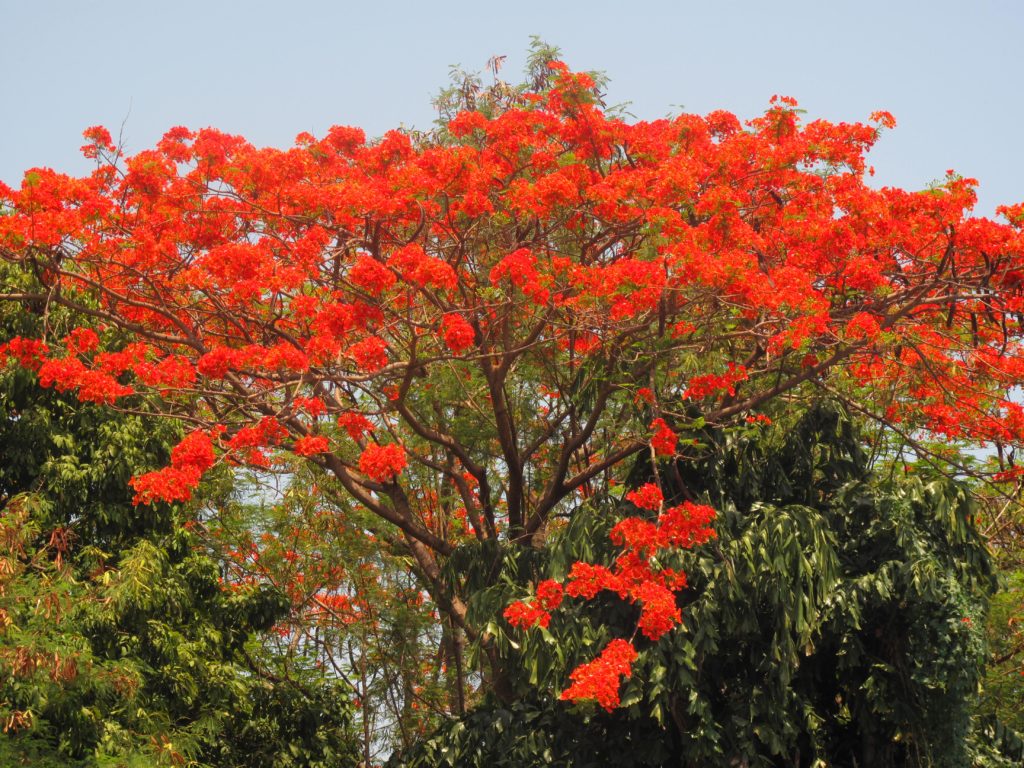 and one of the many gilded temples within the walls.

On our way out of the old city, we befriended this very sweet dog, who followed us for the next hour or so. He looked like a stray, except he had a collar, and many of the shopkeepers would call to him as we passed.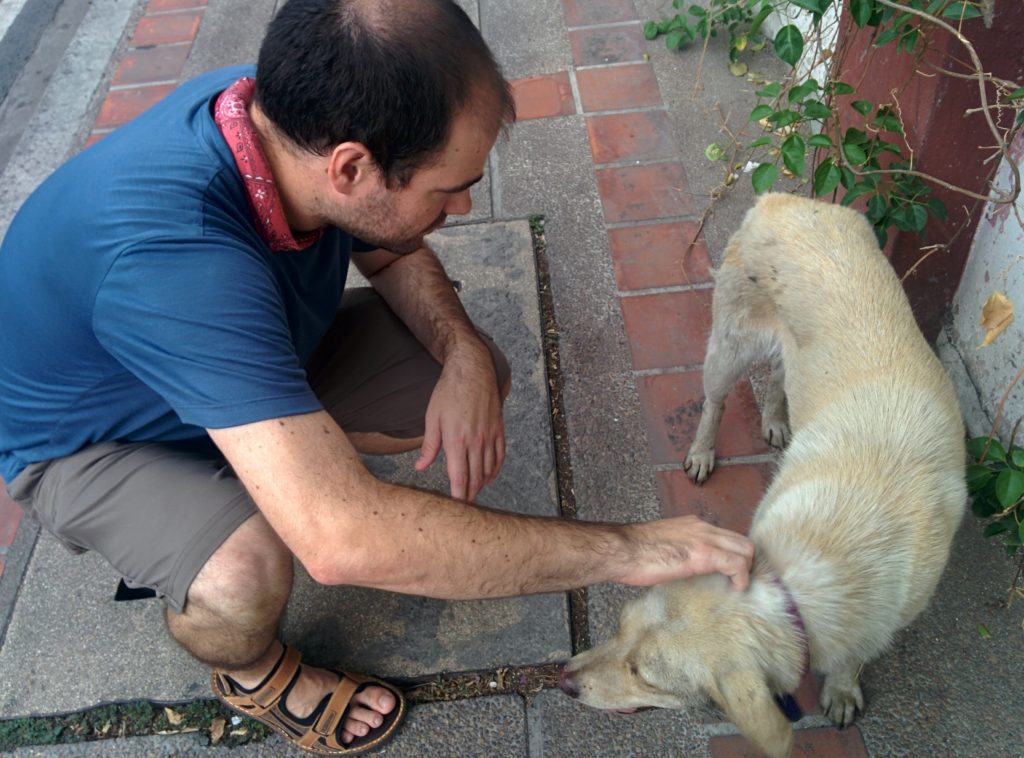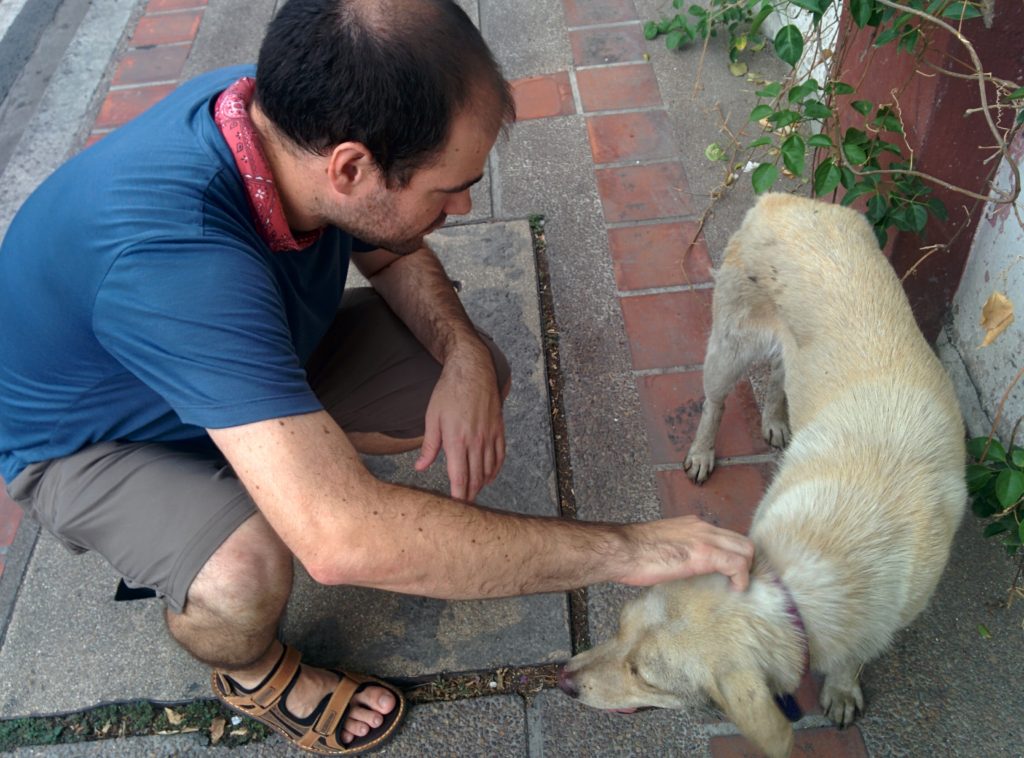 Jason decided to buy him a McDonald's hamburger, but he refused to eat it at first! Eventually, he managed to remove the bun and took a few bites of the patty before giving up on it entirely. We continued onwards with our friend in tow, unsure what this episode said about the dog and/or McDonalds hamburgers.
Along Loi Kroh road we passed numerous bars selling alcohol undercover (it was 3pm, and in Thailand you can only buy alcohol from 11am-2pm and 5pm-midnight), countless massage joints (including two that exclusively hired female ex-cons), and a Muay Thai boxing ring (surrounded by ladyboy bars). We eventually reached the river and this succulent jackfruit tree: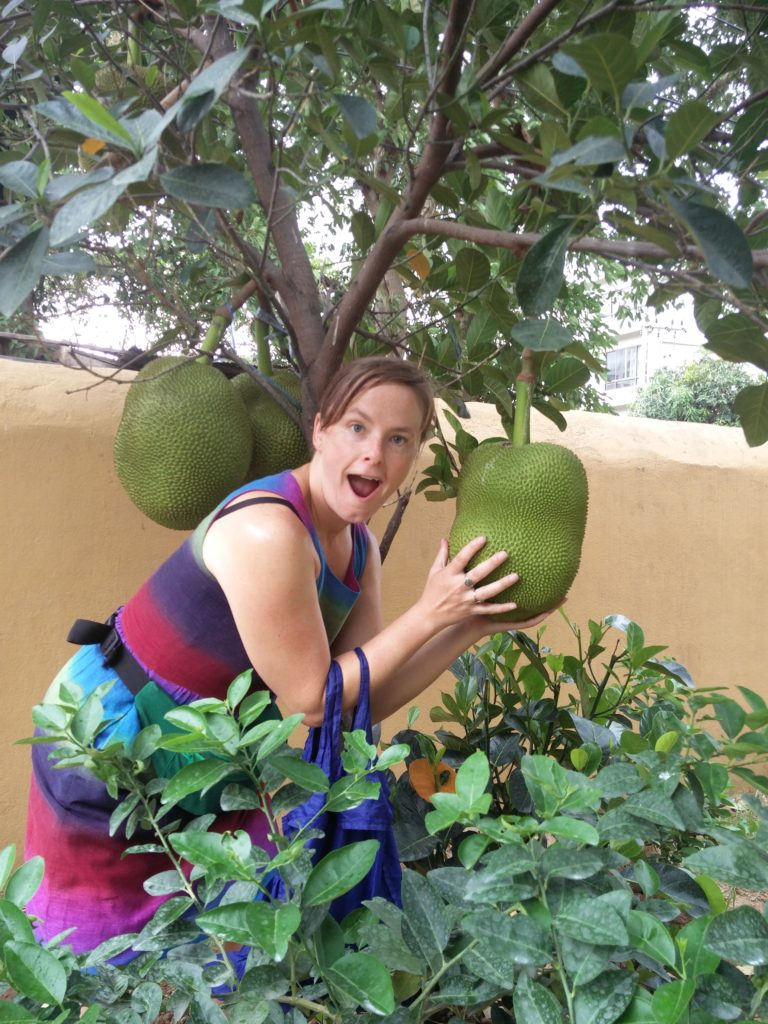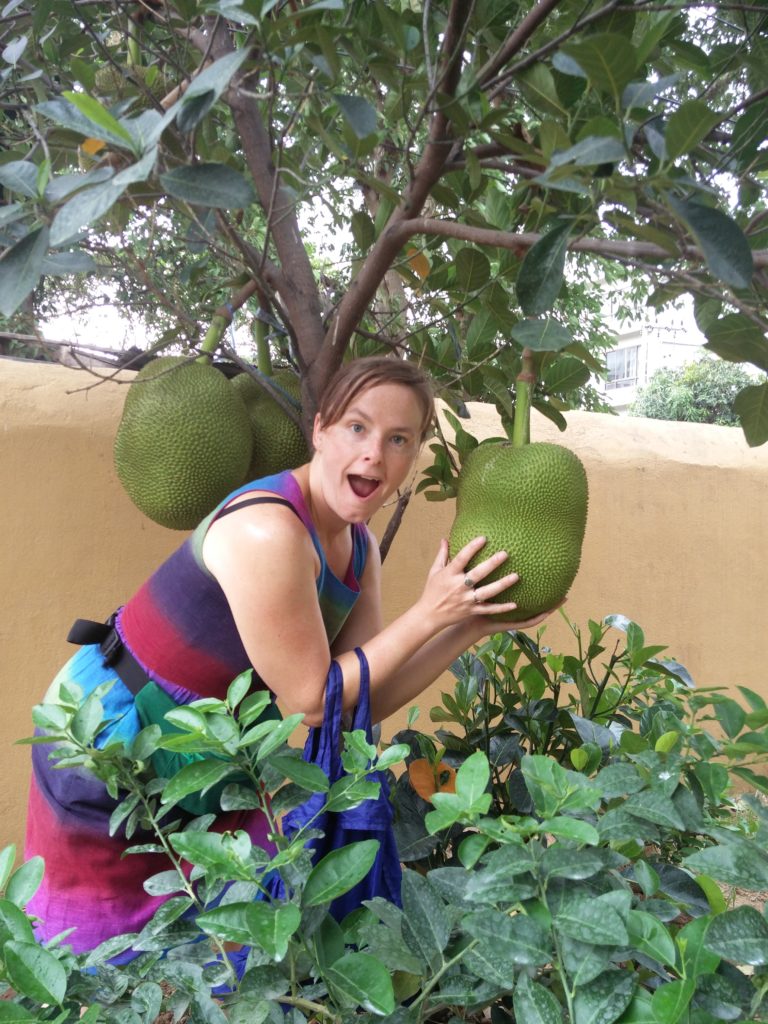 before hopping in a cab and leaving our new four-legged friend confused on the sidewalk.
The next day, we caught a songthaew (a modified truck with two rows of seats, which operates as a shared taxi) to head back to the east side of town: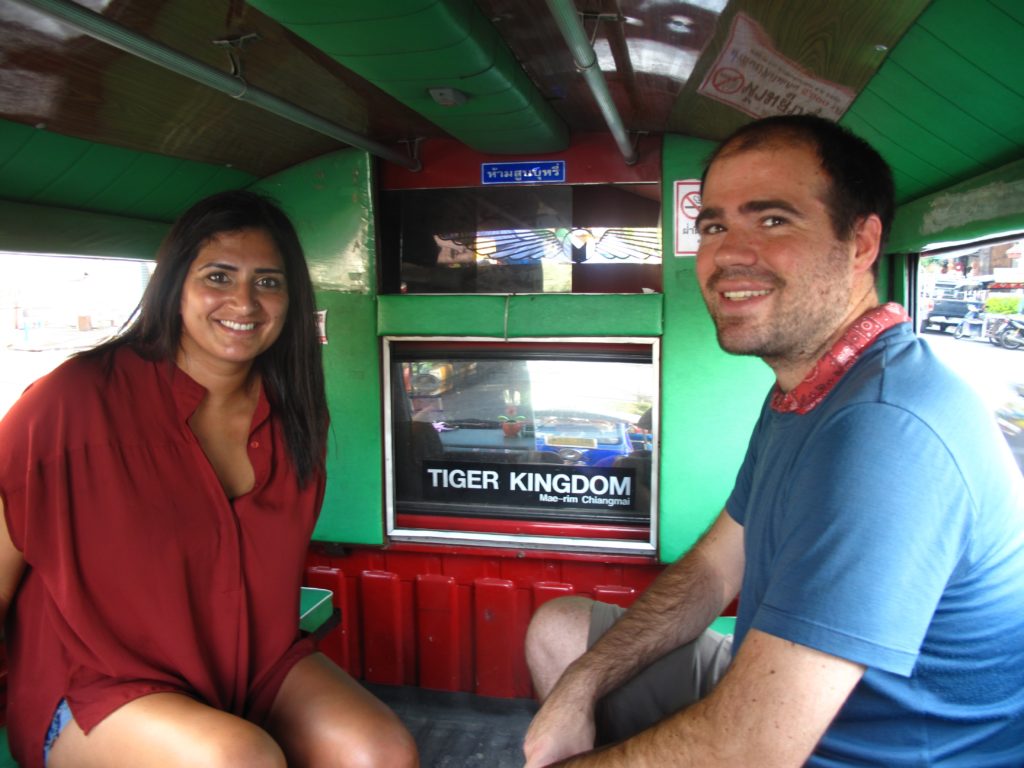 to visit the 3D Art in Paradise museum, which was actually a lot more fun that we expected.

The museum consisted of around 100 scenes masterfully painted on the floor and walls that appeared 3d when viewed from the right perspective, most of which were designed to be interactive.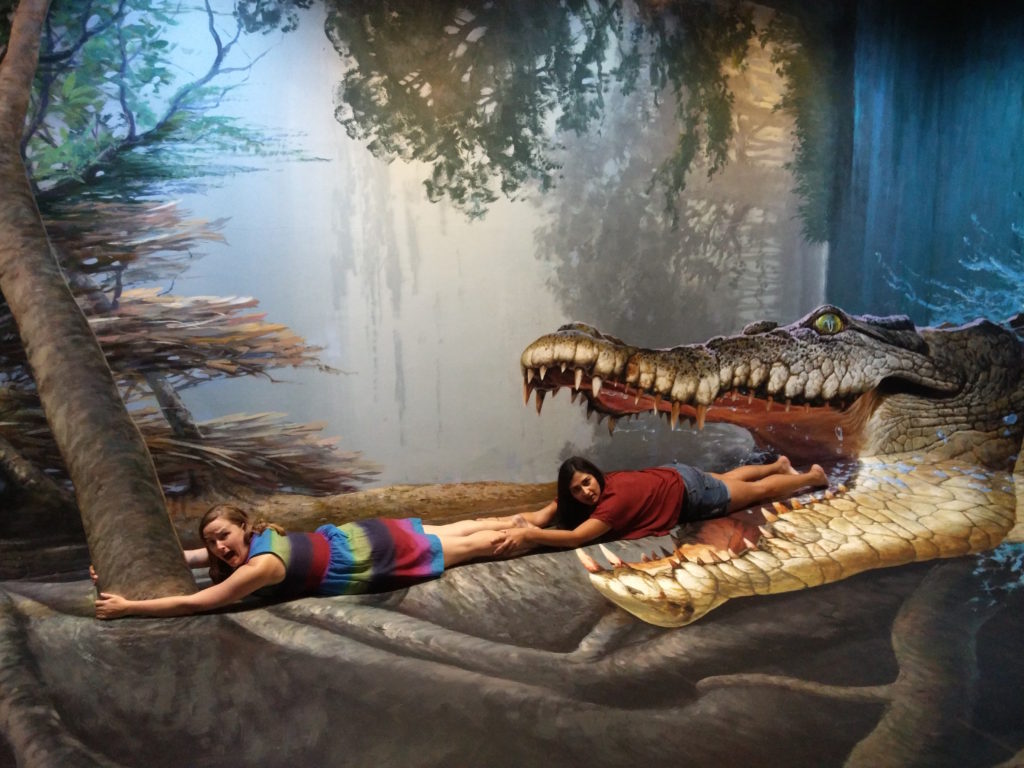 By the end Jason was very sick of posing, but he got down on his hands and knees for one final shot.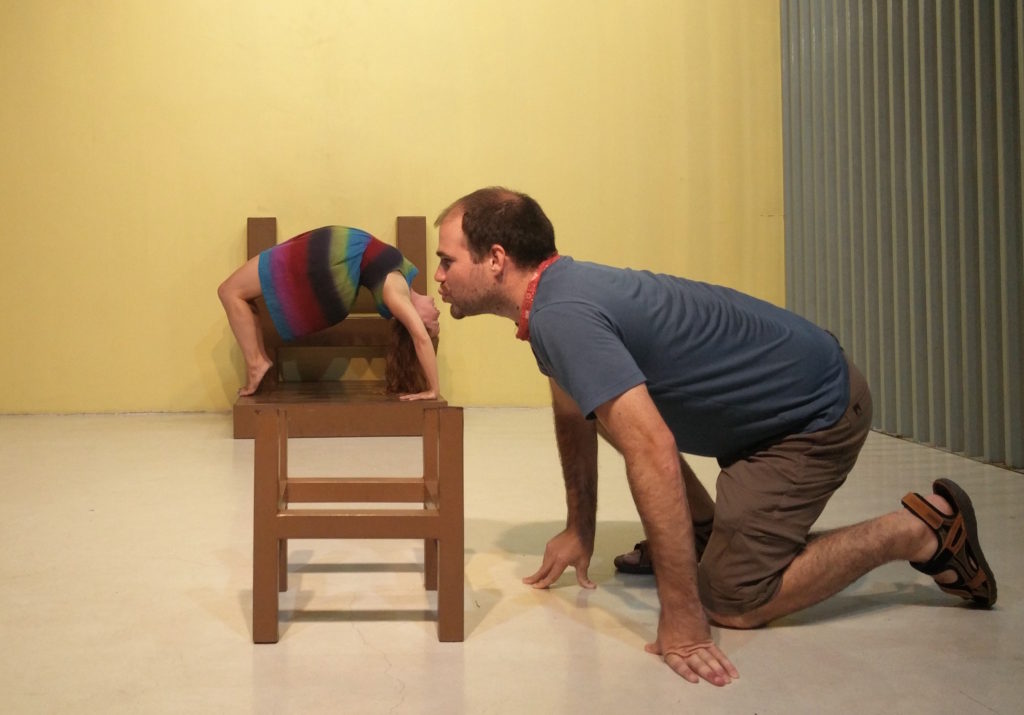 Afterwards, we found our way to the night market and its San-Francisco-esque food court, which came complete with an amazingly talented one-man Radiohead cover band.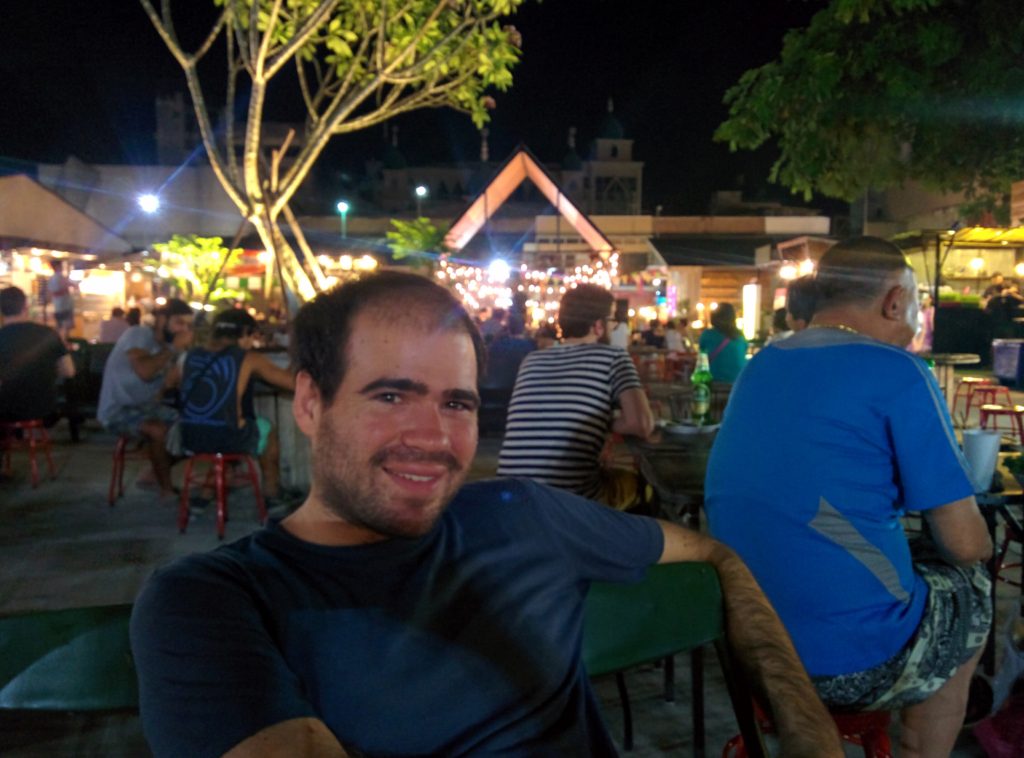 The next morning, Medeha had to head back to Vietnam — but we weren't quite finished with Chiang Mai yet. We rented this sweet motorcycle for a day, and cruised along windy roads up the nearby mountain…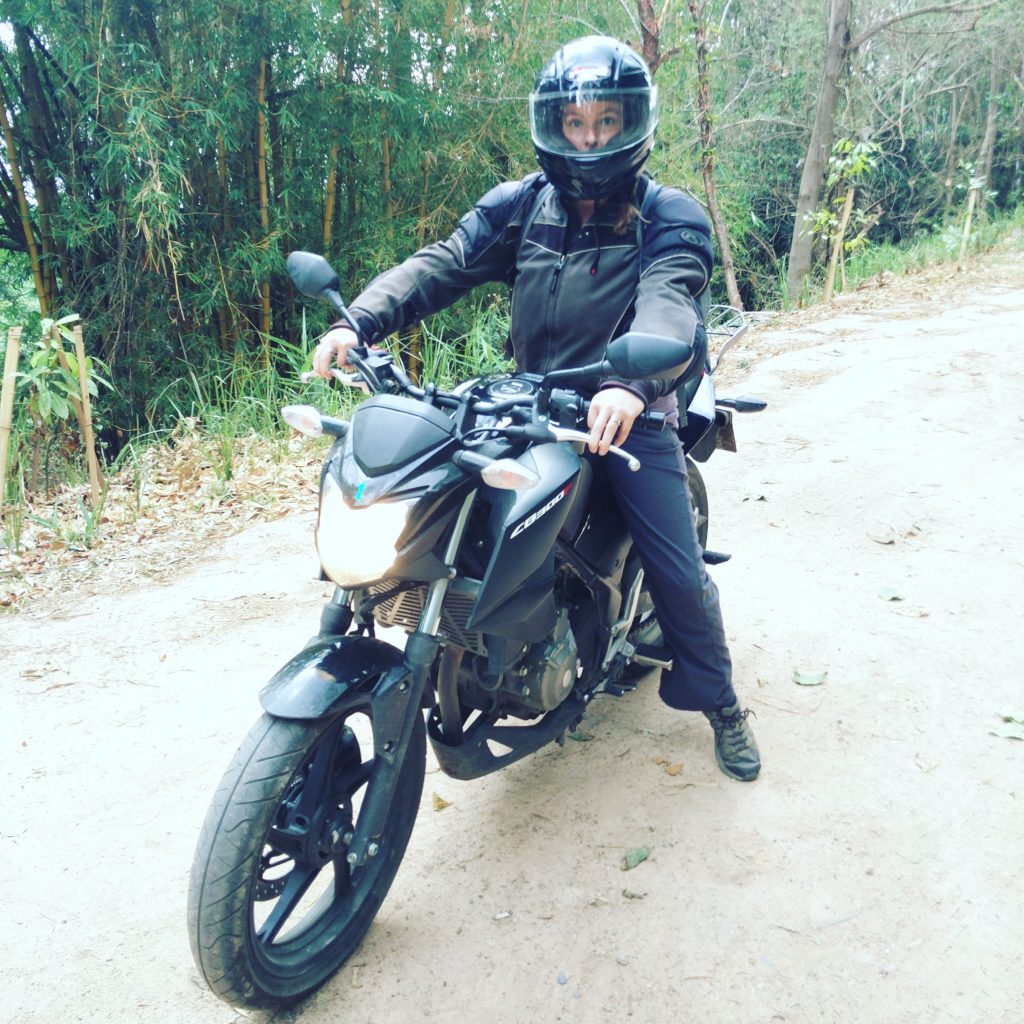 To visit a Hmong village called Doi Pui and the elaborate Doi Suthep temple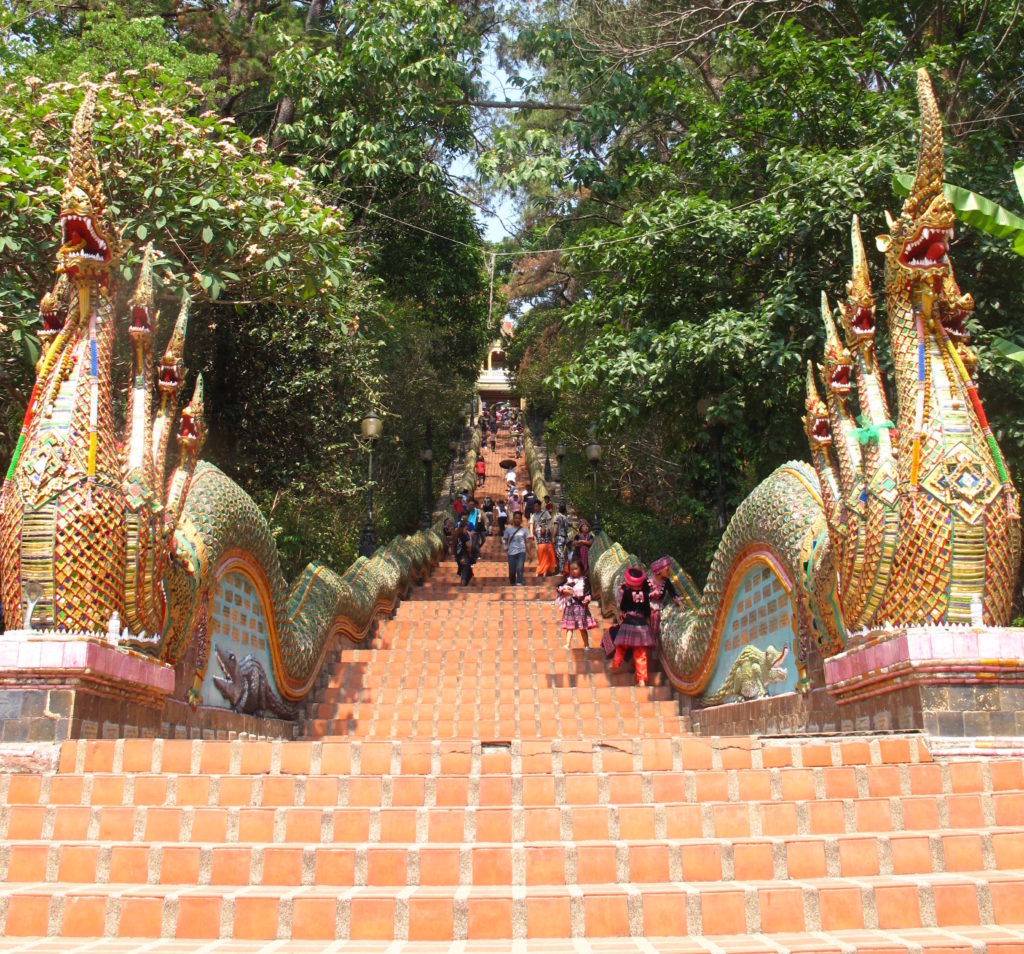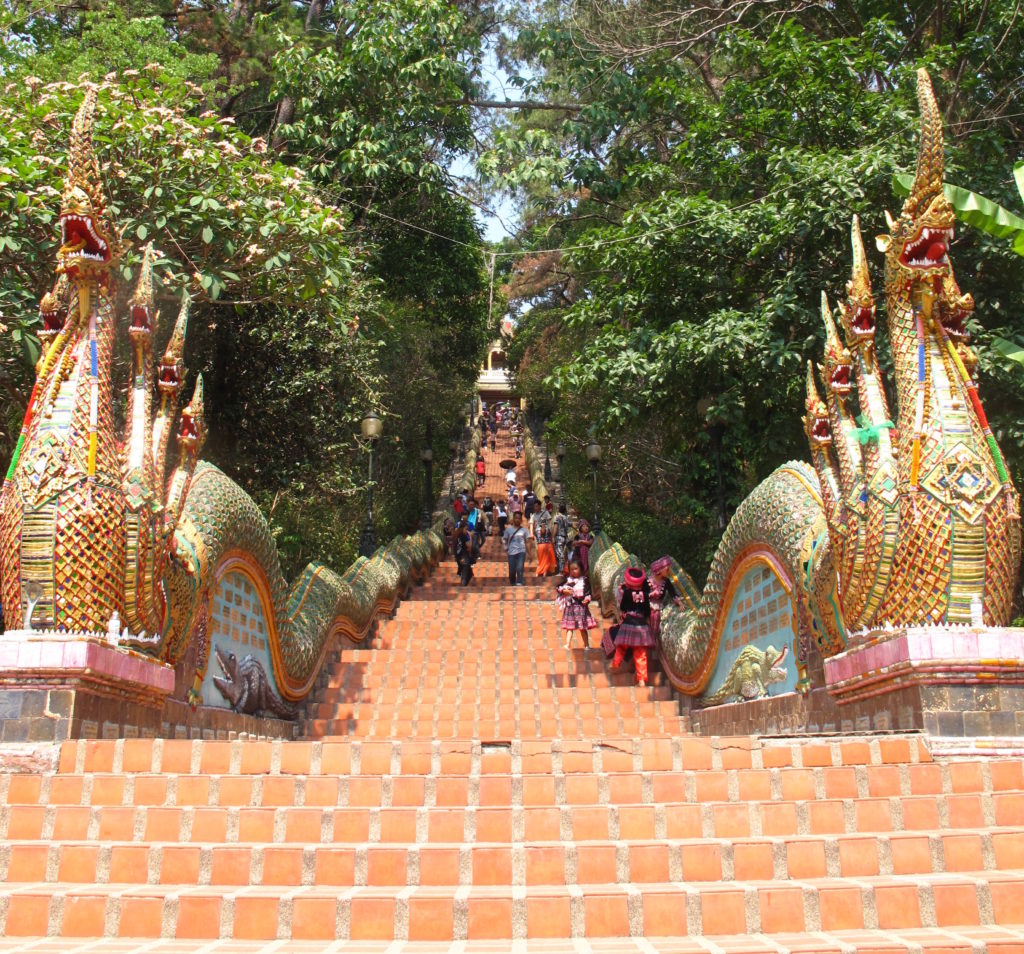 which included panoramic views of the city below.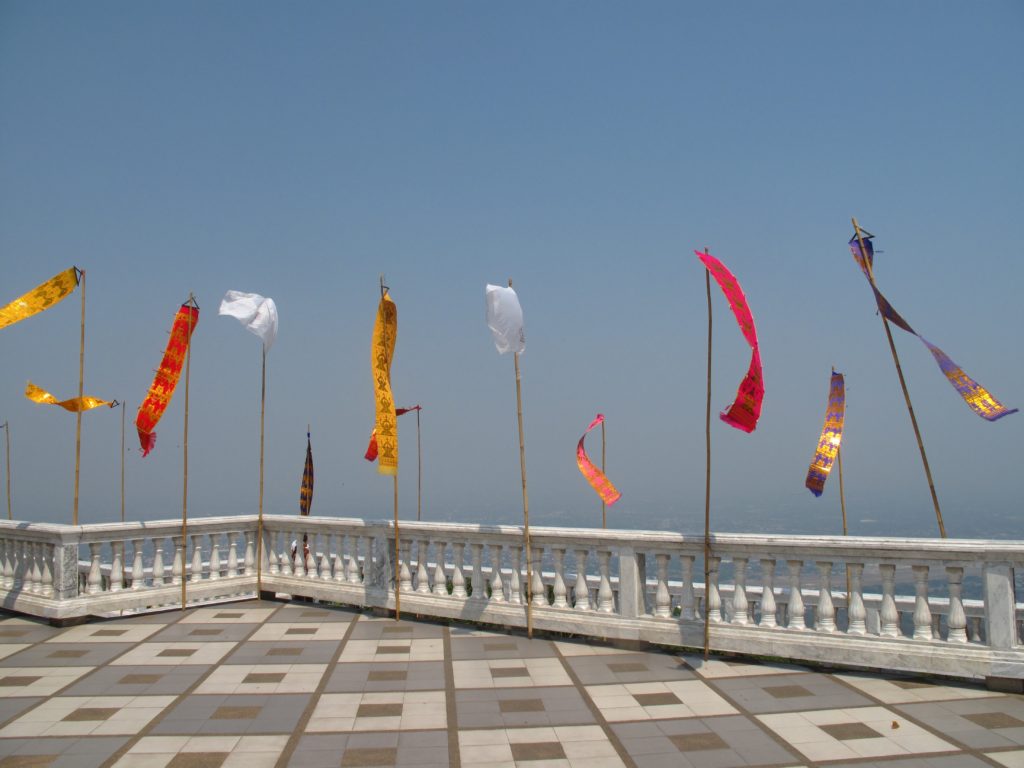 We also hit up a cat cafe

and stayed until Jason claimed he might actually be allergic to cats;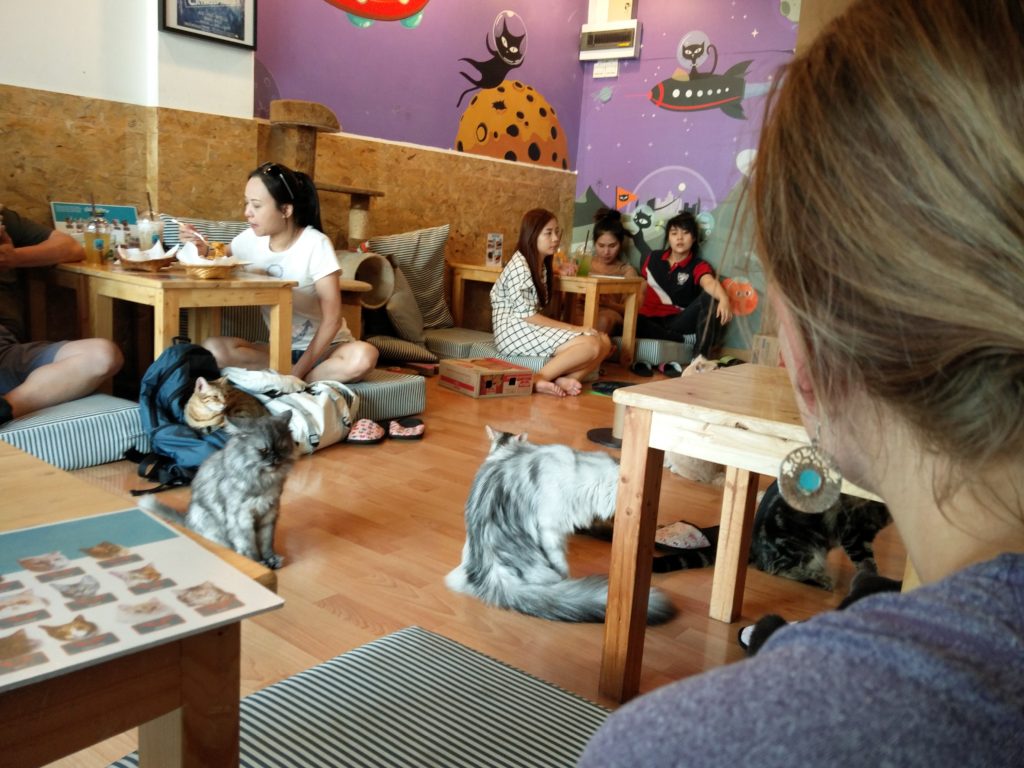 On our last night in Chiang Mai, we took our Bilharzia medication (those three months went by fast — fortunately with no signs of parasites!).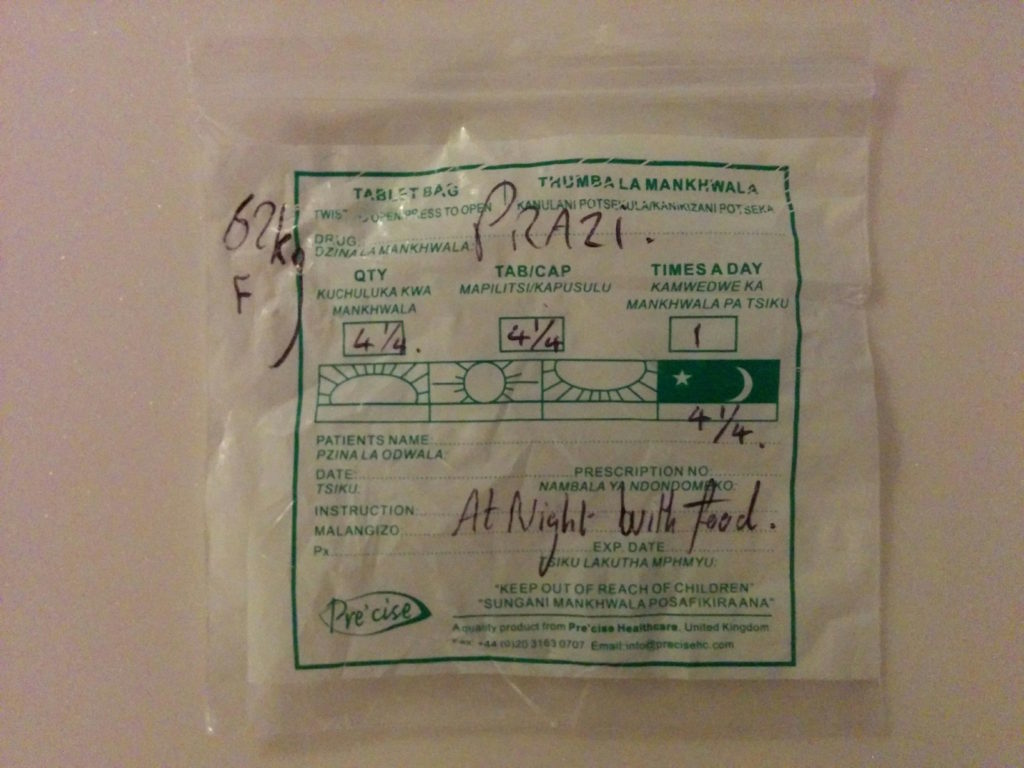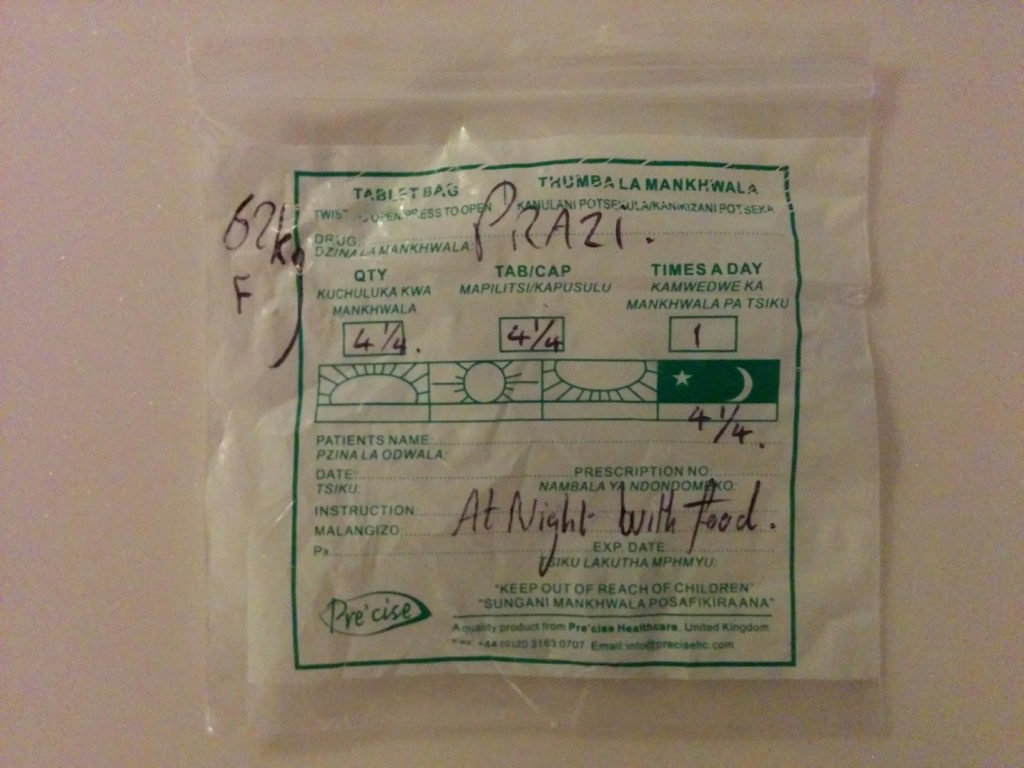 From here we were off to the Thai islands for two weeks (the subject of our next post), before returning to Bangkok to pick up our passports, chill out in our apartment's infinity pool,

visit the fanciest "spa-spital" in town where a doctor diagnosed Sarah's recent trouble swallowing as a side-effect of GERD,

and were again thwarted by Thailand's funny alcohol laws.

We also tried (and failed) to get sick of Thai food, since we were very sad to be leaving what was probably our favorite country from a culinary point of view. We ate papaya salad, tom yum, and green curry every chance we could get: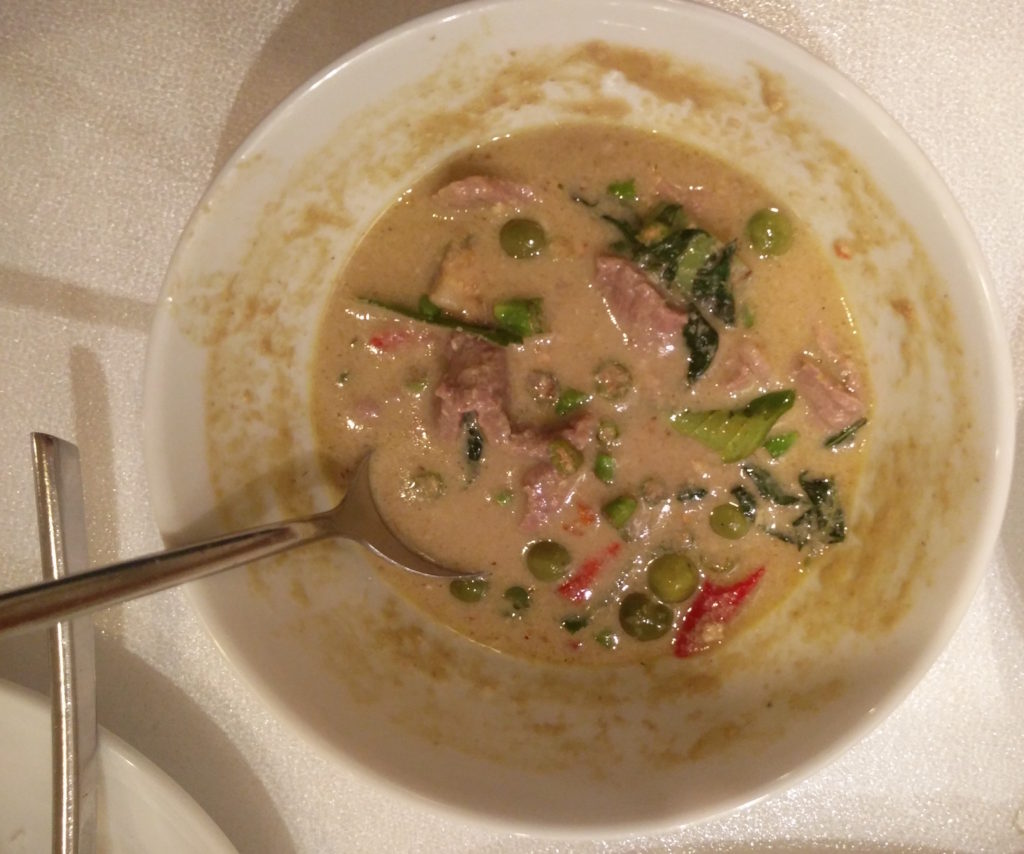 including at a famous restaurant called "Cabbages and Condoms" that promotes a range of issues (sexual health, sustainability, and anti-corruption) both monetarily and through some rather interesting artworks (using condoms as the primary media).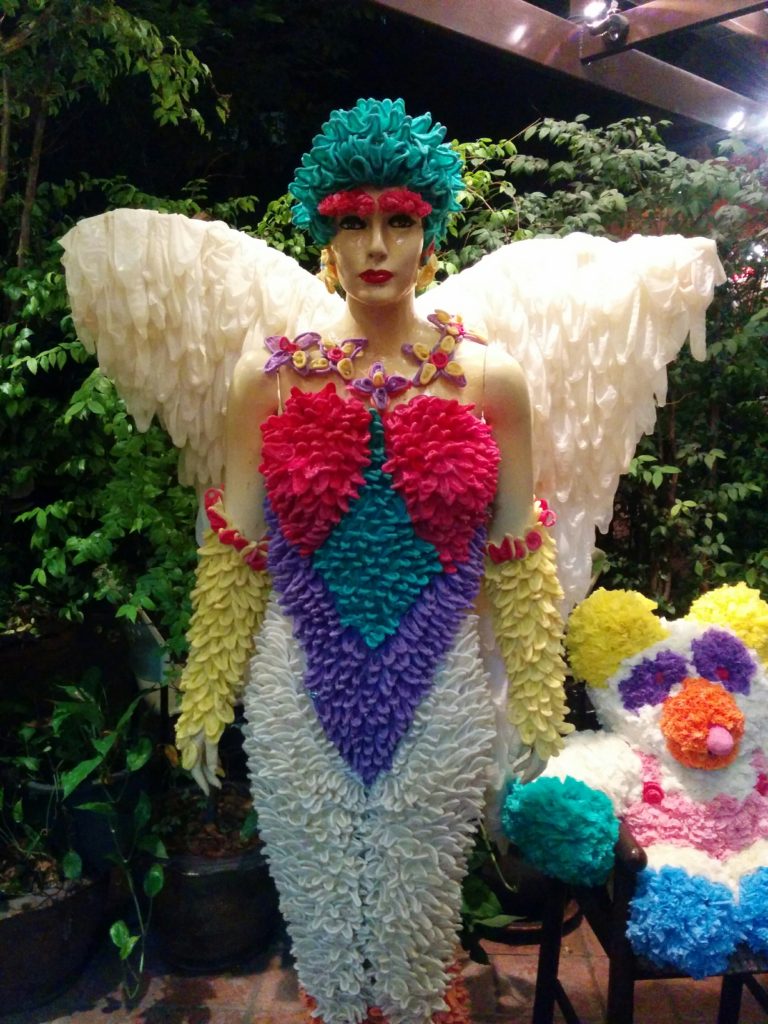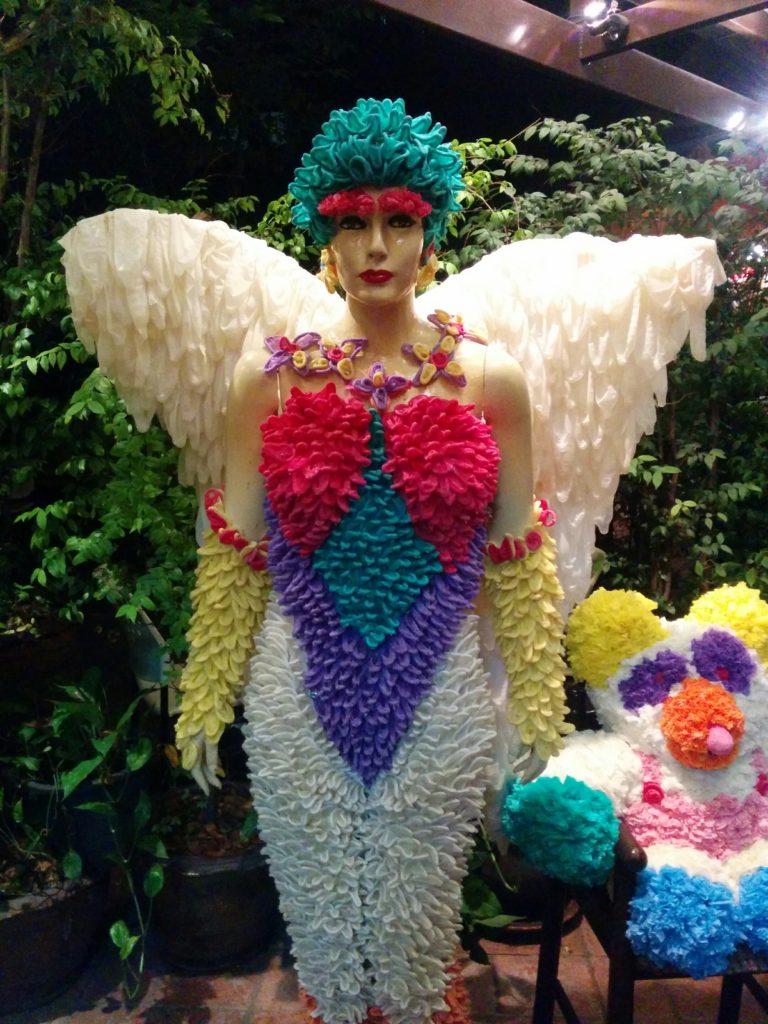 We were sad to go, but excited to be meeting Jason's sister Becca at our next stop: the Kingdom of Cambodia.