We arrived in Hanoi and checked into a small hotel in the Old Quarter. Sarah's parents ended up staying in the honeymoon suite because it was one of the few rooms left. Apparently, the hotel staff thought Roxanne and Stan were actually newlyweds because shortly after checking in, a knock on their door yielded this hilarious frosting-heavy cake.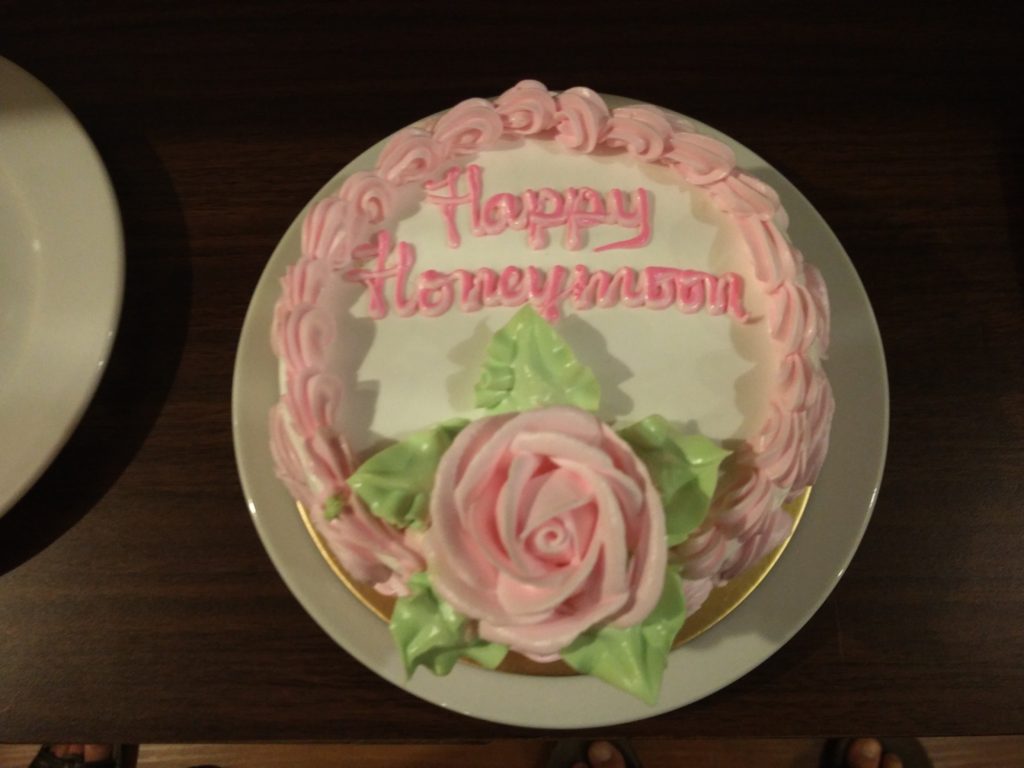 So we ate some cake and then brought Rox and Stan to their first massage. They were wary initially, but a friendly receptionist welcomed us and helped distract them from their skepticism by engaging in a conversation about America. She *really* wanted to visit the U.S., was obsessed with everything about Taylor Swift, and charmed us all when she earnestly said "I hope someday to come visit you in Minnesota so we can make a snowman together."

During our stay in Hanoi, Stan and Rox would get up early and explore the chaos of the neighborhood. The old quarter is organized in sections by type of commodity. We were very close to bamboo street.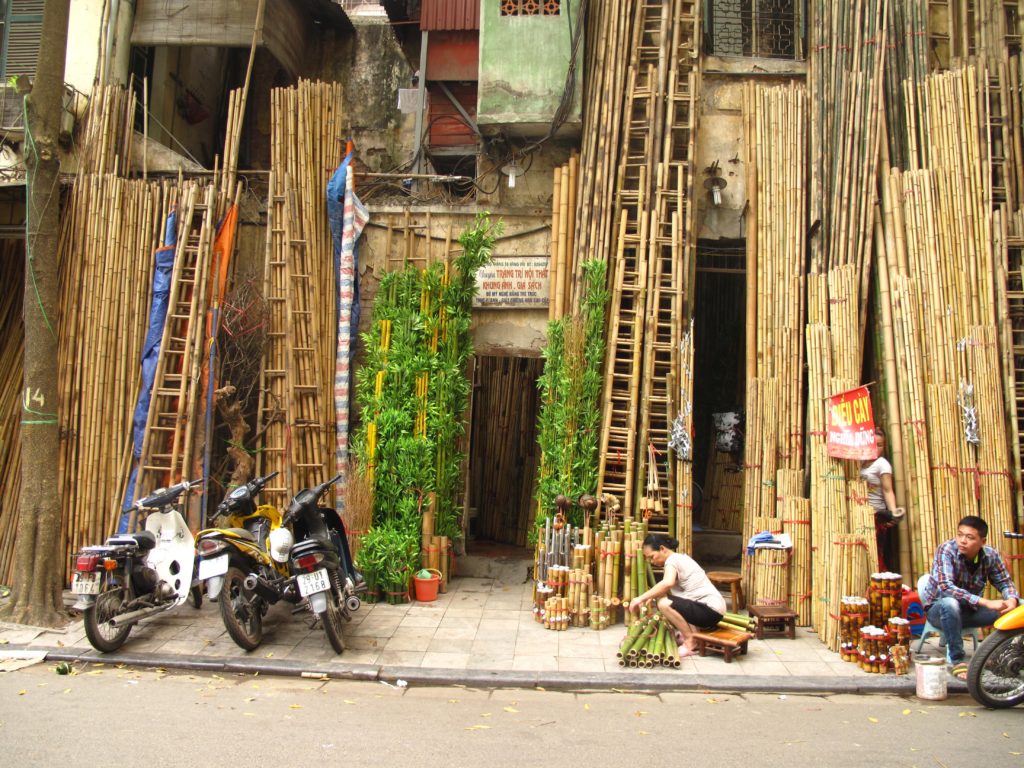 One day, we went on a food tour, complete with the tiny plastic stools ubiquitous at Vietnam street food stands.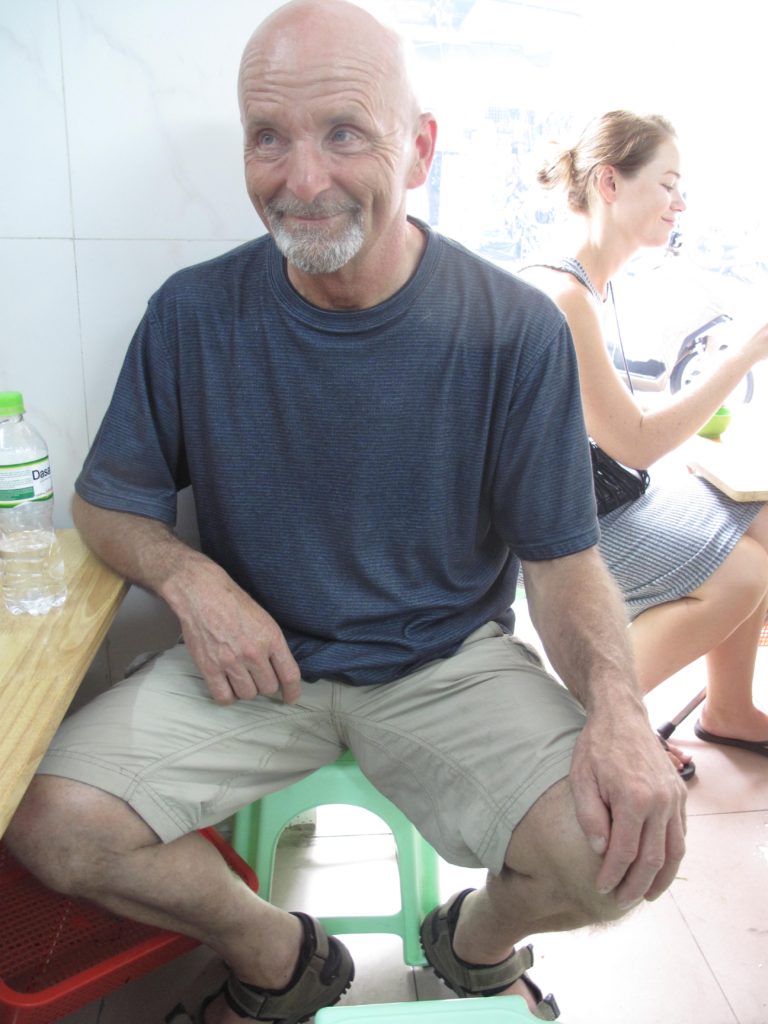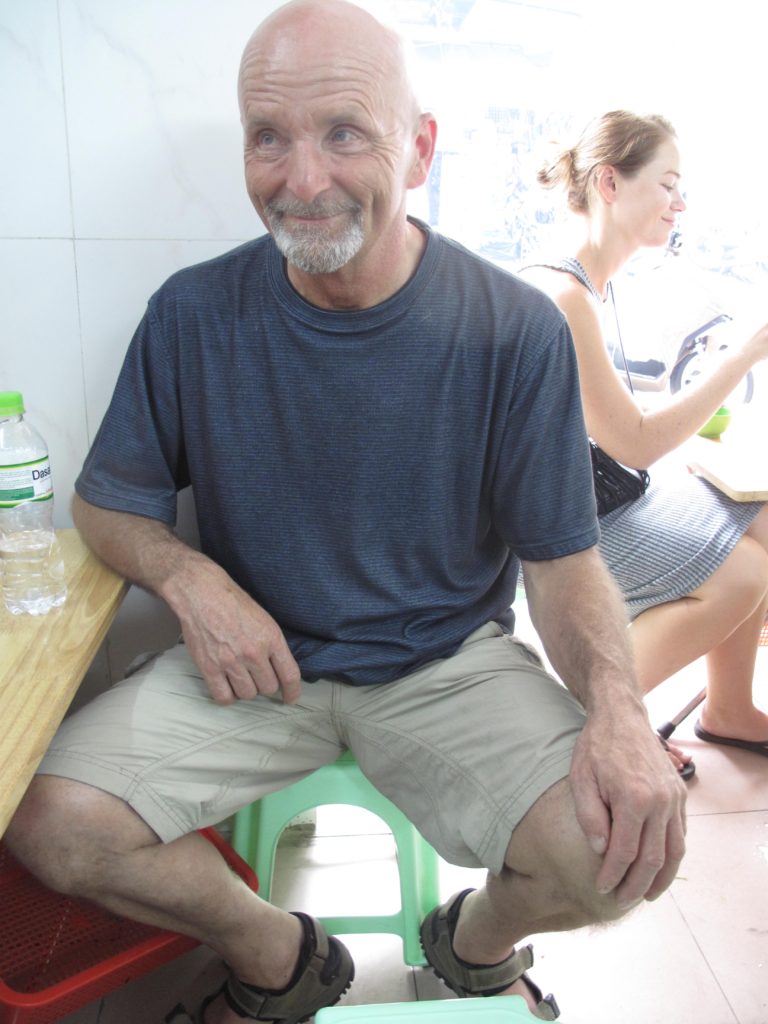 We tried a huge variety of delicious food,

and more tasty egg coffee.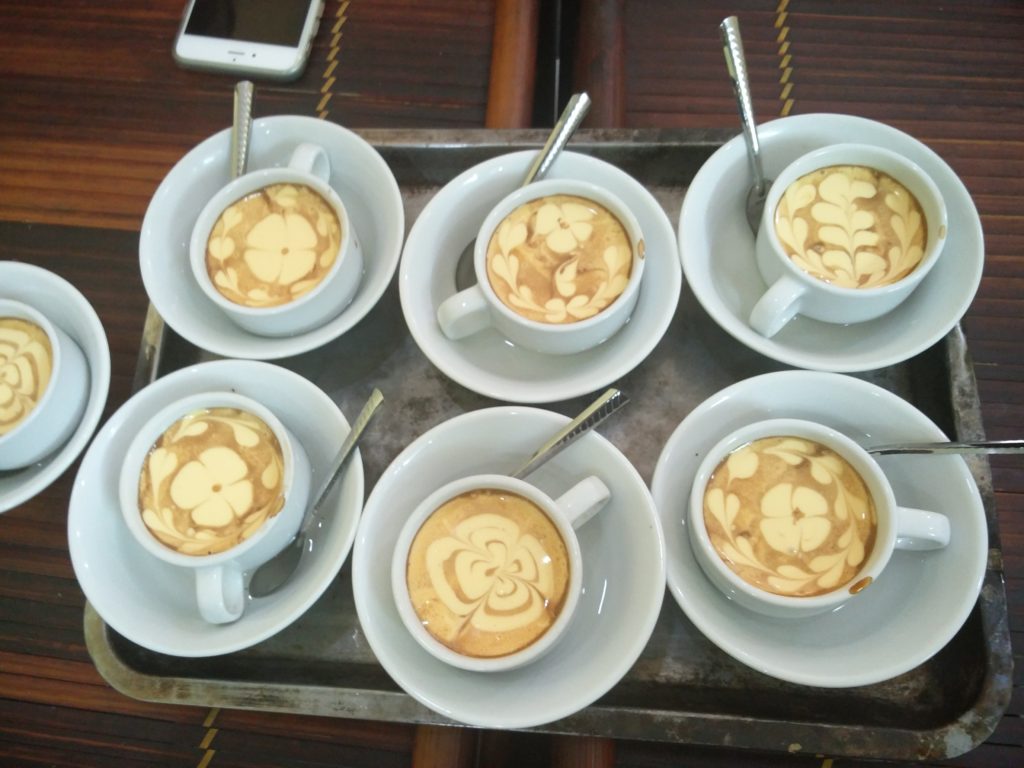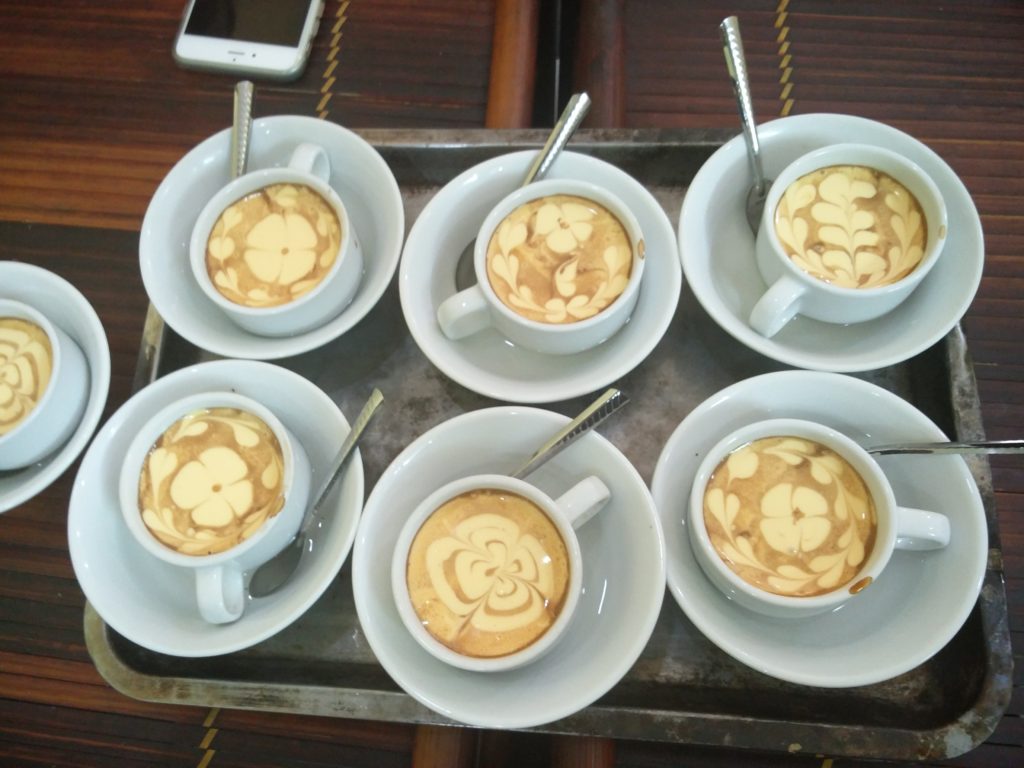 The tour was hosted by our super guide Hien, who managed the hazards of crossing the crazy Hanoi streets with large tour groups by telling us to cross together 'like sticky rice'.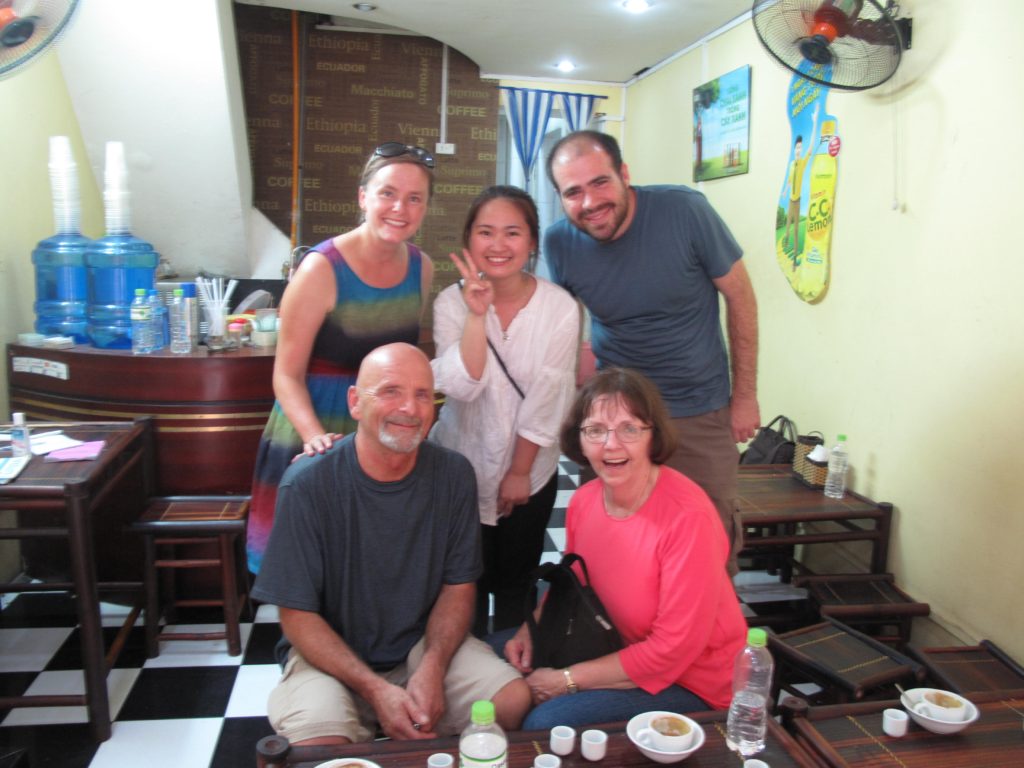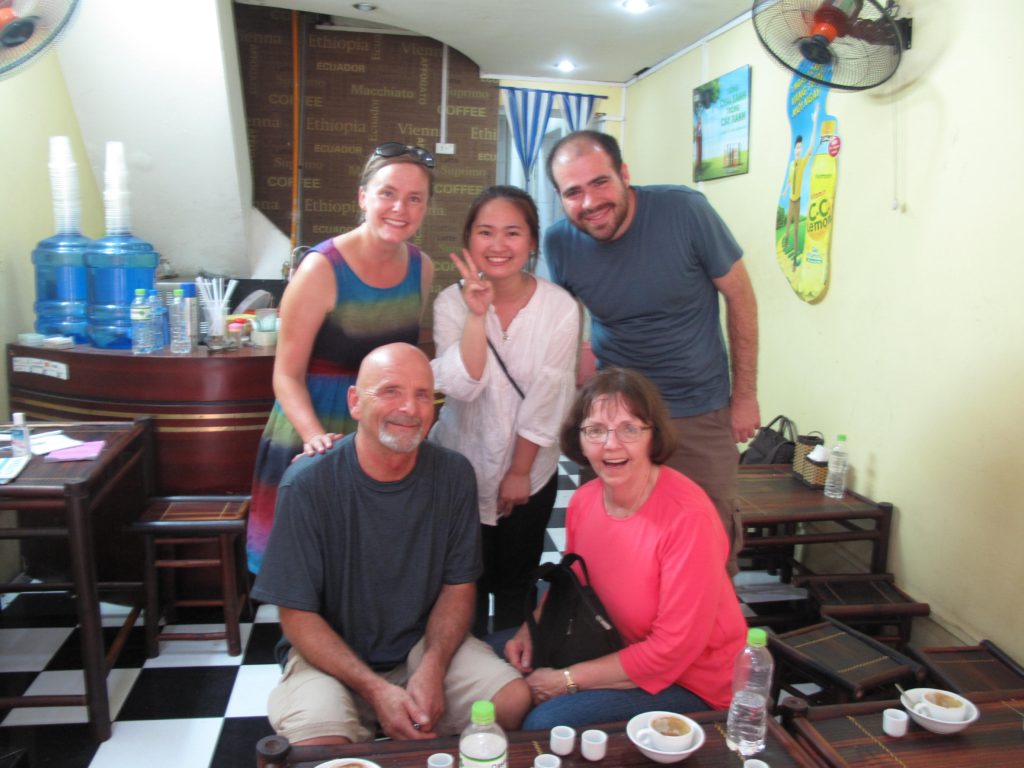 On another night, Medeha treated us to a delicious homemade Pakistani meal at her apartment in the Tay Ho district. Sarah and her parents fooled around with the conical hats called non la (note that David Bowie is not a traditional feature on the hats), while Medeha cooked and Jason monitored the spice level.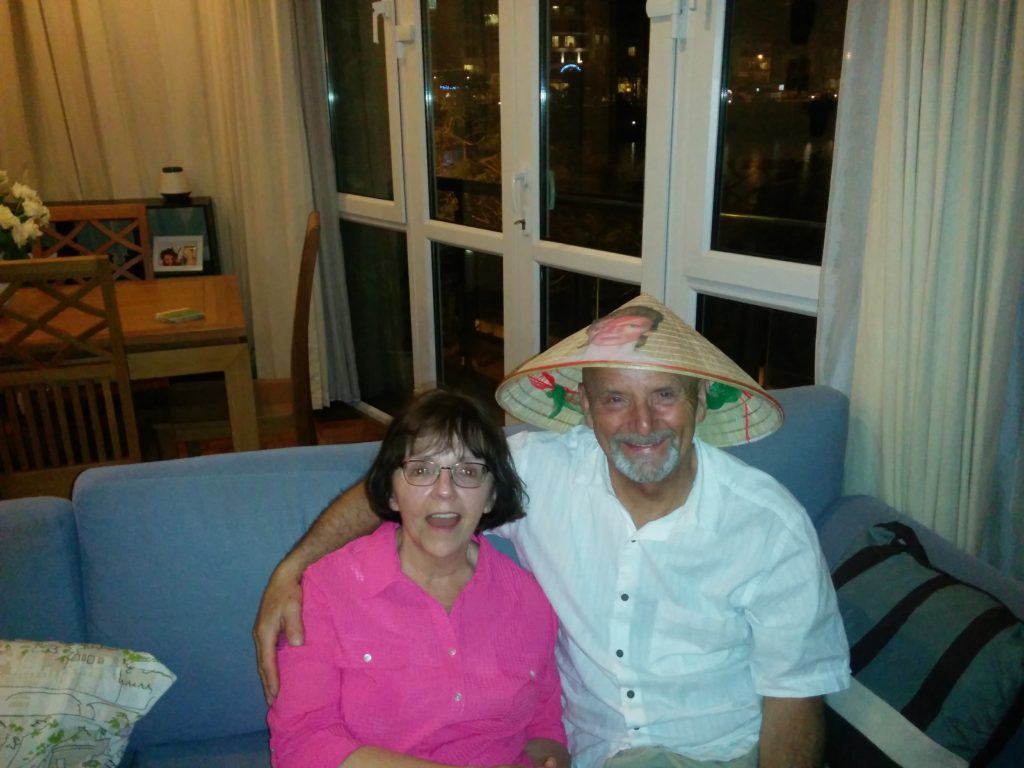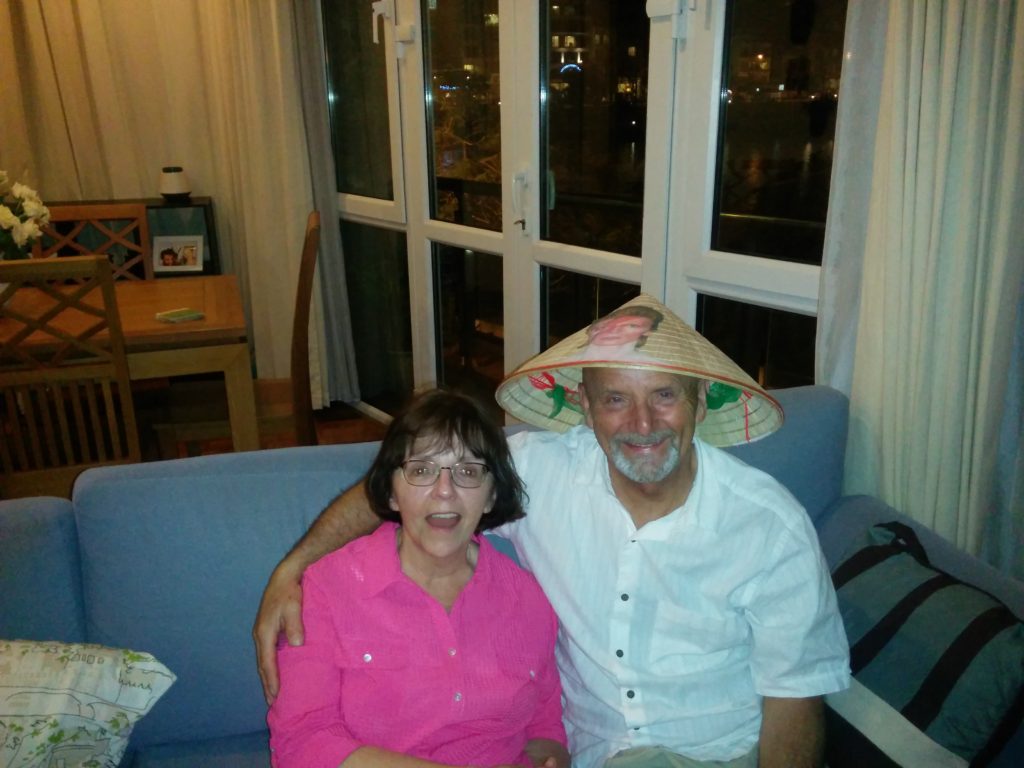 Roxanne being a bibliophile, we made a quick stop at Vietnam's National Public Library.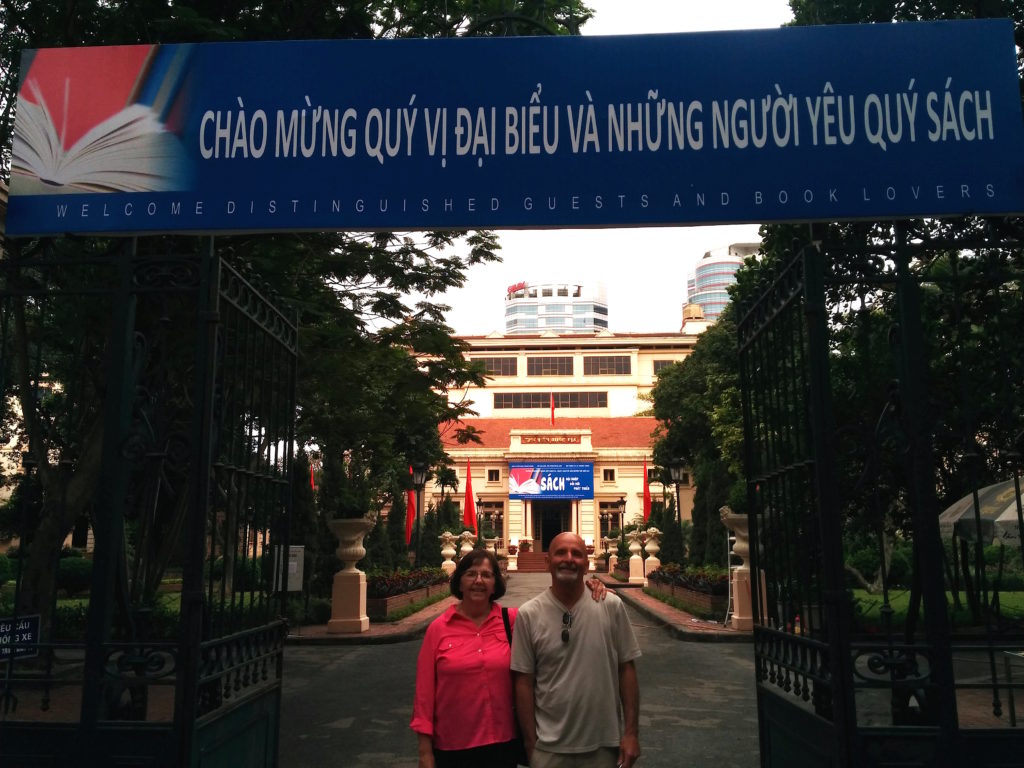 And since she's an avid quilter, we also stopped at a crazy fabric market, Chợ Hôm, which was so packed with people and merchandise, you practically had to crawl over the bolts of fabric to get around.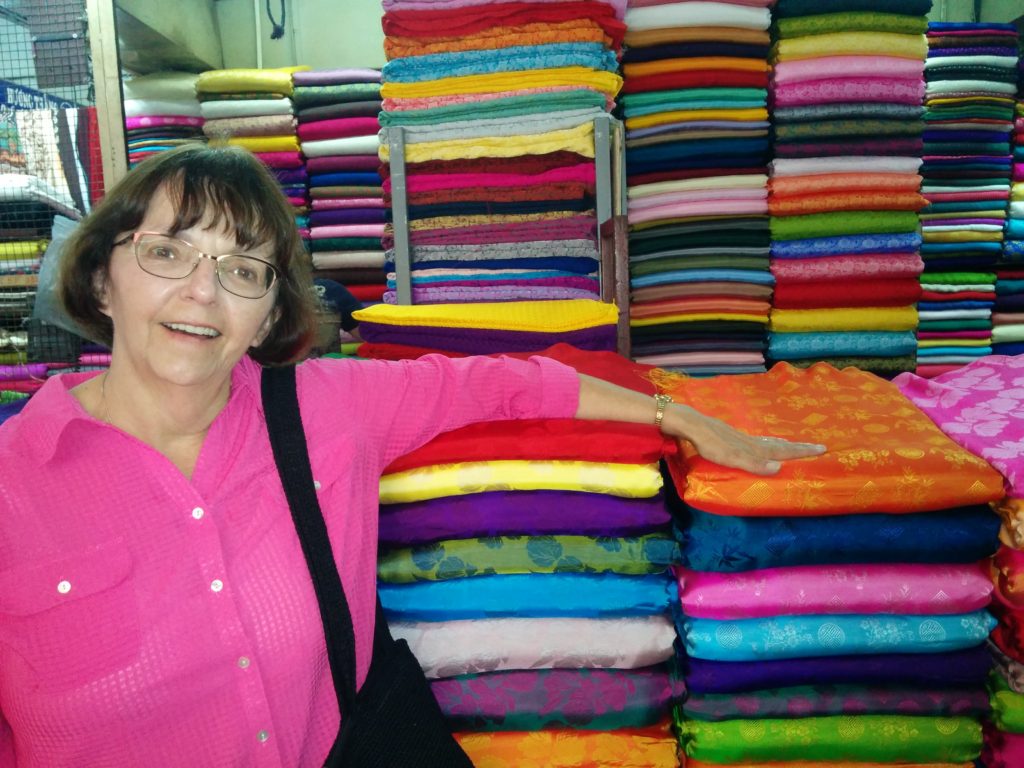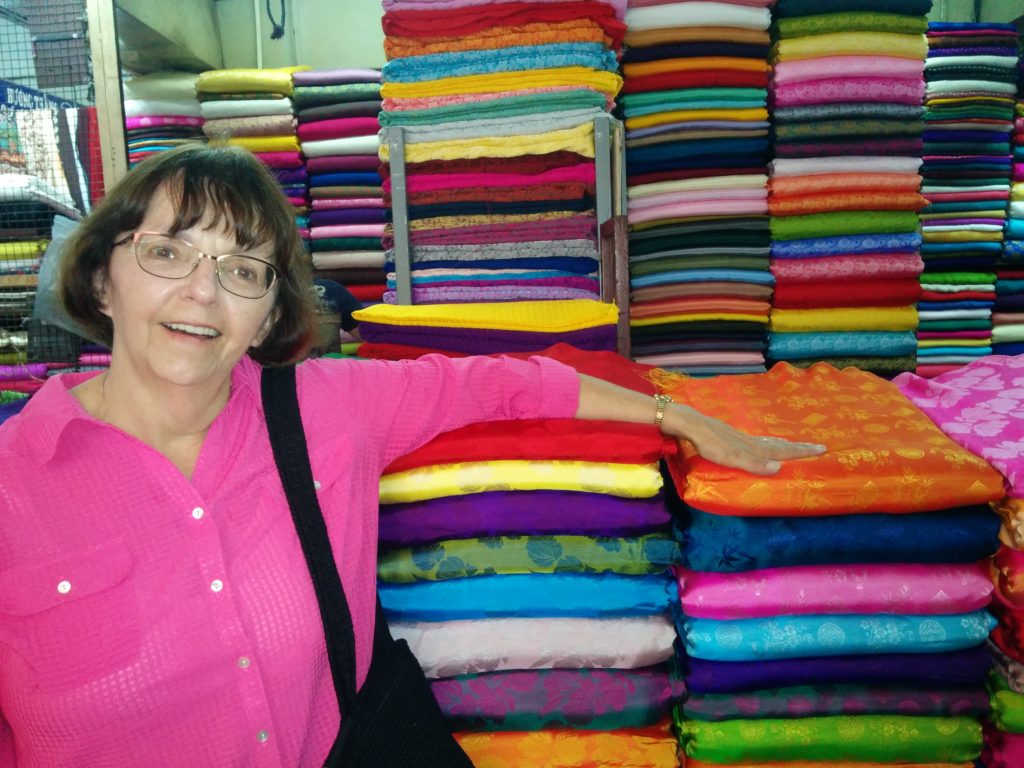 After exploring the hubbub of Hanoi, Sarah and her parents decided to take a trip to Ha Long Bay, a magical place she and Jason had visited in 2014. Ha Long means 'descending dragon' and legend has it the bay was created in ancient times when the gods sent the Mother Dragon to protect the newly formed nation of Vietnam. The Mother Dragon and her baby dragons killed foreign invaders with their fiery breath and dropped giant emeralds around the coast to serve as a protective wall. Those emeralds eventually became the dramatic karst topography that decorates the bay.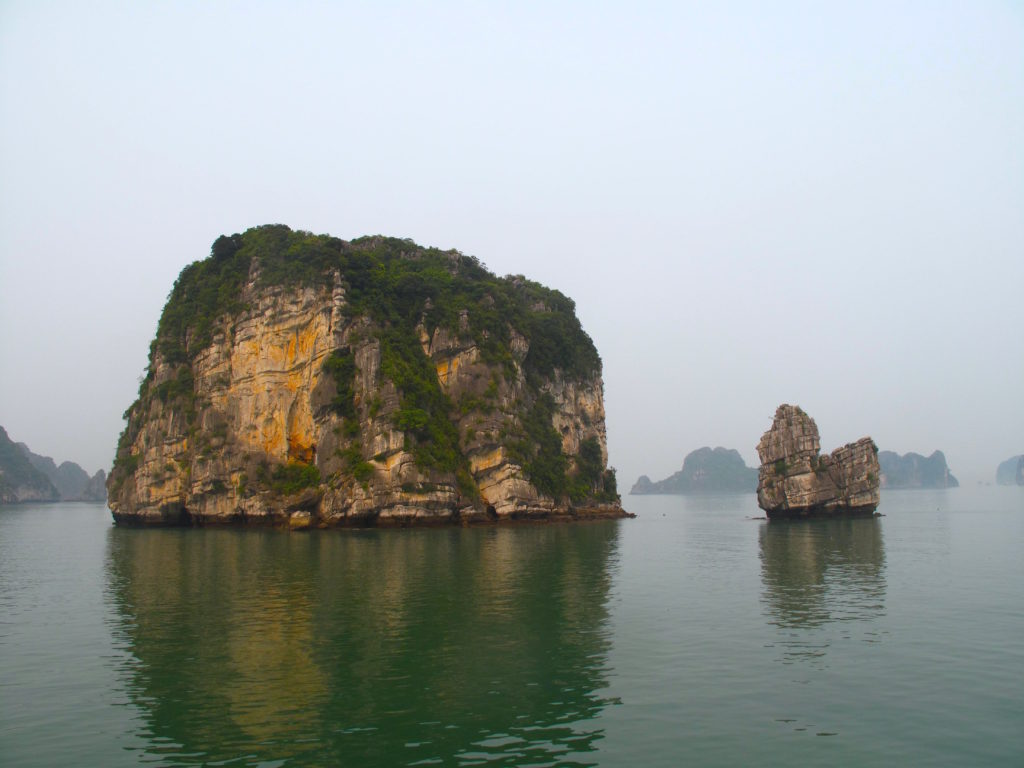 Once on board, Sarah forced her parents to re-enact a Titanic moment on the bow of our ship, the Dragon's Legend.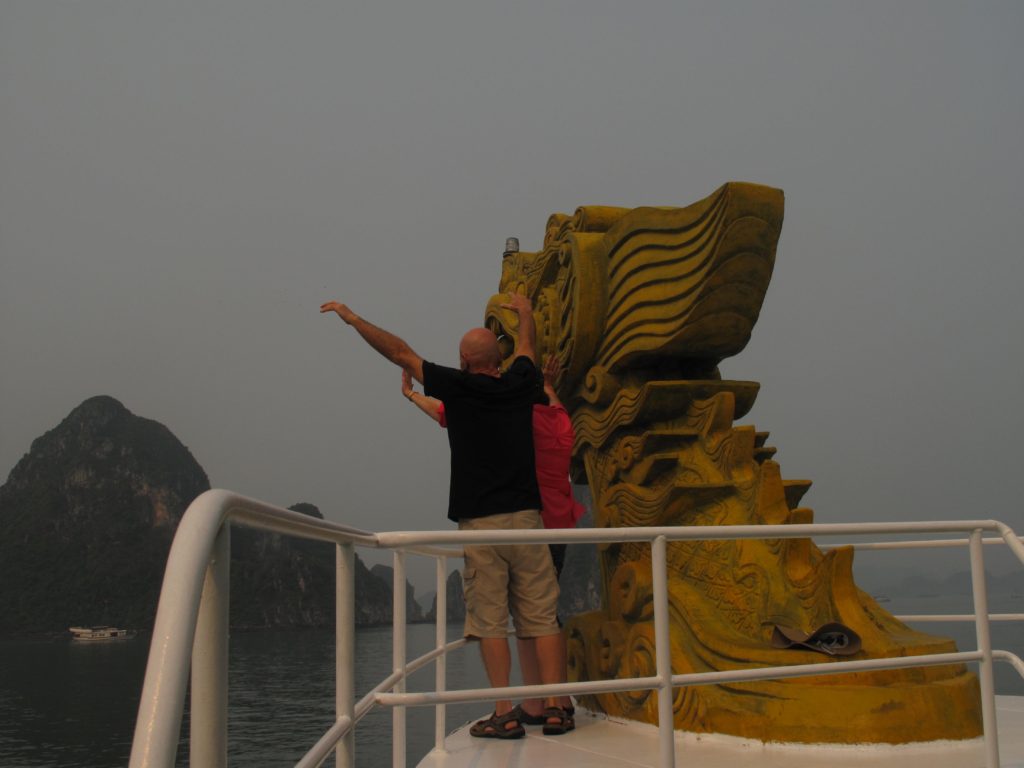 We spent our days kayaking through the breathtaking limestone landscapes.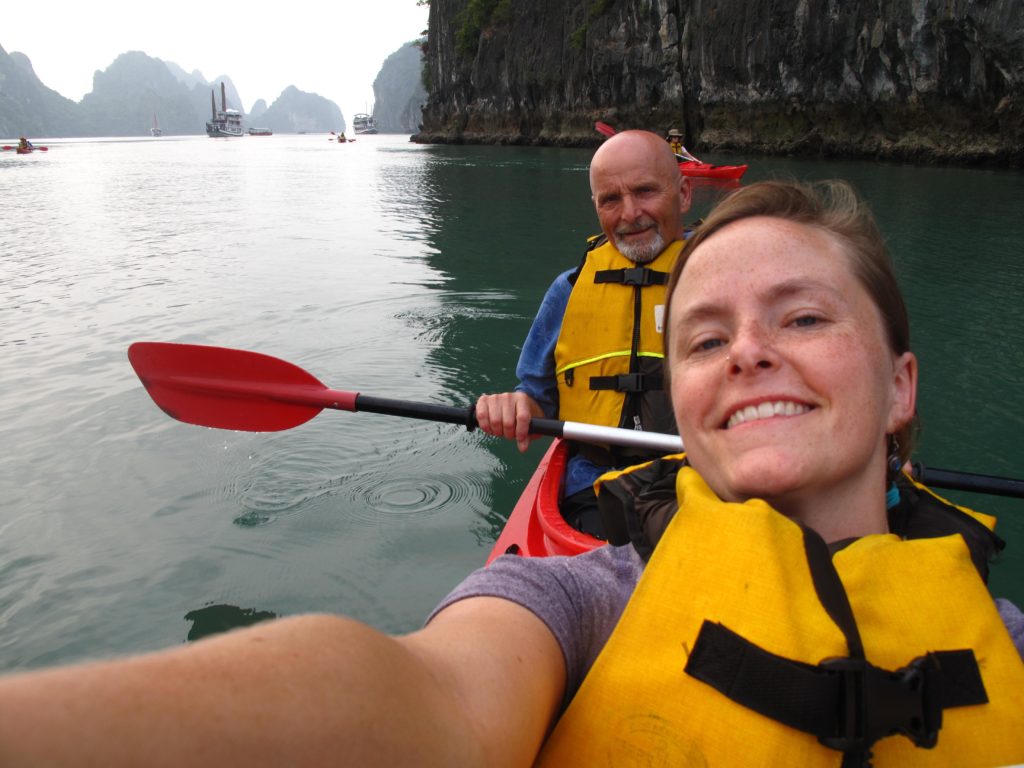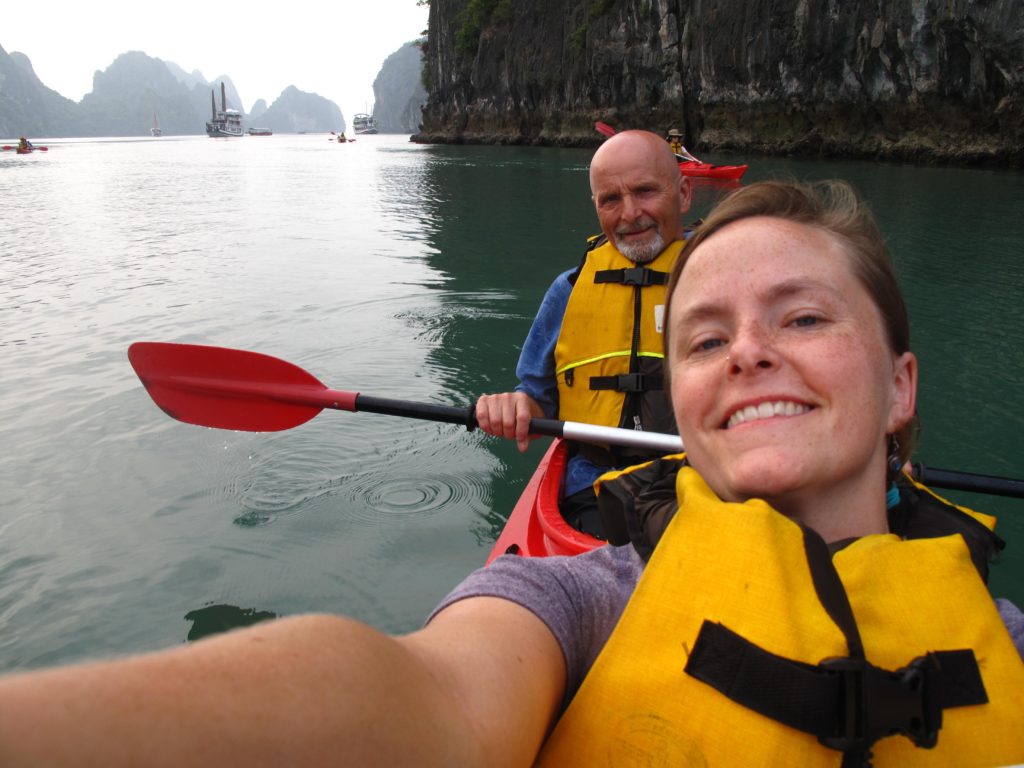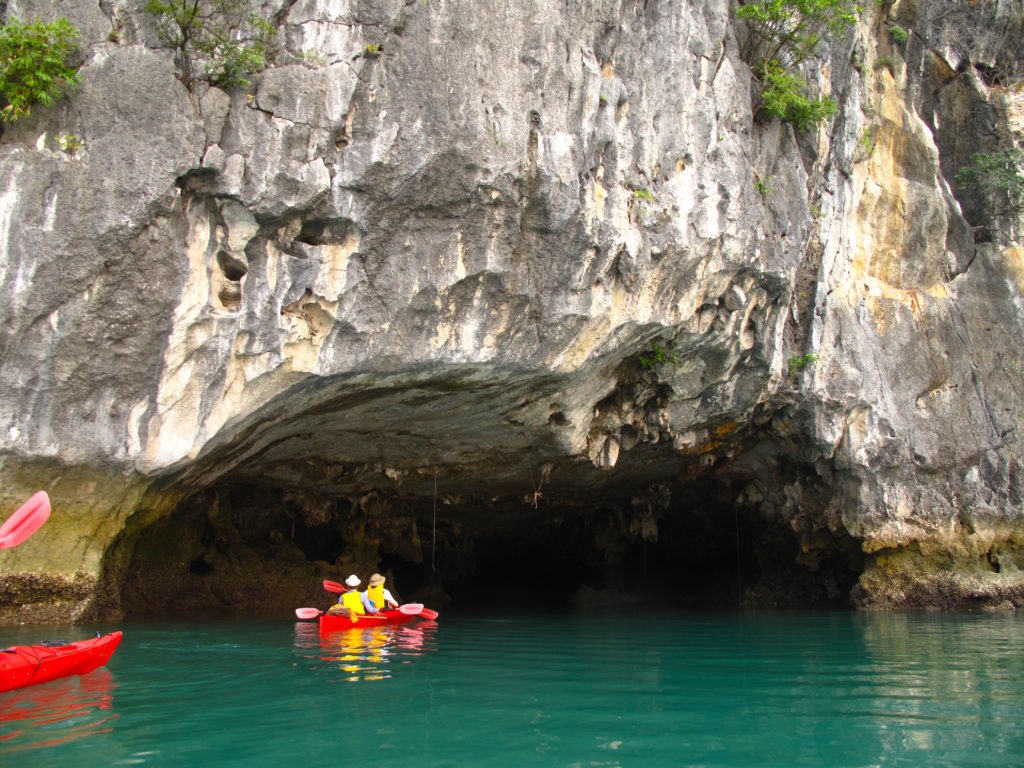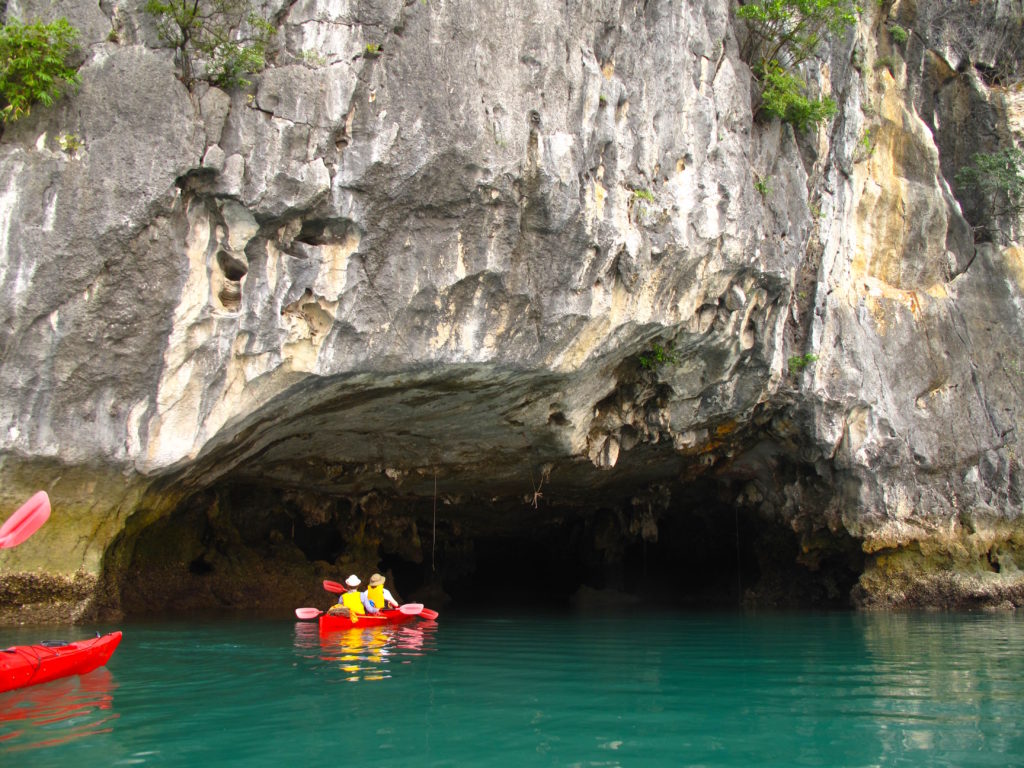 Sadly, during our kayak excursions, Sarah noticed that there was much more trash in the Bay than there had been in 2014. The trash is apparently caused by a combination of the tourism industry, the coal shipping industry, and the local fishing villages (for instance, the villages stay afloat via large styrofoam blocks, but over time the foam breaks down and ends up in the Bay). Despite this multi-causal problem, the Vietnamese government seems to only be targeting the fishing villages in effort to reduce the pollution. For the last several years, they have been relocating the people from the villages to the mainland 'to protect environment of Ha Long Bay heritage'. They don't appear to be imposing any stricter standards on the tourism or coal industries, however.
Our tour company Indochina Junk was at least making a nominal effort to remedy the problem, by including nets in the kayak so you could collect trash while you row, along with a few other measures. We think Indochina Junk is one of the better companies, in terms of their commitment to sustainability and conservation, so we recommend choosing them if you visit Ha Long Bay. And if you're so motivated, contact the Vietnam Tourism Council to encourage more stringent environmental standards for the tourism and coal industries!
Back on the boat after kayaking, we ate. And ate. And ate some more. And we had a cooking class where Stan got some applause with his spring roll-making skills.

The next morning, Stan and Sarah had a fun and awkward time trying the Tai Chi class before breakfast. Then we headed out on small boats captained by women from the nearby Vung Vieng fishing village.

The Vung Vieng village has existed in Ha Long Bay for several generations and until recently was made up of about 50 families (300 residents). In 2014, most of the villagers were relocated to the mainland. What remains of the village is now presented as a museum of a former way of life.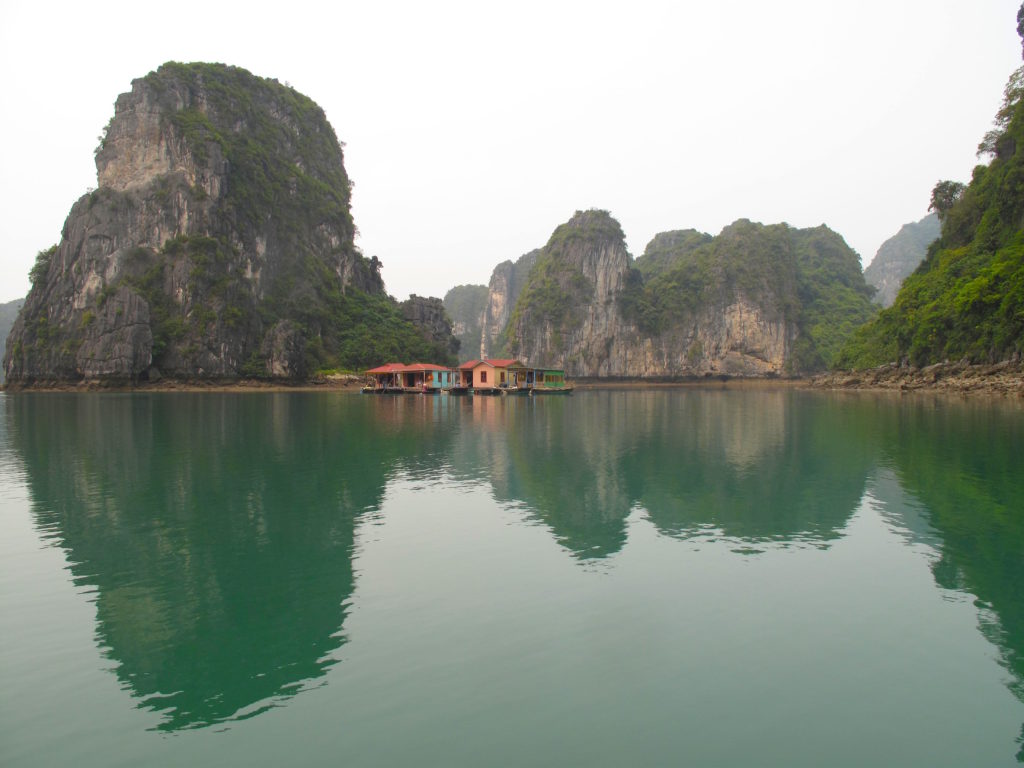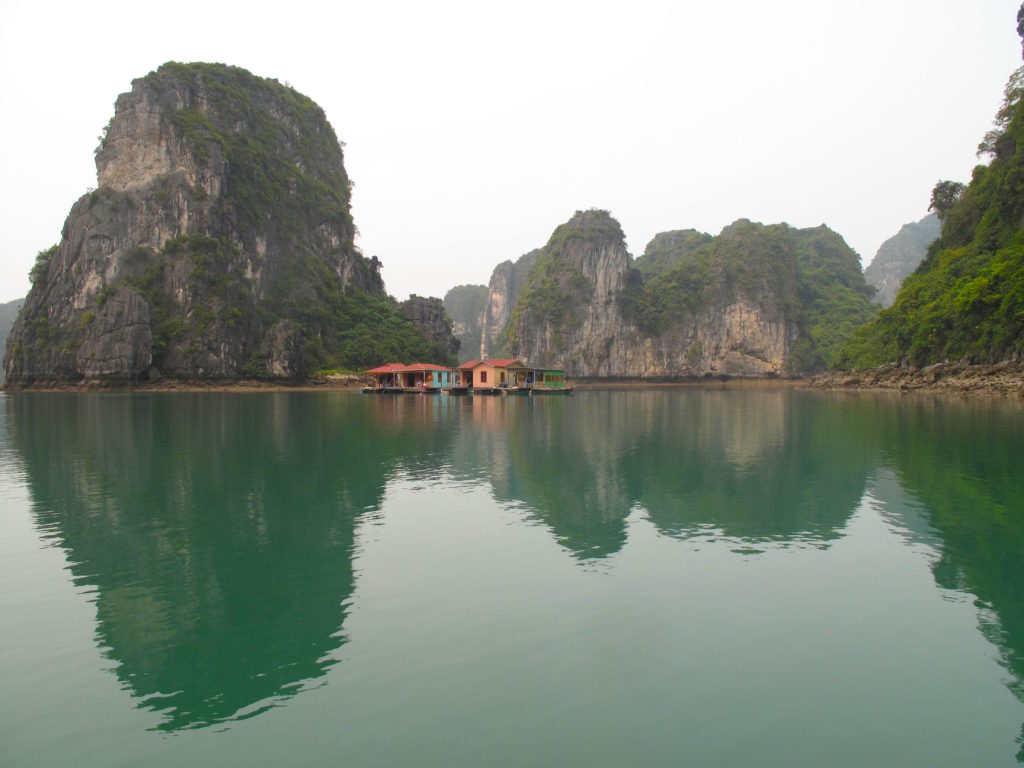 Like this one-room schoolhouse that once was used to teach about 100 children.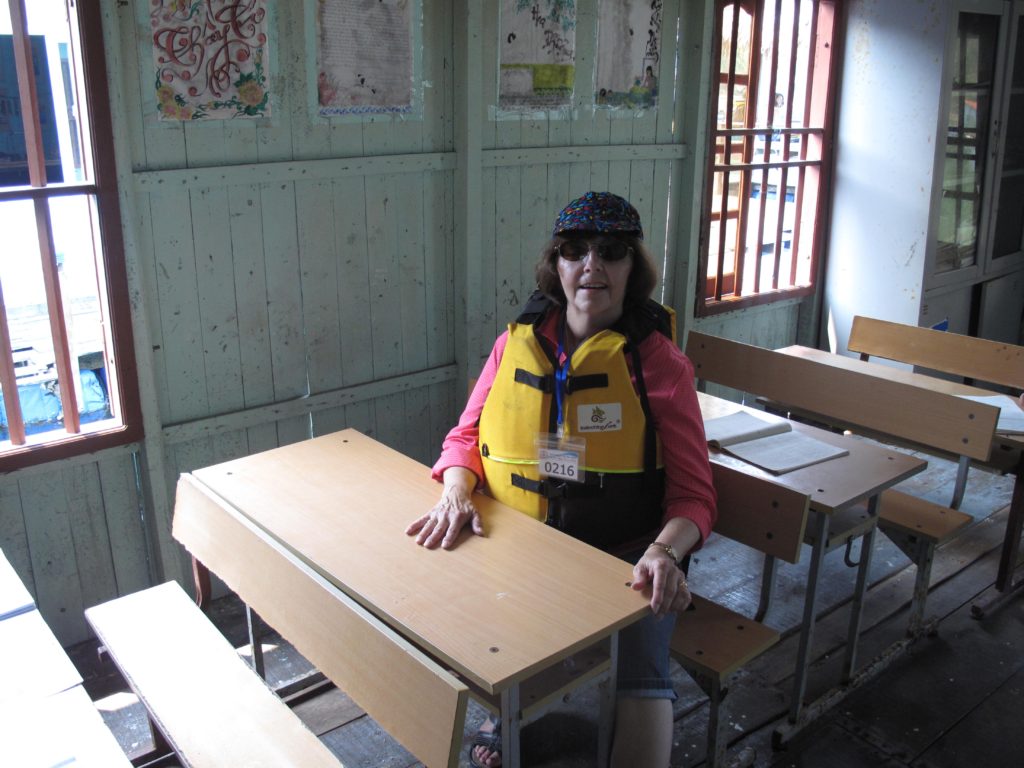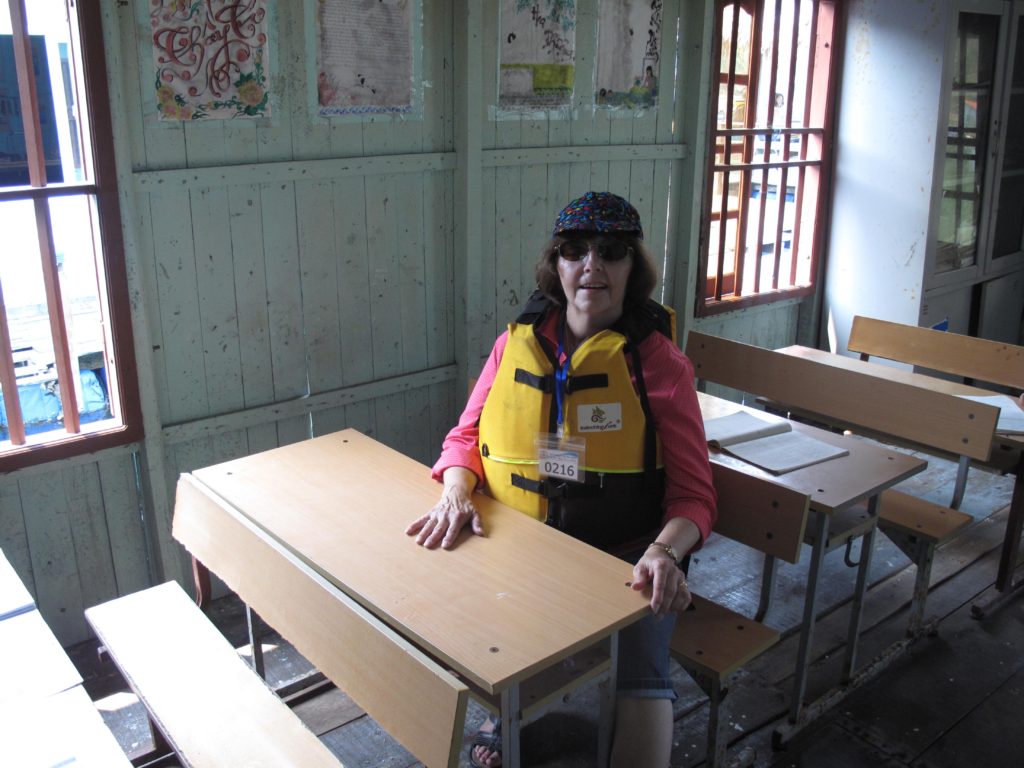 We spent the rest of our time exploring the Thien Canh Son cave (inhabited by the Soi Nhu people up to 18,000 years ago), swimming in the Bay, and chatting with the staff and other guests.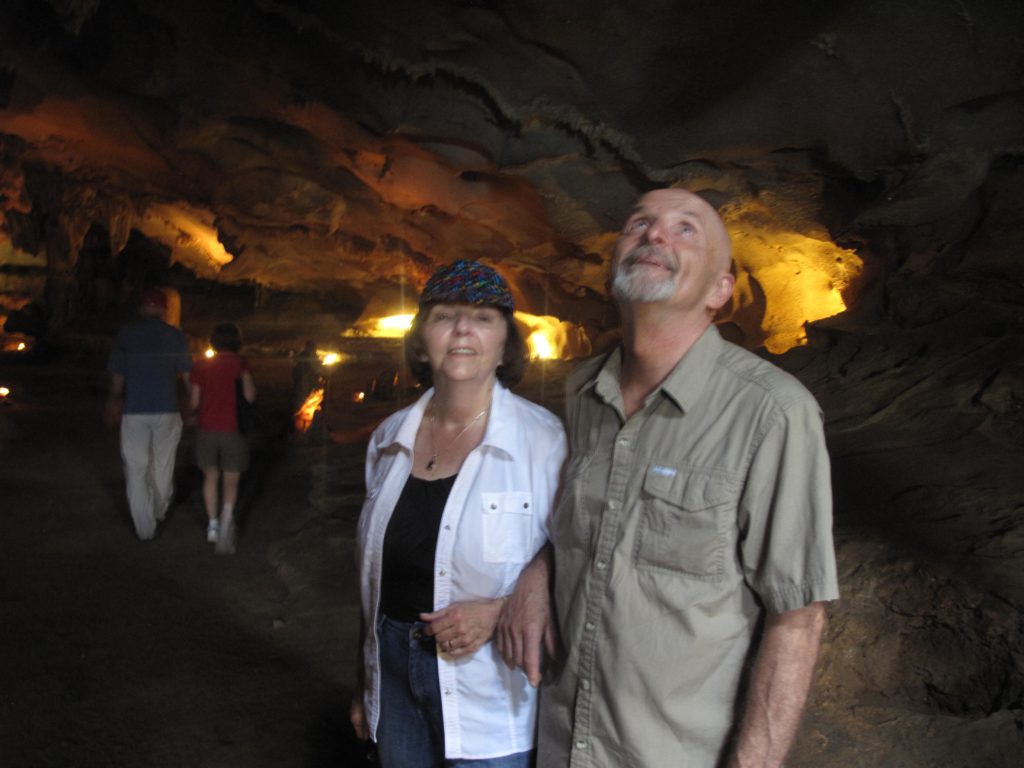 At the beach, Stan made friends with several of the staff and they invited him to a tea party in the staff's quarters.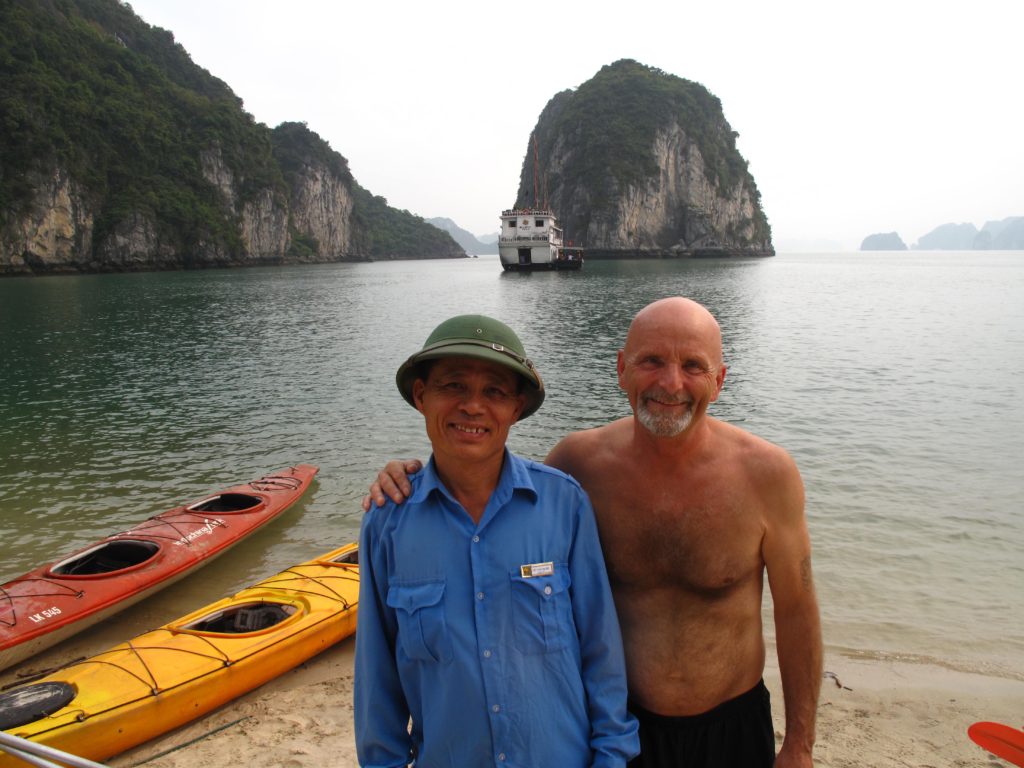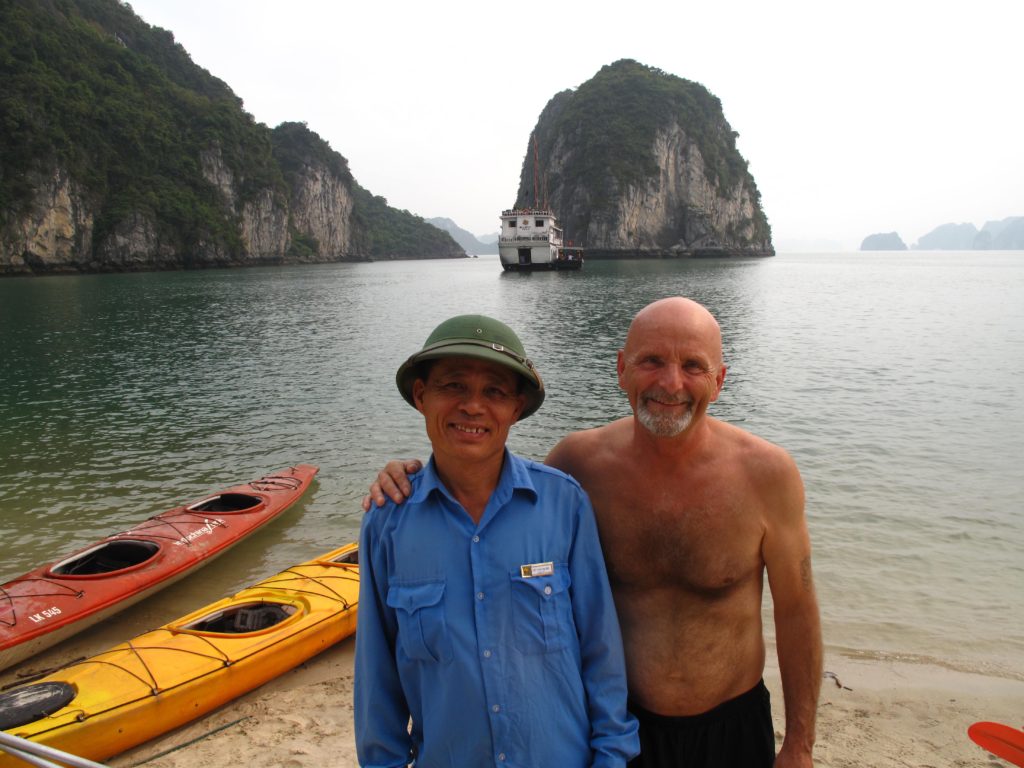 Later on, back on the boat, Jack Daniels was sweet enough to make a special batch of his signature Vietnamese coffee just for us. Even though Sarah knew this would keep her up all night, it was so delicious she couldn't resist and it was the perfect way to end the cruise.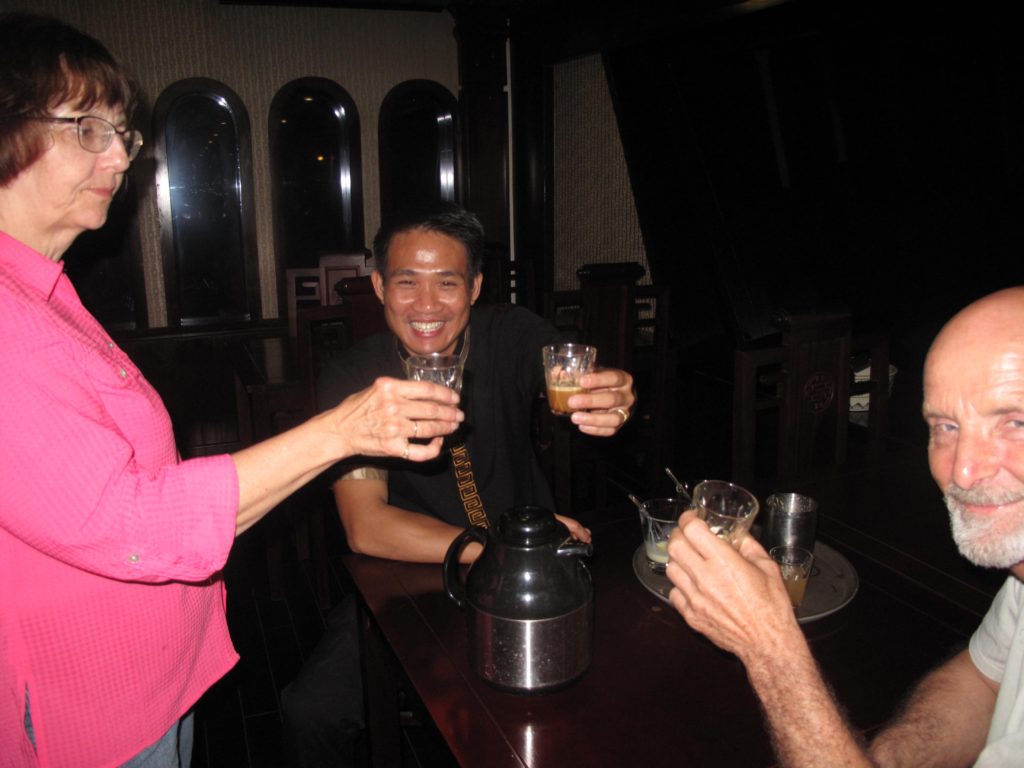 While the Reeds were soaking in the beauty of Ha Long Bay, Jason was catching up on 'work'. And by that, we mean he and Medeha were eating unlimited lobster tails and drinking unlimited cocktails and wine at the famed Intercontinental brunch.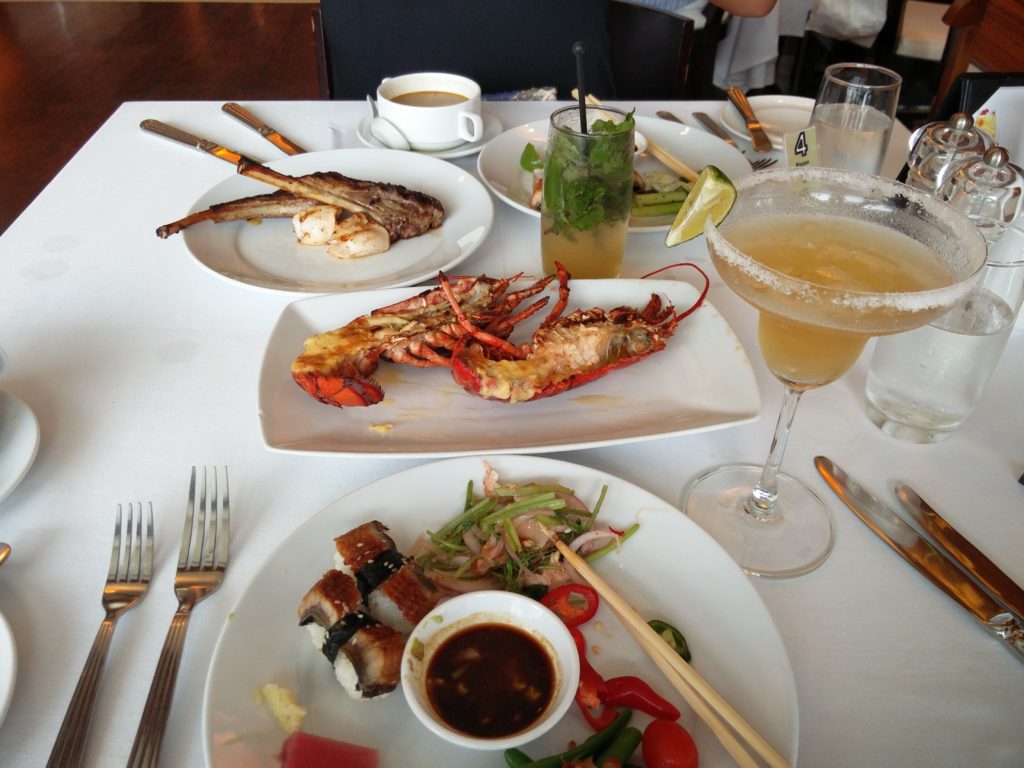 And checking out how the bar scene had changed since our 2014 visit. While we only got a brief window into the Hanoi nightlife on our last trip, it seemed like the Vietnamese youth had really stepped up their party game, including pho fire cocktails and nitrous huffing.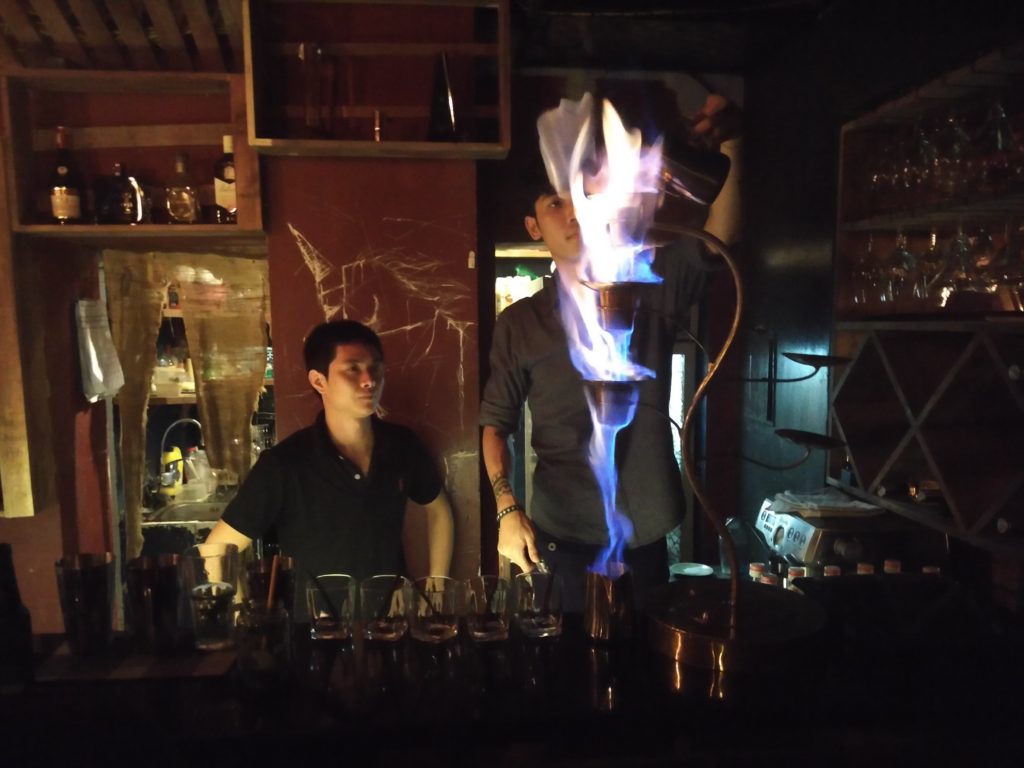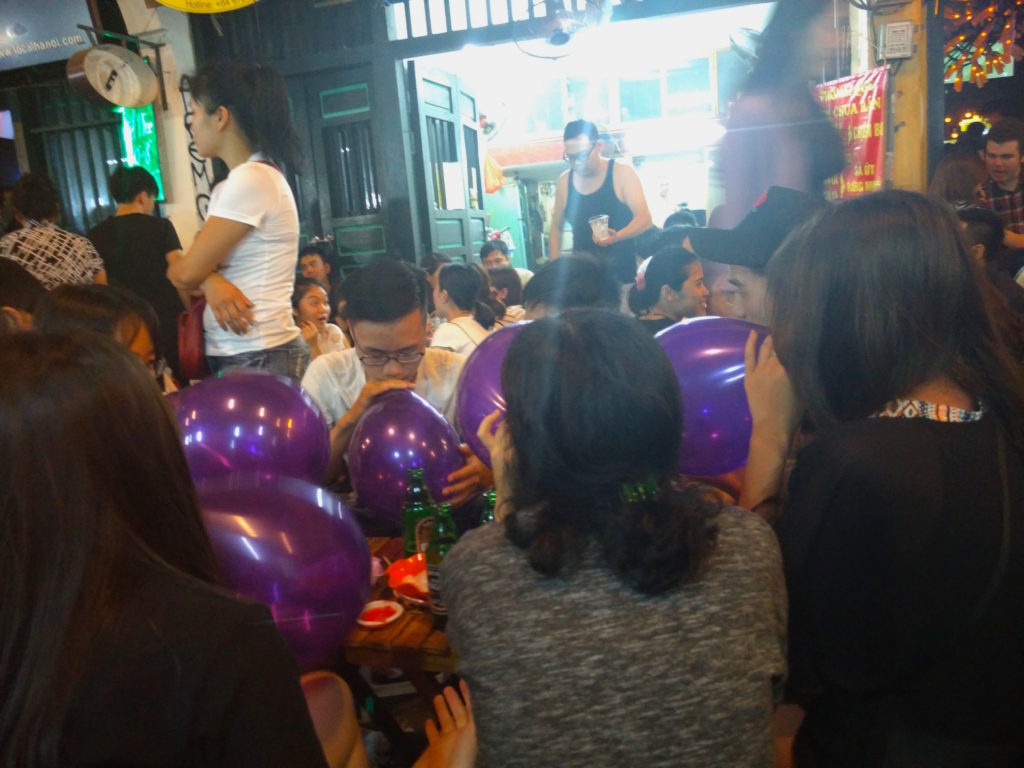 After Ha Long Bay, Sarah and her parents made a brief stop back in Hanoi and then Rox and Stan had to return to the States. We were very sad to say goodbye but so grateful to spend part of our trip with them. Thanks so much for coming Rox and Stan!

We were to spend a few more days in Hanoi, catching up on work and hitting up the Intercon brunch again since Sarah didn't want to miss out.

We enjoyed waking up to views of the fishermen and women on Tay Ho (or West Lake) every morning.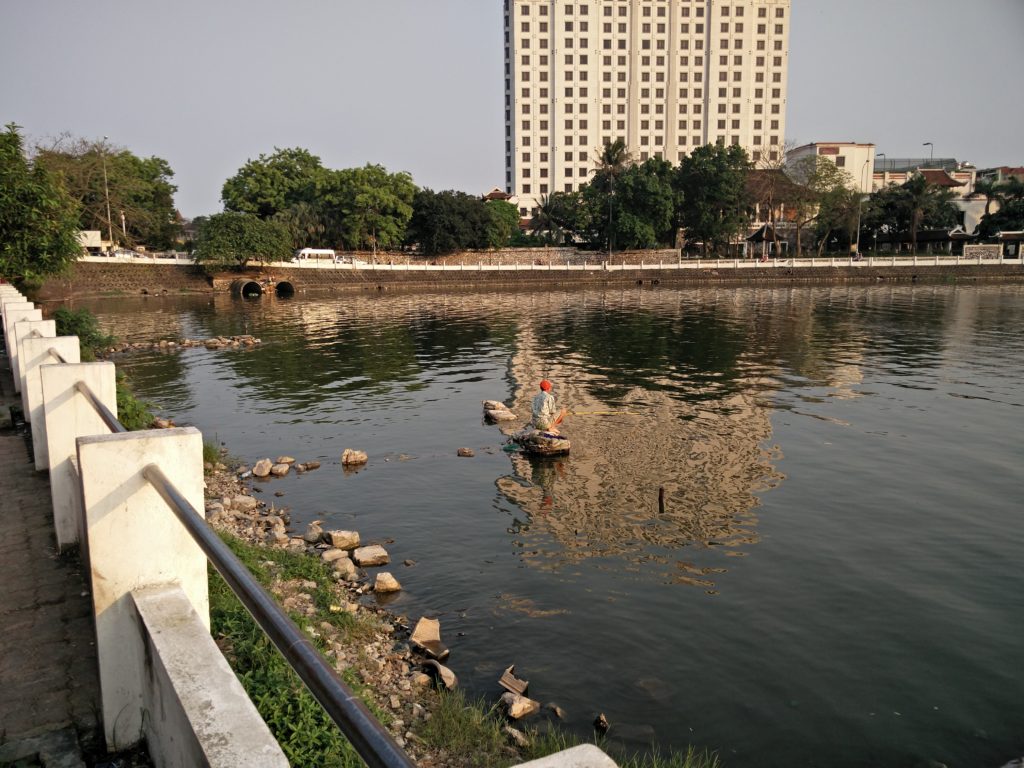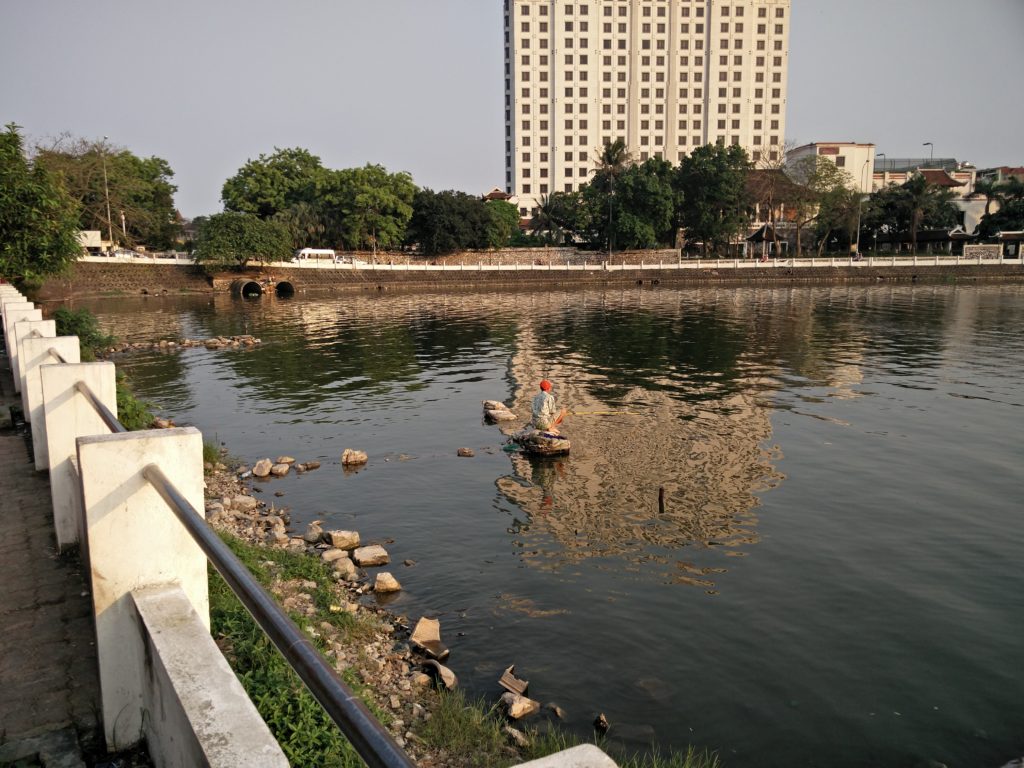 Medeha used her ninja-level negotiation skills to get us tickets for a fun cocktail making event despite it being sold out. Our favorite drink was the liquid nitrogen-chilled Vietnamese basil daiquiri. We also enjoyed meeting Medeha's coworkers from the UN International School who really know how to let off steam after teaching all day.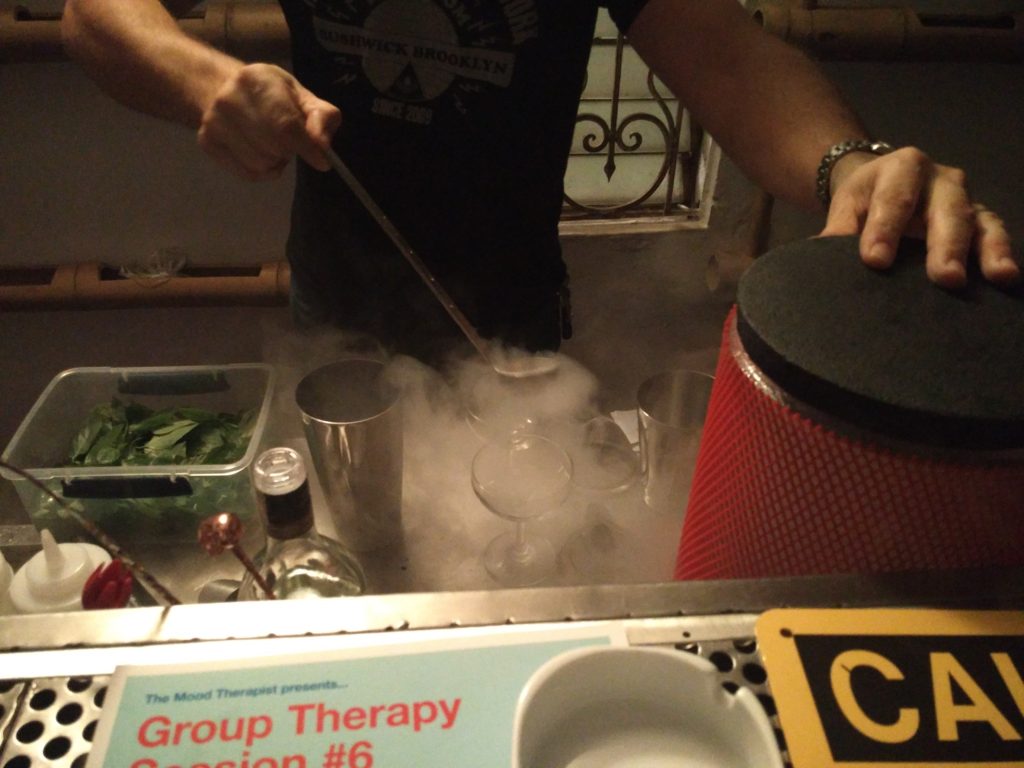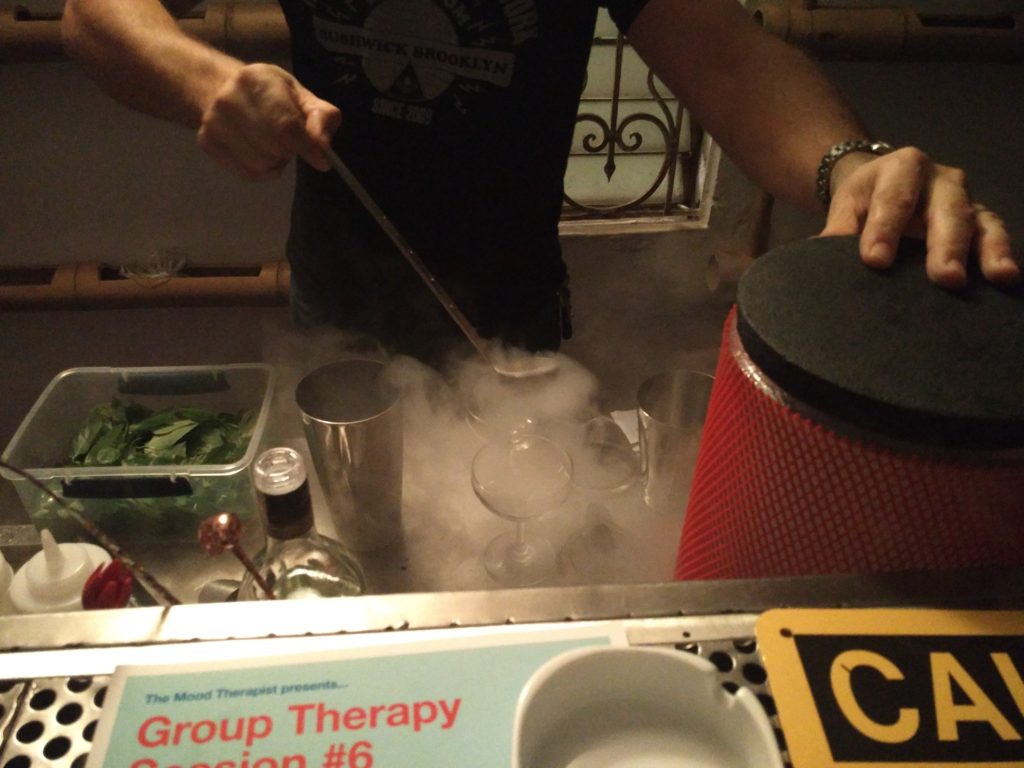 We were sad to say goodbye to Medeha, but happy that it would only be a few weeks before we'd see her again in Chiang Mai. See you in Thailand!